There can no be other way to describe today other than it was the Fat Tuesday of K-dramas. Laissez le bon temps rouler! I have never posted as many posts in one day as I did today, and it was well worth the insanity. When I saw these new official stills from Lie to Me and City Hunter (SBS is definitely on a roll today) there was no way I could withhold the goodies until tomorrow. I think Best Love needs to, ahem, get on the same bandwagon quickly. Once you see the pictures, you'll know what kind of bandwagon imma talking about.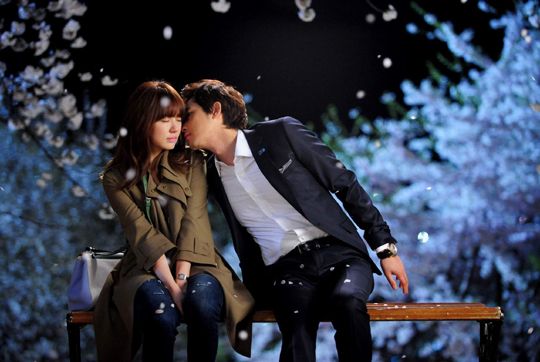 If there was even a sliver of doubt that Kang Ji Hwan and Yoon Eun Hye look breathtakingly perfect together (I had no such doubt for I am a true believer of their awesomeness), these stills under the cherry blossom tree put that to rest. Stunning doesn't even begin to capture it. And all that about-to-happen kissy kissy? Just icing on the cake, baby.
Like I said, I better be seeing some major making out pictures (or footage, I'm not picky) of Cha Seung Won and Gong Hyo Jin soon. Not that I am being demanding or greedy. I'm merely expressing a publicly held opinion that more kissing is always a good thing in our romcoms.
Not to be left behind in the dust, Lee Min Ho and Park Min Young also put their lips to good use for some dance floor kissage, as their characters for whatever reason (I'm guessing it's work related) kiss on the dance floor of a night club. LMHMG, if you can top the "Game Over" kiss, then City Hunter just jumped a notch or three in watchability for me.