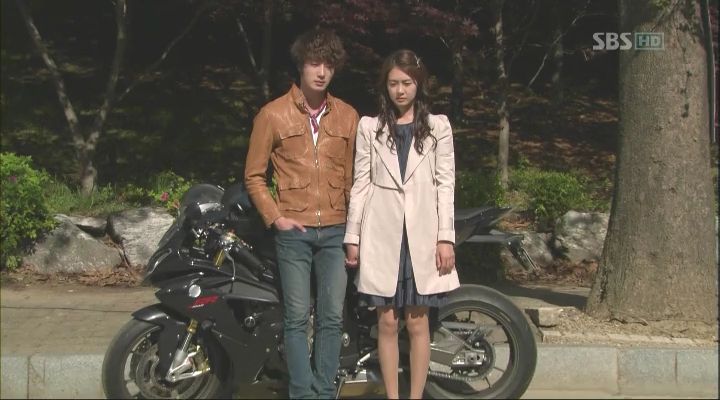 Aish, I don't know what to think. The written preview doesn't reveal much about episode 20, nor does the new video preview I have linked to below shed any definitive light on what's to come. If 49 Days weren't so unpredictable, I'd cast my vote on Ji Hyun being the one to ride the final elevator with Scheduler, this time not due to an early death caused by an expected accident, but because it was her destined time to depart. Being confused is probably a good thing, because I'm already way too teary as is. I have some more thoughts after the jump.
Written preview for episode 20:
Yi Kyung is shocked and sits facing Ji Hyun, hearing Ji Hyun calmly discussing her own fate. Ji Hyun begs Yi Kyung not to tell Kang anything. Ji Hyun arrvies at Heaven (the restaurant) bearing a picnic basket. She asks Kang to spend one day with her as her boyfriend. Just for one day, she wants to go with Kang on a date…..
Preview for episode 20:
http://www.youtube.com/watch?v=zjz7GAV4-9s&feature=mh_lolz&list=FL8yMEW79xftE
Translation of dialogue:

Ji Hyun: This today of yours is the precious tomorrow of someone who passed away yesterday.
Ji Hyun: So who gave me the 3 tears?
Scheduler: One of the tears came from Park Seo Woo, but the other tear didn't come from Song Yi Kyung.
Ji Hyun: Then who was it?
Kang: Shin Ji Hyun! What are you doing here?
Ji Hyun: Han Kang, can I borrow you for one day…… to be my boyfriend?
In Jung: Oppa, we can't continue this anymore. You need to stop now.
Min Ho: I cannot stop. Even if it rips me into pieces, I'm will keep going.
Ji Hyun: You're Scheduler, right?
Scheduler: Don't tell me you forgot about me already?
Ji Hyun: No, I remember. Why do I remember my 49 days?
My Thoughts:
This drama has been heavy on the parallels and symbolism throughout the show. I'm too bone-weary to run down the list, but the writer has really integrated the theme of fate well into this drama. See Min Ho and In Jung, who deride their born-fate of being poor, and seek to escape not through legitimate means but through exacting some sort of "you are also due to suffer" vengeance on those who were born to live easier lives.
See how Min Ho and In Jung suffer, not because of their poverty (which they have endured and overcome), but because of their twisted jealousy, envy, and self-hatred. These feelings literally eat them alive from within and are the key to their own self-wrought downfall. See Yi Kyung thumb her nose at fate for taking away Yi Soo from her, so she gives up life. See how she suffers, because she chooses not to cherish her life and instead wastes it because she has not the courage to move on.
This drama rewards those with courage to live and love. See how Kang comes alive once he takes the step forward and confronts his years of unrequited love for Ji Hyun. I'm saying all of this because I think Ji Hyun is going to die, and she would show exactly how strong she is by embracing her fate and living every moment she has left to the best of her ability. The date with Kang is TOO much a parallel of Yi Kyung and Yi Soo final date not to mean something other than a simple date based on the writer's pen in this drama.
For Ji Hyun to believe she will die (for a reason, I'm guessing Scheduler told her something) and then not die because of some miracle negates the drama's basic premise that death cannot be avoided. What can be done is maybe we get one chance to fix what we have left unfinished – Scheduler got it through being a Scheduler to earn his date with Yi Kyung, Ji Hyun got it through her 49 days quest. What is left is just an understanding that life remains always complicated, unfair, and ultimately precious in each and every moment. Damnit, I love this drama.