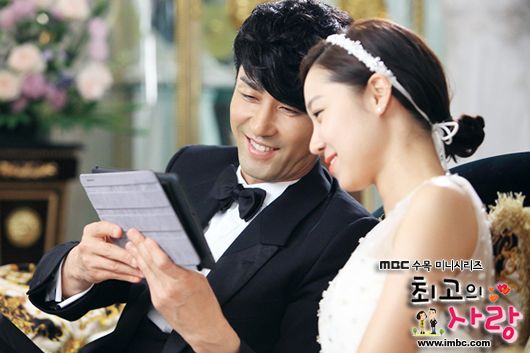 Even though the penultimate episode of Best Love was somewhat of a letdown for some folks, myself included, nevertheless I was undeniably excited to watch the final episode. I did feel like I took a trip to a strange land much like Paul did (the comic Pil Joo uses as a reference to his situation in the drama). While the characters and the situations of BL were surreal and extraordinary, I connected with much of it, and felt rewarded in the experience. In the end, watching this particular dramatically constructed "greatest love" unfold was entertaining and memorable. To celebrate a great ending to a lovely story, my treat for all the BL-fans – a baby recap of the final episode to tide you over until the recap proper.
Episode 16 Baby Recap:
Jin's public and dramatic declaration of love is received differently by everyone watching. Ae Jung finally lets go of her hesitation and worry and accepts Jin's love without reservation. Pil Joo is sad but accepts this is the end of any possibility with Ae Jung. Agent Moon is concerned but begins to handle all the media and public scrutiny for Jin.
Jin meets up with Ae Jung, wearing another giant red bow, and proposes to her using the clover engagement ring he's been keeping hidden from her. Ae Jung hugs him and says not only is she not running away, she's never letting him go. Immediately Ae Jung is being reviled by netizens and Jin's endorsements fall away and popularity tumbles. Ae Jung's family and friends congratulate her, and remind her that it's going to be a hard road ahead.
Pil Joo prepares to leave for China and Se Ri tries to use a China CF project to continue stalking him, but he's still not reciprocating. Ae Jung's popularity has gone up since people are fascinated by her more. Jin has Ae Jung sign a marriage certificate which he registers. Public is stunned they already got married so quickly. Jin's Cannes movie role went to another actor, and he's no longer the face of Vitamin Water.
Jae Seok mentions that there is a video out there between Jin and Ae Jung, which Manager Jang overhears. He leaks the news and makes it sound like it's a sex tape. The public starts manufacturing parodies of what the contents of the video are. Ae Jung gets into a car accident and has minor injuries. Jin finally gets fed up with the vitriol posted online about Ae Jung and wants to sue the netizens. Agent Moon asks Jin to drop the lawsuit since the people responsible are just housewives and kids and all feel apologetic for their poor behavior.
The video is leaked and it turns out to be a final farewell from Jin. He narrates the video as if he's dead so this video is being played. He reveals he loves Ae Jung, who has been unfairly reviled and misunderstood. Ae Jung made him a better person, so he asks his fans to love her and take care of her now that he's gone. The public reception to this video is positive.
Ae Jung gets married with Mina, Jenny, and Se Ri as her bridesmaids. She bids a final farewell to Pil Joo as he leaves for China, not to get away, but because he wants to go study there. He thanks her for the trip to the strange land, and one day his feelings will completely go away. Fans send congratulations on Jin and Ae Jung's wedding.
Time jump! We see Jin buying diapers and formula. Ae Jung leaves for work early and kisses Jin and their baby daughter before she heads out. Jae Seok is promoted at work. Jenny wants Ae Hwan and Jae Seok to keep fighting over her, but they are more rivals at work now. People keep wanting to introduce daughters to Pil Joo. Se Ri runs into him on a hiking trail. She still likes him, and he smiles back at her in the end when she suggests they go eat ramyun.
Ding Dong is trying to teach the baby but is told a ten month baby can't learn anything yet. Jin and Ae Jung tease each other about yet another news report about them, so they need to do another public outing like a picnic to squash whatever new rumors are out there. Ae Jung suggests that celebrity couples with lots of children get good publicity. Jin replies they should get started on that right away. Jin and Ae Jung hug and say "recharge" to each other. They turn to look at the camera (us) and waves.