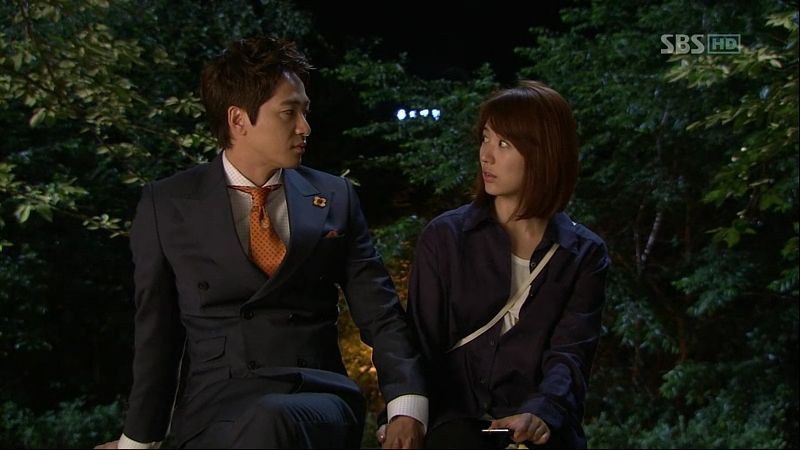 [Koala's current mood:

I feel faint. 

I feel confused.

Did I just read that?

Why?

I want to wave my surrender flag. But I (and you all) need to keep the faith.]
WTF!?! Okay, this post might contain expletives. Maybe a lot of it. I never profess to be genteel or polite. I can pound soju with my oppas and swear like a sailor, but since I've settled down I've been a very restrained Koala. The last time a written preview for a drama made me take out my samurai sword of destruction was once again the infamous M3 episode 15 written preview, which I translated and posted after a 14 hour flight, 1 hour in customs, followed by a 2 hour bus ride, ending with a raging case of the jet lag.
This time I am completely sane and lucid, and I'm not sure what to make of this. I need to calm myself down before I can calm you all down. I guess I ought to repeat the Lie to Me written preview refrain from before – all the previous written previews for this drama have been very random, almost describing one or two discreet scenes, and doesn't actually reflect the entirety of the actual episodes. So bear that in mind, m'kay. Episode 15 sounds fine, if a little hard to get my mind around. Episode 16 makes me want to stabbity someone.
Written preview for episode 15:
After being fired from the Ministry of Culture, Tourism, and Sports, Ah Jung is very despondent. Ki Joon comforts her and Ah Jung feels better. [This comforting better happen in BED, writer-nim. Got it?] Ah Jung reminisces about studying so hard at the cram school, the sudden exhiliration she felt when she passed the exam, how hard she's worked as a civil servant, Ah Jung decides to prepare a petition to be reinstated. Seeing Ah Jung's determination, her co-workers from the Ministry also help Ah Jung collect the petitions. Her boss reminds everyone how upstanding and hardworking Ah Jung was when she was a civil servant and everyone writes down their support for her.
In front of the Ministry, there is someone with a red cloth around his head and a banner who is protesting. It's Ki Joon. Ah Jung is heading towards the Ministry and sees him, causing her to freeze…..
Written preview for episode 16:
Getting a check-up at the OB/GYN, (she) holds her belly, still not able to believe the news. It's nervousness, and worry, and a happiness that words cannot explain. Her lips quiver with a smile. Going home with these complicated feelings, she sees the living room looking like normal, but when she walks into the bedroom, the closet door is open and belongings are gone. A note is left on the bed. [This is clearly So Ran and Jae Bum].
On the other hand, Ah Jung walks outside and sees Ki Joon dressed so dashing in his golfing clothes waiting for her. Missing him and the happiness from seeing him again after one month apart, she wants to run over and embrace him, but not being able to, the painful feeling is reflected clearly on her face. The two of them look out towards the ocean and talk, for some reason giving off the impression of emotional distance. Ki Joon wants to be together, yet he needs to go to work. Ah Jung wants to be together, but still she sends Ki Joon away…..
My Thoughts:
It's hard to translate when all I see is red when I read these two written previews. I feel like it's just so much plot and angst, when really we have so little time. I don't need resolution, I need satisfaction. I saw the word "apart" in the written preview for episode 16 and almost blew a gasket.
I don't care if it's one month or one day, writer-nim needs to cut it with the angst and just let our OTP be fraking happy for a good 60 minutes. Please see Best Love if the writer needs a lesson in delivering a perfectly satisfactory emotional ending that is nevertheless completely crammed full of HAPPY. Ah Jung and Ki Joon deserve to be happy, they don't need to earn it anymore. ARGHHHHHHH KOALA RAGE.
I'll update my thoughts after I have some time to mull it over. I have to decide if all of that was a clever feint and the actual episode is going to make me weep tears of happiness. For now, this feels like the second mindblowingly painful coming of M3.
At least M3 gave me a fabulous final 10 minutes. LTM, I love you so damn much, if you piss me off, I swear I will tear you a new hole where your behind is. I can handle slipshod execution and haphazard plotting. I can't handle insane plot developments.
Okay, back for some updated thoughts. I have a feeling that the written preview is the beginning of episode 16, just like the written preview for episode 9 covered only the first 15 minutes of that episodes. I'm not sure why the hell SBS wants to release a written preview that is angsty rather than filled with shiny happy boating and long overdue kissing. Loving LTM is already a very torturous experience, involving an inability to stop thinking about the damn drama All Day Long.
So stringing me along with a final episode preview chock full of words like apart, can't hug him, emotional distance, makes me exceedingly peeved. At this point, the chances are nil that LTM won't have a happy ending. But I want more than a happy ending – I want a magnificent, glorious, resplendent ending complete with wedding dress with a fifty-foot train and drunken on champage Ki Joon and Ah Jung ending the drama on their wedding night. Not. Too. Much. To. Ask. At. All.
Curse you evil LTM production team for tormenting me. At this point, I want to fly to Korea and take my beloved HwanHye Ah Jung-Ki Joon away from you people so they can do what they do best – kiss and stare at each other with stars in their eyes.
[Credit: written preview released by SBS, translated into Chinese by Baidu Lie to Me bar, translated into English by me]