I feel like a bad mommy who force fed my kids bitter medicine (the Lie to Me written previews for the last two episodes) followed by a sweet candy chaser (the spoiler I'm about to bring you). Trust me when I say I'm suffering as much as all of you, and we're all suffering as much as our howling Korean and Chinese bretheren at DC LTM Gallery and Baidu LTM bar, respectively, with so much topsy-turvy nailbiting wait for the final two episodes of the most obsessive drama I have ever followed.
Folks have posted this spoiler in the comments section of the written preview for episodes 15 and 16. I checked DC Gall and it's being discussed as well, so it looks to be all true. I'll reserve judgment on what a "sweet and intense love scene" means after I see said love scene.
Upcoming spoiler [credit: MariYEH at Soompi's Lie to Me thread with some edits from me]
With the upcoming finale of the SBS drama Lie To Me, it has been revealed that Gong Ah Jung and Hyun Ki Joon will give the audience a sweet and intense ice-cream love scene.
Ah Jung gets accepted back into the tourism ministry office on the episode airing on the 27th, "so in order to celebrate Ah Jung's well earned re-employment back into her government office job at the ministry of culture and tourism, Ki Joon decides to give Ah Jung a surprise ice cream party. AJ is moved by this event and the two happily sit by the table and enjoy their ice cream together which eventually leads to a sweet and intense love scene"
We also have picture proof of the ice-cream party, with wuri Ki Joon acting the part of what looks like an old-fashioned ice-cream shop keeper.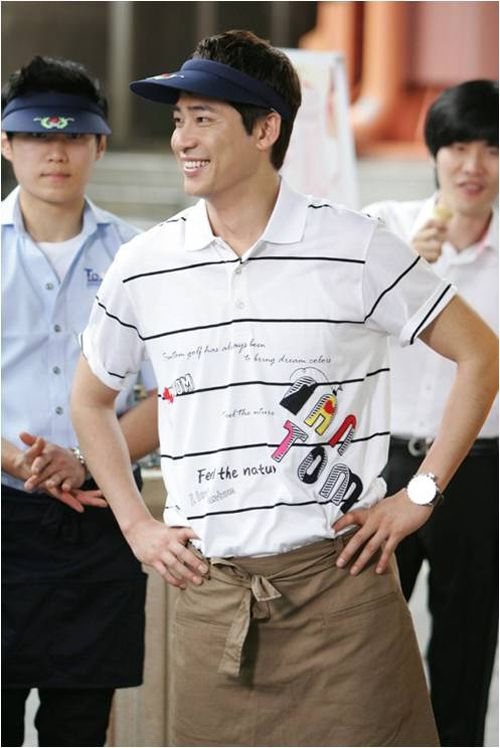 I posted a few weeks ago the pictures from Kang Ji Hwan's June Cosmo Korea photoshoot (click here to see the pictures), and now I've read the interview itself, which ranged in questions from his interests, to his recent projects such as Rough Cut, 7th level Civil Servant, and Cafe In, and finally to his personal life. Bringing you snippets of the interview which reveals a bit about the normally very private Ji Hwan and his own thoughts on his future that might interest everyone.
Select transcript from Kang Ji Hwan's Cosmo Interview [credit for translation: huskydawg at Soompi's Kang Ji Hwan thread]
Q: But you're doing a romcom again. Looks like your new drama "Lie to Me" is getting a warm reception.
A: I tried to put a whole spectre of emotion into this chaebol character called Hyun Ki Joon in this romantic comedy. I didn't want it to be just a good-looking well-mannered role, but a character who's, shall we say, more temperamental.
Q: Compared to "Ripley" and "Baby Faced Beauty" the shooting of "Lie to Me" had a late start. Did you have enough time to get acquainted with your co-stars and the staff?
A: Isn't drinking together the best way to get acquainted? Ha, ha.We got everyone together and went drinking. We got to know each other very well, and lately we go drinking to discuss the drama.
Q: What do you do when you're not working?
A: I do housework at home.
Q: Housework?
A: I like to clean the house and do the laundry. And since I majored in graphic design, I'm interested in interior décor too. I spend my time decorating the house and making interior accessories.
Q: You make them yourself?
A: Nothing big, just small stuff. I like that kind of stuff so there's a lot of props and clothes I bought myself and used in the dramas. Oh, I did design my home bar. The only thing I really spend money on is my car.
Q: Women won't be very happy when men spend so much time and money on cars.
A: What are you talking about! I'm doing all this work on the interior of my house and car for my future wife. I want her to live comfortably in her dream house and drive around in a nice car. The setting's complete now. I'm just searching for that woman who would fall for it.
Q: You sound pretty desperate. In this drama, the character decides to break up for his brother's sake. Is Kang Ji Hwan someone who can do that?
A: Definitely not! That was the part I couldn't empathize with even as I was acting. It's unthinkable to give up a person you love. Even if it's for your brother!
Q: You're so emphatic about that. It looks like you're the type who'd snatch someone away rather than vice versa.
A: Ha, ha, ha. I wouldn't go that far. There's been lots of women I wanted to snatch away, but I never did. I'm actually a very ethical person.
Q: At any rate, a lot of fans will be saddened when you find that someone.
A: Acting is something I do because I love it, but I don't necessarily have the desire to be at the top. But when someday when I meet the woman I love, I have the goal to be able to support her so that she can live an enjoyable and happy life.
– So there you have it, Ji Hwan is looking for his perfect woman to share his life. Awwwwww. I don't think you need to look too far, guy.