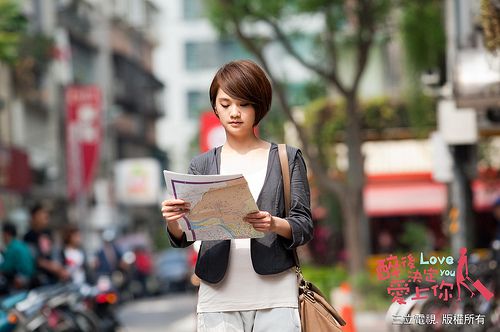 I can safely say this drama is almost over, despite no official reports as to how many episodes in total Drunken to Love You has. I can sense it wrapping up, and in a way that I'm thrilled about. Episode 14 looks amazing, giving us the breakthrough we are looking for plus some long awaited pay-off. In addition, below I've linked to a preview of the MV for Rainie Yang's lead single off her new album. The song is "We Are All Fools" and has been featured in DTLY since episode 1. The full MV will drop next week, but the teaser looks so moody and evocative. It guest stars Joseph Chang, and in the MV, Rainie and Joseph will play an illicit pair of lovers cheating on their respective significant others with each other. Both Joseph and Rainie look so darn sexy in the preview for the MV.
Written preview for cup 14:
To protect everything about Xiao Ru, Jie Xiu takes her to an unfamiliar elementary school. It is there that Xiao Ru sees the person that she feels a lifetime of guilt towards, the sister she inadvertently hurt when they were children – Yin Fu. Under Jie Xiu's considerable effort, Yin Fu forgives Xiao Ru.
Xiao Ru realizes everything that Jie Xiu has been quietly doing for her, and she finally lets go of the past and herself, gaining the courage to pursue her own happiness. Xiao Ru finally releases the pent up emotion she has for Jie Xiu and accepts his love. This love which started accidentally did not end up changing its tone, as these two people pledge their love under the cherry blossom trees.
As it appears that everything will be fine, a landmine detonates right at this time. Jack (the paparazzi) brings a media crew and disrupts Yi Xian's wedding with the goal to reveal the fake contract marriage and unearth the person who devised it. To end this farce, Jie Xiu steps forward and announces that he will divorce Xiao Ru. At the same time, he tells everyone present that his love for Xiao Ru is just that secure and unwavering, and he just wants to give Xiao Ru the wedding she has long envisioned.
At the same time, Rickie is also going to risk everything for love. He wants to help heal Avril's hidden pain from long ago, so he goes to her college to try and discover what the pain is. He unexpectedly finds Avril currently facing another dangerous situation.
Jie Xiu and Xiao Ru arrive at the civil affairs office, excited and unable to wait to become official husband and wife again. Except they run into a meddling do-gooder who obstructs them, which unexpectedly leads to the discovery of yet another big secret….
So what is the secret that Xiao Ru and Jie Xiu discover? And who is obstructing their marriage? And Avril, having forced herself into the corner, what danger will she now face?
Preview of Rainie Yang's MV for "We Are All Fools" guest-starring Joseph Chang:
http://www.youtube.com/watch?v=8wv_ezW7Fio