Protect the Boss is resembling more and more a slice-of-life drama, with sprinklings of the more typical K-drama emotional hooks, but ultimately an ensemble story. Ji Heon and Eun Seol may be the hero and heroine, but they are not the universe of PTB. It's everyone else that adds the richness which makes this drama work. Not sure why some folks are bemoaning which character gets more development or screen time, because PTB focuses on everyone's role in this story to the extent necessary to tell the story well. Isn't that the most important thing?
Episode 12 was a slower episode that really made everyone stop and take a deep breath, but I foresee the story jumping into yet another critical plot development starting next week with the succession played out against a family struggling to do what's best and what everyone wants.
Episode 12 recap: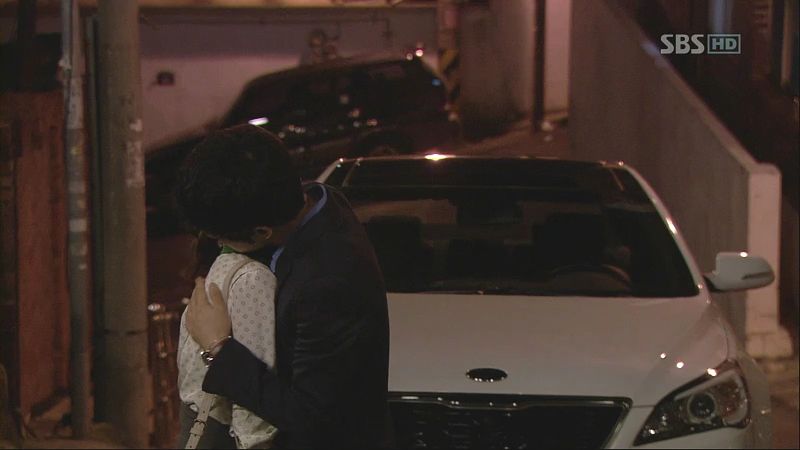 Moo Won pulls Eun Seol in for a goodbye-esque hug, fully cognizant that it's not possible between them romantically, but reluctant to let go yet. Ji Heon watches from above but makes no move to interrupt or make his presence known.
Moo Won ends the hug and drives away. Only when Eun Seol turns to walk up the stairs does she see Ji Heon's seen everything. He smiles and asks if she's taken care of things? Eun Seol nods. Ji Heon says that's fine, and teasingly says he'll coolly forgive her now (for letting Moo Won hug her).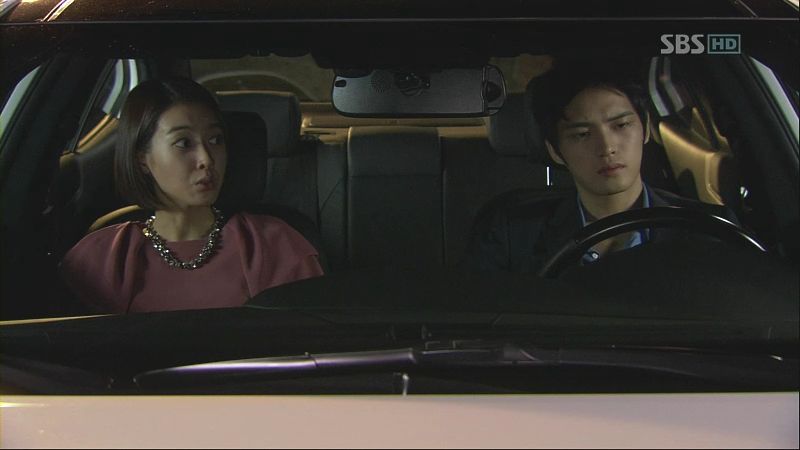 Moo Won is parked outside and sees a drunken Na Yoon stumbling home. He asks if she's alright? When he moves to leave, Na Yoon stops him and gets into his car. He tells her to leave since he's exhausted today. She asks if he wants to go drinking? He yells at her that he's tired and screams for her to get out of the car.
Eun Seol asks why Ji Heon came by tonight? He reminds her that she didn't answer her phone in 2 rings, which is against his rules. She smiles and concedes she did do that. Ji Heon wonders if Eun Seol doesn't like Moo Won, and doesn't like to be around Moo Won so she wants to leave? She shakes her head. He changes the subject to himself – he wants her to cancel her transfer. He also requests she feed him dinner, since she's caused him worry so he hasn't eaten yet and has expended a lot of energy.
Eun Seol takes Ji Heon home to eat bibimbap out of a bowl with Myung Ran. Ji Heon is grossed out by the communal bowl and the fact that there are lots of ingredients he doesn't eat in there. Myung Ran chides him for complaining like ice-cream girl does. Ji Heon says the bibimbap he's familiar with doesn't look like this. Myung Ran scoops up a spoon and feeds him like she feeds ice-cream girl. When he protests the too big scoop, Myung Ran raises her fist and tells him to open and eat.
Na Yoon sadly says she'll leave and apologizes for bugging him. Moo Won apologizes for yelling at her. He doesn't like himself for never being candid, always putting on an act. So he ends up never being able to do anything. Na Yoon doesn't know how she can comfort him? She asks Moo Won if she can teach her what to do? She suddenly suggests drinking which she learned from Myung Ran.
Na Yoon and Moo Won go to a noraebang to sing and drink their woes away. Na Yoon is so dreadfully out of tune when she sings the Korean version of "I Will Survive" it's hilarious. Then it's time for Moo Won God to sing (and we get to hear Jaejoong's gorgeous voice and pitch). Na Yoon watches Moo Won singing and looks about as enchanted as any sane woman would look if that man was singing live in front of us.
Eun Seol discusses the succession issue with Ji Heon, who knows she's here because his father asked her to. He's not interested in it. He might have a passing interest but then it goes away. He's a peaceful guy who dislikes competition. He wants to come into her world but she doesn't want him to. How will he make a living? He asks her what she would suggest for him?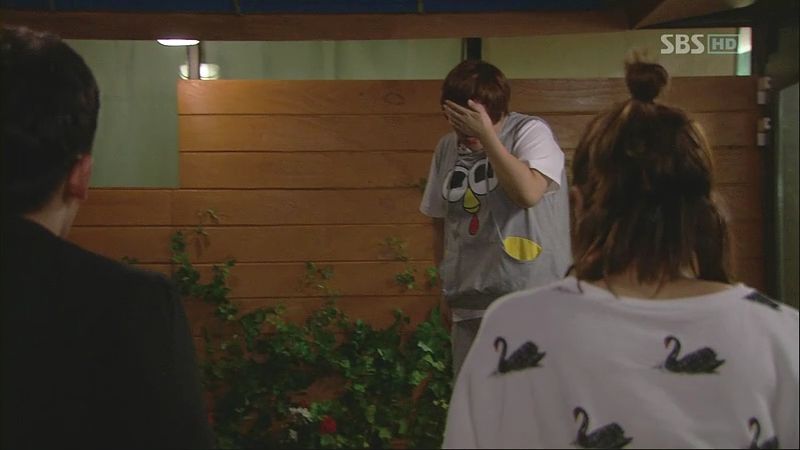 Ji Heon leans in to kiss Eun Seol when Myung Ran comes out and interrupts. Myung Ran offers to buy them a whistle so they can alert her in advance if they are engaging in certain activities where they need to be left alone. Moo Won is still singing and thinks back to his interactions with Eun Seol.
Moo Won gets drunk and passes out. Na Yoon calls Eun Seol and Ji Heon to come take care of Moo Won. They arrive to find Na Yoon still singing her heart out. Ji Heon tries to wake up Moo Won but he's out cold. Ji Heon takes Moo Won home.
During the ride, Moo Won's head naturally falls to rest on Ji Heon's shoulders. Ji Heon pushes it away, but then allows it to remain. Ji Heon rests his head on Moo Won's and apologizes. Ji Heon deposits the drunk Moo Won in his bed and gets chewed out by his aunt for letting Moo Won get so drunk.
The Chairman describes to Grandma how well Ji Heon did during today's presentation and how proud he was to witness it. Grandma is relieved to hear this. She feeds her son a bite of food and they happily banter. The Chairman mentions how Ji Heon is really serious about giving more benefits to employees. Grandma likes that – she's not against treating people better, and only wants people to be more frugal in spending. They tease each other about whether parents listen to their children or vice-versa.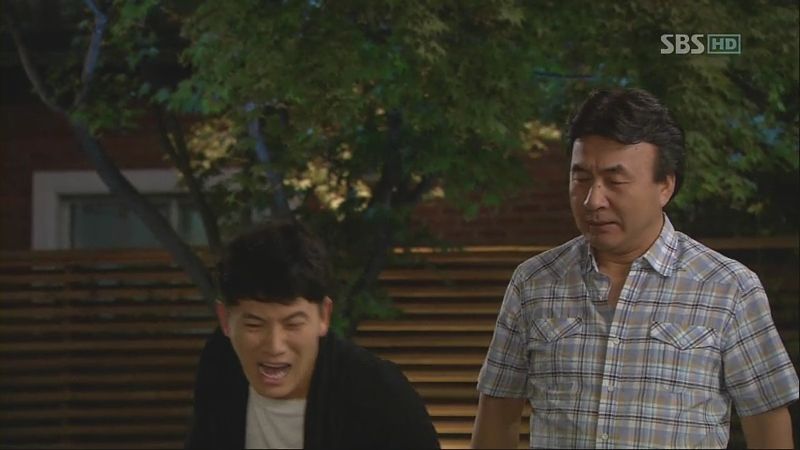 Ji Heon comes home to find his daddy still smiling in his memories. Ji Heon asks his dad if he was watching dramas and feeling touched? The Chairman raises his hand (to pat Ji Heon on his back) but Ji Heon immediately ducks thinking he's about to be wacked.
Na Yoon uses every opportunity to pick on Eun Seol, including tossing a stuffed animal at Eun Seol, who just takes it and ignores her. Myung Ran locks ice-cream girl out of the apartment. Na Yoon cries outside until Myung Ran opens the door. She promises Myung Ran that she won't do it anymore before she's allowed back inside.
Ji Heon and Eun Seol arrive at work the next day pretty exhausted from not getting enough sleep the day before. In the elevator, they run into the Chairman, who asks Eun Seol to come see him later. Ji Heon wants to know why his dad wants to see his secretary. His dad gets annoyed and raises his hand out of habit, which causes the secretary to quickly crouch down so that Eun Seol can climb on his back and block the CCTV. The Chairman holds his hand and promises not to hit anymore.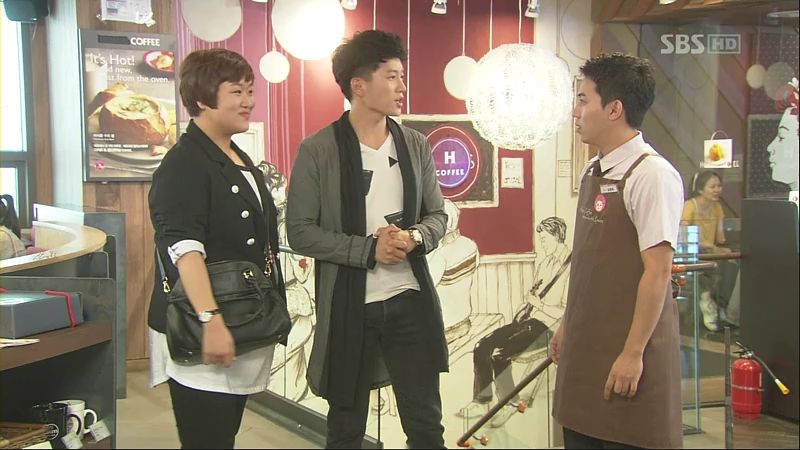 Ji Heon takes Myung Ran to the coffee shop, where he informs his former coworker that he's been selected as a beneficiary of the DB Group scholarship program. Ji Heon gets hugged for his generosity. Ji Heon introduces Myung Ran as his replacement part time worker at the coffee shop. Myung Ran works hard, but the other coworker wonders her real identity is, suspicious that she might be a relative of the Cha family, or an illegitimate daughter.
The Chairman takes Eun Seol to the department store for a shopping spree. I love this huge break from convention where it's always the male lead who does the makeover, but this time it's the future father-in-law. Eun Seol models outfit after outfit for the Chairman, who offers his input. It's cute and not at all skeevy.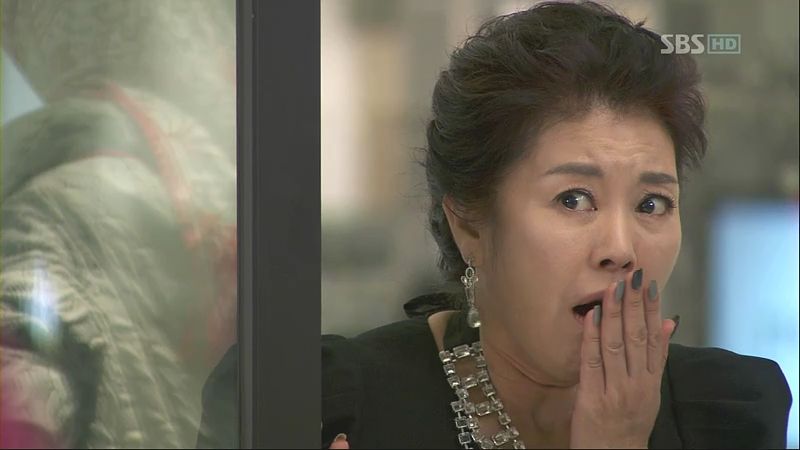 When they are paying for the clothes, Na Yoon's mom walks by and is shocked to see this tableau. She immediately informs Moo Won's mom, who is shocked that Cha Bong Man has approved of Noh Eun Seol. Na Yoon's mom wonders why she's annoyed seeing it. Moo Won's mom thinks it's because Na Yoon's mom had a crush on the Chairman back then. Na Yoon's mom is annoyed that everyone likes Eun Seol and wants to plot to get rid of Eun Seol.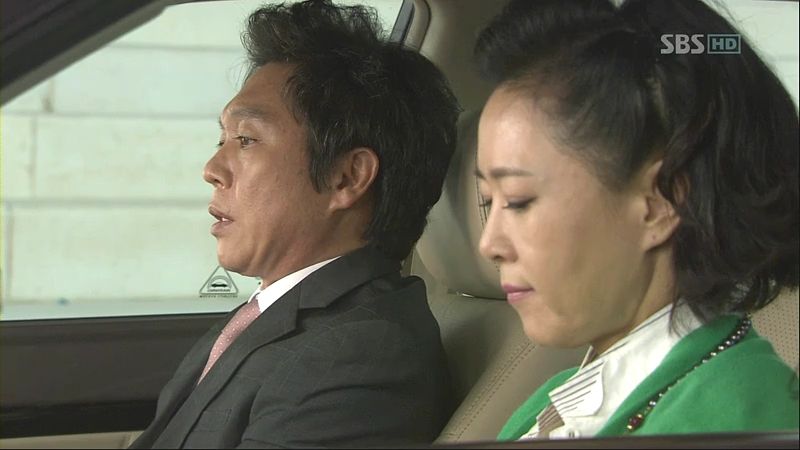 Moo Won's mom goes to meet with Director Park, who delivers the latest news to her. She notices that the poor Director looks dreadful. He confesses that he can't sleep at night, his guilty conscience eating away at him, fearing the Chairman will punish him one day. He confirms that Moo Won's mom will protect him if the Chairman wants to punish him. She demurs but he reminds her that he's not one to take the fall. His nickname back in school days was "water ghost", referring to someone who even in drowning death will drag another down with him. Hahaha.
Grandma meets with Moo Won to sign investment papers. She asks her grandson if he'll go on a date with her? He explains that he's busy. She wonders if he'll work until he dies? She suggests he live more, so Moo Won ends up walking in the park with his grandmother. He sees a bike riding duo and flashes back to riding bikes with Eun Seol.
Grandma asks if he wants to ride a bike, which leads to Moo Won riding a bike with his granny grabbing on tightly from the back perch. Moo Won asks if Grandma is having fun and then increases his speed. After the ride, Moo Won sits down and explains to Grandma that he wanted to change his world. He doesn't want to change it so that Eun Seol can be with him, he wants to change it so that Eun Seol is happy in that world no matter who she is with. Grandma doesn't know how to comfort him, but he says he'll be fine.
The Chairman and Eun Seol schlep all the new clothes out of the store. She thanks him since she has dreamed of someone taking her on a shopping spree like they do in drama. The Chairman reveals that people thought he looked like Richard Gere when he was young. LOL, does that make Eun Seol a hooker with a heart of gold? Eun Seol calls him Cha Cha Gere.
The Chairman asks her to dress better in the future and don't just leave these clothes in the closet. He asks if Eun Seol has managed to entice Ji Heon to want to succeed the company. She explains that he's not interested, and she doesn't want to entice him to be interested. The Chairman concedes his request for her to entice him is perhaps not reasonable. What about using force? He sighs that it's not going to work either. The Chairman wonders what other skills Eun Seol has, because she'll need to leave the secretary's office soon once rumors start spreading about her and Ji Heon.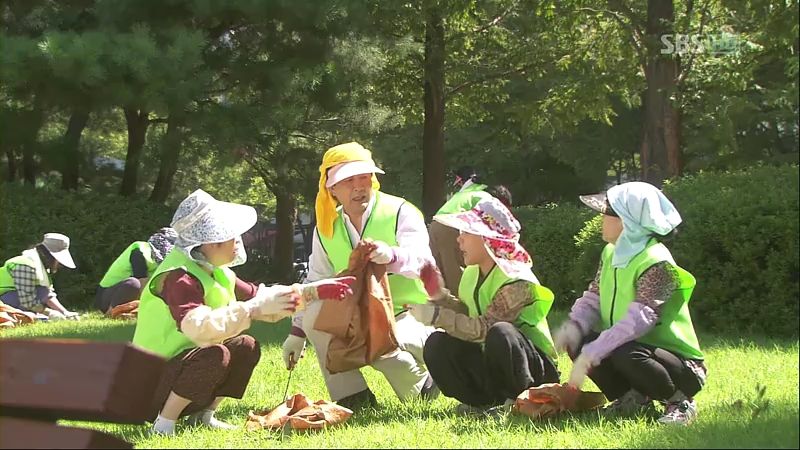 The Chairman goes to his community service, where he picks weed with other ladies. He overhears the other ahjummas complaining about their rebellious children. He joins in the discussion and asks what's their recommendation to deal with such a child? The ahjummas say he needs to kick the kid out and cut the kid off, then the kid will learn the lesson and come crawling back. The Chairman says he's too soft-hearted and can't bring himself to do that.
They suggest beating the kid into compliance. The Chairman concedes he's beaten the kid before but it hasn't worked. The ahjummas are impressed to see a dad so concerned for his child. They compliment the Chairman on looking like a movie star. The Chairman preens, until the ahjummas think he looks familiar, like that gangster Chairman!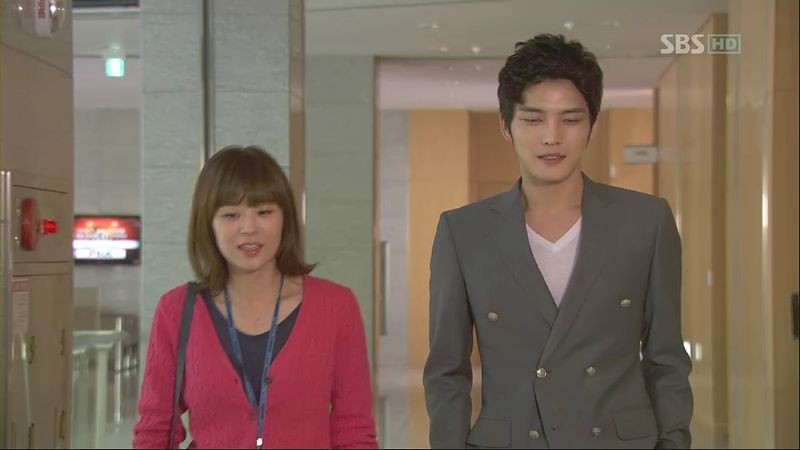 Eun Seol runs into Moo Won back at the office. He asks if she's been out working? She laughs that she just made a movie with the Chairman (the K-version of Pretty Woman). Moo Won says if the Chairman mistreats Eun Seol, to tell him and he'll stand up for her. The mood gets awkward until they start walking. Moo Won asks her to grab a bite sometime and she agrees.
Ji Heon sees Moo Won in the bathroom. Moo Won immediately glares at Ji Heon, confessing that he can't let Eun Seol go that easily. Ji Heon yells at Moo Won and the two of them start fighting. Before they can throw a punch, another person walks into the bathroom and they pretend to be doing normal activities while shooting daggers at each other.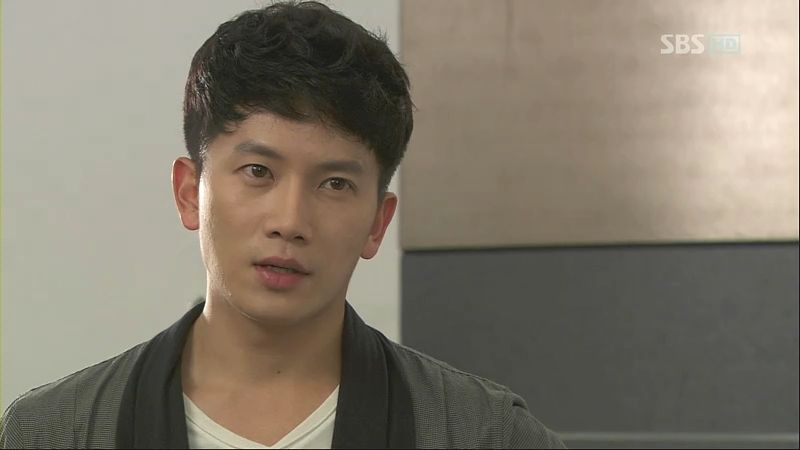 Moo Won walks into his office and confesses to his secretary that he feels much better after mind screwing with Ji Heon. I love how immature Moo Won is turning out to be. Ji Heon regrets trying to be nicer to Moo Won, and tells Eun Seol not to trust Moo Won and stay away from him. Eun Seol says she feels sorry and grateful towards Moo Won and doesn't want to hear Ji Heon besmirching him.
Eun turns to leave but Ji Heon tells her to walk towards him five steps. She tells him its forbidden to engage in any skinship or romance during office hours. Ji Heon agrees, but only if she allows them to date in the open outside the office. She smiles.
Na Yoon meets with her mom, who is still pissy at her suddenly rebellious daughter. Na Yoon's mom hands her the keys to an apartment. Na Yoon is excited and says Myung Ran and Eun Seol will surely like living there, too. Na Yoon's mom is upset but tries to control her temper and wonders what her daughter wants these days.
Na Yoon's mom can't handle watching her daughter treat Eun Seol so well. She announces that she will chase Eun Seol away from both Ji Heon and Moo Won. Na Yoon doesn't know why her mom is like this, since Eun Seol did nothing to her mom. Na Yoon's mom blames Eun Seol for Na Yoon's rebellion, which Na Yoon correctly says it's because of her mom's behavior, not Eun Seol. Na Yoon warns her mom that if she did anything to Eun Seol, Na Yoon won't stand for it. This only pisses her mom off more.
Na Yoon gets a call from Moo Won, who hands her a marketing plan for a new project. She asks if he's feeling better now. Moo Won keeps talking about work and avoiding the topic. Na Yoon happily says she's gotten revenge on Eun Seol for Moo Won, didn't she do well? He's totally morose and she wonders if she should stop trying to cheer him up.
Moo Won realizes that when he was dumped by Na Yoon, Eun Seol cheered him up, and now when he's dumped by Eun Seol, Na Yoon is the one cheering him up. She figures her presence isn't wanted so gets up and leaves. Moo Won drives past her and asks if she wants a ride. She declines because she's got some pride. Moo Won drives off, but then reverses the car and allows Na Yoon to get in.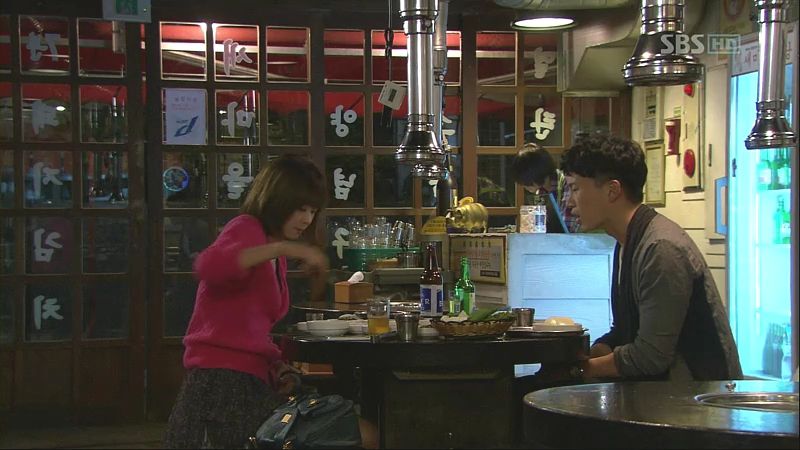 Eun Seol invites Myung Ran to join her and Ji Heon for dinner. He grumbles about the unromantic date. Eun Seol asks him what she should do, since Myung Ran called to ask about dinner and Eun Seol can't pretend otherwise and eat in secret. Ji Heon is annoyed at all the obstacles around Eun Seol – Moo Won, wrestling girl, her martial arts daddy, Na Yoon, etc. Eun Seol gives Ji Heon a piece of meat, but he opens his mouth to make her feed him, which she does.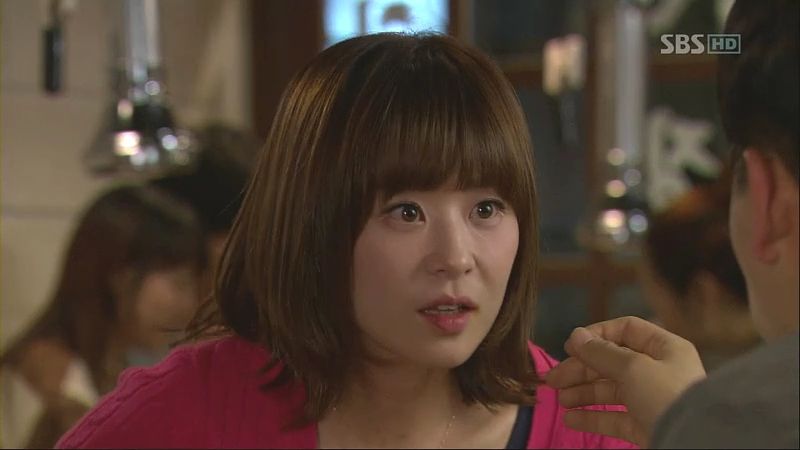 Ji Heon gestures her face over so that he can clean the sauce of the side of her mouth. She smiles and does the same with him. Ji Heon suggests that they quickly finish eating after wrestling girl arrives so they can go elsewhere. Eun Seol agrees.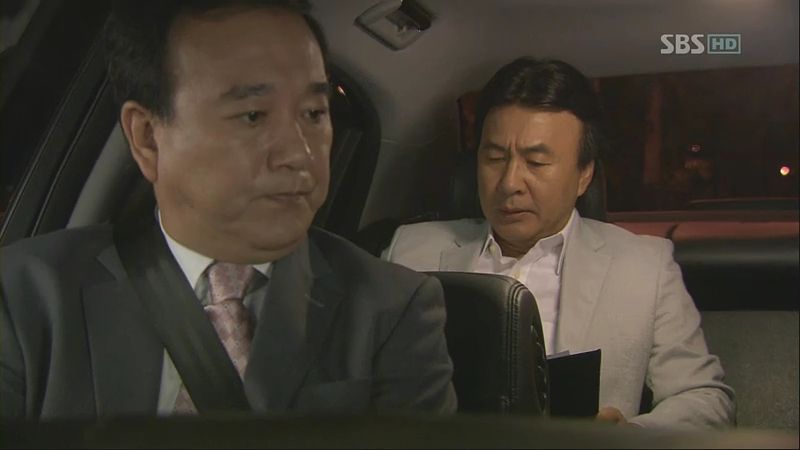 The Chairman reads Eun Seols's resume and bemoans her lack of skills, only knowing how to use her fists to handle things. His secretary confirms that Grandma had the same reaction when he delivered Eun Seol's resume to her. The Chairman says that in his eyes, Eun Seol is beautiful, but in the eyes of others, they will not think so. He needs to make her presentable. Ji Heon is already looked down upon by others, when paired with Eun Seol they'd be laughed out of society. Secretary promises to organize a training program for Eun Seol.
Na Yoon and Moo Won run into Myung Ran on the street, and tag along with her to the barbecue restaurant. Ji Heon is even more pissed. Moo Won says he was dragged her by Na Yoon. Eun Seol deflects and tells everyone to eat. Ji Heon allows them to stay but tells them to leave as soon as they are finished eating. Eun Seol suggests a toast since they hardly ever get together. Everyone is worried about Moo Won getting drunk.
Eun Seol asks Moo Won if the food is good? Na Yoon wonders why Eun Seol is not asking her? Na Yoon says the food is only okay and then purposely takes big bites. Ji Heon feeds Eun Seol who takes a bite from his chopstick. Myung Ran finally gets fed up with the awkward atmosphere, and calls Secretary Kim out to be her pretend boyfriend during this dinner. AHAHAHA. The poor guy is just so confused about the weird dynamic around the table.
Finally the gang eat, drink, and bicker the meal away. Just like a family.
The three girls wake up severely hung over the next day. Eun Seol gets called to go to the Chairman's house because she has classes to attend. Na Yoon laughs and tells Eun Seol that it's started now, and warns Eun Seol that it's going to be very boring.
Eun Seol arrives at the house and is immediately dragged off by a lady. The Chairman tells Ji Heon to change and go visit shareholders with him today. Ji Heon just wants to know where Eun Seol was take to? Eun Seol is taken to flower arrangement class, taking music lessons, and learning the art of fine dining.
Ji Heon wonders why his dad is taking him to visit the shareholders? Ji Heon reminds his dad that he's not interested in succession. Ji Heon calls Eun Seol, asking if she's hanging in there, and telling her to ditch class. Eun Seol won't ditch because the Chairman paid for the tuition up front and she doesn't want it to go to waste.
Moo Won meets with his mom and discusses that he wants to start eliminating all the secret slush funds at the company. He wants to change the world they live in. As Moo Won's leaving his mom's hotel, he runs into Eun Seol, who was dragged there for her lesson. They go have some tea, where Eun Seol explains she had hour long lessons in 5 different subjects, and all the teachers happily reminded her to come next week.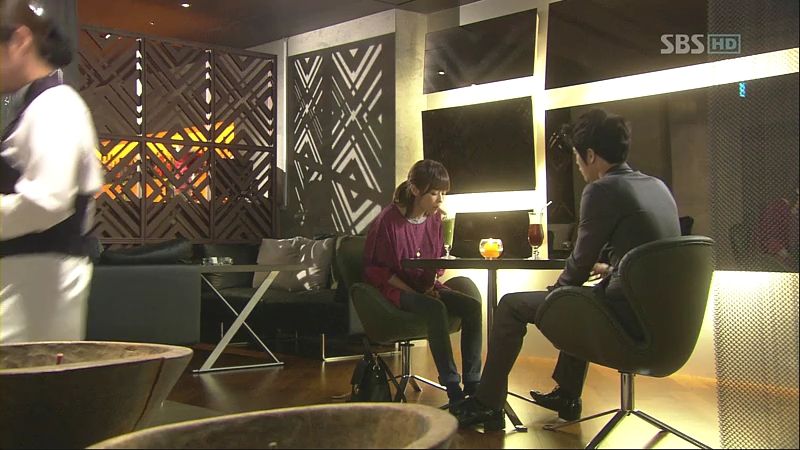 Moo Won smiles and confirms the Chairman has fully accepted Eun Seol. She thinks he's gone overboard in accepting her, in ways she doesn't want. He tells her to explain this to the Chairman, which she was planning to do. Moo Won confesses he's feeling better after hanging out drinking last night. He teases that she's also happier. He suggests they do this again to annoy Ji Heon.
The Secretary hands the Chairman a stack of reports on some company shady practices in the past. He notices the Chairman doesn't look so well. The Chairman gets up to walk outside, reminding the secretary to burn these documents. Eun Seol runs into the Chairman as he walks outside. She suggests coming back another time but he tells her to go into his office and wait for him.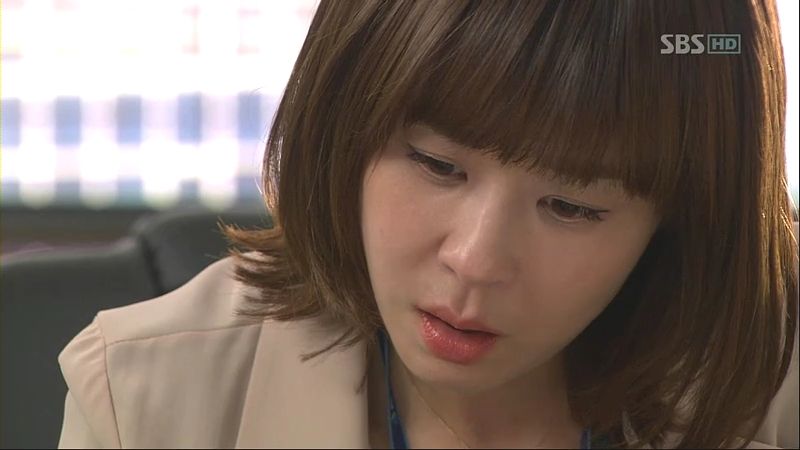 Eun Seol goes into the office and casually starts flipping through all the reports left on the table. When the Secretary comes back in, he quickly grabs the files out of her hand. She asks what those reports contain and he demurs that it's just standard company performance reports.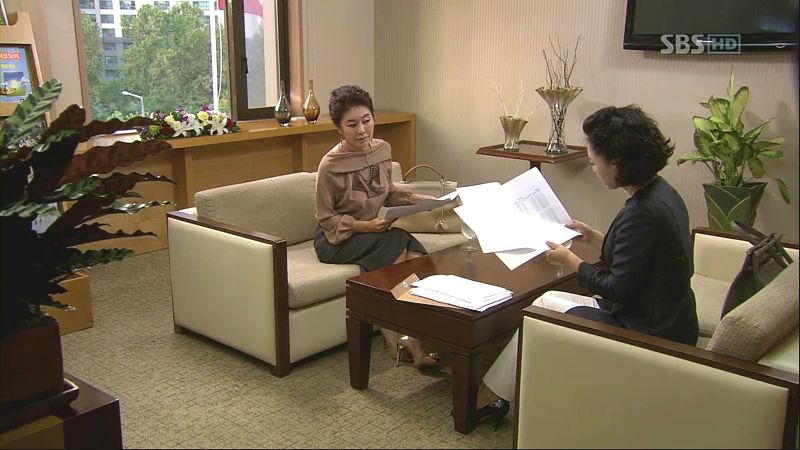 Moo Won's mom and Na Yoon's mom have gotten a hold of reports listing out the secret slush funds established by the DN Group. Na Yoon's mom asks Moo Won's mom if she wants to do anything about it? Moo Won's mom sigh and says she just wants to understand the situation for the time being. Na Yoon's mom reminds her that to go public, they need to pick the right time. Moo Won's mom reluctance leads Na Yoon's mom to ask if she's going to just let Moo Won lost out?
Eun Seol looks really concerned while the Secretary asks if Eun Seol can confirm that she doesn't know anything. The Chairman walks back into his office.
Thoughts of Mine:
This episode confirms for me that comment I made earlier that the love triangle is the weakest link in this drama is correct. I don't mean that in a negative way, only that it's not a really compelling love triangle in the typical K-drama way, with tons of feelings and overwrought emotions that make the viewer hurt for everyone involved. In one episode, Moo Won accepted the inevitable but kept going in his life, only occasionally stopping to annoy Ji Heon a little. Which I love to see, because it means he's starting to let go of maintaining the façade of genteel perfection and let his inner kid out more. Good for him.
PTB is really a story about relationships – parents, friends, coworkers, all the different relationships that form who each of us are in this world. Through Eun Seol, all the characters find their relationship ties tested and strengthened. It is through connecting with the world that Ji Heon is about to overcome his phobia, reaching out to the people he used to find so frightening when clumped together in big groups. I don't think Moo Won loves Eun Seol as much as he longs for Eun Seol – who she is, what she represents, how she lives her life. He thinks being with someone like her would make him happy, but really it's becoming more like her that would make him happy.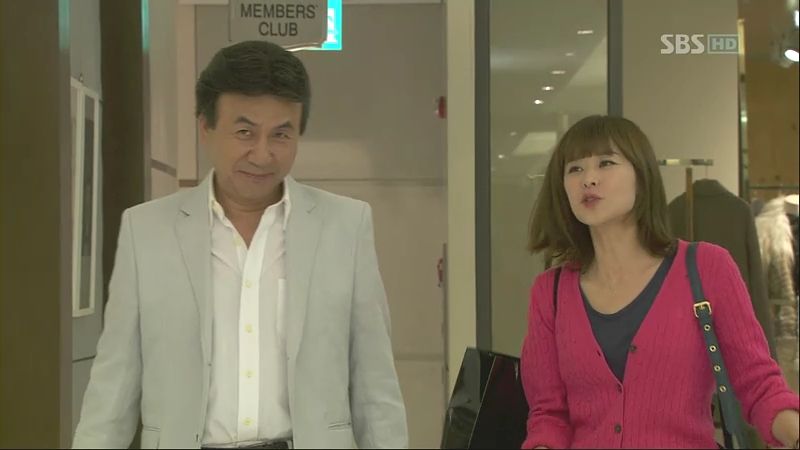 I hate to throw out a K-drama cliché, but I have a gut feeling the Chairman is sick. There are teeny tiny hints since the very beginning, and his insistence and constant pressure for Ji Heon to succeed lends credence to this potential plot development. He's afraid that he can't protect Ji Heon for much longer, so he needs to hand the reins to Ji Heon now before it's too late. If the Chairman has anything even resembling a terminal or critical illness, I will go to Korea and beat the screenwriter for even considering offing the most amazing daddy character I've seen onscreen in ages.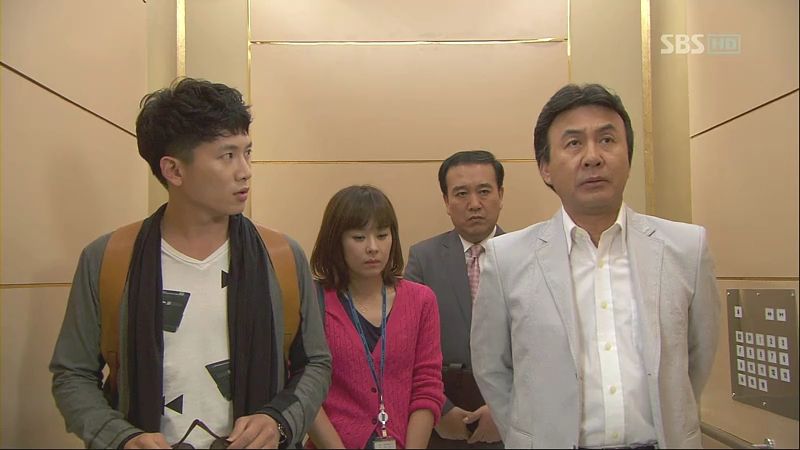 Right when I bemoan the love triangle for sputtering for a few episodes without any forward momentum, this episode definitely ends it AND gets Eun Seol and Ji Heon together. All without any fanfare or dramatic OMG moments of swirling camera angles and soaring ballads. Just like that, Eun Seol and Ji Heon are together, quietly, calmly, and confidently. They like each other, and will take the next step one at a time. It's such a treat to watch a drama that respects the viewer and appreciates its characters.