The Busan International Film Festival opened yesterday and the Korean stars descended on the coastal city to promote their upcoming movies and dazzle in some glitz and glamour. The opening night film is Always (Only You), the romance movie starring So Ji Sub as a boxer and Han Hyo Joo as the nearly-blind girl he falls in love with.
Everyone walked the red carpet and then went inside for the premiere of Always, where Director Song Il Gun and his two stars answered some questions, and then proceeded to give away the ending of the movie. LOL, good one, guys! Below are some pictures from the red carpet for many of the stars in attendance, and spoiler for the movie.
This is also the first year using the B spelling for Busan (whereas before it was Pusan) since the city itself has settled on that romanization. So the festival used to be known as PIFF, but is henceforth now BIFF.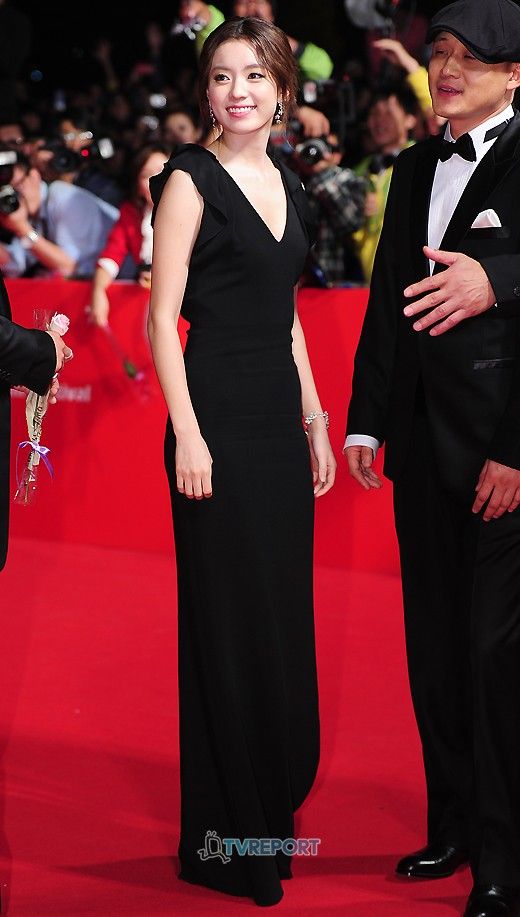 I'm sorry, but can these two people be any more beautiful? The universe might implode if that happens. Oh I want to watch Always so so badly. I love how coordinated they are in all-black, classy and gorgeous alone and together. Ji Sub needs a slightly perkier hair do, but Hyo Joo is perfect from top-to-bottom.
During the interview session, they discussed how the movie was filmed almost linearly because the director wanted his stars to really grow into the affection their characters had for each other. Hyo Joo revealed that the bed scene was done in one take, because they had already kissed before so it felt comfortable to later film the more intimate scene. Are you crazy, woman? If I was making out with Ji Sub, I would be NGing left and right. Who cares about being professional.
The director revealed that he thought long and hard on how to end the movie. Ultimately, with input from his two stars, they collectively decided on a happy ending for the couple. Because this movie felt like a dreamy romance, he wanted to extend the dream until the end and not let the audiences down. Thank god for that. Now we can all happily watch Always without worrying about the big hammer of doom dropping. Director Song explained how Always was inspired the Charlie Chaplin movie City Lights.
With that, have a look at some other attendees at the opening night of BIFF.
Gu Hye Sun. Love her cute dress, and the fact that she is even wearing a dress. With legs like hers, I wonder why she often dresses like she raided a hobo's closet for many of her previous big ticket events like awards and festivals.
Kang Hye Jung. Who decided to take Gu Hye Sun's place as the resident androgynous starlet with a hipster vibe. I love her quirkiness, but I personally dislike actresses who wear suits on the red carpet. Call me old fashioned, but I think a red carpet calls for a dress for the ladies.
Luminous Wang Ji Hye. Love her dress, the texture on the white material, the drape of the neckline, and the figure-hugging shape. She's flying high coming off a drama-stealing turn as the cutest second female lead EVER in Protect the Boss.
Nam Sang Mi. Hair is a little too messy, but the dress is a eye-catching red that looks great on her. Love the risqué but not trashy neckline.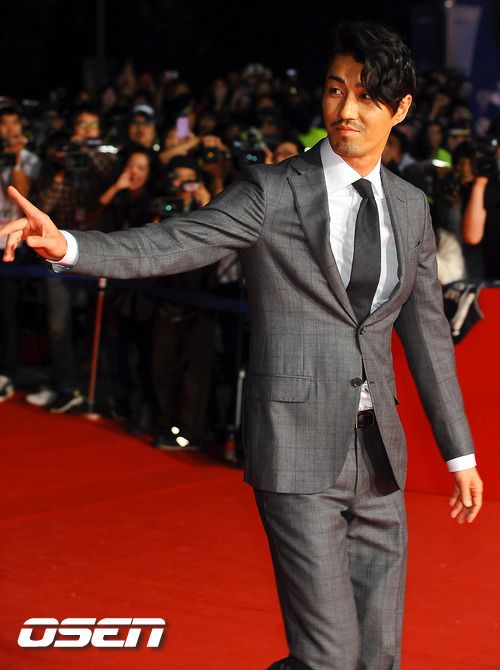 Cha Seung Won. Always a class act on the red carpet. His hair is a tad long in the front, but he manages to pull it off with the right debonair attitude.
Yoo In Na. The green is gorgeous and stands out in the crowd, plus it brings out her complexion. But the body-hugging dress with the gaping neckline is a little bit too much for me. Perhaps in a more substantive material than satin the dress would look better.
The Fighting Spirit couple of Kim Sun Ah and Kim Joo Hyuk! They look adorable together. Love her dress and attitude. Love his dorky specs and cheerful smile.
Yoo Ah In. Isn't this past his bedtime? Hee, kidding! He does look like he's twelve years old, and snuck out of the house to attend this shindig. Adorable, but I prefer him with some facial hair.
I don't recognize this starlet, but she needs to go home and find the rest of her dress before coming back to the party. I just have this urge to go cup something in case she exposes herself.
PIFF, which is Asia's largest film festival, will run through the week and will show more than 300 films from over 70 countries around the world. An official English trailer for Always has been released, so have a watch below.
English trailer for Always: