Next Magazine, you evil paparazzi trolls…..*goes to read*……*speechless*. More than six months after wrapping filming for Drunken to Love You (which finished airing two months ago), lead actors Joseph Chang and Rainie Yang have been busy with their many other projects. Rainie has been focusing on her music career with a hot album and concerts lined up, while Joseph has dived into filming a movie with Kwai Lun Mei.
So the gossip about a potential Joseph and Rainie possible relationship has died down in Taiwan, only to be revived this morning by Next Magazine with the publication of a cover story that those two have been secretly dating for the last two months. O___O I don't know if I ought to believe the story and be thrilled, or take a wait and see approach. The managers from both sides have quickly responded that Rainie and Joseph are just friends. Okay, that's quite a rebuttal there, managers.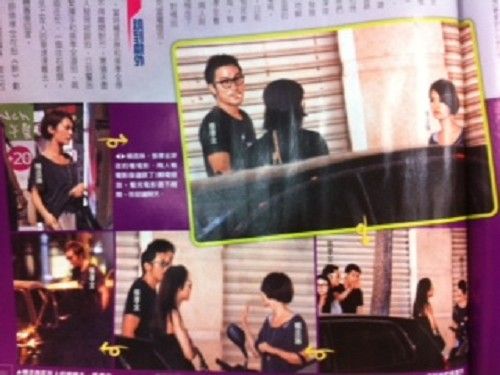 Next Magazine isn't just fabricating a relationship out of thin air. Cameras caught Joseph and Rainie out with friends watching a movie in Taipei, with the group hanging out on the streets afterwards just chatting late into the night. Apparently Joseph and Rainie looked quite close and appeared to be reluctant to part and call it a night.
Joseph revealed in an interview with Esquire Taiwan last month that he's single these days, so that confirms the rumors that his five-year relationship with his longtime girlfriend has ended. According to Next, Rainie was quite taken with Joseph during the filming of DTLY, but didn't want to do anything for fear that she would be labeled a Xiao San (Little Three, slang for homewrecker or interloper in a relationship).
Supposedly their friendship really blossomed during filming, and since breaking up with his ex-girlfriend, Joseph has been pursuing Rainie for the past two months intensely. They are in a dating stage now, with both sides quite enamored of each other. So there you go, gossip hot off the Taiwan rags. Believe what you will. I think when there is smoke there is a fire, but whether these two work out remains to be scene.
Perhaps in a nod to divert everyone's attention from her and Joseph, Rainie walked the carpet tonight with Mike He for an entertainment event that had all the MikeRainie fans on Weibo going insane. Y'all calm down kids, I know it's been 1,368 days since these two were last photographed together for an official event. Man, these two still look smoking together!
So which co-star does Rainie look best with, since she's the queen of scandals with all of them. Rainie and Mike? Rainie and Show Luo? Rainie and Joseph? Or let's go back to Rainie and Roy Qiu?
[Credit: Apple Daily news]