Party in the USA! Er, oops, wrong song. I mean Party in Taipei! Apple Daily held a star-studded party yesterday, not quite sure it was for any reason other than to get all the stars together for some fun times. The Golden Bell Awards is tomorrow, so maybe this was a pre-party of sorts? Either way, there were so many stars attending I think it's easier for me to list who DIDN'T show up.
Most of the missing A-listers are either filming or promoting their projects abroad, such as Ethan Ruan, Ariel Lin, Janine Chang, Blue Lan, Peter Ho, Bolin Chen, etc. Otherwise it appears every available model, actor, singer, and MC of the Taiwan entertainment scene showed up. Below are their red carpet pictures.
Rainie Yang's appearance got the media salivating the most, because of the breaking news that she was allegedly dating Joseph Chang (Rainie denied it), yet she showed up on the arm of former co-star Mike He, and arrived a few steps behind ex-boyfriend Roy Qiu, who had current leading lady Alice Ke by his side the entire time (see above). I think Rainie just lives drama, heh.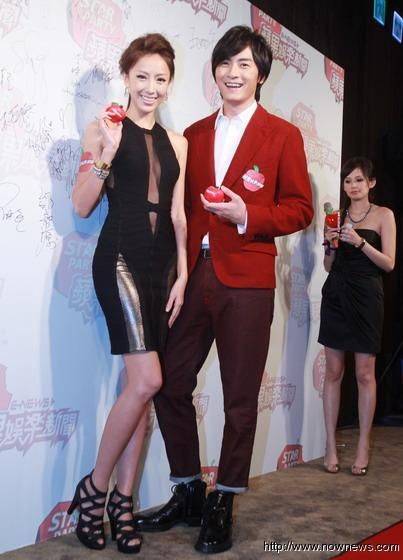 Joe Cheng showed up with Sonia Sui, who is wearing a LBD that is slightly missing the dress part of that acronym. Wowsers is the lady insanely sexy. But good lord, Joe, what in the hell are you wearing? Please donate your outfit to charity to be used as diaper rags. Preferably immediately.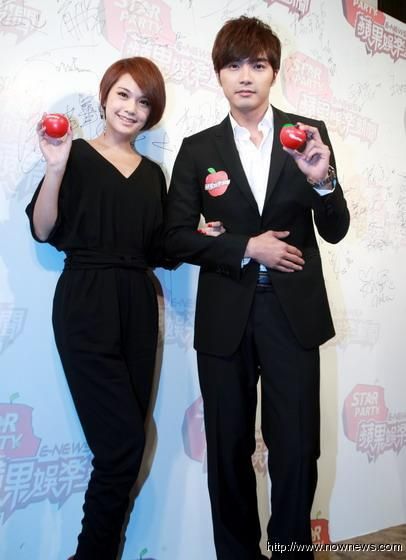 Rainie and Mike, their appearance collectively made RM-shippers weep tears of joy. They look a billion times better now than during the Devil Besides You and Why Why Love days. I think it's high time they reunited for a third drama.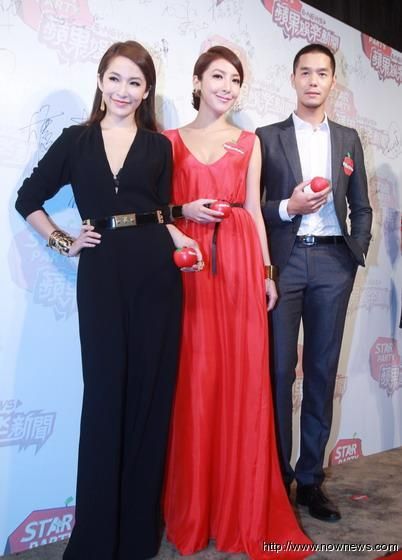 Songstress Elva Hsiao with her BFF Cheryl Yang. Love the long lithe dresses on both ladies.
Amber Kuo really needs to stop dressing like she's a real life doll.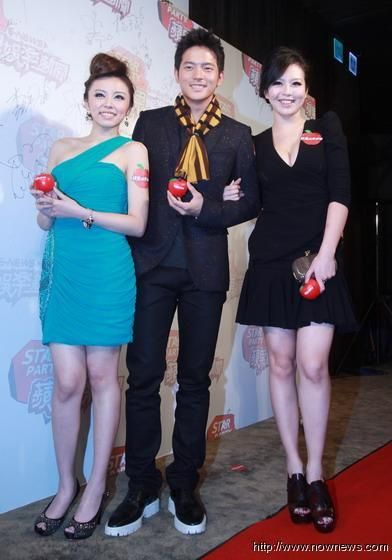 Chris Wang, who has such a cute smile that I just want to pinch his cheeks. I'm glad he ended up kinda getting the girl in The Fierce Wife.
That's Aaron Yan and Anthony Neely on the right.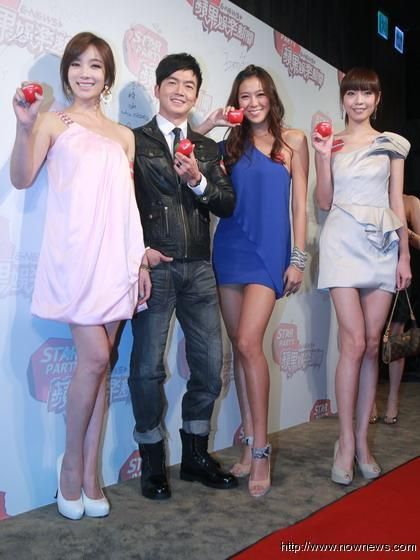 Office Girl's scene-stealing Patrick Li, with his real life girlfriend and OG co-star Janel Tsai (in pink). Funny that in OG, Janel plays James Wen's girlfriend, and she said that Patrick loves making snarking jokes when she's in the middle of a scene with James to crack her up.
Rainie and Elva are also very good friends in real life. That's all the pictures of folks I actually follow, but check out the fun video below of everyone walking the Apple red carpet.
Apple Daily Star Party:
http://www.youtube.com/watch?v=fIUuMDnomMQ