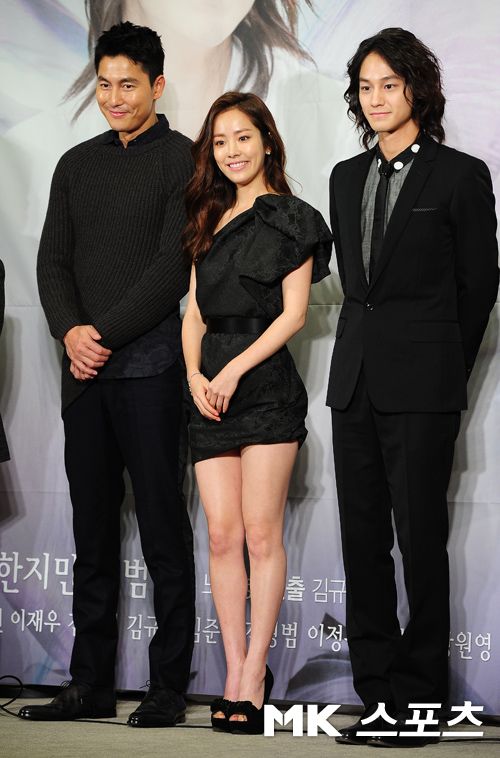 Padam Padam, its the sound of my heart waiting for the drama Padam Padam: The Sound of His and Her Heartbeat to arrive. It's also the sound I made when I laid eyes on Han Ji Min's dress at the press conference for the drama. The dress was gorgeous, and she looked glorious. The cast held the obligatory drama press conference this week as the drama readies for it's premiere this coming Monday on cable channel jTBC. I've already oohed over the stills and ahhed over the trailers, so there isn't much more I can pimp out about this drama prior to its premiere. In terms of fashion, Han Ji Min knocked one out of the ballpark, but her male co-stars I've got a bone to pick. Jung Woo Sung is wearing what seems like half a sweater. I do not approve of clothing inexplicably missing a portion of itself. Kim Bum's outfit is perfectly lovely, but what's with his baby lion mane of a hair do?
Okay, this picture is just too cute, and clearly done on purpose since their characters appear to hold hands quite a lot in the drama.
Awwww, even the dog made an appearance at the press conference. They are just daring you to hate on this drama when it has loveable animals in it.
These two look like they have smoking chemistry from the trailers, which is a welcome relief for me. Jung Woo Sung and Su Ae had negative chemistry in Athena and that was a waste of a perfectly good lead couple pairing.
Go Go Power Rangers! Oooops, I meant "hwaiting!"
Yeah, he makes my knees weak when he smiles that that. In some ways, Kim Bum's smirky persona onscreen does remind me of a young Jung Woo Sung, so I'm thrilled they get to work together. Hope Bummie gets lots of great advice from his new hyung.
In short, PP premieres tomorrow. Yeah, I'm totally watching it. These two better burn up the screen or else I'm calling foul.