Oh boy. This isn't going to be pretty. On a fairly flawless weekend where I wandered around the City in magnificent late Spring weather, eating and loling around to my heart's delight and only stopping to girl talk left and right, the only blemish came in the form of electing to watch the newly premiered weekend dramas. I started with the one that I thought would be better, pressing play on A Gentleman's Dignity first, before venturing into the looks-likes-a-hot-mess Dr. Jin (formerly with the Time Slip in its title). A total of four episodes later, I'm glad I watched them because neither drama left me bored and in fact generated lots of opinions from me. Neither committed the sin of being forgettable, but sadly both are memorable for the wrong reasons in my book.
I already loathe AGD with a passion and find Dr. Jin so stupid and laughable that it actually veers into entertaining must-see territory. I don't know what Jang Dong Gun was thinking to pick AGD as his drama comeback vehicle in 12 years, and my Song Seung Heon is officially delivering his most insanely cracktastic performance deserving of a Korean Razzie as the titular brain surgeon Dr. Jin. But pitting the two dramas opposite each other, I'm only planning to continue with Dr. Jin because it doesn't make me want to take a baseball bat and beat the majority of the characters in the drama, and then swing by Kim Eun Sook's house to toilet paper it afterwards. AGD is crap (a trite plot and shallow characterizations) wrapped in a fancy box (an all-star male cast), while Dr. Jin is simply a paper mache drama held together with glue, water, and lots of effort.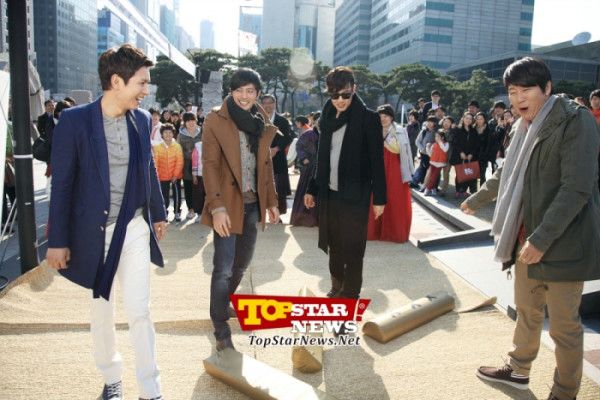 Let's get AGD out of the way first. This drama has the putrid textbook Kim Eun Sook sprayed all over it. Pretentious, pointless, and appallingly derivative of so many drama tropes that Kim Eun Sook is turning into Korea's version of Yu Zheng. She's an equal opportunity copycat, stealing from her own previous dramas and other folks out there that I feel like she made a bibimbap and then claimed she invented a new dish by presenting it in a pretty plate. And compared to On Air and City Hall, where she actually tackled subject matters that grounded her story in an overarching purpose, AGD is as formless as Secret Garden. It's just a vehicle for Kim Eun Sook to collect some big stars and have them spout slick dialogue. Except her dialogue here isn't even as slick as it was in SG anymore. It's like Kim Eun Sook has finally finally jumped the shark.
In AGD, you can see Kim Eun Sook trying so hard to create distinctive characters to serve her narrative purpose (rather than the other way around) and then mash them together in an endless series of ridiculously contrived and coincidental situations. The four male leads played by Jang Dong Gun, Kim Soo Ro, Kim Min Jong, and Lee Jong Hyuk are there to fulfill a 40-something men stereotype Kim Eun Sook has thought up. I like their friendship, I love the fact that Kim Eun Sook has made an attempt to dramatize the life of people over 40 (who are still sexy and attractive and interesting), but gosh darn it I really can't stand how artificial everything feels. The men admit to being friends since high school and whenever they get together, they revert back to their 18 year old ways. I think that's cute in concept, but in execution AGD pulls a bipolar face plant. The men are so extremely immature when together it stretches the credulity.
Right now the only two characters in the entire drama I don't want to bean is Kim Soo Ro and Kim Min Jong, and both actors are the best part of this drama acting-wise and character-wise. They are understated yet magnetic in their scenes, projecting sexy appeal in a mature way. Lee Jong Hyuk gets to play the most caddish one of the bunch, and his acting hits the spot but his character is just annoying and sophomoric. Jang Dong Gun remains the wild card, currently the least interesting of the four guys IMO, but his emotional growth ought to be the heart to pull this story together and it'll all depend on which direction Kim Eun Sook takes him. As of now, the other two guys are cringe-inducingly ridiculous, and the ladies fare no better.
This is Kim Ha Neul's second outing in a Kim Eun Sook drama, and it speaks volumes that I actually prefer her uber-bitch movie star character in On Air to her ditzy and clueless school teacher with the EQ of a guppy. It hurts even more with the insane number of contrivances required to constantly throw all the characters into orbit of each other. The red yarn/string of fate is clearly this drama's stupid overarching symbolic totem that will keep thwacking us over the head to remind us that the OTP is FATED. Yes, that is obviously the only way people can fall in love in dramas. *face palm* After two episodes I'm cutting my losses and getting out now before I drive myself more insane. I suppose the only silver lining I see in this drama is that all four male leads look like they are having a blast filming together, and I think that must be an awesome experience to work together. They have smashing chemistry actually, too bad I'm so turned off by the headdesk-worthy script.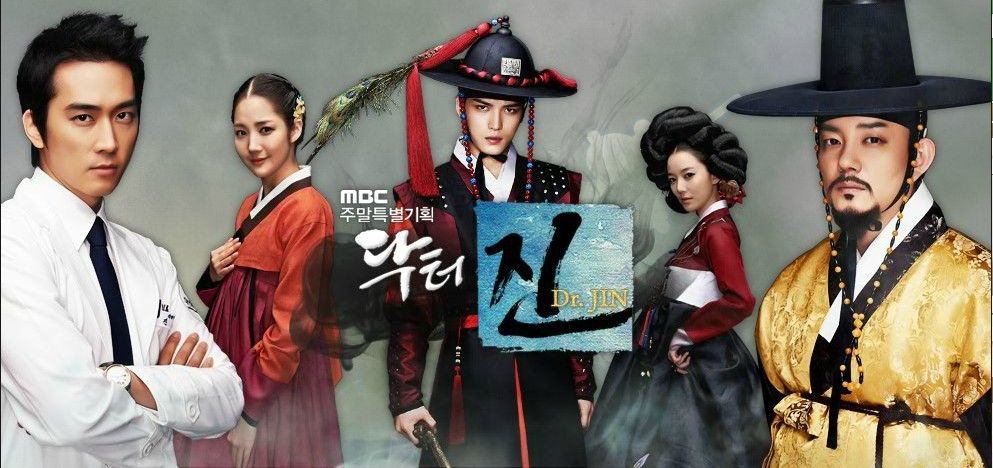 If I found AGD all skill and no heart, then Dr. Jin is the exact opposite, all heart and zero skill. This script has the subtlety of something written by a kindergartener on a restaurant place mat with a chubby crayon. What elevates this above just your garden variety crappy K-drama (and there are a lot of that out there), is how shockingly bad some of the lead actors are. But let me backtrack and start with the good stuff, Lee Bum Soo is brilliant as Yi Ha Eung (Heungseon Daewongun), showing everyone that he hasn't done a sageuk in his entire career thus far not because he couldn't cut it. He steals every scene he's in and makes you wish he was in every scene in this darn drama. Lee So Yeon is similarly just nailing her role as a gisaeng, while Park Min Young is quite good in both her modern incarnation and her sageuk character. If Dr. Jin was just these three actors as the leads, they might even elevate this script into a perfectly serviceable drama. Might, but probably not, since the script is really so very silly.
Alas, Dr. Jin is literally turned into a near farce by the Wonder Cheekbones Duo of Song Seung Heon and Jaejoong. My oppa is soooo bad here I actually love him more for trying so hard that I can actually see him thinking as he's acting hoping to nail each scene. His line deliveries are fine, but his facial expressions are all sorts of ridiculously overwrought in most scenes that it almost feels like he's in a silent film. But the winner of the worst actor in the entire drama goes to Jaejoong, who I had such high hopes after he really impressed me in Protect the Boss. I told a friend yesterday that the horse Jaejoong was riding in episode 1 acted better than he did. It's true! When the horse was spooked, it freaked out believably. Whereas Jaejoong has thus far shown the same constipated expression for every single scene regardless of whether he's supposed to be angry, determined, or calm. Plus his sageuk line readings have such an awkward cadence, like he rushing each sentence because he's afraid he will be talking too slow.
Despite the bad acting and shoddy directing, the story which is based on the J-dorama Jin remains quite interesting. I do think it's absolutely hilarious that in two episodes, Dr. Jin has had to perform multiple surgeries and keeps running into people with head trauma. Not to mention he runs into his modern day girlfriend's sageuk doppleganger almost immediately upon arriving in Hanyang. What are the odds, eh? If I accept this drama is just written in such a ham-handed and silly way, I almost find it quaint and charming. It has a simplicity about it that keeps the entire production on even ground. It's not asking a flawed acting ensemble to attempt a difficult script or wasting phenomenal actors on grade school fare, Dr. Jin is silliness that tries really hard to make the story have stakes and purpose.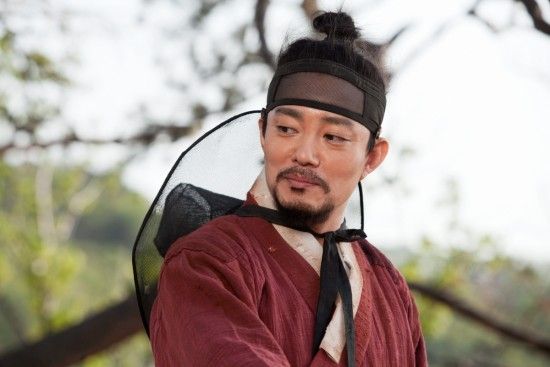 We know modern surgeon Dr. Jin went back to the past and will change the lives of many people he encounters because of his medical knowledge. He might even alter or affect the course of Joseon history, and I confess to being really fascinated in seeing how he intersects with what we know of how Yi Ha Eung will become Heungseon Daewongun, the father of the Emperor Gojung. I'm a little annoyed that both of Park Min Young's characters are written to be one-dimensional Mary Sues right off the bat, but she surprisingly has good chemistry with Song Seung Heon that I'm already over the odd factor and looking forward to seeing them interact in the drama. So I guess what I'm saying is that I'll be continuing with Dr. Jin despite how stupid it is because at least I care about some of the actors as opposed to watching AGD which feels like I'm selling out my soul to drink from Kim Eun Sook's trendy Kool Aid. Been there, done that with Secret Garden. Dr. Jin has nowhere to go but up, whereas AGD is so vile to me in its shallow superficial constructs I don't even care if it eventually turns into a decent watch. Despite my love for CH, I know plenty of folks who could never get over the early shallowness of Kin Eun Sook's script for my beloved drama, and now I finally understand why. My verdict? AGD is clearly the better drama in terms of overall quality and acting, but Dr. Jin is more entertaining and has emotional stakes.