I like I Do I Do so much. Episode 2 lost a bit of its earlier J-dorama vibe as the drama heads towards a conventional K-drama rom-com direction, but it retains its mellowness that is addicting to watch. This story is low on the hysteria yet manages to capture all the emotional nuances wonderfully. This is clearly the Kim Sun Ah show, and boy does she deserve the spotlight. Her character is layered and unflinching, and Sun Ah plays Ji An with even more restraint than required. I like both males lead characters and find myself eagerly looking forward to how this story would unfold. Clearly I'm hooked, and that means I'm heading down another rabbit hole.
Episode 2 recap:
After running into each other in the alley, Tae Kang books it but somehow Ji An manages to catch him because next thing we see is the two of them in a police station. Ji An yells at Tae Kang to reveal who made those shoes, but Tae Kang sticks with the preposterous story that he found those shoes on the street. Ji An gets annoyed and wants to deck him with a heel but the police officer steps in and calmly tells Tae Kang to stop wasting their time and confess. The picking up a bag of shoes story is so ridiculous, does he think he was collecting recycling?
Dad is drinking at Choong Baek's restaurant and worried about why Tae Kang hasn't joined him yet. Choong Baek says not to worry, Tae Kang probably just sneaked off somewhere else like when they were kids. But Dad still looks worried.
Ji An hears that if Tae Kang doesn't reveal the true counterfeiter, he'll take the fall for it. Ji An sits down with Tae Kang and tries to counsel him to tell the truth, but Tae Kang is protecting his dad and claims he was the counterfeiter, making and selling the shoes. He asks Ji An to let him off the hook this time, since they know each other and all. She doesn't believe him, pointing out that the person who made the shoes must have had at least twenty years of experience.
Then she grabs his hands, which are free from callous and his fingernails are not black with grime. Ji An tells him to tell the truth or else he'll go to jail. What would Tae Kang's father think? He would be so worried. Since Ji An doesn't know Tae Kang is protecting his own dad, bring up the parents triggers a nerve in Tae Kang. He tells Ji An to stop worrying about other people's family, why doesn't she worry about her own parents first. He understands where her dad came from now, to have such a heartless daughter, he would disown her.
Ji An calls him garbage and he admits it since he never had a proper education and all. But then what does that make her, coming after garbage like him? Ji An doesn't want to waste her breath explaining to him about hard work and wanting to protect her creations. She leaves Tae Kang with the admonition that there are people with less opportunity and education than him but they are living just fine. Ji An walks out of the police station, but stops to look back.
Tae Kang's dad watches a news report about how a shoe counterfeiter was caught who was ripping off designer's intellectual property. We see a blurred out picture of Tae Kang at the police station. Tae Kang gets released from jail and when he walks out, he sees handcuffs being placed on his dad.
Turns out Dad confessed and wants his son released. Tae Kang asks why his dad did this? When his dad is led away, Tae Kang cries out that his dad didn't do anything.
When Tae Kang goes home, he sees a table of food left for him by his dad, with a note telling Tae Kang that he'll be fine and not to forget to eat. Tae Kang sees the table is prepared with seaweed soup and tofu, to help cleanse his stint in jail. Tae Kang cries as he stares at the table of food.
A woman arrives at Seoul Airport. She is Yeom Na Ri, a woman who has lived abroad for the past fifteen years. Na Ri goes to the office of President Yeom (calling him Uncle), telling him that she prefers to work in a different department. We see Ji An's office being cleaned and moved out. Ji An's subordinates grouse that this newbie is taking over their boss' office, all because she's the illegitimate daughter of the President of the company.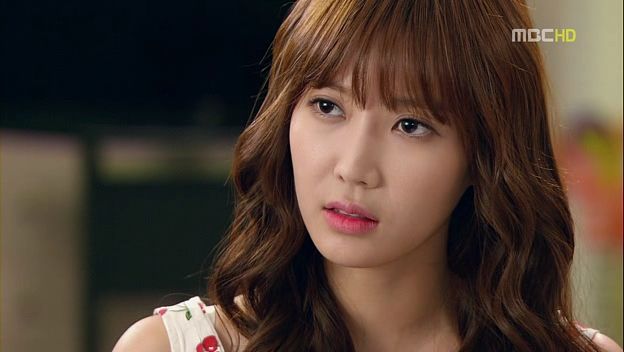 Na Ri walks into the design department and greets everyone. Ji An is walking a box of her stuff down the stairs and Na Ri goes over and extends her hand for a shake. Ji An points to her hands holding the box and says her hands are occupied. Na Ri apologizes for taking Ji An's office, it must be an inconvenience. Ji An says inconvenience is the lesser of the problem, what's worse is she feels like shit. Na Ri points out Ji An is as straightforward as rumors say.
When Na Ri holds out her hand for a shake, Ji An puts her box down and shakes it. As Ji An walks away, a brochure drops out and Na Ri picks it up, reading aloud that it's a guide for delaying menopause. Ji An lies that it's for her mom, but Ri An embarrasses her further by stating that the brochure has Ji An's name on it. She hands it back to Ji An and laughs that Ji An is clearly aging quickly. When Ji An gets to her new office, she bitches that Na Ri is like a desert fox.
Ji An gets a call from her mom about the matseon date. Ji An says the date is nice and good looking and well mannered. When asked what the guy thought about her, mom is sad to reveal the guy called her boring, not sexy, bad tempered, looks like a woman who can't ever get married. Ji An smiles, happy to hear Eun Seong did what she asked. But then mom reveals the guy must have unique tastes, because he confessed to liking Ji An!
Ji An calls Eun Seong and bitches him out for messing up their plan. Eun Seong says he's got more matseons coming up and he doesn't want to go on anymore, so can she go along with his plan and they can pretend to be interested in each other to get their parents to back off. Ji An isn't interested in this tactic, and calls Eun Seong on his sneaky maneuver to use this to stay in touch with her. Eun Seong laughs, saying she must have a princess disease if she thinks he's interested in her. Or maybe it's her menopause hitting. He asks her out to dinner tonight, some tofu would be good for her. Ji An yells at him and hangs up.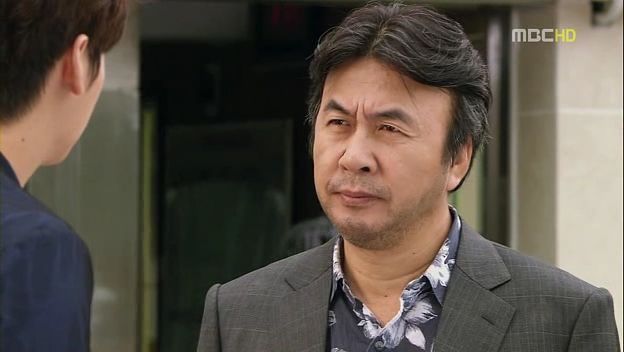 Dad is released from prison and Tae Kang is outside waiting for him. Dad asks how Tae Kang found the money to pay the compensation settlement money, but he's just happy to get his dad out. Father and son go to the jjimjalbang where dad lays on the floor pissed that Tae Kang sold Beyonce and their house to come out with the money.
Tae Kang says it's his duty to get his dad out, he couldn't sleep a wink when his dad was in jail. He tells dad not to be hung up on their old house, he'll earn money to buy his dad a house ten times better. Tae Kang stands up, announcing that he's the eldest son in the family and from now on his dad just needs to enjoy his food and relax, Tae Kang will take care of him.
Tae Kang goes on a series of part time jobs. He sits as a model for an artist, but she's totally handsy with him, touching him all over. Then Tae Kang goes to work as a high rise window washer but he's freaked out by heights. Next comes a job at a stable where Tae Kang washes the horses and cleans the stalls. Finally Tae Kang ends up at the morgue dressing a dead body, which freaks him out when the body suddenly opens his eyes, which is of course Tae Kang's nightmare.
Ji An goes to inspect a shoe store and she sees some Gold Label shoes discounted. She's told it was the decision of the new VP Na Ri. When Ji An confronts Na Ri, she says they had extra inventory. Ji An informs Na Ri that those shoes were being kept for charity and publicity use. Na Ri mocks Ji An for doing the same promotional activities every year. JI An points out that many people's livelihoods are at stake here, so Na Ri shouldn't just make changes so quickly. Na Ri is nonplussed and dismisses Ji An.
The design team is working on a weekend and one employee is frustrated because she's missing an engagement. One worker speaks up for Ji An, saying she pushes them to work harder and improve their talents. But mostly they grumble at what a task master she is and how working for her makes them hate high heels and have constipation. Ji An overhears a bit and goes in to dismiss them for the night.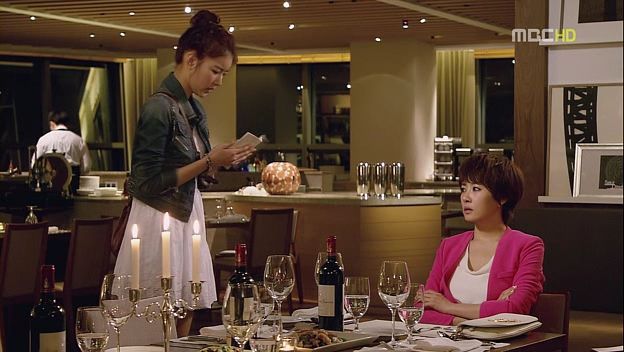 She invites them all for dinner since they worked so hard. She goes to the nearby restaurant to wait for them. Ji An orders for the table and sits down to wait, but no one shows up. She tells herself that everyone is on Korea time, and only 37 minutes have passed. Finally one employee comes running in and she reads from a list of excuses for why each and every employee couldn't make it to dinner. Ji An asks the messenger employee to sit down and dine with her then, but that employee says its her mother's birthday and she can't stay either.
Ji An walks down the street, looking around her at people in groups or pairs. She sits down and calls her friend, who is busy at a club hanging with her boy toy. Ji An scrolls down her phone, finding no one she can call.
Tae Kang is at Choong Baek's restaurant and reveals he did all those odd part time jobs to test his mettle. Choong Baek suggests Tae Kang find a profession doing something he's good at. Which is when Ji An walks in the restaurant. She sits down while Tae Kang tries to sneak out, but then Tae Kang changes his mind and goes to sit down across her from.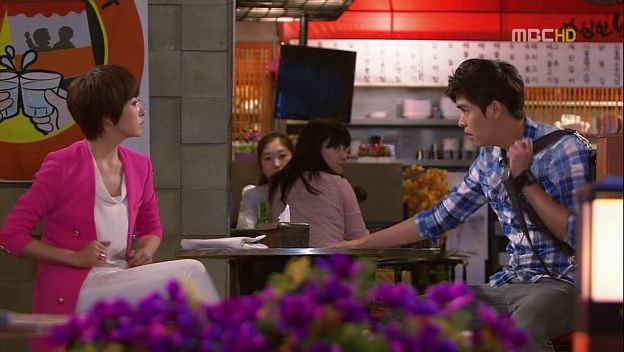 Ji An looks up in surprise but Tae Kang just stares back at her, asking what she's doing here? She snerks back that she's clearly not here to see him. Tae Kang is in a vindictive mood (for Ji An pressing charges on the counterfeit shoes that ended up sending his dad to jail), so when Choong Baek walks out with food, Tae Kang lies that he brought Ji An here last time to get her drunk and mess with her. Choong Baek tries to explain that's not what happened that night, explaining that recently something happened to Tae Kang's family……
Ji An calmly asks Tae Kang "so what"? Did he expect her to be angry once she heard that? How naive is he? He must still be upset that she turned him into the police. She points out some people channel their anger and frustration into being productive with their lives and suggests he do the same. When Ji An gets up to leave, Tae Kang asks if she thinks her life is successful? So she has money and a career, but her parents aren't happy with her and she has no friends so she's here eating alone. In his eyes, she's more pitiful than he is.
Tae Kang doesn't know why he gets this feeling that Ji An has no one around her, all she has are her shoes. So that makes her a failure in his eyes. Ji An stares at him and then turns and leaves, her eyes red. Tae Kang looks chastened at everything he just said to her.
Ji An goes home to her darkened apartment and opens to fridge to find it devoid of anything to eat. She ends up sitting at her dinner table with a bowl of instant noodles, eating it while thinking of Tae Kang calling her a failure in life. She cries but still grits her teeth. Tae Kang sits in the jjimjalbang and thinks back to his confrontation with Ji An. We see Ji An sleeping on a chair in her shoe closet.
Tae Kang looks at his sleeping dad and opens his dad's palm to see it thick with callous and grooves. Tae Kang cries, asking why his dad worked so hard over the years? He places his dad's hand on his chest and covers him up, before laying down next to him and then putting his hand on his dad's hand.
Ji An is leading a presentation to the company about a new promotional design contest they are doing. The Chairman asks whose idea this is and is told it was Na Ri assisting with Ji An's project. The two ladies run into each other in the bathroom and Ji An snerks that Na Ri has changed her tactic from ice princess to sweet young thing. Na Ri gives Ji An a spa gift certificate and tells her to go keep herself young and pretty. Ji An's not above being practical and keeping it.
Tae Kang keeps getting rejected at his job interviews, which is when he sees a shoe improvement design competition from the company Jinny Kim (which is where Ji An works), with the winner getting a cash prize and a job there. Dad doesn't think Tae Kang can win since other designers competing must've trained overseas. Tae Kang wants to do it, and tells Dad angrily that if he wins, he's not sharing the cash award with his dad.
Tae Kang goes to study shoes by visiting stores and thoroughly investigating every detail of shoe construction. Tae Kang is standing outside lamenting how hard it is to improve on a shoe design when his dad comes out and puts a jacket on him. Dad shares a story about how Tae Kang screwed up badly once when he was a teenager, so badly Dad wanted to kill himself. But then he remembered Tae Kang had to go on a school outing the next day, so he climbed off the bridge and went to the market to buy ingredients to make kimbap. Dad can't even kill himself because he had to take care of Tae Kang, but in the end they made it past every situation. Dad tells Tae Kang that he better win the competition.
Tae Kang arrives at the offices of Jinny Kim to submit his entry, which is when he sees Ji An talking on the phone. He quickly hides under the table to avoid detection.
Ji An uses the spa certificate with her friend, who comments that this place is very luxurious, Na Ri clearly must be from a rich family. When asked about Eun Seong, Ji An admits that she's cold to him but the guy continues to contact her. He sends her three texts each day, exactly at 8, 12, and 6 o'clock. Her friend suggests Eun Seong probably has set reminders on his phone to text Ji An at those times. Ji An takes a drink of the spa shake which causes her to feel like throwing up. Ruh Roh.
Eun Seong is doing an ultrasound for a pregnant woman and giving them good news. Ji An's parents arrive and meet with him, with dad coming straight out and asking Eun Seong to consider changing jobs. Poor Eun Seong to all "what the heck" and asks who they are? When it's announced that they are Ji An's parents, he immediately stands up and bows. So cute.
Eun Seong has dinner with Ji An's parents and learns her dad is very old-fashioned and wants Ji An to stay home after she gets married. After he sends them off, he breathes a sigh of relief and calls Ji An. She answers and then hangs up. Eun Seong laughs at her attitude.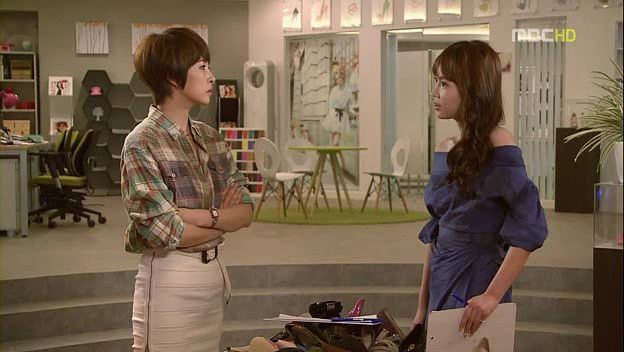 The design team is going through all the submitted shoes for the competition. Na Ri picks a shoe and everyone says that was the one they liked as well. But Ji An picks another shoe, pointing out that one has got all the basics down. Na Ri wants to pick since she's the boss in this department, but Ji An points out that Na Ri admitted Ji An was leading this project in front of the Chairman. Ji An tells Na Ri that experience must be learned and isn't a god given talent. The air is thick with tension and everyone watches Na Ri and Ji An tussle over the winning shoe.
Choong Baek takes the call from the company and announces to Tae Kang and dad that he's won the competition. The three guys hug each other and jump around in happiness. When Ji An and Na Ri arrive at work the next day, everyone is talking about their verbal smack down on each other at the office over this project.
Tae Kang is waiting for the award ceremony to start when he goes to get something to drink. The vending machine jams so he starts kicking and hitting it to dispense the drink. Ji An walks by and goes to order him to stop, which is when Tae Kang sprays his drink all over her. Once they recognize each other, she asks what he's doing here? Tae Kang just smiles and awkwardly says they meet again.
Thoughts of Mine:
I enjoy this drama both for what I've seen and for the potential I glimpse. The set up is so far quite engaging, and I like how all four leads are written in very relatable ways. While Na Ri is clearly Ji An's foil, I think the drama will do more with her than as a token bitchy second female lead, and perhaps her own career ambitions and personal concerns will be revealed and we can grow to appreciate her character arc as well. But for now, I actively am interested in seeing how Tae Kang and Ji An reconcile their current life woes, and how the funny and charming Eun Seong tries to win Ji An over. I actually totally forgot about the pregnancy arc, which goes to show that the characters have already resonated with me that I'm not looking for a hook to keep my interest in this drama.
I really appreciate how the writers are drawing out the parallel parental issues both Ji An and Tae Kang face, and in between we see that they are both good filial kids who so desperately want to do right to their folks. Tae Kang really gets the chance to shine when we see that he shares such a tight bickering bond with his dad. I love that his impetus for career growth is to take care of his dad and stand up to do his part for the family. It feels so realistic, and makes Tae Kang's desire to succeed all the more meaningful.
I'm not throwing out accolades for IDID just yet, and maybe this drama won't ever rise to become some breakthrough rom-com classic. But so far it's sweet at times, heartbreaking in others, and is anchored with a kernel of hard knocks realism. To be professional successful but personally empty is a fear many a thirty-something and older have faced. To be lacking in career direction and full of dreams but no means is a worry many a twenty-something have faced. To try to juggle everything in life, all while love might be around the corner, that is something we all try to hope for. I want to cheer Ji An and Tae Kang on, to go get what's missing in their life and hopefully end up somewhere better down the road.