There are so many things about Big that turned out to be completely unexpected, in both good and bad ways. This is the least spastic Hong Sisters episode 1 of any of their dramas I've ever seen. Other than Lee Min Jung mugging it up as required by her character, everything and everyone else was uncharacteristically mellow and restrained. This episode was low on the laughs but high on the set up. The directing is passable and the editing is atrocious, but the music is a welcome understated change. But the biggest shock is discovering that the male lead isn't Gong Yoo's adult doctor character, but is instead Shin Won Ho's high school student character.
Gong Yoo is still the male lead since he'll get the majority of the screen time playing the high school kid in an adult doctor's body. I thought the drama would be Lee Min Jung and Gong Yoo's affianced couple finding a way to be together, but now I'm completely and rabidly onboard Lee Min Jung and Shin Won Ho's noona-dongsaeng romance. I should have figured this out when all the posters show Lee Min Jung posing with Gong Yoo acting like a teenager. I'm not sold on the story yet other than its shaping up to be a potential angst central, so I'll give it a few episodes to see if the kinks shake out.
Episode 1 recap:
Gil Da Ran is a 24 year old student teacher in high school (and part time florist delivery person). She delivers a bouquet to a bride only to discover the bride was her friend, who didn't invite Da Ran to the wedding. Awkward.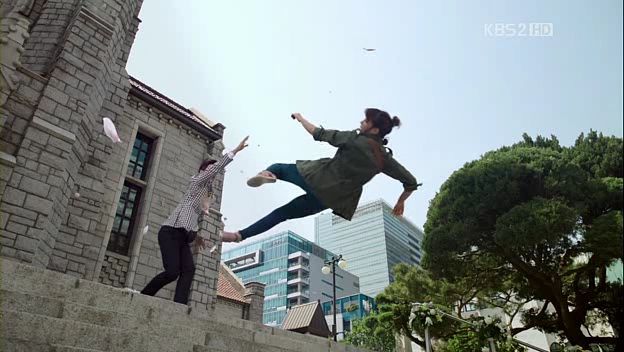 Da Ran learns afterwards that she delivered the wrong bouquet, so she joins the female guests to try and catch the bouquet so she can take it back to the store. When the bouquet is tossed, Da Ran backs up to catch the bouquet when she's bumped by Seo Yoon Jae. Yoon Jae tries to grab her but misses by a hair and Da Ran ends up on the bottom of the stairs.
Da Ran broke some bones from the fall but ended up with a fiancée, as Yoon Jae became her treating physician and then courted her. It's a seemingly perfect whirlwind courtship as the two of them quickly get engaged and the wedding is scheduled for a month from now. Da Ran sits on the bus and listens to a radio show discuss her love story since she wrote in to share it. The radio station gives Da Ran a pressure cooker as her prize and she happily yelps out loud when she hears it.
Da Ran is happy as a bee listening to her own love story. She naturally seems like a rather clueless person anyway,  so it takes her awhile to notice a young man sitting across from her who is looking at her. Da Ran turns and makes eye contact with Kang Kyung Joon.
Da Ran gets off the bus with her green umbrella but Kyung Joon follows and calls out for her to stop. Kyung Joon walks under her umbrella and grabs it, his hand gripping the umbrella handle above Da Ran's hand. Da Ran quickly says she's an engaged woman but Kyung Joon tells her not to flatter herself. She took his umbrella by accident.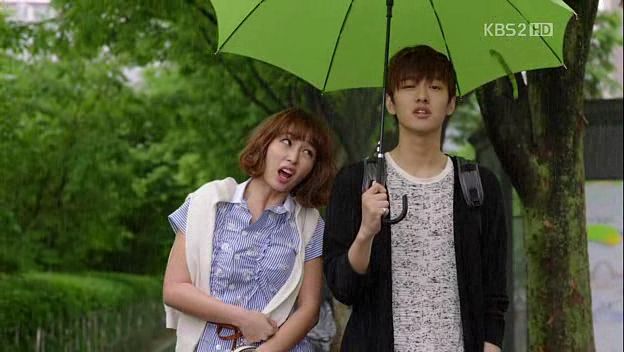 Da Ran accuses Kyung Joon of staring at her on the bus, and he points out everyone on that bus was staring at her as she listened to the radio show like a moon calf. It's Kyung Joon's turn to point out how Da Ran only noticed the cute boy staring at her and not the others on the bus. They walk and arrive at the front gate of the high school, where Da Ran runs inside and tells Kyung Joon not to follow her. Too bad for her, Kyung Joon is the new transfer student, having just moved back to Korea after living in the US.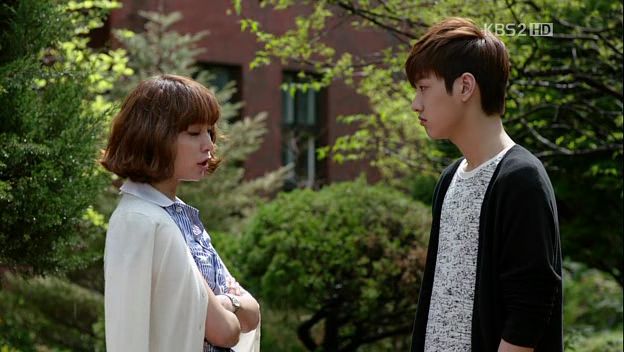 Da Ran is tasked with showing him around, but he's quite informal with her despite her status as a teacher at the school. Da Ran reminds him that she's his teacher, and he replies with "Yes, Gil Da Ran" which infuriates her more. She makes him call her teacher, so he shrugs and calls her Gil Teacher.
Yoon Jae calls while Da Ran is showing Kyung Joon around, and her conversation is all lovey dovey with him as they make plans to meet later. Da Ran makes Kyung Joon promise not to reveal her love story with Yoon Jae to the other students and he agrees if she'll let him speak casually with her. She agrees.
As Kyung Joon walks through the school, he's accosted by three boys led by Gil Choong Shik. Kyung Joon ignores them which upsets Choong Shik, but the fight is stopped by Da Ran, who proceeds to beat up Choong Shik, who turns out to be her younger brother.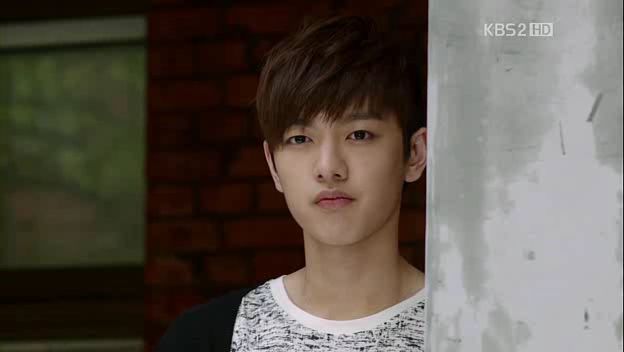 Kyung Joon watches Da Ran and Choong Shik bicker, and then he goes home to his empty house. Turns out Kyung Joon is an orphan and his mom recently died, so he's being watched over by his uncle and aunt. But Kyung Joon isn't poor, as his mom left him quite a lot of money, and perhaps uncle and aunt are less interested in Kyung Joon as they are in his money.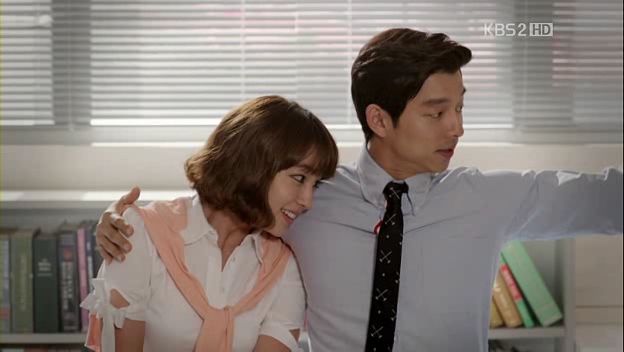 Da Ran goes to the hospital where she is supposed to see Yoon Jae tonight, but he's busy and can't see her. She sits in his break room and remembers their dates in the past, when they happily made plans to get married. Da Ran discovers that Yoon Jae still has their wedding invitations in a box and never distributed them to his colleagues. Yoon Jae's doctor colleague Lee Se Young, also his ex-girlfriend, is quite dismissive of Da Ran.
Kyung Joon sleeps in a child's bed that he is very attached to because his mother promised him it would keep him safe. He wishes he could grow up immediately and be an adult. Kyung Joon goes to look at adult beds and finds one he likes, laying down to sleep on it.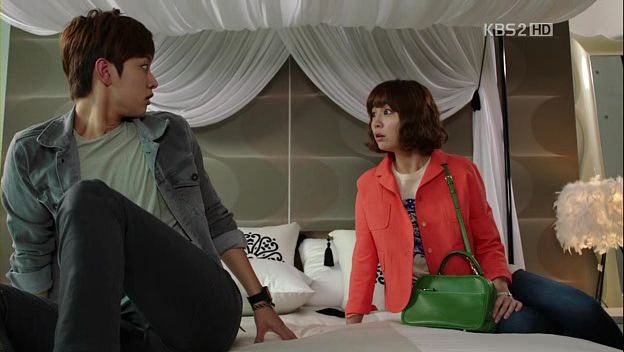 Da Ran arrives at the same furniture store and turns out she also liked the same bed for her and Yoon Jae's new life together. She sits down and recognizes Kyung Joon. She ends up breaking the bed post and has to buy the bed.
She takes Kyung Joon out to dinner and tries to persuade him to buy the bed from her, adorably negotiating the price down. Kyung Joon tells Da Ran he's an orphan and says he never intended the buy that bed anyways. Yoon Jae calls and once again breaks a date with Da Ran on wedding planning matters, which Kyung Joon can see how disappointed she is.
Kyung Joon rides his motorcycle to school and purposely splashes Da Ran as he zips by her. At school, Kyung Joon gets into trouble for not wearing a uniform, which is when Da Ran hands him a uniform she bought for him. He later grumbles that he told her he was an orphan, not that he was poor. But he smiles and puts it on. Kyung Joon walks out wearing his new school uniform, and we see a picture in Kyung Joon's wallet of two angels reaching for each other's hand.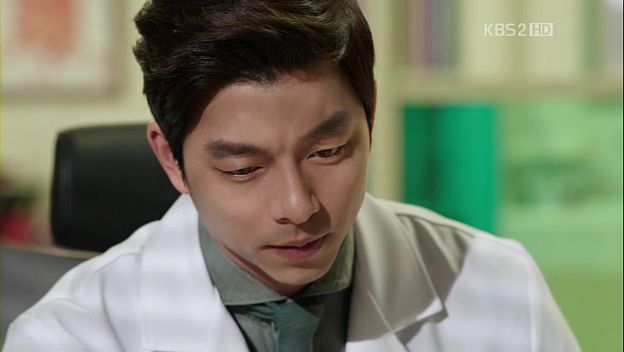 We see Yoon Jae has a plane ticket to LA, and he also has a picture of the same two angels reaching out for each other's hand. I don't know what Yoon Jae's issues are, but right now he's about as interesting as a cardboard cut out.
In class, students have found out about Da Ran's fairytale-esque romance with Yoon Jae and some boys tease her. Despite being a teacher, Da Ran has no authority and can't get the boys to stop. Kyung Joon looks perturbed while its younger brother Choong Shik who gets up and stops the teasing.
Da Ran gets another call from Yoon Jae who can't see her, and finally she has enough and starts crying, asking why he's marrying her? Is it for love, or because he feels guilty and is taking responsibility for her? She hangs up on Yoon Jae, but then afterwards she's shocked at having confronted Yoon Jae and wants to call him back, but Kyung Joon takes the phone from her.
Kyung Joon takes Da Ran on his motorcycle to the lake where she's calmed down enough. She thanks him for stopping her from calling Yoon Jae back, otherwise she would become a spineless woman. They joke around as Da Ran thinks he helped her because he felt guilty about revealing her love story with Yoon Jae to the other students, but Kyung Joon says he didn't since he's not immature like that. Da Ran shows Kyung Joon how the kids nowadays make cute gestures when they talk, like this "buing, buing" gesture accompanied by a pretend crying movement.
Yoon Jae calls Da Ran back and wants to meet right away, he's willing to answer any questions she wants to ask him. Kyung Joon hears this and leaves Da Ran there to wait for Yoon Jae to arrive.
As Yoon Jae is driving to meet Da Ran and Kyung Joon is riding away from Da Ran, there is an accident on the road and both Yoon Jae and Kyung Joon end up in the lake when they both swerve to miss the accident.
Yoon Jae manages to get out of his car and swims down to try and save Kyung Joon. We see the two guys' outstretched hands mirror that of the angel picture they both have.
Yoon Jae and Kyung Joon are taken to the hospital, where Yoon Jae is pronounced dead and Kyung Joon is still unconscious but saved.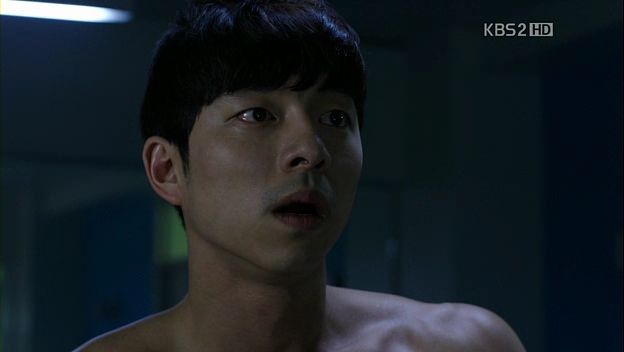 Yoon Jae's body is taken to the morgue, which is where Kyung Joon's soul wakes up inside of Yoon Jae's body. I'll call this post swap character Kyung Jae (whereas when and if Yoon Jae's soul wakes up inside Kyung Joon's teenage body, I'll call that character Yoon Joon). Kyung Jae stares at himself in the mirror and doesn't recognize this stranger's body.
Kyung Jae stumbles out of the morgue and runs into Da Ran in the hallway. She had been crying in the hospital since getting news of Yoon Jae's death, and now she's ecstatic and relieved to see Yoon Jae alive. Da Ran hugs Kyung Jae, who calls her Teacher Gil and asks why she's calling him Yoon Jae-shhi.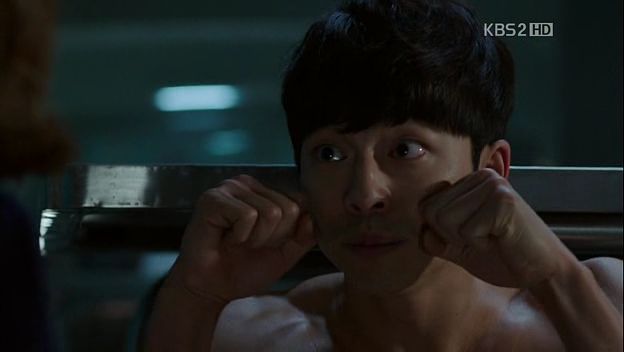 Kyung Jae explains to Da Ran that he's Kang Kyung Jae, but that just leaves Da Ran even more worried and confused. Kyung Jae goes into the morgue to look for Kyung Joon's body, worried that his real body is dead. In the morgue, Kyung Jae repeats Kyung Joon's last conversation with Da Ran by the lake (the buing, buing cute move included) to convince her of who he really is, which leaves Da Ran shocked but unable to wrap her head about this impossibility that its Kyung Joon's soul in Yoon Jae's body. I don't blame her.
Doctors check out Kyung Jae and the theory is that the accident might have caused him to be confused about his identity. Kyung Jae sees his aunt and uncle in the hospital and finally sees his own (Kyung Joon's body) laying there in a coma.
A bloody patient being wheeled past him brushes against his hand and Kyung Jae has a frightening flashback to blood on his hands while his mother lays dead on the ground before him. He runs away from the hospital.
Da Ran sees Kyung Joon's body laying in the hospital and learns that Kyung Joon was in the same accident as Yoon Jae. Remembering how Kyung Jae told her that he was Kang Kyung Joon and knew so much as her one-on-one conversations with Kyung Joon, Da Ran calls to find out Kyung Joon's address.
When Da Ran arrives at Kyung Joon's house, she sees his front door ajar so she walks inside. She sees Kyung Jae curled up in a ball on Kyung Joon's kid bed. She walks over and leans down to stare at him.
When Kyung Jae opens his eyes, Da Ran asks if he's Kang Kyung Joon? Kyung Jae responds "yes, Teacher Gil Da Ran."
Thoughts of Mine:
I already ship Kyung Joon and Da Ran rabidly, so don't be asking me who the OTP is. From all the info I've gleaned, it's this noona-dongsaeng romance. The best part is that Lee Min Jung has fantastic chemistry with both guys playing Kyung Joon. Shin Won Ho nails the teenager who is too mature for his age while being emotionally wrapped in a shell. Once Kyung Joon goes into Yoon Jae's body, Gong Yoo seamlessly takes over and his acting talents really come to the forefront and make you see that Yoon Jae and Kyung Jae are two different people. On paper this coupling doesn't really seem all that plausible, but in execution Kyung Joon and Da Ran are so squeeworthy.
Storywise I don't think the Hong Sisters are quite there. I don't sense an overarching narrative the way they have usually structured their dramas, this feels more like writing around the soul-swapping fantasy plot device. Too bad the dialogue feels so ordinary in this drama, without any snap, crackle or pop. I'm not quite sure why the drama feels almost like a pale washed out version of what it could be. I found all the characters so far very superficially developed, though Da Ran and Kyung Joon get the most time for us to see their personalities. I thought there would be a viable love triangle but right now there is zip, zilch, nada between Yoon Jae and Da Ran. I'm not sure if Yoon Jae is guilting himself into marrying Da Ran or if he's just emotionally withdrawn, because he's sure not acting like a loverboy in the least.
What I liked about the strange OTP pairing of Da Ran and Kyung Joon is how they are emotionally quite at a level playing field. She's rather immature for her age, he's rather too mature for his age. It's clear that something about Da Ran captivated Kyung Joon from the get go, and from there they will have to figure out how to handle this crazy soul-switching situation while balancing what is clearly never a teacher-student relationship between them. I also like how the main characters aren't written as extremes in personality or intelligence. Da Ran is a tad on the oblivious and too nice side, but not so much I'm annoyed with her. When she finally confronted Yoon Jae, I realized that she does have a spine and I like that. While I'm not completely sold on Big (yet), the curiosity about the OTP is enough to keep me on the train for the time being.