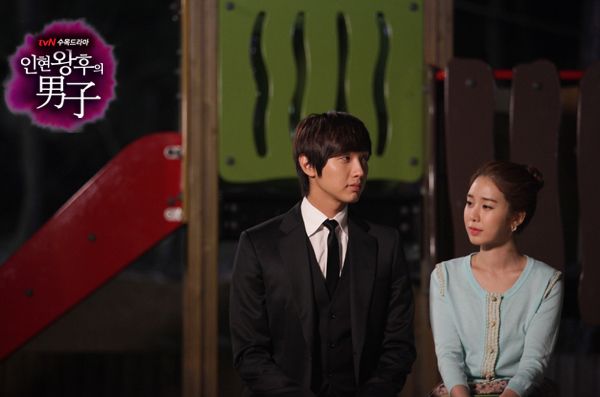 OMG whut was that all about!?! Imma going to pretend the completely nonsensical (even within the mythology of the drama) episode 16 of Queen In Hyun's Man didn't exist. Episode 15 was all sorts of heartbreaking, but if the payoff is the stupidity of 16, then imma going to pretend both episodes pfft evaporated into thin air. This drama was so intelligently written for so long, having it completely go off the rails in terms of whys-and-hows at the very end is certainly disappointing. On a happier note, Ji Hyun Woo confessed to Yoo In Na at the finale viewing party for QIHM. His exact words were "I wanted to say this in front of fans who love this drama. I like Yoo In Na, and I hope for your blessings." Apparently it was a surprise to Yoo In Na, and her response was this will need to be discussed privately. Ergh, girlfriend, the correct response was to kiss this adorable boy senseless right then and there. He just turned your real life into an actual K-drama! Gosh, this just tickles me pink with glee.
I suppose the expectations being so high makes for the disappointment to feel even more keen. QIHM was not like Rooftop Prince, where the time-travel happened completely nonsensically and was never discussed again until they magically zapped back in the end. In QIHM, the time-travel mechanism was dissected ad nauseum and used often to enable Boong Do to travel back and forth. The talisman was the key, the life-and-death moment was the trigger. For the writer to suddenly make the CELL PHONE the new talisman was such a WTF slap to thinking fans who appreciated the carefully crafted mythology only to be told anything goes as long as it brings Boong Do back to Hee Jin.
I'm a huge sci-fi and fantasy geek, and I can buy all sorts of explanations for magic and hoodoo and weird doohickeys that conjure up incredible and impossible happenings, as long as it stays consistent within its own explanations. I despise it when the writer creates a mythical structure only to leap outside of it, which ultimately only burst the mythology that was created. Of course the original talisman was magic, but the story tried to explain how and why it worked. To have the magic cell phone become a time-traveling magic trigger made no sense within QIHM because it doesn't have any of the established reasons for why the original talisman allowed Boong Do to time-travel.  So the cell phone becomes the deux et machina, and oh how I hate that. I sorta feel like I was manipulated for this final two-episode arc, and unnecessarily at that. The drama should have ended at 14. Boong Do and Hee Jin got their catharsis, gave up quite a lot to be with each other, and settled all their affairs to pave the way for their future. The final two episodes now feels like crafting one final separation and reunion for the sake of jerking my feelings around, but in a way that made no sense so I can't even feel like it was worth it. If the talisman was burned, that should have been it. A new talisman is possible, but not some magical cell phone that apparently has a lifetime supply of battery.
This wasn't the worst ending ever for a drama, but it was a letdown on an otherwise great story that was enchanting to watch. At least Ji Hyun Woo might get himself a girlfriend out of this, which is all sorts of swoony. After confessing, Ji Hyun Woo admitted that this was really shocking, but said that the PD told him that he wanted Ji Hyun Woo to become more extroverted after shooting this drama. So this was Ji Hyun Woo's way of being honest and outspoken about his own feelings. So in conclusion before I put this drama to bed – overall drama was excellent, ending sucked donkey balls, Ji Hyun Woo and Yoo In Na need to get married and have perfect perfect babies.