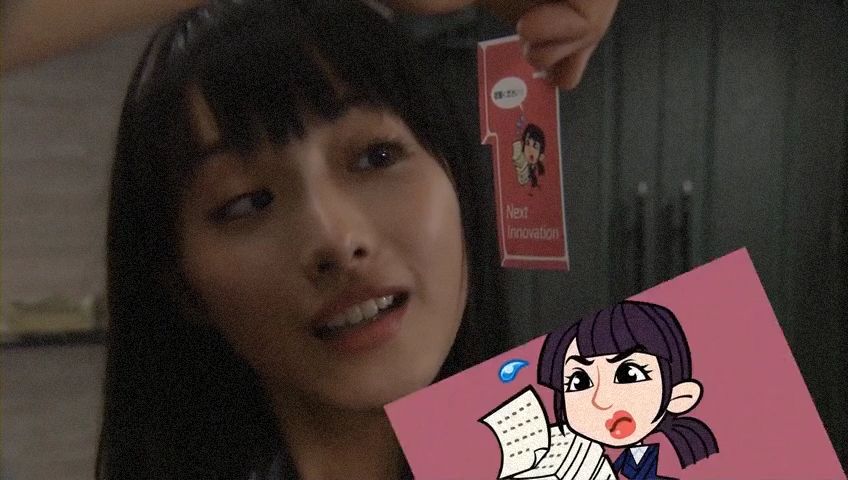 When I watch Rich Man, Poor Woman, I'm simultaneously sucked into the action while cognizant that I'm still looking for something more. It's not anything tangible I can point to, just that I wish the drama was sprinkled with the magic drama dust that enchants and captivates me so I forget I am a viewer. But the positive signs are that each episode continues to improve on the previous, taking measured and confident steps towards revealing more back story and moving the characters forward in their professional and interpersonal relationships. This episode won my heart the moment Hyuga gave Chihiro a pack of business cards he designed for her, complete with her lush lips all manga-fied.
We learn in episode 3 how Chihiro knew Hyuga and his mother's name, and this tantalizing bit of information might not be kept under wraps for long. Asahina maybe isn't as content to be playing second fiddle to Hyuga as much as he lets on, and Yoko candidly expresses her interest in Hyuga without any hesitation. I find the Asahina siblings are getting more interesting as the story progresses, so thank god the drama won't hinge on the OTP to carry the entire show. I think Chihiro's entrance into Next Innovation will become the catalyst for many things, and that is usually what happens when something foreign enters a formerly closed-off space. Will she make everything better, or destroy the fragile balance that worked for so long?
Episode 3 recap:
Chihiro arrives for work at Next Innovation, now dressed in a very pretty shirt and skirt combo as opposed to looking like a banker headed to work. She sees Hyuga pulling up on his motorcycle with Yoko in the back. Yoko gets off and thanks Hyuga for the ride and he nods casually before taking off.
A man knocks Chihiro's papers out of her hand and she bends down to pick it up. Yoko helps her pick the papers up and can see immediately Chihiro was distracted by Hyuga. She explains Hyuga was just giving her a ride and then Yoko calmly notes that Chihiro must be her rival in love.
Hyuga is getting interviewed in the board room by the media. As usual he's uninterested and terse towards the reporter's questions, explaining that the products are important and not the company's image or himself. Suddenly the reporter asks about his background as a child abandoned by his mother. Chihiro is lurking outside the boardroom and gets on her knees to try and get Asahina's attention. He opens the door and tells her to come right in. Chihiro enters and hears Hyuga's response to the question about his mother.
The reporter says Hyuga was abandoned at age 6 and asks if he wants to meet his parents. Hyuga claims not to care since in his mind all his parents did was provide him with his DNA. Chihiro registers his response as he saunters out of the room and walks right past her.
Asahina follows Hyuga and commends him for sincerely disliking fame and adulation, what with his attitude towards the media trying to fawn over him. Hyuga wonders why the reporters keep wanting to make him famous, but Asahina pushes Hyuga to admit that he does like hearing the praise.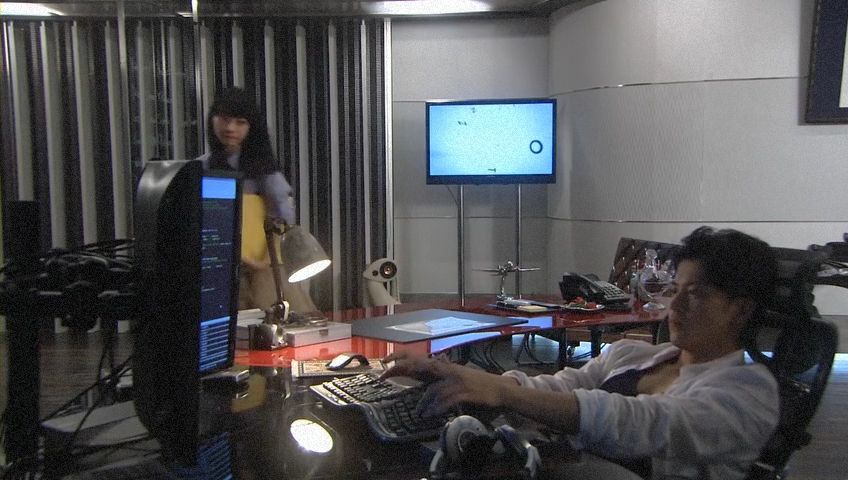 Chihiro goes to Hyuga's office to drop off some documents. He's programming away and ignoring her until she's about to leave. He tosses a box at her and she opens it to discover it contains her Next Innovation business cards, which of course are for the fake name of Sawaki Chihiro. Hyuga explains that all employees design their own cards, but he made it for her. He notes that the avatar looks like her despite it being made by him with the purpose of making fun of her strait-laced ways.
The cards are the cutest things ever. It's pink and has a manga avatar of Chihiro carrying a stack of paper with a voice bubble that says "I want homework." The Chihiro avatar is even wearing her trademark boring interview suit, though she has very red plush lips. Someone is paying close attention to what Chihiro looks like, despite his inability to recognize faces.
He asks for the cards back if she doesn't like it but Chihiro smiles and says she loves it. Hyuga puts the card next to her face to compare the two Chihiros. Despite being thrilled to have a job and receive business cards, this is just a glaring reminder for Chihiro that she got all this under false pretenses.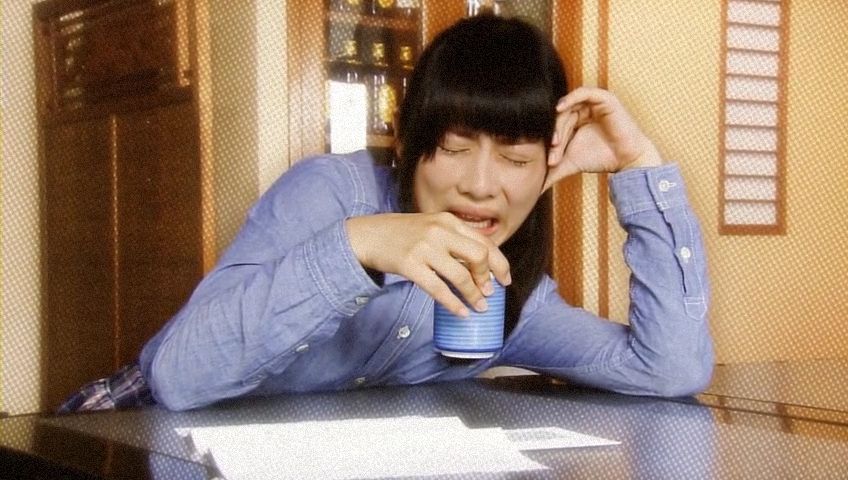 Chihiro sits with her friend Haruka, who wants to know how this all happened and how Chihiro knew Hyuga from before? Chihiro explains how it all unfolded. Chihiro actually failed to get accepted to Todai on her first try, so that day she was sitting with a restaurant owner obasan Okami-san, bemoaning how she's such a disappointment to her family and how to tell her parents about her failing the exam.
Okami-san encourages Chihiro to tell the truth and says her parents won't be disappointed in her. She discusses her own shortcomings, revealing that she abandoned her own son. Okami-san says that she hopes her son never finds her, because she won't know how to explain to him what she did. She makes Chihiro promise that if anyone came here looking for her, Chihiro is to pretend she doesn't know of such a person.
Chihiro goes homes and we learn that her family runs a small pension in a remote seaside town. That is where she first met Hyuga, before he became rich and famous, he was a guest at her family pension. This Hyuga wears glasses and looks like a preppy college student.
Chihiro sits by the shore and Hyuga walks up to her, noting that it must be a losing proposition to run a pension in a random little town like this where no one has a reason to visit since it doesn't have famous locales or hot springs. Chihiro notes that making fun of people was apparently his specialty even back then. She asks why he's here, and perhaps he's in a talkative mood so he reveals that he's here to look for a person named Sawaki Chihiro.
That is his mother's name, and he's discovered that this was her hometown. He asks if she knows anyone by that name? Of course Okami-san is Hyuga's mother, as we see a chef's certificate bearing the name Sawaki Chihiro hanging on her restaurant wall. Chihiro freezes and answers that she doesn't know of anyone by that name.
Later that night, Hyuga sits in the dining room and is surrounded by a veritable feast. Chihiro's mom has whipped up more food than 10 people can finish all for Hyuga, hoping that he'll come back if he's treated well.
When Chihiro brings him a drink, he notes that her family is so impractical. Here they are cooking a feast for him and celebrating her failing the exam, all for no measurable gain. Chihiro tells him to not make fun of them, but he wasn't making fun of them, he actually thinks its heartwarming and finds the food delicious. He doesn't have a family and he envies how her family is wanting the best for her. He came to this dinky town and didn't find her, but he intends to keep looking for her. Chihiro's mom offers him even more food and Hyuga smiles, wishing his mother was like that.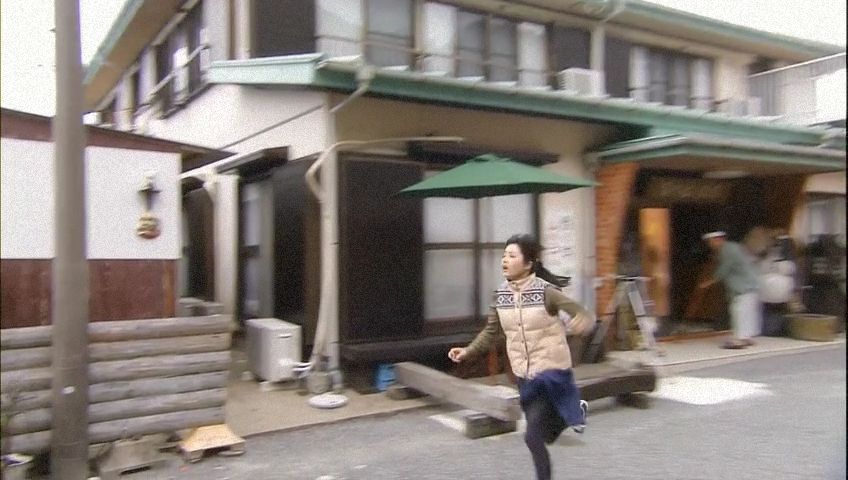 The next day, Chihiro runs to the restaurant to beg Okami-san to meet Hyuga, but she still refuses. By the time Chihiro returns to the pension, Hyuga has already left and she tries to chase after him but to no avail.
Chihiro explains to her friend Haruka that she's carried this regret with her for years now, feeling like she was the reason he didn't get to meet his mother that day. Hyuga sits in his room and searches for Sawaki Chihiro again on his phone.
At work the next day, Chihiro is stunned to see the office humming with people bright and early. Turns out this is "Death Mail" day, which happens every three months when employee contracts are up for renewal. If an employee can work all day without receiving a termination email, then their contracts are renewed for another three months. Those receiving the termination email must pack up and leave immediately.
Everyone is nervous and a particular cocky employee Sakaguchi Tetsuyu tells Sawaki to bring him some coffee and wants everyone to relax. Everyone wants to show Chihiro their project believing that she is close to Hyuga and knows what he'll like. The day begins and immediately people start receiving the death emails, which involve the recipient shooting straight up at their desk staring in shock at their computer screen, before wanly accepting their firing. It's like Running Man for computer nerds. Hyuga arrives at work riding some weird indoor scooter and he laughs in glee about how exciting today is.
Yasuoka, who is sporting some serious side burns, makes Hyuga laugh when he makes up a game to get Hyuga to remember his name. LOL, they have the most functional dysfunctional relationship ever.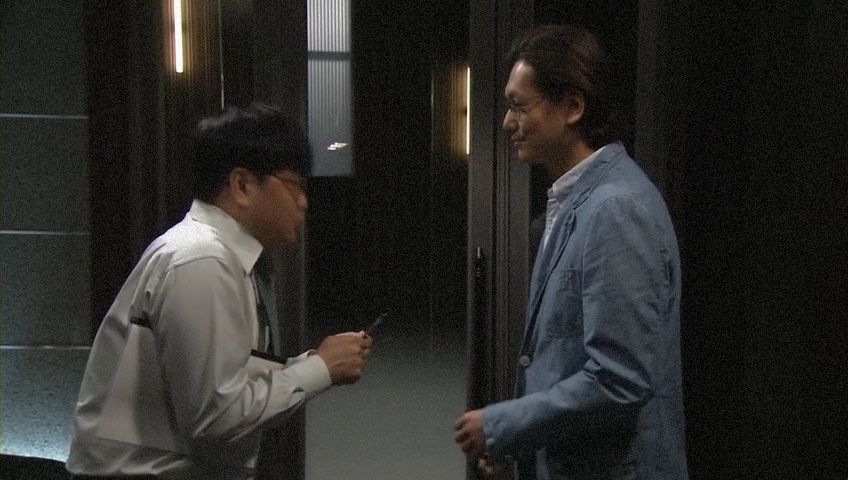 One eager hardworking employee Tanaka gets fired and he Asahina to intervene. Asahina turns the tables and says this employee will have more opportunities working elsewhere, and hands him a business card offering to give career advice at anytime. Tanaka packs his box and walks out.
Later Hyuga points out that Asahina sure likes to play the good guy. Asahina explains that it's easier to placate the employee with encouraging words rather than have the person flip out. Feelings are easy to manipulate and he has no intention of actually meeting with those people. Last time they had to replace a door someone broke on their way out.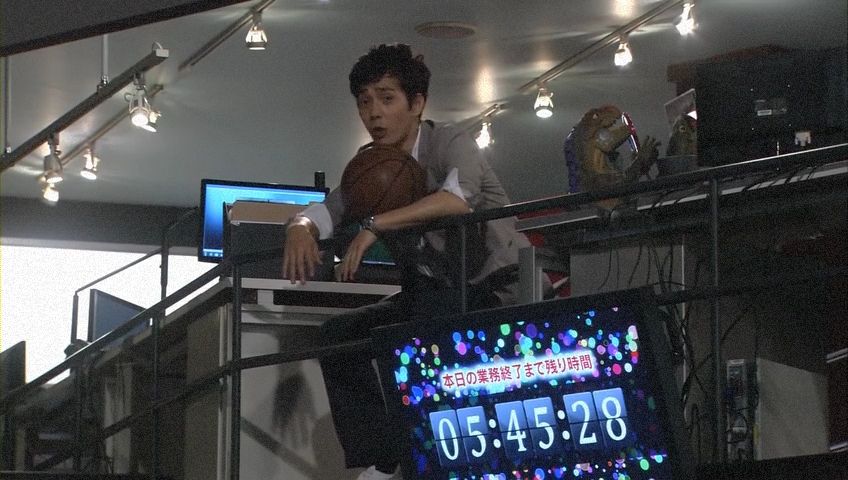 Sakaguchi has been blithely unconcerned by all the freaking out over Death Mail day. He's been flying high at the company since his first game was a huge success, but lo and behold, Sakaguchi gets taken down ten notches when he returns to his desk and gets a termination email.
Sakaguchi barges into Hyuga's office and demands to know why he's being let go since he made the company's second best game. Asahina explains that while Sakaguchi was successful at the very beginning, he's been resting on his laurels for the past year and not doing anything groundbreaking. Hyuga shows Sakaguchi that all he's done is make minor innovations to his game. Sakaguchi explains that profits are all that matters and if his games keep bringing in money, that's good enough. Hyuga smiles and ends the conversation, making it clear this is non-negotiable.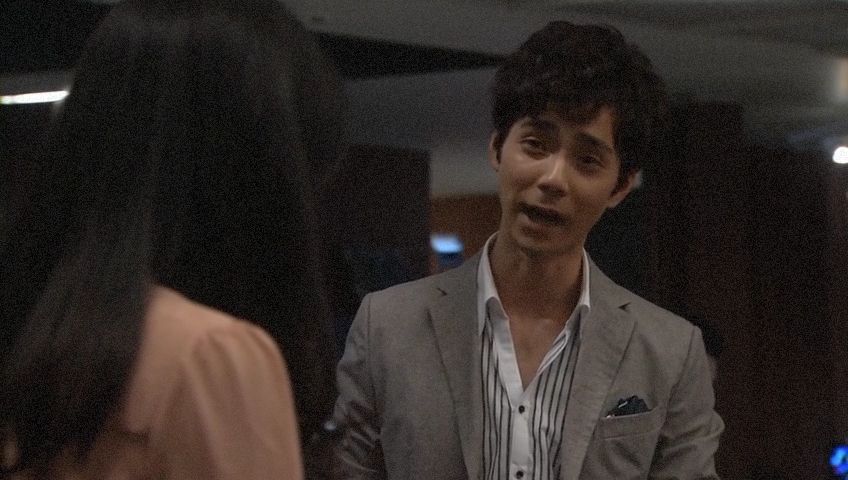 Sakaguchi accepts the termination and leaves. Everyone is stunned to see him pack his box to go. Chihiro comes with coffee and hears he's been let go. Sakaguchi accepts that he's a one trick monkey and it's easy for anyone to come up with one great program. But Hyuga Toru is different, he's just that good.
At the elevator banks, Asahina offers to help but Sakaguchi rudely up-ends his box and makes no move to pick things up. When Asahina kneels down to pick things up, Sakaguchi reveals that he still admires Hyuga even now. He thinks Hyuga is amazing, but its Asahina that annoys him. Asahina is just like him, wanting fame and fortune, but Asahina doesn't dare strive for it because he's afraid he'll lose. Sakaguchi claims to be different than Asahina and he'll try and accept failure.
In his eyes, Hyuga is always challenging himself and striving to be better, whereas Asahina is content to lurk in Hyuga's shadow and reap the benefits. Sakaguchi calls Asahina a coward. At least Sakaguchi has the balls to compete with Hyuga and even knowing he'll lose. Asahina doesn't even have the guts to get in the competition. Sakaguchi takes his box of belongings and leaves, with Asahina standing there silently for a few moments before turning back to his usual affable self.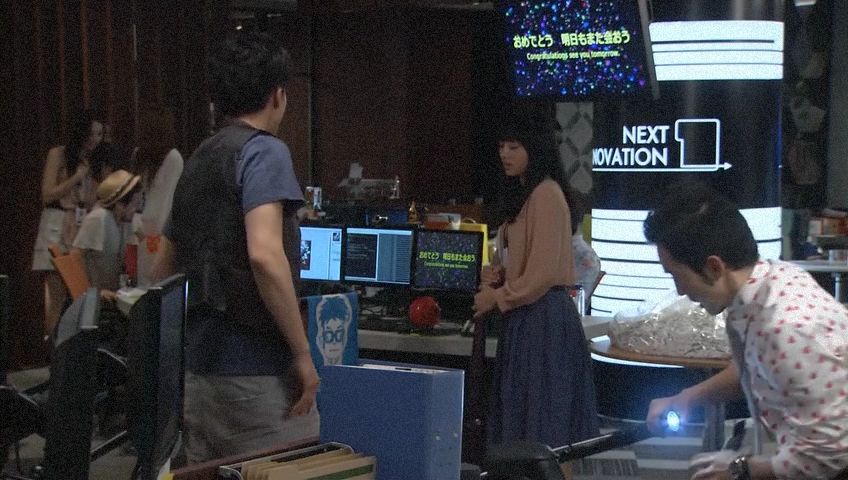 The end of the day arrives and all the employees who still have a job fall over in relief and glee. Hyuga comes out and looks way too happy, which upsets Chihiro and she chews him out for turning something like this into a game when its people's livelihoods. Hyuga says she reminds him of the annoying chick in his home room class who was always so serious and sincere.
Asahina walks out with Chihiro and she discusses how cruel this firing system is. Asahina points out that if the company employs underachieving employees, this leaves the stellar employees picking up the slack of their less capable brethren. That doesn't seen fair either, no? Chihiro accepts that but says not everyone can be as impressively talented as Hyuga. But she compliments Asahina on being a very decent person. Asahina notes that and asks if she wants to grab a drink with her since he's not been terribly pleasant today.
Hyuga is at a furniture store checking out this table that he's apparently been scoping out for the past few years. He studies it diligently from a distance and then up close, finally deciding to buy it. Too bad someone beat him to the punch as the table has been sold. Yoko swans in and announces that she's the buyer, and this table fits all her design aesthetics. Turns out Yoko and Hyuga share the same peculiar finicky taste.
Asahina and Chihiro are drinking at a bar. Asahina reveals that he hired a private investigator and discovered that Sawaki Chihiro is the name of Hyuga's mother. He thought Hyuga really didn't care about finding his parents, turned out its just bravado. Asahina likes Hyuga being merciless and cool, able to push people's buttons, but Chihiro says that the Hyuga looking for his mother is the real Hyuga.
Asahina puts his glass down and points out that Chihiro feels this way because she likes this side of Hyuga. Asahina wonders when Chihiro is going to come clean with Hyuga, the whole bit about her name being fake. Chihiro admits what she's doing is really wrong and she knows it can't continue.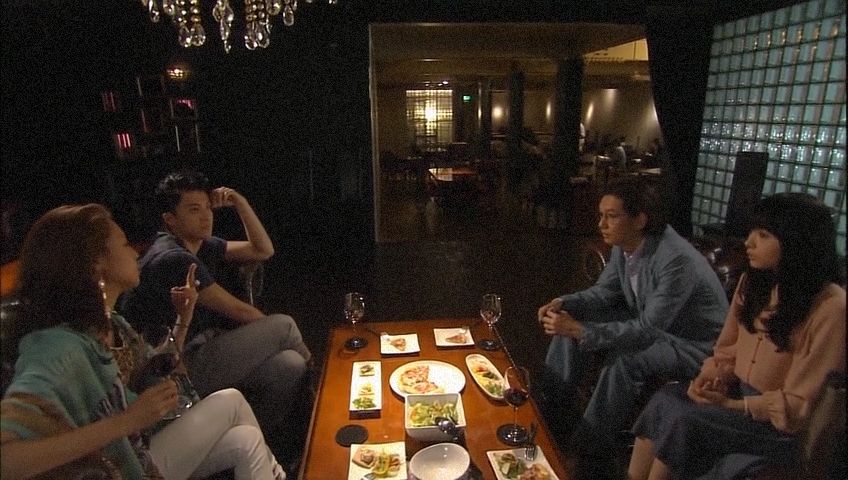 Yoko and Hyuga are walking somewhere and still discussing the table. Yoko offers to have Hyuga come to her restaurant and dine on that table. Hyuga and Yoko arrive at the same bar and the group moves to a table to hang out. Yoko thinks that she and Hyuga have the same taste and Chihiro looks really zoned out when she hears this, which Yoko notices.
Chihiro goes to the restroom where Yoko joins her and the two ladies discuss Hyuga. Chihiro awkwardly asks if Yoko runs into Hyuga often, since the ride the other day and now the table? Yoko declares that she likes Hyuga and he's the man of her dreams. She believes in fate and destiny and this constantly running into Hyuga makes her feel it was meant to be. After she walks out of the bathroon, Chihiro mutters that she met him by chance first.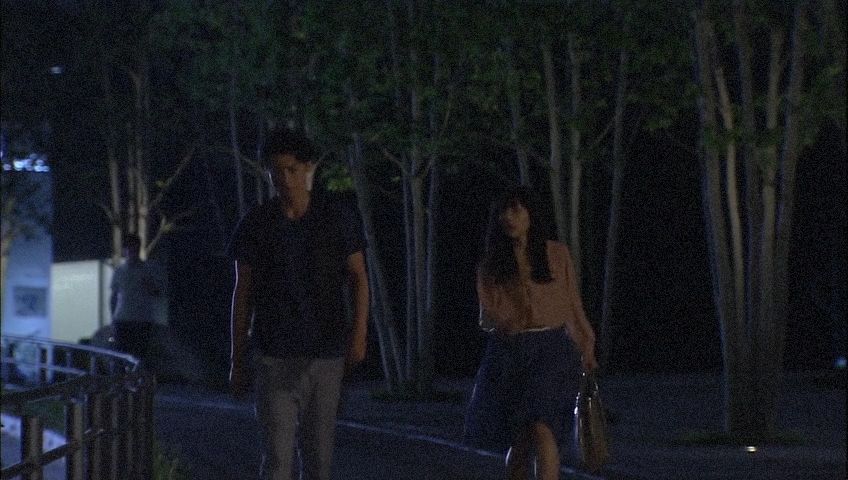 After the Asahina siblings leave in a taxi, Chihiro tries to talk with Hyuga to tell him the truth but he brushes her off. He tells her to get him the table he wants and he'll listen to her. He takes off, leaving Chihiro standing there relieved and upset that she can't come clean with him.
Sakaguchi finds Chihiro at her university lab and hands her a flash drive containing his latest gaming program. He asks Chihiro to pass it on to Hyuga. He thought it would be easy to find a new job but he can't. Instead he's created a new program but the companies he's shown it to are too clueless to see its possibilities. He asks if she can do this for him and she agrees.
Chihiro asks Hyuga to look at the game program in the flash drive and Hyuga actually does. He's suitably impressed by it. Chihiro is so happy and asks if he can hire Sakaguchi back. Hyuga says no way and explains that he wants to see Sakaguchi struggling and striving for something. Chihiro asks Hyuga to at least tell Sakaguchi that he did well. Hyuga is so smart that he makes the people around him insecure. She believes it means a lot to Sakaguchi to get a compliment from the man he admires.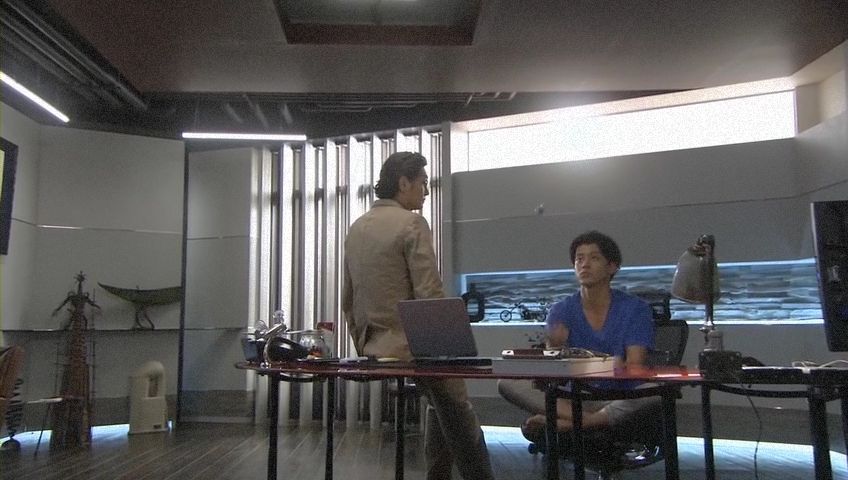 Hyuga and Asahina discuss how Sakaguchi's latest game is actually pretty good. Asahina wonders if they should hire Sakaguchi back, or buy the program off him. Either way, Asahina doesn't want to give Sakaguchi a chance to compete against them. Hyuga doesn't want to repeat the cycle again with Sakaguchi. Hyuga asks Asahina to call Sakaguchi in.
Chihiro watches as Hyuga calls Sakaguchi to the office and talks with him. She can't hear what they are talking about so she watches their facial expressions. Sakaguchi walks out and tells Hyuga that he will do his best. Hyuga tells him to use the investment wisely and in 5 years surpass them. Sakaguchi notes that it is hard to start his own company. Chihiro smiles to learn that Hyuga is investing in Sakaguchi's company and this news shocks Asahina.
When Sakaguchi is leaving, Hyuga casually tells Sakaguchi that he will be fine because his idea is interesting. Sakaguchi is almost overcome with emotions and he bows gratefully to Hyuga and thanks him from the bottom of his heart. Hyuga says there is no need to thank him, he sees it as buying an expensive toy. Sakaguchi is so excited and Chihiro is excited for him.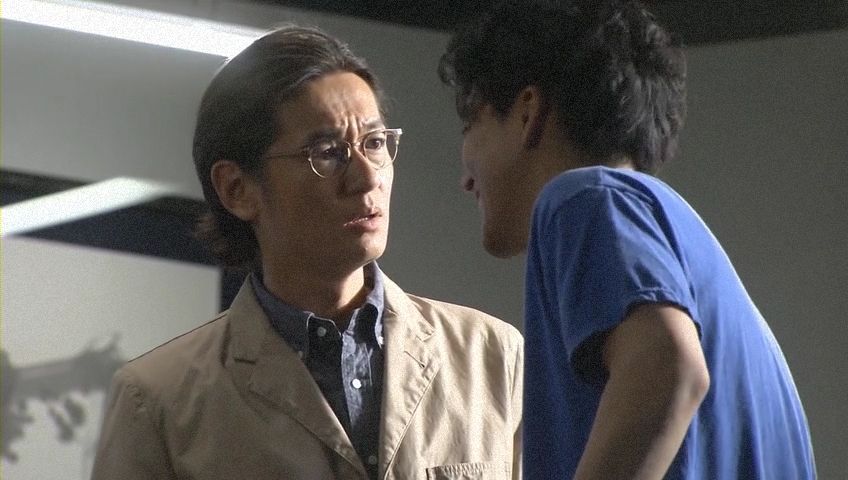 Asahina asks Hyuga why he invested in Sakaguchi and Hyuga explains that he enjoyed teasing Sakaguchi. If they hired him back, he'd just sit around doing nothing again. Now Sakaguchi is motivated because his life is on the line, and that is the only way he can succeed. He wants to watch Sakaguchi prove his own value without a safety net underneath him. Yamagami is worried Sakaguchi can become a threat but Asahina says Hyuga isn't afraid of competition.
Tanaka calls Asahina out to meet, but Asahina keeps standing him up. Tanaka tracks down Hyuga who doesn't want to give him the time of day. Tanaka still thinks Asahina is a really swell guy and sent Hyuga in his place. Hyuga is flabbergasted to realize that Tanaka remains ever the optimist. Before getting dragged away, Hyuga happens to see Chihiro sitting inside a fancy restaurant waiting for someone.
Yoko is checking out another table and the owner comes by saying a customer already wants this table. Yoko guesses correctly that its Hyuga Toru. Hyuga finishes his meeting with Tanaka, grumbling about what a bastard Asahina is, and sees that Chihiro is still inside the restaurant. Hyuga goes inside the restaurant and asks if she's exchanging job hunting for husband hunting? Chihiro explains that she's waiting to for her university professor but he must've forgotten the meeting.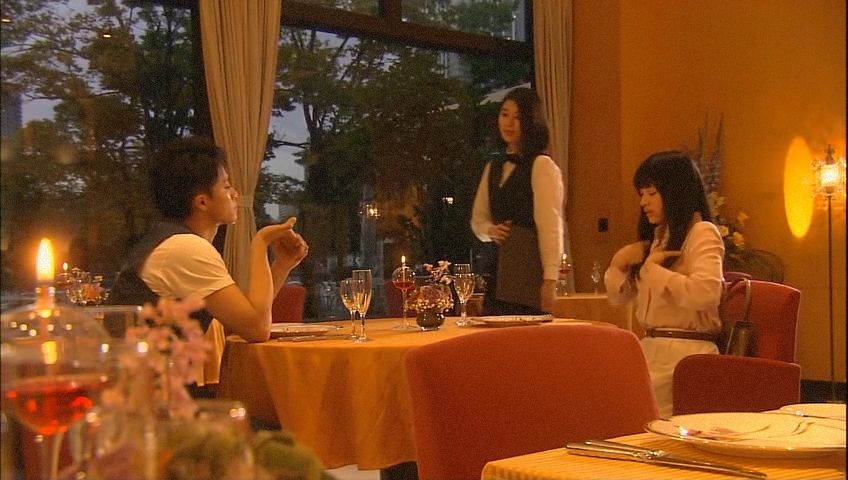 Hyuga sits down across from her and points out that she's probably nervously trying to figure out what to do if the person doesn't show up and she needs to order something but everything is so expensive. Hyuga asks her to tell him what the important matter is from earlier but Chihiro says she wants to eat first to delay revealing the truth. Chihiro reads the menu and makes note of the sky high prices. She secretly stares at Hyuga from behind the menu, grimacing that she needs to come clean with him.
Asahina sits in office and stares at the Next Innovation goal board and realizes he wrote on there that he wants to surpass Hyuga in 5 years. He recalls Sakaguchi calling him a coward who can't fail, and then he thinks back to Chihiro describing him as a decent person.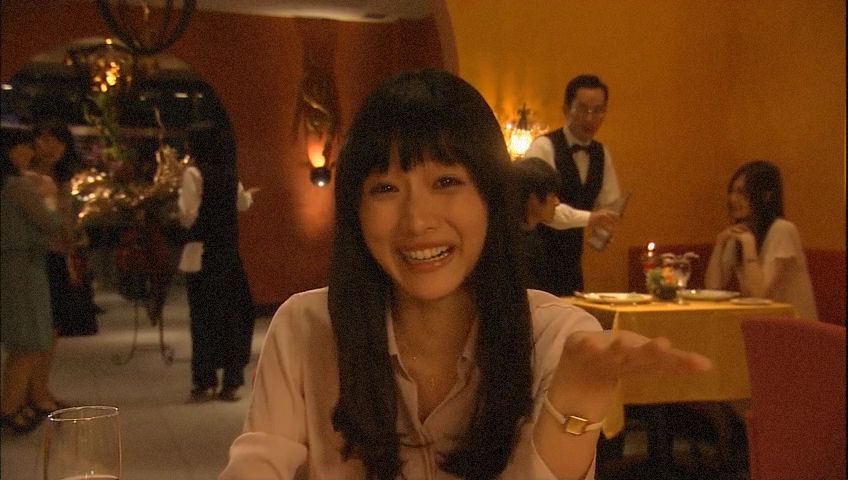 Chihiro asks to drink something to buoy her courage which makes Hyuga wonder if she's intending to get drunk. Oh you betcha! Hyuga dines with Chihiro and she starts to loosen up once the alcohol kicks in. She laughs about Hyuga being nice to Sakaguchi earlier, which means he's really a good person at heart. When Hyuga says he's not helping Sakaguchi, he's forcing him to travel a hard path so he can suffer, Chihiro loudly says that makes Hyuga into S&M. Her outburst makes everyone stare at them.
Chihiro says Hyuga knows that Sakauguchi needs a challenge which is why he's sending him down the right path. Hyuga says he's trying out something new himself, encouraging another. Chihiro makes a pun about Hyuga's name that sends herself into a giggling fit and also makes Hyuga laugh. OMG they are so cute together.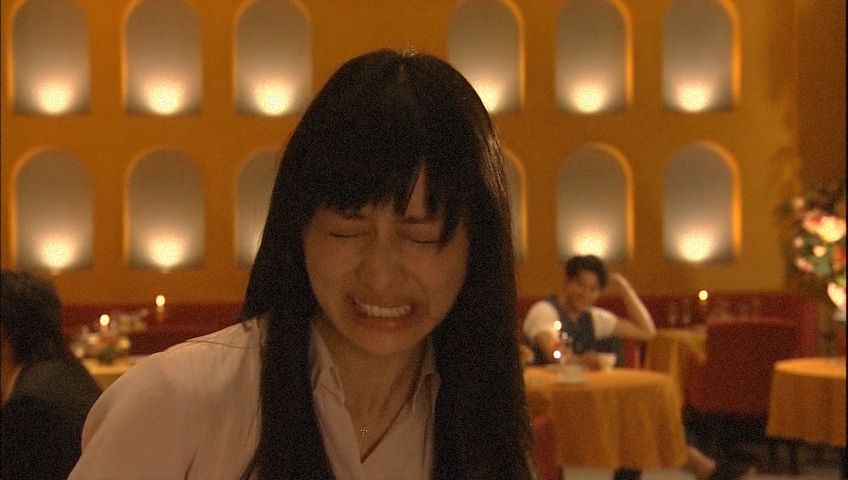 Chihiro goes to the bathroom and berates herself for making stupid jokes and continuing with the deception. She stares at the fake business card and gets up her courage to return to the table. When she goes back to the table, she sees Hyuga sitting there and she is so dazzled by how cute he is and the great mood that she can't bear to ruin it by telling the truth.
As Hyuga and Chihiro part for the night, she offers to treat him to another place. He goes along with her and says he'll pay, he's doesn't want to be treated by a destitute person. When Chihiro continues to say Hyuga is a nice person, he retorts that doesn't like being nice to people and socializing is tiring. If he could, he would choose to be alone for the rest of his life. Which is when she almost trips and he grabs her before she falls. They pause awkwardly for a moment and then Chihiro laughs and says he's lying since he came to her place to look for his mom.
Dun dun dun!
Hyuga stares at Chihiro and asks how she knew his mother's name. His face reveals the gravity of this shock to him. Chihiro turns back towards him and bows deep in apology. She admits using that name falsely to attract his attention. When she raises hear head, she can see the hurt in his eyes. His hand tightens on her arm for a second before he pushes her away forcefully.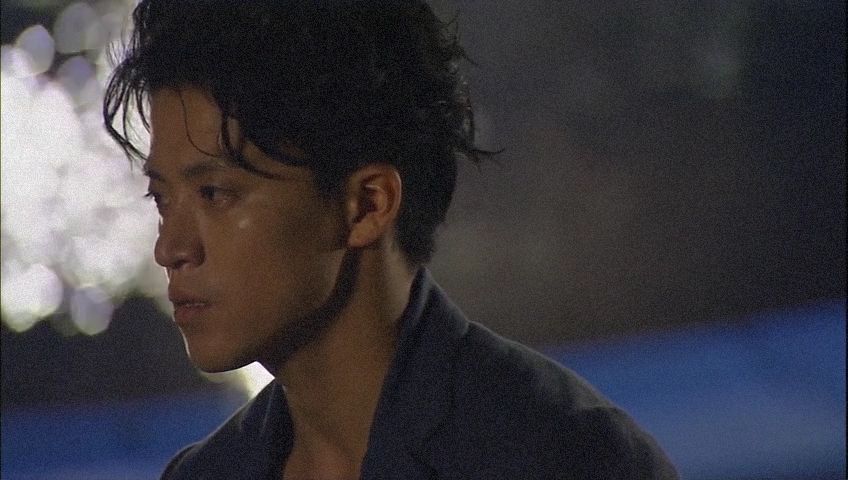 Chihiro apologizes again but Hyuga coldly tells Chihiro that he never wants to see her again.
Thoughts of Mine:
Now that the cat's out of the bag, can we finally learn what Chihiro's real name is? I'm sure everyone as as stunned as I was where the final 5 minutes of this episode dropped like a bag of ten ton bricks on us, what with Hyuga and Chihiro's enjoyable evening out wrapped to a huggy conclusion only to end with a whopper of a left hook. I don't blame Hyuga for feeling completely betrayed, and its not because he has feelings for Chihiro (yet). I don't see Hyuga as someone who is a stickler for truth, but he doesn't like to be played. Hyuga knows Chihiro can lie because, hello, he got her to play the Vice Minister in the first episode. What must chafe is knowing she played him, and that she played him in the most intimate of ways. She used his mother's name to arouse his interest in her, and I doubt she can apologize her way out of this one.
I'm so happy the truth got revealed so early, because the longer the lie remains, the harder it'll be for Chihiro to come clean. I wished she had told him first, rather than letting it slip out in a momentary lapse. I'm sure he thinks she's getting closed to him for financial gain, either to get a job or to use her feminine wiles on him. It's probably something he's dealt with, and his disinterest in women in the first 3 episodes doesn't mean he hasn't dated before and been burned. Hyuga doesn't strike me as one of those socially clueless but intellectually brilliant nerds. He's social awkward because he doesn't give a damn, not because he doesn't know how to play the niceties game. It's nice that Chihiro makes him reconsider his way of doing things and giving the occasional validation is more than just lip service.
When I said that Yoko felt so superfluous to the drama early on, I'm still getting the same impression of her. She shows up but I don't feel that she's integral to the story. I like her character because she's so honest and confident, making her interest in Hyuga clear without being clingy or calculating. I'm sure she has her own back story with him, and perhaps when that is revealed I'll get a better connection with her character. I like how each episode introduces one small plot driver and that affects the main characters in different ways. Episode 3 was about the Death Mail, quite possibly the worst way to get fired even if it was egalitarian. I liked how Sakaguchi's arc from cocky young programmer to tumbling from grace when he was fired became a moment for us to understand the differences between Hyuga and Asahina. Hyuga's rudeness actually obscures his sincerity in treating people, while Asahina's courteousness hides his calculating ways. I think they indeed make a great one-two punch, but I agree with Sakaguchi's assessment that Asahina will never prove himself unless he has the courage to challenge Hyuga.
I don't think what Chihiro did was all that unforgivable, even discounting that he thinks she's a gold digger. He really pushed her to the limit at the job fair in front of so many people, and I actually loved seeing Chihiro get the upper hand on Hyuga even if it was using information she shouldn't have had. I think they are the quintessential push and pull type of couple, where the bickering is a natural extension of their vastly different personalities. It's in the learning about each other phase of this relationship that allows us to see that they are a positive influence in each other's lives. If Chihiro needed to use Hyuga's mom's name to catch his attention, I hope he'll realize shortly that he is able to remember her face not because of that name but because she's somehow barreled past his mental condition on face recognition.
PS: Please refrain from discussing episode 4 in the comments here for the folks who are not caught up and don't want to be told what's going to happen. That's my preference around here when it comes to recaps and I haven't been doing too well in reminding folks so consider yourself reminded.
PPS: I know I just touted the no spoilers rule, so how about this – episode 4 of RMPW was SO INSANELY UNBELIEVABLY GOOD THAT IT LITERALLY MAKES ITS OWN CATEGORY OF GOOD. Y'all wait for that recap cuz I'm still shaking over how good the episode was and can't write right now.