Despite being exceedingly annoyed with the pointless and meandering episode 6 of Rich Man, Poor Woman, the lack of recapping isn't because I've dropped this drama. I'm traveling so I really have no time, but I was hoping episode 7 would turn this train back on track. To my everlasting joy, it did! Oh hurray hallelujah, I love episode 7 so so much. Every scene between Hyuga and Makoto was perfect, and we didn't even need kissing to amp up the intensity and emotional undercurrents. When Hyuga called her a lying woman because she missed his call, her answer that she would keep her phone on her going forward even when she went to the bathroom was 100% Makoto. I love how Hyuga is so insanely affected by her, the things she says, her physical presence around him, and perking up whenever he gets a chance to discern what she thinks. I'm glad that all the unnecessary kissage between Hyuga and Yoko in episode 6 didn't head to tumbling in the sack, and instead woke Hyuga up to what was just some comfort skinship and then he put an end to it. Yoko really isn't bad at all – I like her candor and confidence, how she joked about making the first move with Hyuga all the time, and how she confronted her brother once she learned about his scheming ways.
It's clear now that Asahina was jealous and insecure around Hyuga from the very beginning, and his partnership appears to have been calculating from the get go. That makes me sad, because I wanted them to be genuine work friends with Asahina turning to the dark side after years of being in the shadows. To know that he's always been plotting, which makes sense, does take away the cool Next Innovation rags-to-riches story of two techies using sheer talent to forge a new path. Anyways, episode 7 was amazing and you all need to watch, if only for the scene where Hyuga and Makoto walk home and she confides her desire to work beside him despite having a better job offer. Oguri Shun almost made my heart lurch so hard it turn 360 degrees by his pitch perfect acting. The awesome is back and better than ever.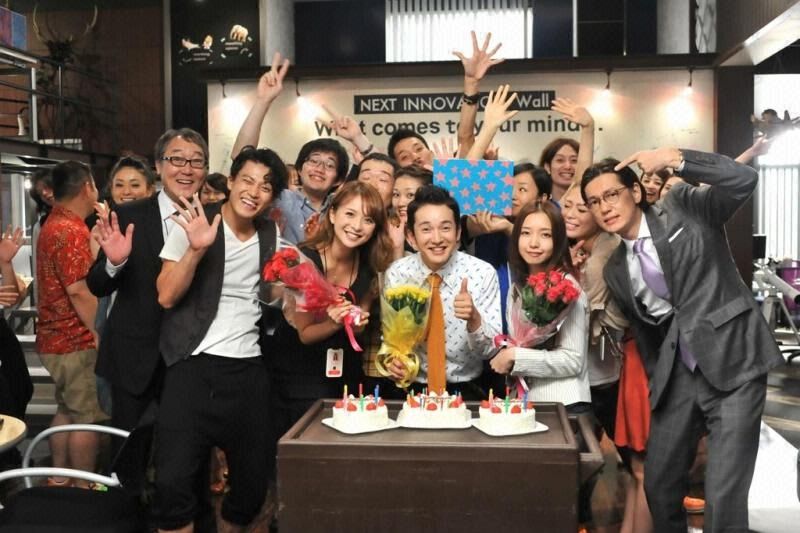 Written preview for episode 8:
Concluding the resignation press conference, Hyuga confronts Asahina and asks "Did you orchestrate all of this?" Asahina not only admits it, he reveals that this is the result of his coddling of Hyuga in the past. At this time, Yamagami tells Hyuga that the only asset Next Innovation has right now is the personal file project, so Hyuga needs to let go of the company. Hyuga rejects this request and announces that he's taking employees with him to start a new company.
Hyuga intends to use innovation and speed to battle for the project. He tells Asahina, who is walking out of his office, that NI is a burden and he intends to start a new company. Makoto, who has just returned to the office, stares with a heavy heart as she watches Asahina versus the Hyuga who is tasting defeat for the first time in front of a Asahina who is asserting his presence at last.
As Hyuga packs up to leave the company, he asks Makoto about her new job offer. When he hears that Makoto is moving forward with the new job, Hyuga feels a sense of loneliness. At this time, folks plan a going away party for Hyuga, so Makoto goes to ask Yoko to cater the party. Yoko asks Makoto, whose internship with NI ends tomorrow, whether she feels a sense of sadness about leaving? Makoto denies it, but her feelings for Hyuga is obvious to Yoko.
The day of the going away party, even though Hyuga has lost everything due to Asahina's machinations, he publicly thanks Asahina. But in Hyuga's mind, he vows that the personal file project will be his goal at the new company, but he's also planning something with regards to Asahina……