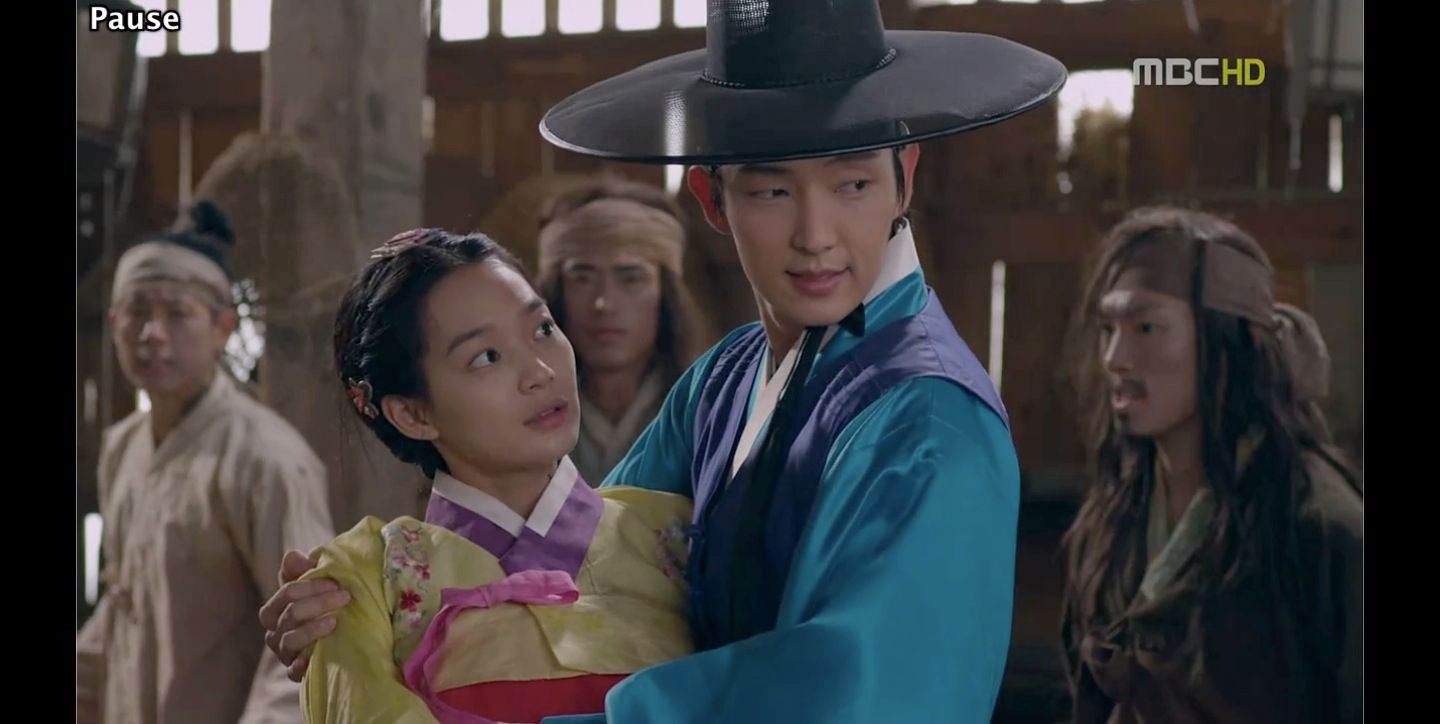 Another solid episode of Arang and the Magistrate, confirming for me its stellar start was no fluke and the drama has got its act together. The story is moving along so fast, yet time is spent developing Arang and Eun Oh's relationship and character reveals that helps ground this fantasy tale in stakes that we care about. Arang is a great heroine to root for, fiesty and fearless on the outside, sensitive and thoughtful on the inside. She has nothing to live for since she's dead, so she wants to find out why her life was taken away from her. Now that she's confirmed that her living existence was as the daughter of the former magistrate, that identity isn't enough for her anymore without discovering how she lost it all. I'm pretty sure Joo Wol the moon-gazer poker-face extraordinaire is likely involved, but I'm not sure he killed her. Nor am I certain that our cute ghostly Arang is in fact dead. For sure she's a spectre, able to pass through walls, see and fight other ghosts, and for all intents and purposes looks about as dead as can be.
Watching episode 3 gave me pause, and made me want to applaud the writer for starting the lay lots of interesting twists and turns to this story. Joo Wol's real identity and/or affliction is intriguing (even if the character is dull as beans otherwise), and I love the Heaven and Hell brothers bickering and trying to figure out what's been going on the past four hundred years in the afterlife that needs some fixing. Acting-wise the two leads Shin Mina and Lee Jun Ki are so perfectly in character that I lament needing to give lesser actors time to settle in, because these two showcase what talented acting can deliver right off the bat. Eun Oh starts to care about Arang (that was fast!) while Arang starts to take things into her own hands . I can't wait to see where this story keeps going. Sorry the recap is on the short and sweet side. Still vacationing and all, but I'm dying to recap this baby right and proper once life resumes its normal schedule next week.
Episode 3 recap: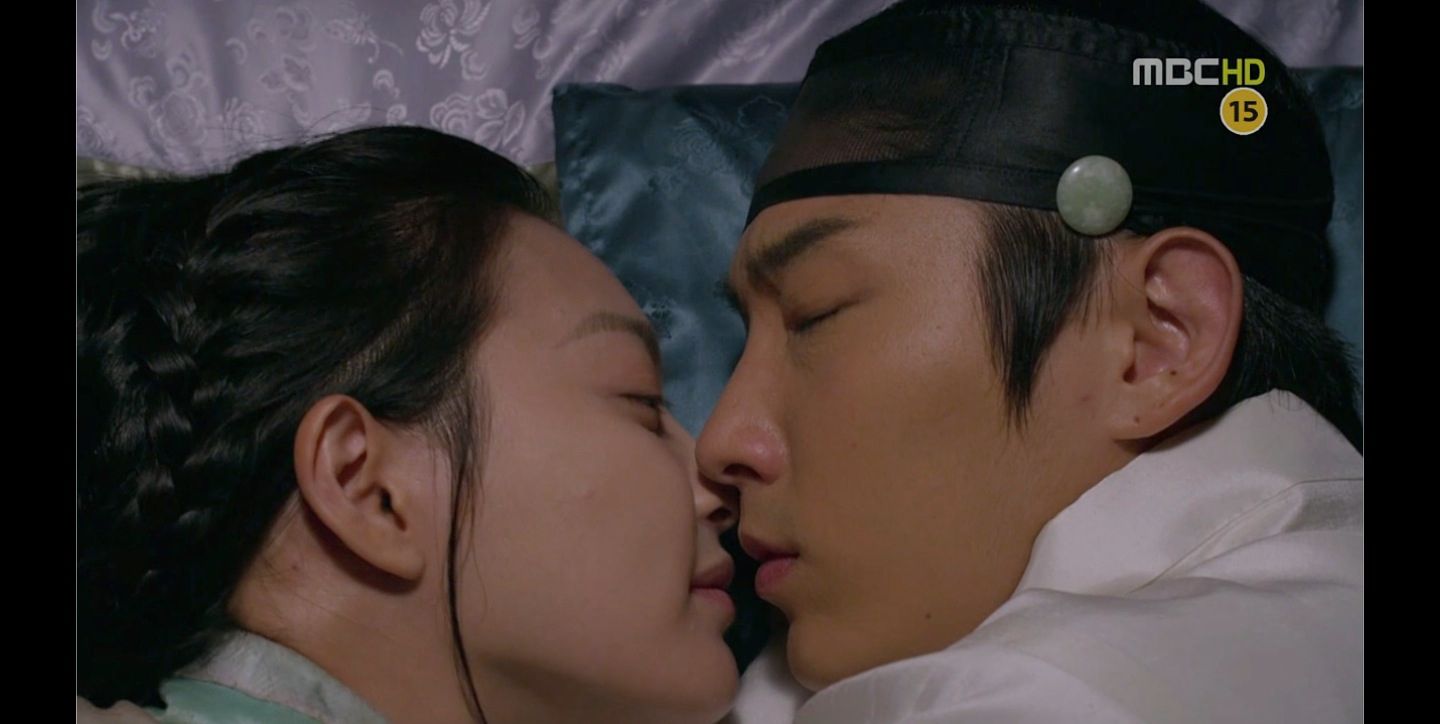 Eun Oh wakes up to find Arang beside him in bed, and she professes to wanting to experience a kiss. Eun Oh tenses and closes his eyes when she leans in to kiss is (as opposed to pushing her away), but then he wakes up for real before their lips touch. Our magistrate just had a sexy dream about an annoying ghost? Awesome. He blames her for his own imagination.
The next morning, Eun Oh asks Dol Swe to deliver a message to Joo Wol asking to meet later at a pavilion to discuss a matter. Back on Heaven, the brothers Black and White are fishing and casually discussing the state of the mortal world. The God of Hells reminds his brother that its been four hundred years since some souls were lost and he might want to step up the capture of said souls before he takes matters into his own hands. Sorry to digress, but y'all know I LOVE my Yoo Seung Ho, but who else feels the need to rip that godawful streaked wig off his head and stomp on it to make sure its good and dead. God I hate that hairpiece.
To beautify Arang to meet the guy who was her fiancee before she died, Bang Wool leaves clothes, jewelry, and makeup as an offering for her. Arang goes into the room and cleans herself up, though afterwards she still doesn't know what she looks like and wonders why she even bothered.
Thank god Eun Oh the ghost-seer is around, and when prettied up Arang walks out of the room, Eun Oh literally stops in his tracks and his jaw drops. When asked if Arang is pretty, he quickly says she's not as ugly as before. Ha! He heads off to meet Joo Wol and tells Arang to stay put until he comes to get her.
As Eun Oh walks through town, he tries to explain away his reaction to pretty Arang as caused by her new clothes. But he rationalizes it to the point that he needs to stick by her side so she doesn't get into or cause anymore trouble. Yeah, you go on believing that. Since Bang Wool is still sad that Arang continues to haunt her and ask for favors, Arang goes to town to wait for Eun Oh. But then she gets the idea to take the herbs that turn her visible so she can meet with Joo Wol herself.
When Arang heads to the abandoned building where she acquired the herbs before, she finds herself cornered by other ghosts who are still pissed at her for causing them to lose out on the offering rice days earlier. Arang isn't scared and tells them to get a life, and when they start beating her up, she fights them but yelling the entire time to stop stepping on her skirt. But she's outnumbered and soon she's on the receiving end of slaps, kicks, and punches.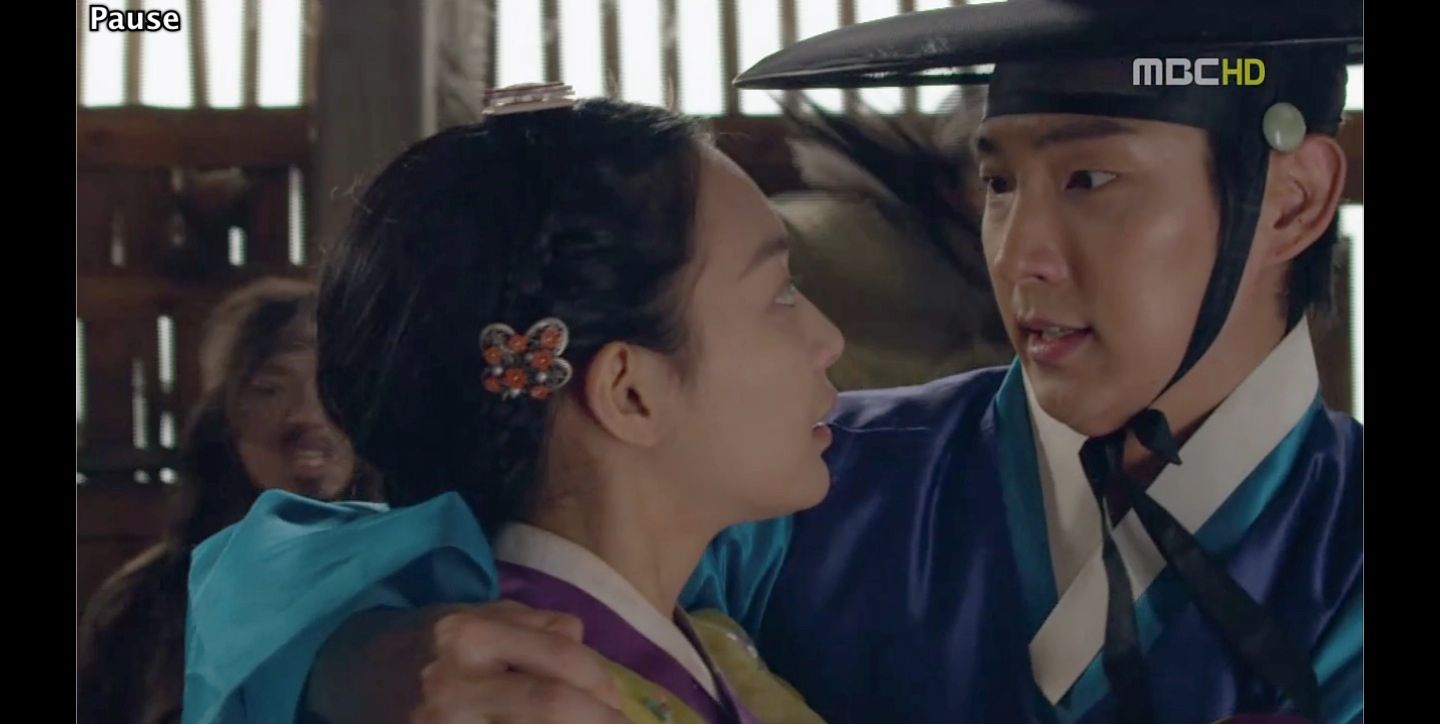 Right when Arang is about to be decked hard, an arm reaches out to grab her and a leg kicks her ghostly assailant aside. It's Eun Oh, who apparently has an Arang-radar about him to be able to find her here. He holds Arang in his arms and holds the ghosts at bay, who gape at him because he's a human yet he can see and touch them. Eun Oh notices Arang's dirtied state and makes a big deal that she's torn her new clothes.
The ghosts attack en masse and Eun Oh shows off his stellar martial arts and takes on all comers. I swear I was flashing back to Iljimae during this entire scene, and wondering where his mask went. Ha, when dramas collide. Eun Oh is holding his own and even Arang gets back to fighting off a few ghosts as well, though Eun Oh gets nervous when he sees Arang cornered and being strangled. Eun Oh saves Arang again but now they are backing away from the ghost gang knowing they can't win against such numbers. Which is when the Soul Reapers arrive and give Eun Oh and Arang a chance to escape.
After Arang and Eun Oh run to safely, it starts to rain and Arang dejectedly walks away, mumbling that she can't go see Joo Wol in this state. Arang's dejection at not being able to look pretty for Joo Wol leaves Eun Oh annoyed and frustrated, less at not being able to help her regain her memory faster so he can find out where she met his missing mom, but more that she appears so wanting to be pretty for that dude Joo Wol.
Joo Wol is waiting at the designated pavilion when it starts to rain. By the time Eun Oh and Arang arrive there, Joo Wol has left. Arang is sad that her life sucks so majorly even now. Eun Oh agrees, pointing out that she's dead, can't stay pretty even if she tried, has ghostly amnesia – with all these bad luck things in her life, she can't want to head to the afterlife yet, right? Arang screams up at the Heavens, cursing out the old bastard Heavenly Emperor for his doings.
Up in Heaven, the brothers are playing Go as usual and the Jade Emperor pauses when he hears Arang bitching him out. But then he laughs it off, claiming she's not talking about him since she called him "old" bastard. He goes back to playing but gives a small knowing smile. Down on earth, the rains come down harder and a mountain side slides and we see a red ribbon floating to the surface of a small stream.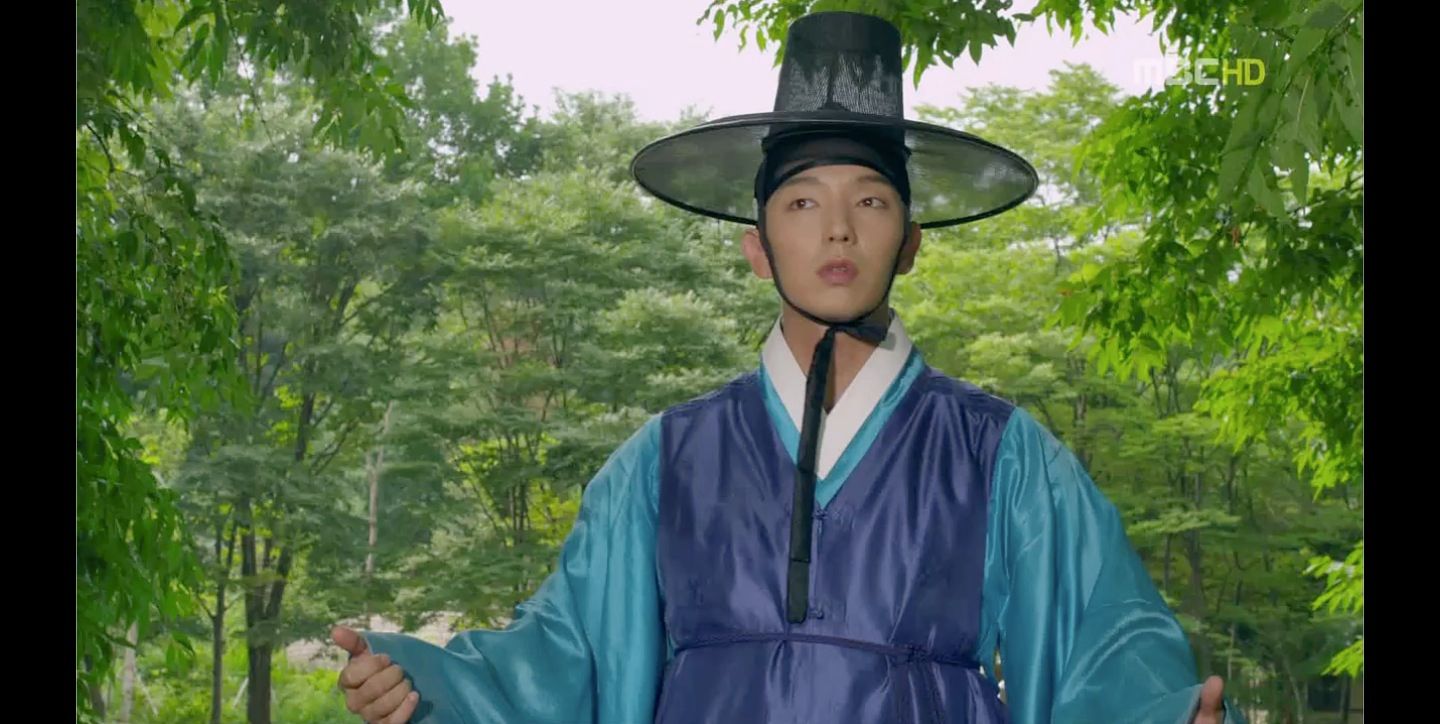 After the rains stop, all hell breaks loose of the news variety, as Eun Oh and Joo Wol's dad are informed that a female corpse was discovered by the foot of the mountain, having floated to the surface because of the heavy rains. Eun Oh's face freezes but he goes to investigate in his new position and because of Arang.
When Eun Oh arrives at the scene, he sees a woman's corpse under the straw pallet and he clearly recognizes the embroidery on the skirt that is peeking out. Despite knowing what he will find under the pallet, he walks over to lift it up. Beside the body, the maid of the former magistrate's daughter is there and wailing over the dead agasshi.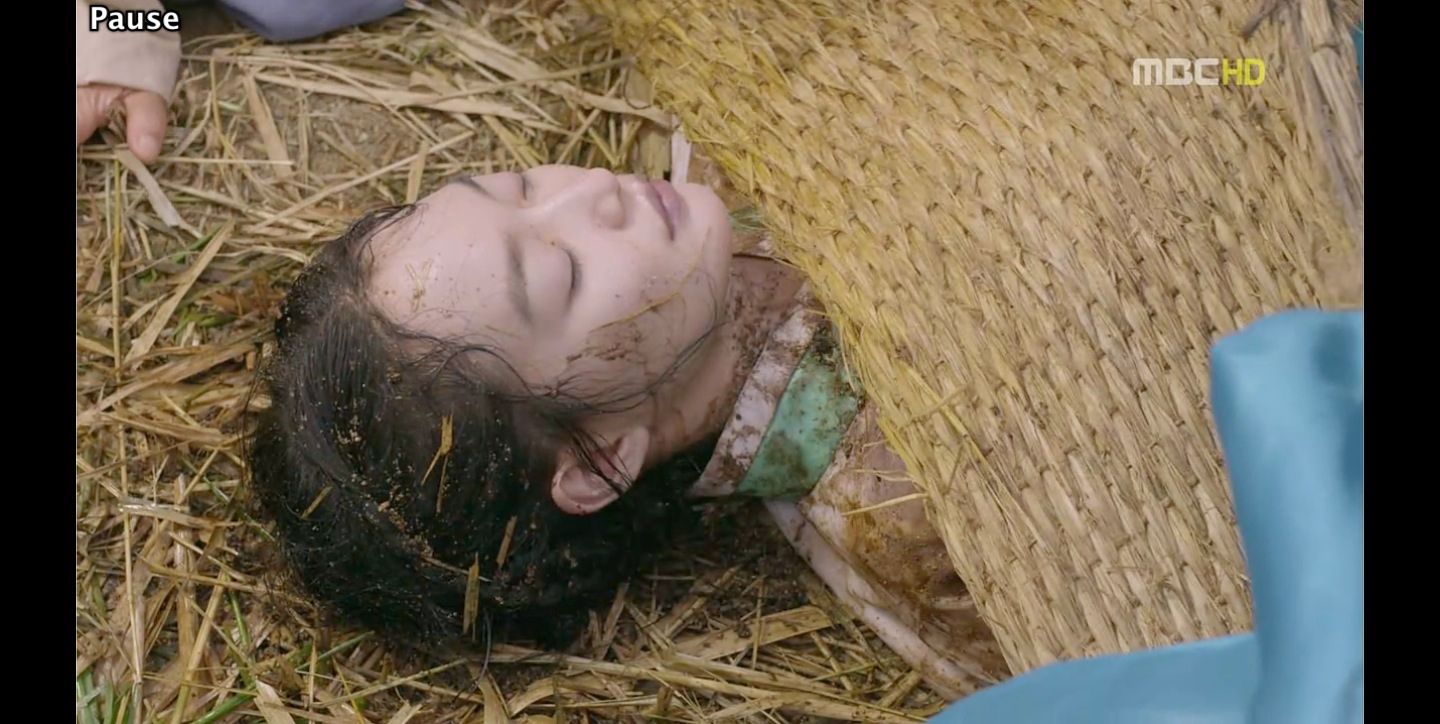 Eun Oh lifts up the pallet and underneath is the corpse of Arang. But strangely the corpse is intact and not decomposed, despite being dead for three years. This is intriguing, especially coupled with the fact that all the ghosts are pale and white-faced, except for Arang who looks like a human but for her ability to pass through objects. I reckon she's not truly dead and her spirit may have just been separated from her body.
Eun Oh turns around and finds himself staring at Arang, who has arrived on the scene and is staring at the body under the straw pallet. Eun Oh stops her from walking up to look at her own dead body, but when the body is moved the pallet is shifted and Arang does see the face of the dead girl. She looks stricken and turns around to run away.
As Arang runs through the fields, she sobs and wonders why this happened to her? Cut to a flashback of Arang who was just a newly dead ghost and trying to make sense of her situation and surviving. She learned to find food, fight other ghosts, and avoid Soul Reapers.
Back to the scene of the corpse find, Joo Wol and his entourage has arrived since he's the fiancee of the dead girl. He stares at her body without blinking and doesn't break a sweat or show any emotion. He wants the body moved to Lord Choi's estate for a quick and quiet burial. Eun Oh puts an end to the plan and announces that he's the new magistrate and he's planning to investigate the suspicious death of the daughter of the former magistrate.
Eun Oh and Joo Wol have a stare-off at they eye each other intently and warily. Joo Wol asks what Eun Oh wanted to see him about and Eun Oh says its nothing important. Joo Wol stills wants to move the body on orders of his father, but Eun Oh doesn't budge. Joo Wol wants the stave off people discussing this gossip again and doesn't care to exonerate the honor of the young lady, who everyone assumed ran off with a servant. He tells Eun Oh that he only saw her face once and has zero interest in feeling for her. Cold, dude.
Eun Oh watches as the maid burns the young lady's clothes and says a prayer for her. Arang's body has been cleaned and changed and now lays in the room. Eun Oh wonders why Arang had to see the body, and where she may have run off to. He tells Dol Swe that he'll have to ask what she wants him to do next – just bury the body and let the matter go, or find out how it happened.
Arang passes through the walls and goes to sit by her own dead body. She looks at her own face and remarks that she was pretty, but she then starts to ask her own dead body about what happened to her? How did she die? Who did this to her? Of course the body cannot answer, leaving Arang frustrated and angry. She vows to find out what happened and give herself some justice.
Arang goes on the roof and talks up to the Heavens as she stares at the moon. She decides to pray to the Jade Emperor, asking him to tell her what happened since he sees everything. She apologizes for calling him names and all the bag things she did. Of course her prayer isn't answered, so Arang goes back to yelling at him.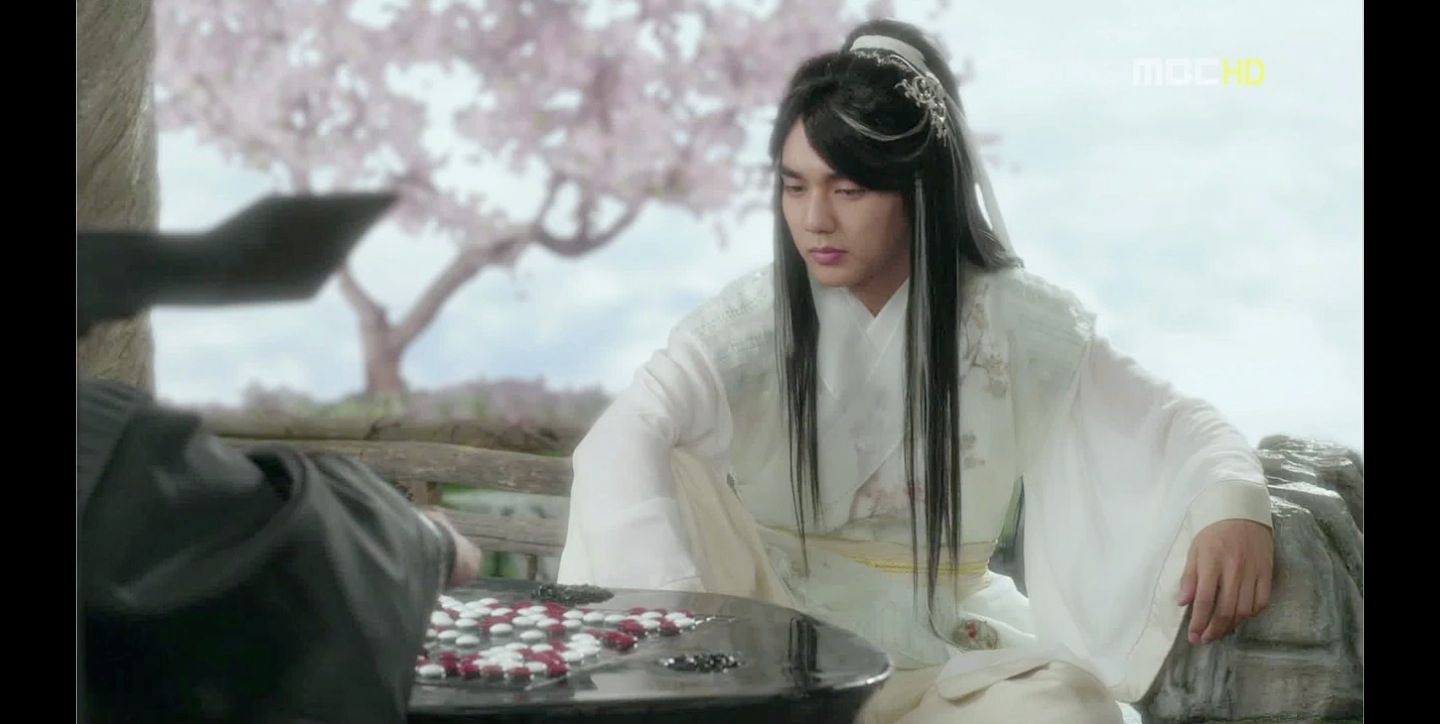 Up in Heaven, the brothers hear Arang yelling and the King of Hell wants to deal with her himself. But the Jade Emperor says that since she is praying, he is known for answering prayers. The King of Hell wants big brother to stop messing with the natural order of things, leaving him to clean up the mess and get all the blame. The Jade Emperor teases his brother for caring about something so inconsequential.
Eun Oh goes to sit with Arang's body, still wondering where ghostly Arang is? Bang Wool, having spent time with Eun Oh who can actually see ghosts, prays to the gods to bestow the same powers on her. Sadly all she gets is Arang back to ask her for a favor. Bang Wool reluctantly sneaks around town and goes to a door that is sealed with an amulet.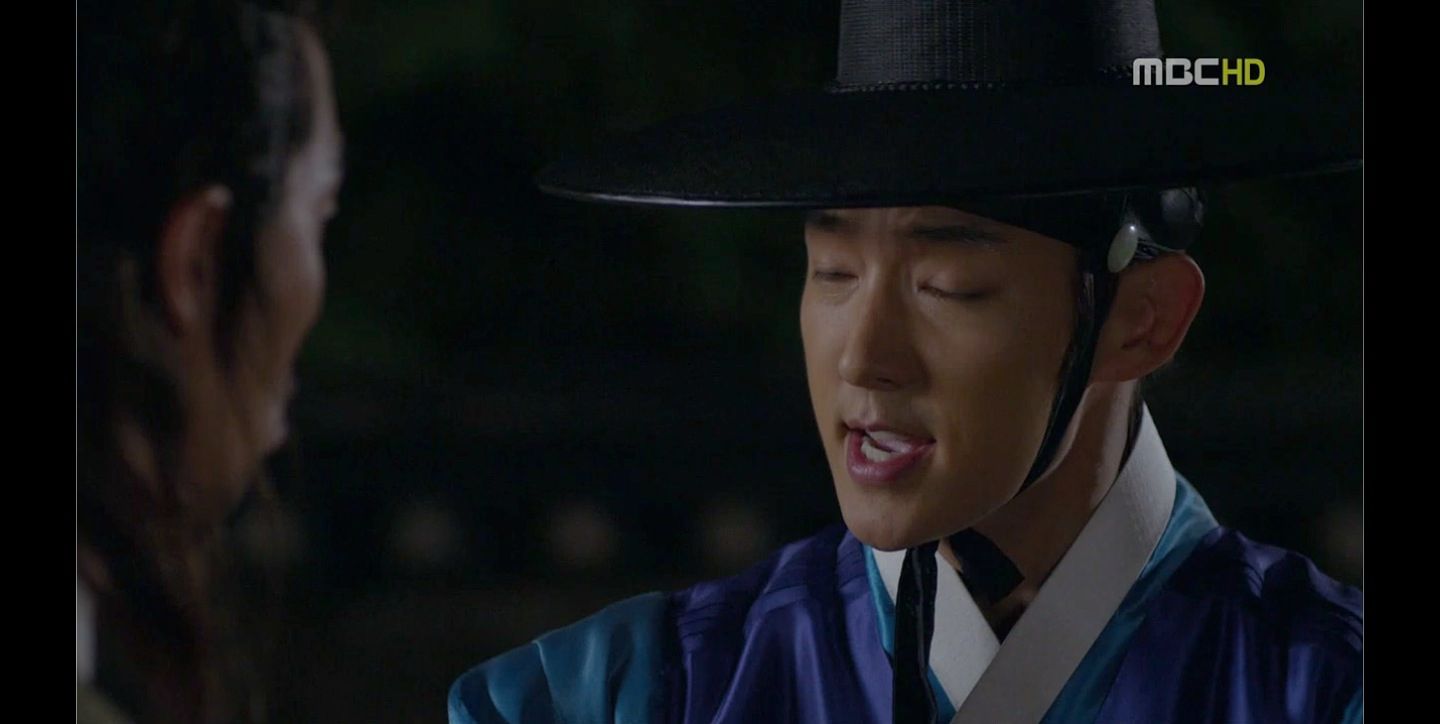 Bang Wool and Arang go inside and Bang Wool starts the procedure. She explains to Arang that if anything goes wrong, she'll end up dead and the already dead Arang will simply disappear existence, beyond even being dead. Eun Oh heads out to find Arang rather than waiting for her to return.
Joo Wol stares at the moon, clearly his favorite nighttime activity, and Lord Choi comes out to chastise sonny for not bringing home the dead body. He notes that Joo Wol is doing justice to his form, either his body or his clothes, but imma go with body since that is uber-creepy. Lord Choi reminds Joo Wol that wearing nice clothes cannot fool people. Lord Choi stares at the moon and wonders out loud whether Joo Wol can handle the full moon. He warns Joo Wol that if any misfortune falls on his house during the full moon, he'll hold Joo Wol responsible.
Bang Wool finds a wall with the same marking on it as the tattoo on Arang's neck, and she hangs up another design beside it to prepare for the spell. Arang blows on Bang Wool's face and makes it covered in boils knowing her attack on a human will summon a Soul Reaper. Arang thanks Bang Wool for all she did and tells Bang Wool that she's leaving and likely won't be able to return.
Moo Young arrives to take Arang away, but she gets up her courage to bargain with him. She wants to meet the Jade Emperor and talk with him. Moo Young says "no way in Hell, missy!" or something like that. Arang gets Bang Wool, after repeated proddings, to slide one marking over the other which opens up a portal to…..somewhere not good. Moo Young growls as he's sucked into the portal, and he prevents himself from falling in by holding his hands out grabbing onto the wall.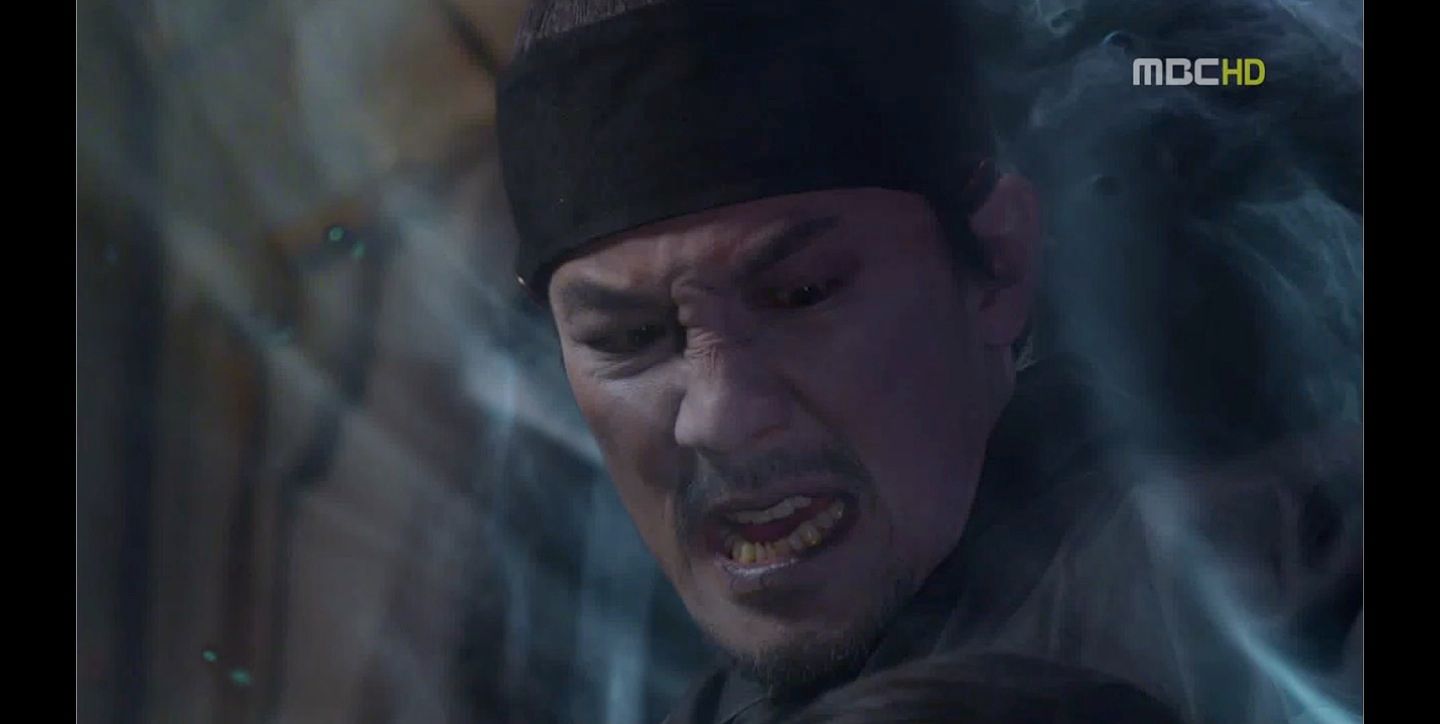 Arang is also sucked into the portal and she ends up plastered on Moo Young. He warns her to shut the portal otherwise she'll disappear as well, but Arang is not scared since she's got nothing left to lose. Up in Heaven, the Jade Emperor almost wins yet another Go match but decides to rescind the move and gets a favor from the King of Hell. Next thing we hear, the King of Hell is howling down at Moo Young, who agrees to bring Arang to meet with the Jade Emperor.
Bang Wool closes the portal and both Arang and Moo Young fall on the ground. Moo Young warns Arang that this trip to see the Jade Emperor is a one-way journey, and she notes wistfully that she didn't get to say goodbye to him. We see Euh Oh running through the woods looking for Arang, as she walks behind Moo Young headed towards the River of Forgetfulness to pass to the afterlife.