CTS network's self-financed daily drama Inborn Pair was such a hit last year the network is continuing to produce its own fare. IP really skyrocketed Chris Wang and Annie Chen's acting career, and I think it was well deserved because the drama was sweet and simple and the two leads had lovely and fun chemistry with each other. I liked the drama well enough but it never really gripped me completely. Rather than re-team the two leads in another project, CTS is now splitting Annie and Chris up to headline their own dramas, which coincidentally will be airing on the same night on Fridays one after the other. That's economical, it's like getting two for the price of one for fans of this pairing. I wonder who will luck out with getting the qualitatively better drama? I tried watching IP's follow up Gong Hay Fat Choy and was bored beyond belief even a few episodes in, so quality remains hit and miss in TW-dramas as far as I'm concerned. Chris will be co-starring with Tiffany Hsu in the drama tentatively called Love Before (我租了一個情人) while Annie gets to act opposite George Hu in Love, Now (真愛趁現在).
CTS held a dual filming commencement ceremony for both dramas (see above) which started filming on September 16th, with the dramas scheduled for mid-to-late October premieres. The huggy above is genuine and not for show as Tiff and Annie are real life good friends since they are both Catwalk model-turned-actresses. A funny soundbite came from Tiff, who was interviewed about this being her first drama as the leading lady, and she said her boyfriend Ethan Ruan called to give her a pep talk and she was totally revved up about it. She had only compliments for her co-star Chris, calling him "the triple king of ratings, small face, and condors". The joke is that recently Chris had to kiss James Wen to fulfill a bet and the media had a field day with his, errr, enthusiasm. Hence Tiff's joke about him being the king of the condors is because the big condor is a euphemism for a man having an excited physical reaction. I dunno why, but Taiwan entertainers say the darndest things, LOL. The chemistry on set will be interesting, to say the least.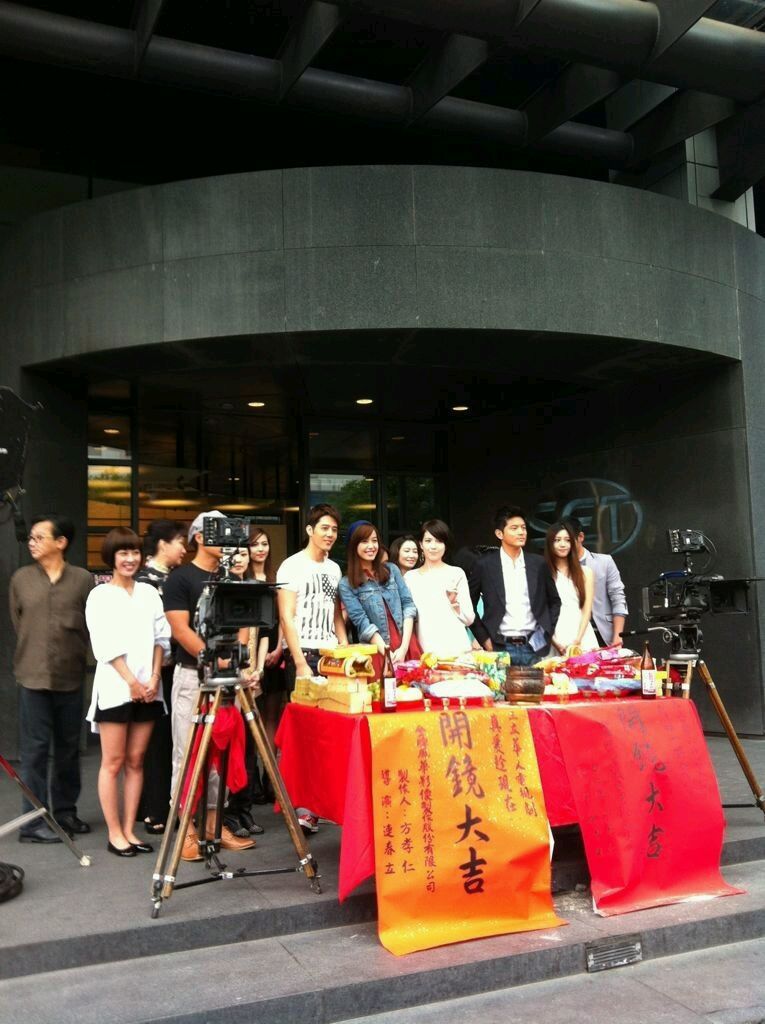 Annie and George looking fantastic together in the first stills of their characters in True Love While. They definitely look like college students, and ridiculously good looking ones at that.
Chris and Tiff, on the other hand, are looking awkward so far. Pretty, but awkward.