This episode of Nice Guy felt a wee bit stale in terms of narrative, or perhaps my exponentially growing hatred of Jae Hee clouds my mind. I'm still trying to fit my mind around what is going on, watching the action while at the same time thinking about the motivations. For some reason this drama makes me feel anxious watching it. Not like watching a horror movie anxious because creepy things will jump out at me, though I do feel that way anytime I see Jae Hee's fugly face, but more like I don't want to see either Maru or Eun Gi keep getting hurt and beaten down. If anything, episode 5 confirms that together Maru and Eun Gi can do anything. He supplements her spitfire rage at protecting what little emotion that remains in her empty world, while she for once makes him care. And he does care, this isn't all about ruining Jae Hee's grand plan at installing her son as the successor in Tae San Group. If 99.9% of Maru is all about his own agenda, then Eun Gi gets through in that .01% (for now), and that is already more than anyone else in the years since he sacrificed himself for a woman that is unworthy of his devotion. Storytelling thoughts aside, this drama continues to be one of the most stunningly directed works I've watched in quite some time. With the entire episode set in Aomori, the location shoot expertly blends the narrative with the lush vistas and intimate interiors so that we get a sense the characters are almost always slightly on edge and aware of their surroundings. Brilliant. As of now, I'm just soaking in this episode while tempering my bubbling anxiety for episode 6 based on the preview. 
Episode 5 recap: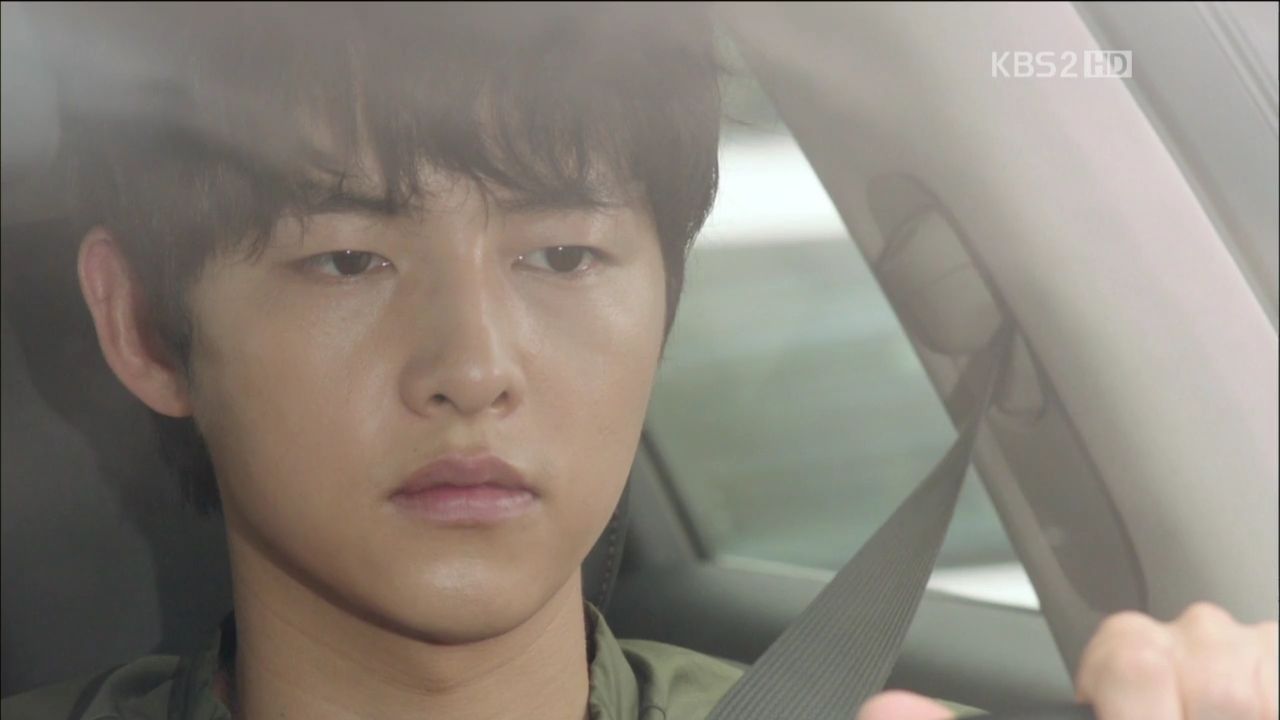 Maru drives and thinks back to his recent conversations with Jae Hee, all of which show in no uncertain terms that she is a selfish and horrible woman. Run away from her, Maru!
He also flashes back to his meeting with lawyer Ahn at the bar. Lawyer Ahn takes the opportunity to size Maru up and speaks in a roundabout way trying to dissuade Maru from getting involved in any way with Jae Hee since they will both go down. Lawyer Ahn says he watched an animal show about a leopard chasing a wild dog and to get away the wild dog ran to the edge of the cliff signaling that if the leopard didn't let go then they will both die together.
Maru remembers how Jae Hee told Eun Gi that she will not forgive anyone who gets in her way. Maru takes a swig of Power Water, which I'm assuming is the cousin to the ubiquitous Vitamin Water that has been endorsed left and right in many a drama, so imma calling it out for being a completely random moment. Maru tenses when thinking about the now greedy and grasping Jae Hee and then he makes a U-turn. Maru listens and then responds in kind to lawyer Ahn, telling him that if the leopard falls down the cliff it still won't die. Lawyer Ahn tells them to at least be afraid of death. Maru says the leopard isn't afraid of death, and even at the brink of death it will tell the wild dog that it is thankful it can have a partner together on this road to the afterlife. Wow.
At Aomori, Jae Hee welcomes the potential buyers to the resort and lawyer Ahn tells them that a buffet has been set up. Buffet? Curious culinary choice for impressing guests. After they walk inside to dine, Maru pulls up in a taxi and asks the doorman where to find guest Seo Eun Gi.
Maru walks to Eun Gi's room and finds the door closed with a note posted not to disturb her. He picks up the Barbie doll sitting on the swing and says long time no see to the doll he risked his life to retrieve for Eun Gi.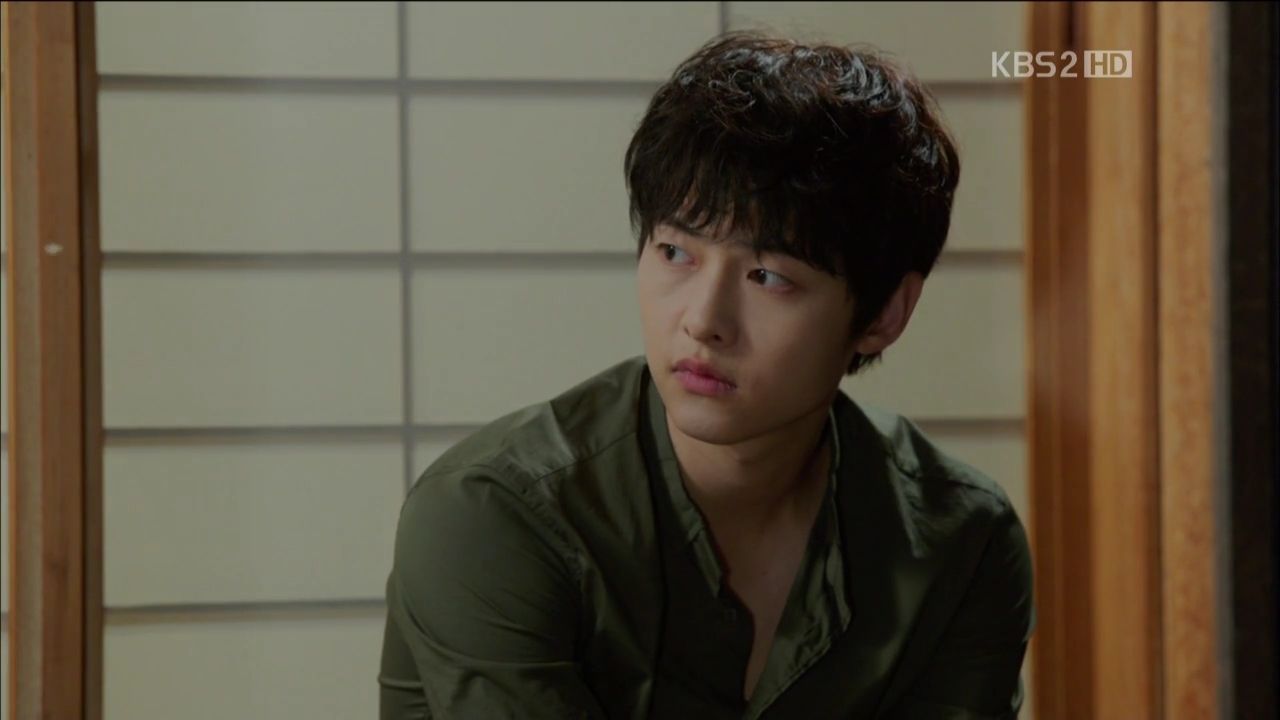 Maru waits outside while she is hard at work trying to find a way to save the resort and scuttle the deal. When Eun Gi gets frustrated and tosses papers on the ground, Maru sitting outside can hear it and he turns around and his eyes widen when he sees Eun Gi walk out from the other door.
After Eun Gi goes outside and washes her face, she doesn't see Maru and ends up falling asleep on the lawn, Maru watches her for awhile and tries to wake her up but she's exhausted and passed out. Maru walks into her room and looks at all the work she's doing and decides to help out.
Maru calls Jae Gil and wakes him up, reminding the guy that he was a business major in college and asking for his help, and in return Maru will introduce a hot chick to Jae Gil with the dimensions of 39-26-36 which gets Jae Gil's interest. That wakes the formerly sleeping and sullen Jae Gil up and he helps Maru analyze Tae San Group operations.
Maru flashes back to lounging around with the girl he was seeing in episode 1, and she gave him advice on Mokke Service, a company that almost went bankrupt but has acquisition potential. She tells him to invest in that company. Maru works through the night crunching numbers and scribbling notes which he posts on the wall. He finally settles on an idea.
Maru walks up to Eun Gi and she's still fast asleep. He can't wake her up so he picks her up and carries her over to the pond before unceremoniously dropping her into the water. Eun Gi wakes up spitting water but is stunned into silence to see Maru's smiling face before her. He tells her to wake up and she can come kill him, but first they need to eat.
Maru and Eun Gi sit down for breakfast and she is still shocked he's here. Eun Gi just stares at him and he tells her to eat. When asked how he got here, Maru says he took a plane and a taxi. He reveals that he missed her so he's here. He thinks he can't go a few days without seeing her anymore so he came to confirm some questions he had with her. He tells her to stop staring at him with such a wan expression and asks if she wants to save the resort.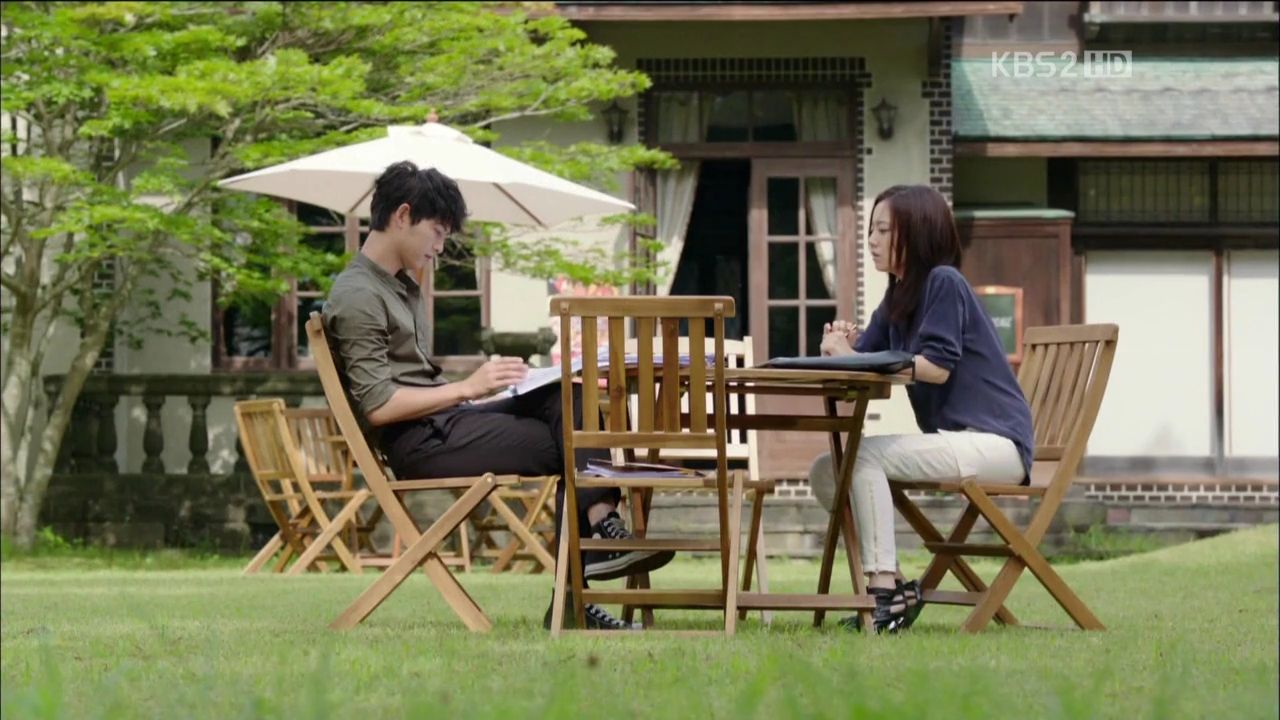 After breakfast, Maru sits with Eun Gi outside and reveals that he's found a way to save the resort from needing to be sold by finding the cash the company current needs. Turns out the company's investment in Club IGS just quadrupled overnight since that formerly worthless company hit a natural resource vein. He suggests the company also sell off some unproductive chemical plants. Eun Gi calculates the amount and says its a little short so Maru tells her to sell off some valuable small items to come up with it. Eun Gi thanks him for doing this. Eun Gi is amazed how he could have done all this but Maru shrugs and say's he can't help that he's super smart.
Before Eun Gi rushes off to stop the deal, Maru pulls her back and kisses her on the forehead and wishes her good luck. He tells her to come back and kill him. After Eun Gi walks way, Maru's smile slowly disappears and he looks calculating and somber.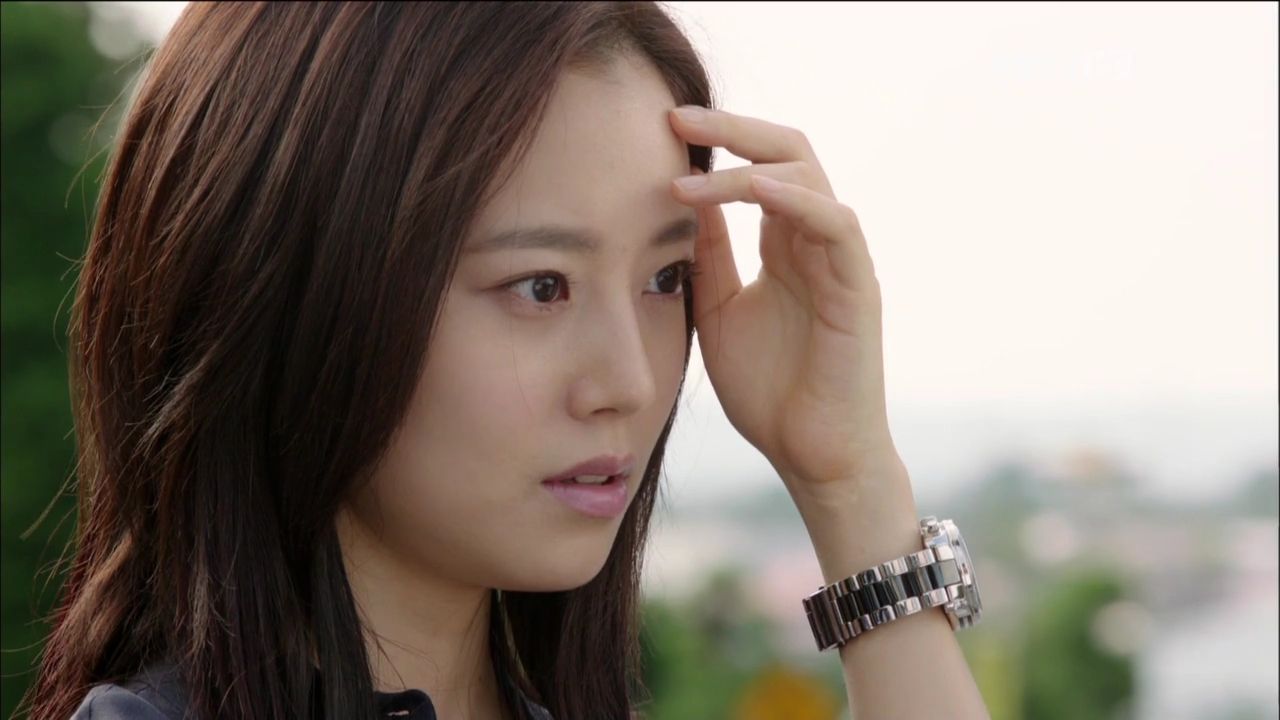 Eun Gi has lawyer Ahn to tell him to halt the sale since she has found a way to save the resort. As Eun Gi walks down the street, she stops to touch her foreheard where Maru kissed her.
Lawyer Ahn goes to tell Jae Hee that Eun Gi is ready to ruin the sale. Jae Hee is in the onsen and tells lawyer Ahn to move up the contract signing. She gets out of the water and puts on a towel all in full view of lawyer Ahn. She's so disgusting it curdles my blood.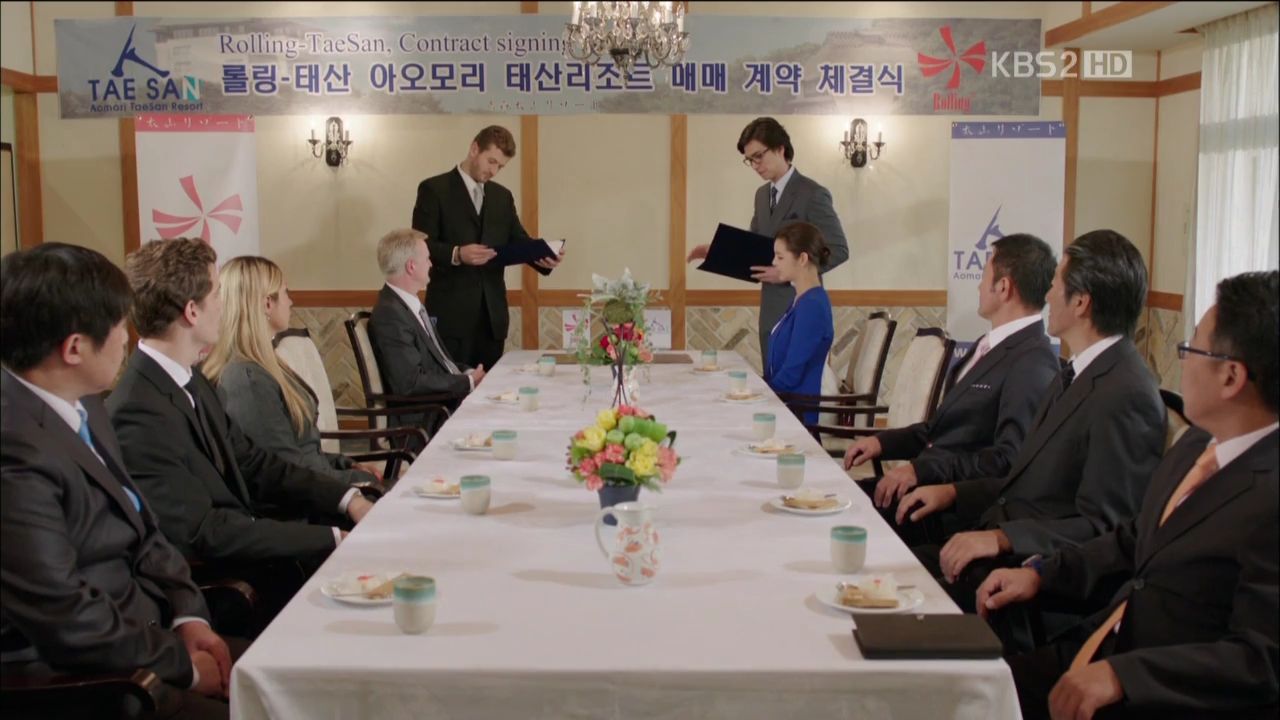 Jae Hee sits down with the owner of the company wanting to buy the resort. The contract is signed. Eun Gi rushes there but arrives too late. Eun Gi asks Jae Hee why the contract was signed when she told lawyer Ahn to halt it. Lawyer Ahn says he didn't relay the information to Jae Hee, telling her that it's been decided by Tae San to sell the resort.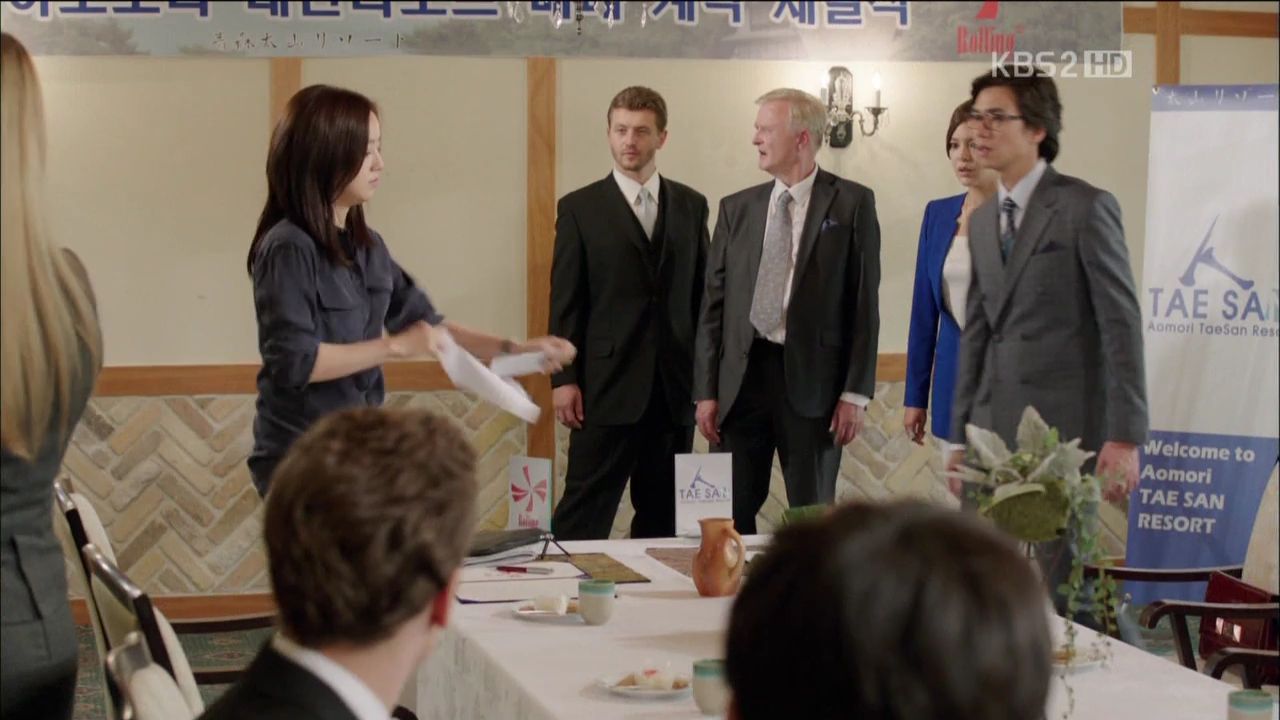 Jae Hee plays nice and tells Eun Gi that she knows the resort is important to her. Eun Gi tells her to shut up and announces that the resort will not be sold. Eun Gi grabs the contract and rips it up. Jae Hee is furious and the two women face off. Jae Hee slaps Eun Gi and vows to put Eun Gi in place as her new mother.
Jae Hee tells Eun Gi that it was her dad that wanted to sell this resort and it will be done. Her father wants to erase all memories of her mother. Eun Gi doesn't believe her but Jae Hee tells her to call her dad to check. Jae Hee tells the buyers that Eun Gi is going through a hard time and is mentally unstable. Eun Gi lets out a shriek of rage which makes her seem definitely crazy.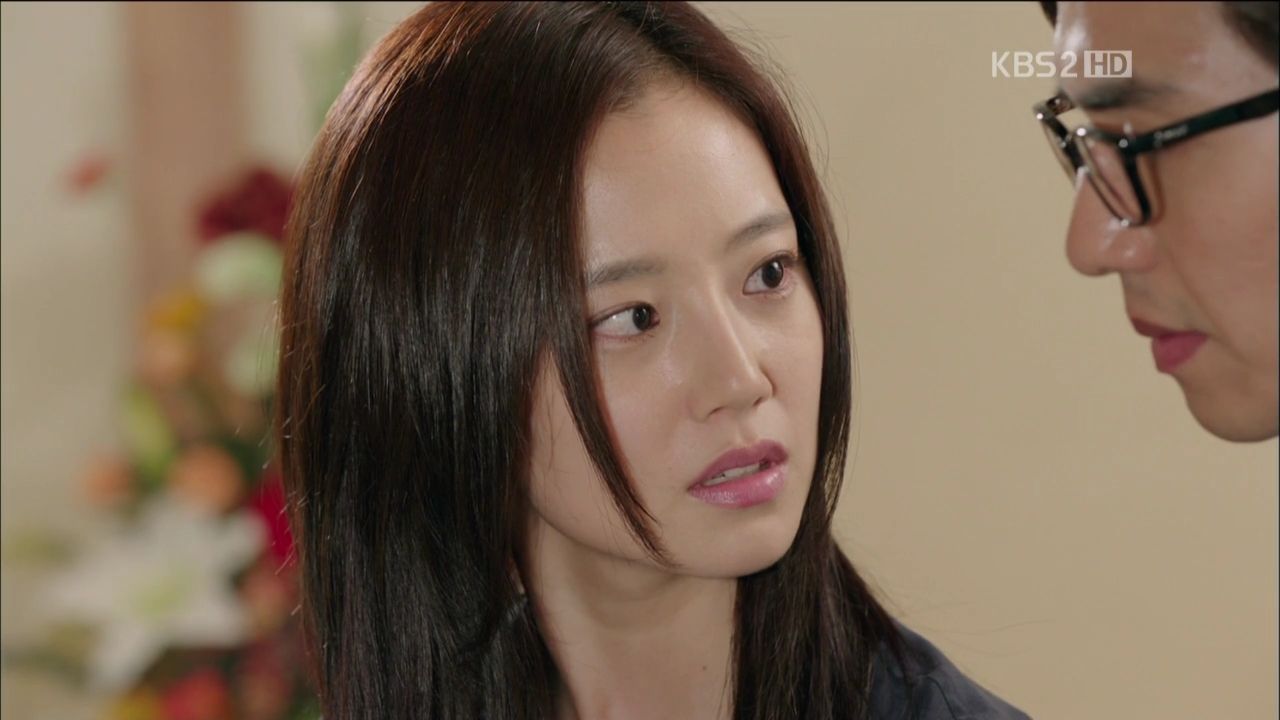 Jae Hee tells the other side that they will re-sign the contract. Eun Gi sits down and when lawyer Ahn comes over, Eun Gi asks him when he became Jae Hee's lackey? He used to be one of the two people she trusted at Tae San. When he tries to help her, she tells him to move his disgusting dog paws off of her otherwise she might throw up.
Eun Gi gets a call from Maru who wants to know how things are going. She tells her that they've lost, the resort will be sold no matter what. Maru tells her that he wants to speak with the owner of the other company and to put it on speaker.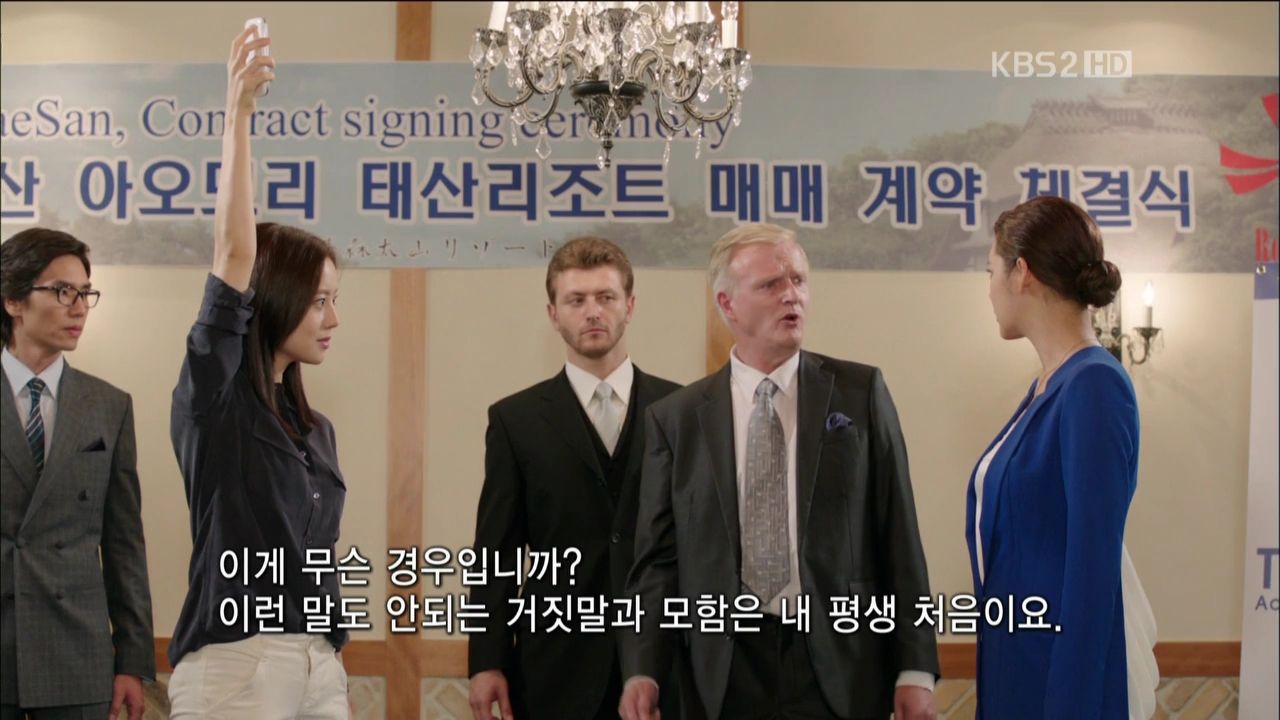 Maru gets on the phone and everyone listens as he reveals that the other company is a shady operator. Turns out the company wants to buy the resort and build a facility around it for development that will likely pollute the area. This company is just a shell to buy the resort but Maru discovered what the parent company does. Song Joong Ki's speaking English is…….whatever, he tries hard. I also have to try really really hard to understand him.
The shady company president calls the deal off and everyone walks out, leaving Eun Gi and Jae Hee inside. Jae Hee suggests that Eun Gi ought to have been more prudent as the successor to the Tae San Group. To save one measly resort she made a big mistake today and she will regret it. Eun Gi says that even if Jae Hee has stolen everything from her, everything that is Tae San, all she wants is to protect this resort. Eun Gi says she's content.
Maru sits in the yard and looks towards the sky. Eun Gi puts the phone back to her ear and asks if he hung up yet? He didn't (and thus he heard the last exchange as well), so Eun Gi asks if they can meet later? Maru hasn't slept in days so he asks to take a 3 hours nap first. Eun Gi smiles and tells him to sleep well, she'll see him in 3 hours.
Jae Gil and his girlfriend are at the café and being super affectionate. Choco comes by and asks them to tone it down since there are kids around.
Suddenly a guy walks up and addresses Jae Gil as young master, asking where he has been this whole time. Jae Gil insists the guy is mistaken but the man is certain and tells Jae Gil that the Chairman his father is very worried about him. Jae Gil says he refuses to be a part of that family and when he left it was final. He's even changed his last name now, so don't come bother him.
After Jae Gil rejoins Choco and his girlfriend, he sees that she has a bit mark on her arm. The girlfriend acts like Choco bit her while he stepped away, but Choco insists she didn't bite her and the girl bit herself. The girlfriend also says Choco stole something from her, and that doesn't fly with Jae Gil. He breaks up with her, telling her to scram. He might believe Choco bit her, but he knows Choco would never steal anything. The girlfriend tries to beg forgiveness but Jae Gil is done with her.
Joon Ha stares at Maru's picture, still doubting that he doesn't have a connection with Jae Hee. Joon Hae meets with the Chairman who has heard the sale of the resort did not go as planned. He knows that it might not be enough now to just kick Eun Gi out of Tae San or out of the house.
The Chairman asks Joon Ha to please protect Eun Gi and stay by her side. He knows many people will want to harm Eun Gi, so he needs Joon Jae to protect her even if everyone else in this world leaves her side. Joon Ha promises he will do that.
Joon Ha leaves the house and drops his picture of Maru on the ground and a maid picks it up. He asks if she's ever seen his guy and has Jae Hee ever visited him? The maid said man visited her before, dropping off an envelope of money in the mail slot.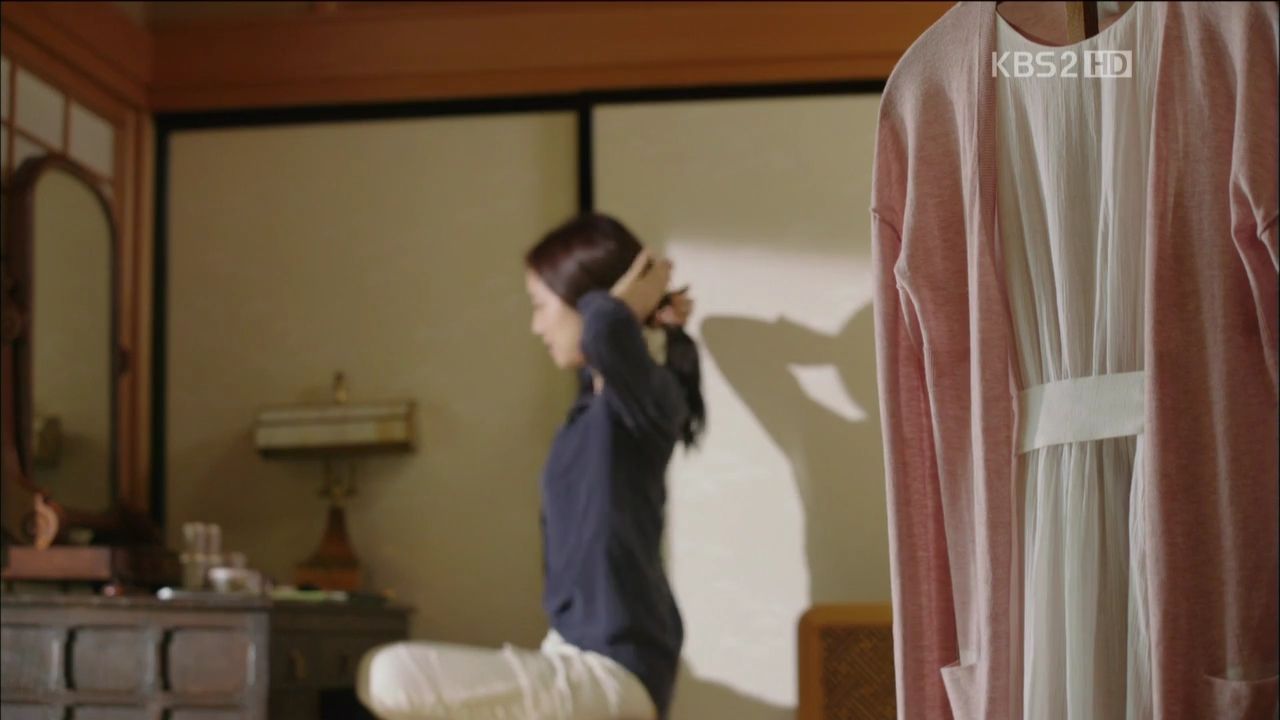 Maru keeps napping in the courtyard while we see Eun Gi awkwardly putting on make up and looking over towards a pretty white dress she's got hanging up.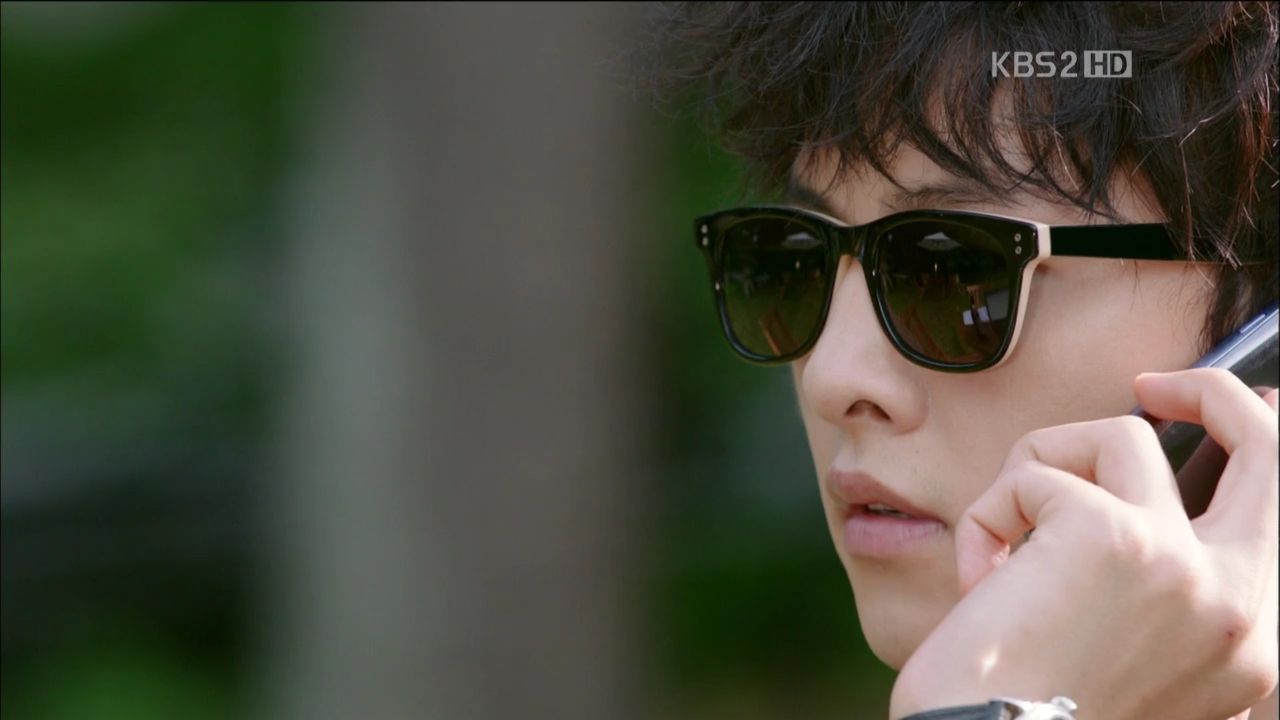 Maru is woken up with a call from Jae Hee, asking if he's in Japan and where he is right now. Maru says he has a date shortly but Jae Hee begs to meet for just ten minutes. Maru doesn't see the need but Jae Hee begs him to give her just ten minutes.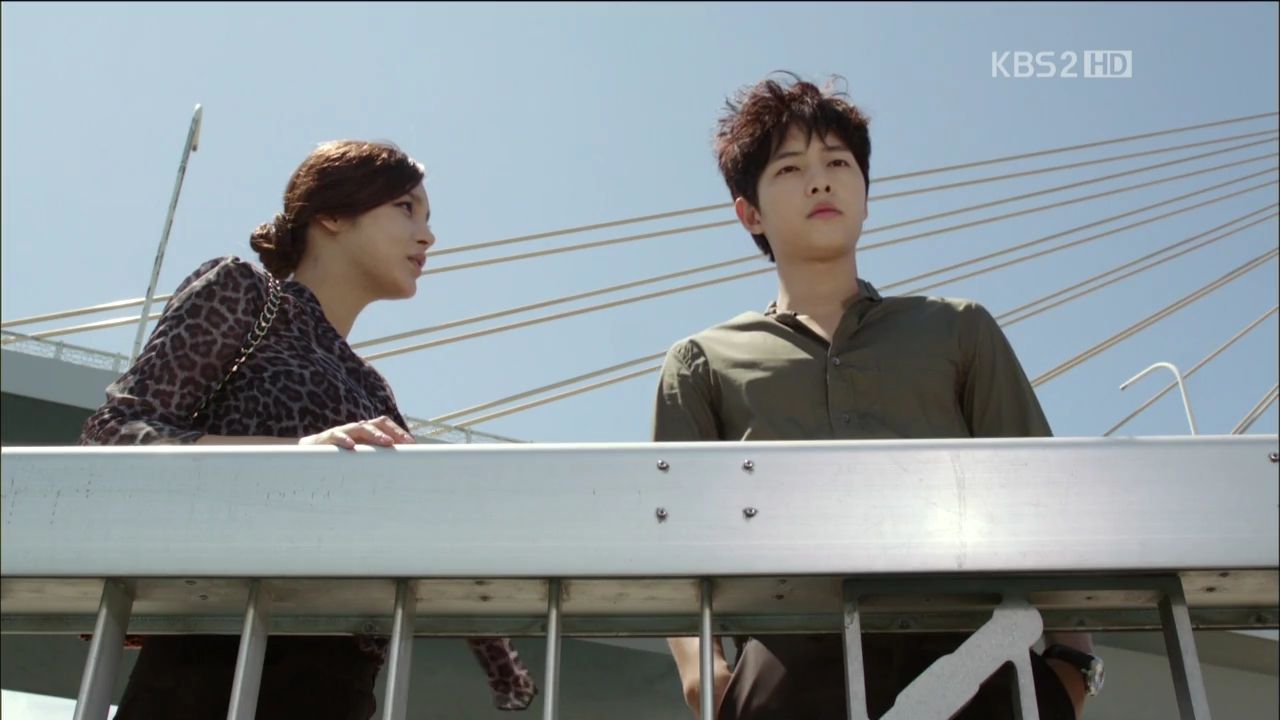 Maru walks to a bridge to meet Jae Hee and tells her that she has ten minutes starting now. She asks if he turned into this cold guy because of him. He used to be the world's most gentle and kind man, and now he's turned heartless and cruel because of her. Maru counts down the time while Jae Hee asks if they can take a ship together and she'll go with him to the end of the world. She asks if he remembers they wanted to travel the world on a ship before.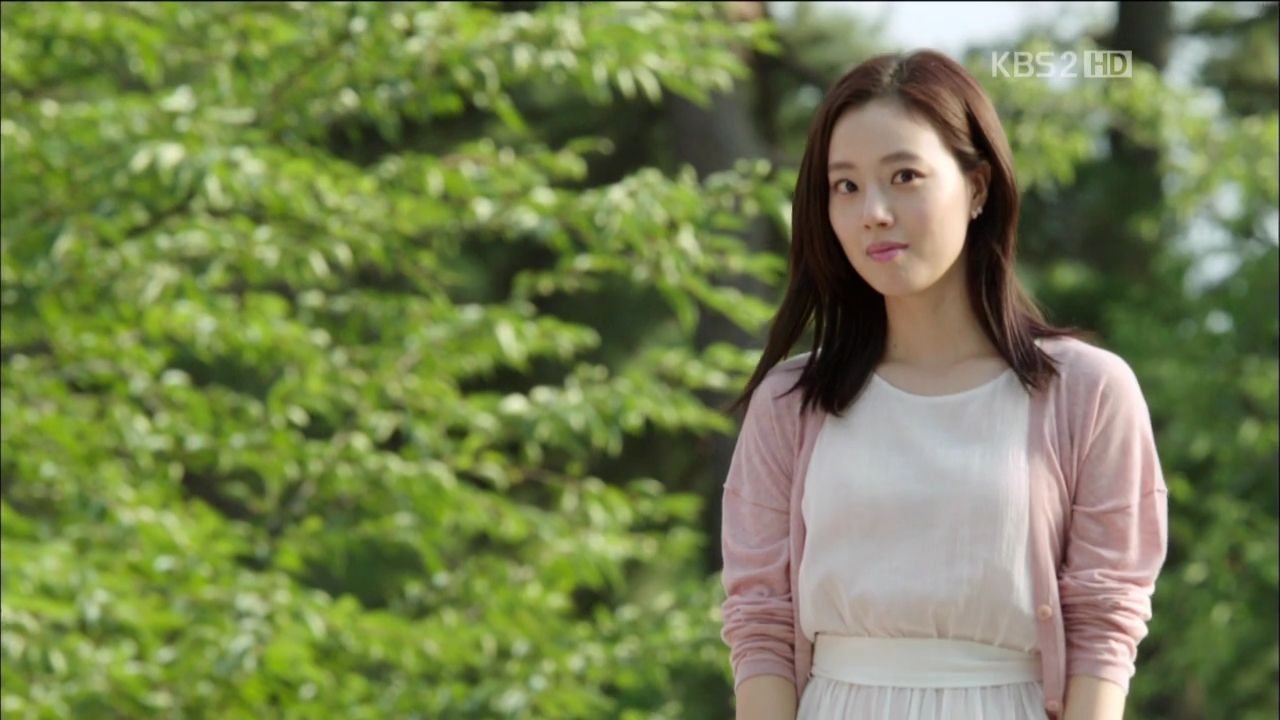 We see a pretty Eun Gi happily walking to meet Maru where they agreed to meet. This is seriously the first time ever this girl has ever gone on a date, and you can see her happiness mixed with awkwardness.
Maru tells Jae Hee that she has three minutes left so Jae Hee looks down into the water and asks if he knows what's down there? Just trash, right? So inside the water is just like her. Isn't he curious, she wants to go down and see. Maru says her time is up and he walks away. Jae Hee begs Maru not to go, not to leave her to go to Eun Gi.
There is a splash and Maru turns around to see that Jae Hee has leaped off the bridge. OMG, good riddance! He rushes back to the spot where she jumped and screams out "noona!!!" Maru jumps into the water and finds the sinking Jae Hee and saves her. Ugh.
Maru drags Jae Hee's manipulative skank ass back up and performs CPR on her. I hope he crushes her lung by accident. A woman who is willing to use suicide to keep a man sympathetic to her is absolutely pathetic. I hope she had a cut on her and gets a flesh eating bacteria from the water. Also Maru needs to disinfect his lips afterwards. Elsewhere we see that Eun Gi has arrived at the bridge and waits for Maru.
Back in Seoul, Joon Ha the super sleuth checks out the CCTV camera footage mounted outside the Seo mansion. He sees Maru walking up in the rain to return the money Jae Hee left for him. He also sees the footage of lawyer Ahn taking Jae Hee home that night and then Jae Hee kissing him. Yes, someone else knows now!
Jae Hee is resting in her room and Maru sits beside her. When she wakes up he moves to leave but Jae Hee asks why he saved her. She is no one connected to him anymore and she's just trash to him. Is it because he still loves her? That's why he is finding reasons to stay around her. Maru tells her to stop dreaming. Jae Hee asks why he didn't just let trash like her die then? Jae Hee tells Maru that she will return to his side, if he just gives her some time, she will return to him but it won't be right now.
Maru turns to her and asks just how far Han Jae Hee has truly fallen? He asks how much she wants to keep manipulating people. He wishes that he could at least have a few good memories, of his first love Han Jae Hee not being a despicable woman. Even if he can't understand her, at least he hoped to keep those good memories so he doesn't fee like his life is as miserable as it is now.
Maru leaves and passes lawyer Ahn outside the room, the two men giving each other a pointed look. Maru walks through town where a Summer festival is going on and he remembers his date with Eun Gi.
Maru first runs back to the hotel and and finds Eun Gi's room dark and empty. Maru then arrives at the bridge hours past their date time and finds Eun Gi sitting down with her back against the bridge railing, having fallen asleep. Lord this girl just breaks my heart.
Maru stares at Eun Gi for a bit before he moves Eun Gi's hair aside and she wakes up. Eun Gi quickly stands up and Maru does so as well. He asks why she waited for him, what if he didn't show up? Eun Gi believes that if she waited, he'll show up.
Maru points out that she put on make up and Eun Gi admits she did. She confesses that this is even her first time wearing a dress. Eun Gi asks if they don't have some unfinished business to deal with? Maru stares at Eun Gi before swooping in for a kiss.
Thoughts of Mine:
Watching Nice Guy requires the viewer to pay attention to dialogue and unspoken details in both gestures and images. It's a story about pain and loss, about insecurity and greed, about trying to walk forward when the past is like a horrible dream that just won't go away in your mind. This is no ordinary story about a betrayed man looking for revenge, because I would say it's not about revenge at all. It's about redemption – Maru wants to redeem Jae Hee by making sure she doesn't succeed in her quest for more wealth and power, and in turn we know that his plan will bring him into Eun Gi's orbit and through Eun Gi we long for this broken man to be redeemed from a dark past so he can walk towards a brighter future.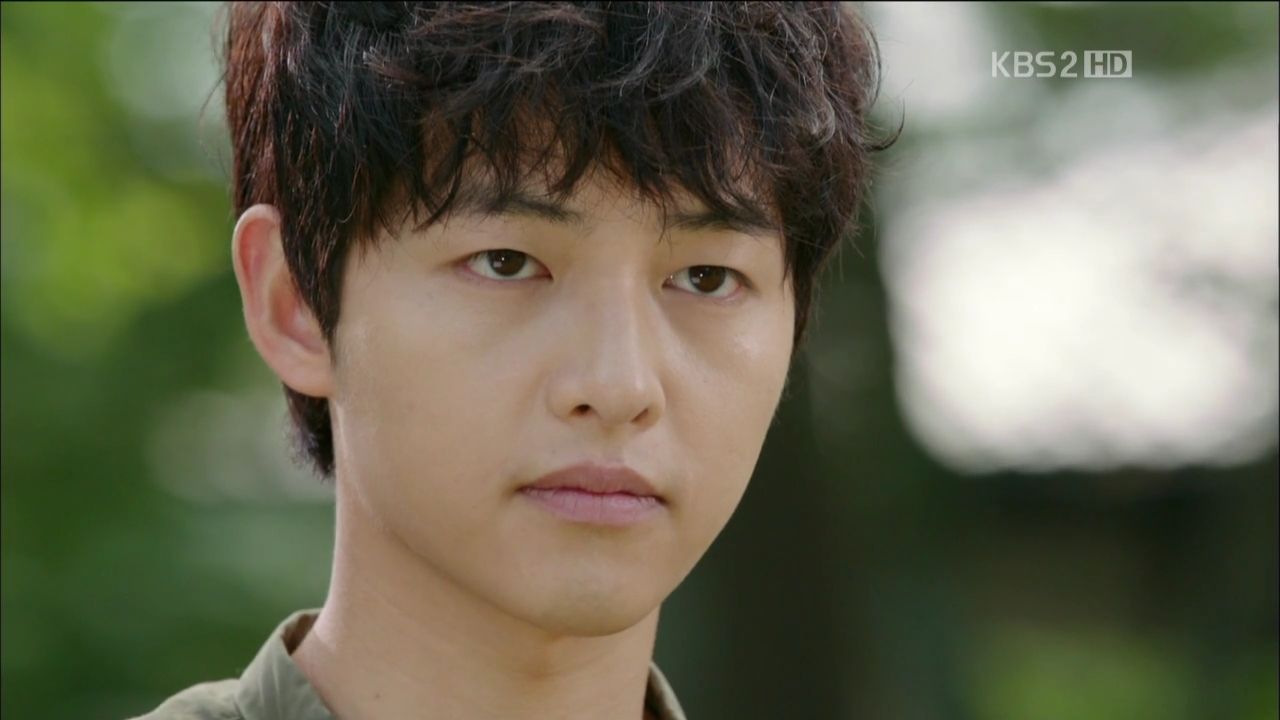 I'm not terribly impressed with the hows and whys of Lee Kyung Hee's narrative machinations, such as how a former medical student like Maru can have the ability to easily solve Eun Gi's cash crunch situation, even with the help of friend like Jae Gil with a business background. I hope the drama moves the business conflicts to the side and focuses more on the psychological battles between Eun Gi and Jae Hee. My love for Eun Gi continues to grow by leaps and bounds, and she is by far the character I root for the most. She's like a child playing grown up, emotionally stuck in a childhood she never had while intellectually she's matured. She's both candid and awkward, because she has no clue and no desire to play the social niceties game. Watching her fall for Maru is fascinating yet fraught with so much tension, making me fear how she might crumble once she learns Maru's connection with Jae Hee.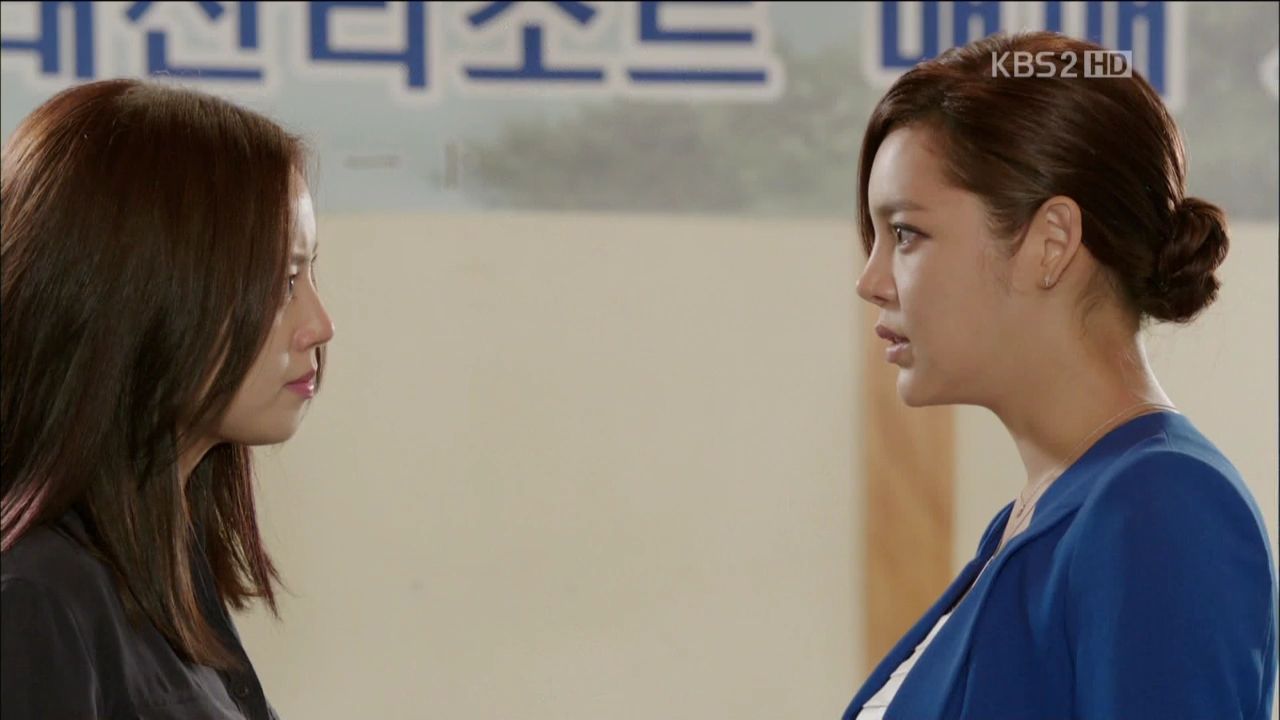 Speaking of Jae Hee, I was thrilled and shocked to see that the Chairman is actually not a heartless bastard towards Eun Gi. He's actually doing something for her in all this crappy treatment of her, and I'm wondering if he thinks he's hardening her up for a world that will want to take her down. I almost teared up watching him ask Joon Ha to protect her once everyone around her is gone, which leads me to believe the Chairman knows he's living on borrowed time. This also makes me wonder if the Chairman knows everything about Jae Hee, especially since she told him that night that the she man loves is suffering because of her. What if he knows, and he still elected to be with Jae Hee because he wants a woman who is strong and grasping. I wouldn't be surprised if the Chairman is just playing Jae Hee like a fiddle as well and she's not so much in the driver's seat of her own fate but merely running around like a rat in a maze designed by the Chairman.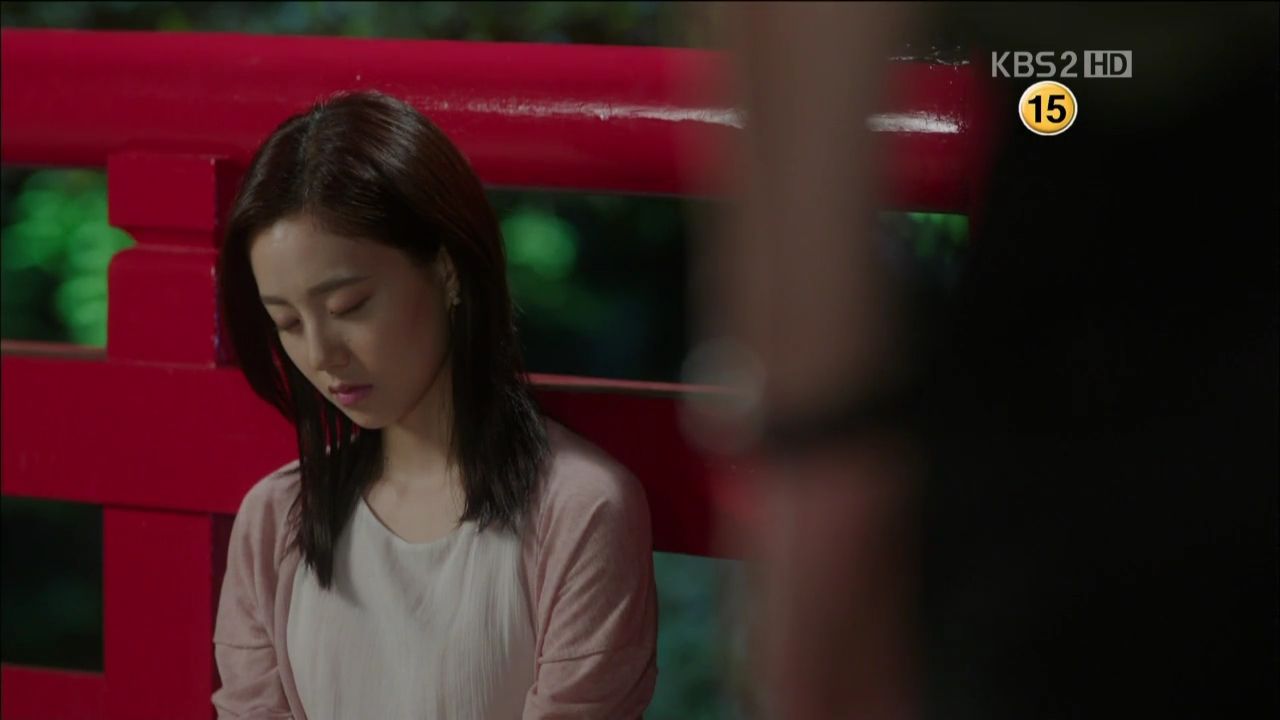 I feel like Maru is really walking a dangerous path, one that he's not fully thought out and mostly just going with the flow. I don't know if he realizes that he actually has a sliver of genuine feeling towards Eun Gi, which seeps out in the way he appears to be concerned about her when he stood her up on their date and when he saw how stressed she was about saving the resort. Now that Joon Ha knows Maru and Jae Hee has a connection, its only a matter of time before Eun Gi does as well. And no, I don't believe Eun Gi knows the truth about Maru yet, and she really is captivated by him in ways that defy logic and reason. I know that the kiss of the bridge was likely more of Maru womanzing his way into Eun Gi's heart, but part of me wants to believe that every little bit he does to win her heart will only ricochet and make him open his heart up to her as well.