Oh wow. That was interesting. Not sure if I can go about making heads or tails of what episode 9 of Nice Guy did to the drama narrative as a whole, but it definitely took a great leap forward. Whether that leap is in the right direction only time can tell, but I wouldn't write off what happened as crazy plot developments or upending the story to generate new angst. Episode 9 unfolded marvelously in execution and took the drama where the originally released plot synopsis laid out that it would. I find NG is a drama that always challenges my impressions of it, whether it's from a character or narrative perspective. So far the tropes are oft-used ones, such a revenge, ambition, rebellion, or the newly arrived amnesia. But the drama doesn't present it in a linear way, instead infusing the story with shades of gray and subtle touches that enrich the viewing experience. So much is presented visually that the looks and camera angles become yet another layer of the story.
The entire drama is an unreliable narrator, and I confidently predict that there are still lots of unrevealed material facts that will impact how we feel about what's happening. Every episode of NG gives me new nuggets of information both past and present, and new snapshot feasts for the eyes that make me want to frame a particular camera angle or scene cut. I love the shot above of Eun Gi and Maru, a very heavy handed juxtaposition of his darkness in all-black, the half who still remembers every moment between them, and her rebirth in all-white, the half that has a clean slate who wants to start with the search for love. The way his name is chalked on the wall like a child would write, showing us that regardless of why and how they connection was formed between them, it really can be so simple. Eun Gi was always searching for the most human and inherently childish need of love, while Maru had suppressed his inherent goodness to preserve his will to live.
Episode 9 recap:
Maru tells Eun Gi that he wanted to come to this beach with the woman he loved, Han Jae Hee. Eun Gi doesn't look surprised so Maru asks how long she's known about him and Jae Hee? Eun Gi asks why that even matters? Maru wonders why she didn't just expose him? Eun Gi's reason is that she didn't want to lose him. Her candor appears to take Maru back and he reminds her that he approached her with ulterior motives.
She knows why Maru approached her but that doesn't matter to her, what matters is how she feels about him. What's important to her is getting what she wants. Eun Gi asks why he's never came clean with her? Maru coldly tells her that the woman he wanted was Han Jae Hee and not Seo Eun Gi. If she really insist that she won't give him up, and thinks they can have a future together, he can give it a try. Faced with the heart of Seo Eun Gi, who was willing to give everything away for a man like him and is the heir to Tae San Group. He is willing to seriously consider her from now on.
Eun Gi asks if he was calculating from the very beginning, including from retrieving her doll? Maru says yes but Eun Gi yells at him, asking if he's a crazy moron? One wrong move and he would be dead and never get Jae Hee back. The Maru she met on the cliff is not the one standing before her, and he's the one she was willing to throw everything away to be with.
Eun Gi hugs Maru and asks him to run away with her, somewhere no one knows them and they can be together. She'll go anywhere with him. Maru pulls her off him and rejects her, saying that she won't do. A woman like her who throws everything away for a man is not what he wants. To get Jae Hee back, he would have done anything, implying that he even risked death for Jae Hee, which we all know is still him lying to her.
Eun Gi turns around and walks away dejectedly. We see Maru turn his head away from her and he swallows hard and looks conflicted. Way to play the noble jackass, Maru.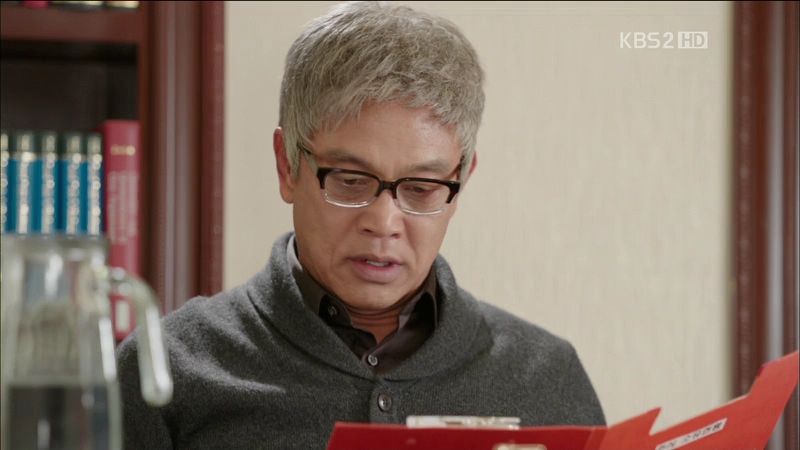 The Chairman is sitting as his desk in the office and on the phone with Joon Ha, who confirms he's done what the Chairman asked him to do. Whoever did the Chairman's make up needs an award, because the man looks realistically like he's on the brink of death. Joon Ha asks the Chairman to reconsider, noting that tomorrow is Eun Gi's birthday. Jae Hee tucks her son in bed and then goes to see the Chairman. The Chairman asks where she went and why she looks so tense?
Jae Hee hands him the evidence she retrieved from the lock box and the Chairman is shocked that she has it. Jae Hee says she kept it this entire time, since to protect the Chairman because of this she sacrificed the life of the man she loved the most. This is her trump card much like the Chairman keeps tabs on Jae Hee and never trusts her.
Jae Hee asks if this was all done because of Eun Gi's mother and the scar she left on him? Jae Hee knows that the Chairman has only ever loved Eun Gi's mother, and she doesn't care about that because even now she also loves another man. No, you love yourself, Jae Hee, but let's not quibble with her grand sense of delusion.
The Chairman has a heart attack and reaches for pills. The bottle falls on the ground and Jae Hee picks it up and them holds it behind her back. Oh no you didn't, bitch! She uses it as leverage, begging him to make Eun Seok an heir as well. She asks him to please give Eun Seok the same inheritance as Eun Gi, then she will leave this house. She begs the Chairman, pleading that Eun Seok is also his son. The Chairman struggles to breath and then collapses on the ground.
We then see that the Chairman didn't end his call with Joon Ha, who has been listening in on this exchange and recorded it. Cut to Maru still sitting at the beach.
Jae Hee tries to call for help but lawyer Ahn hangs up her call, and then covers her mouth when she tries to summon the housekeeper. Jae Hee demands to know what he's doing? Lawyer Ahn says the Chairman was going to die anyway so this was merely speeding it up. It would be so unfair for both him and Jae Hee to leave with nothing, so this is their only choice. He just wants her to focus on the only person she needs to protect, Eun Seok, while the only person he is focusing on is her.
Eun is driving back to Seoul when she gets a text from Joon Ha that the Chairman has died, causing her to almost get into an accident. She pulls over and composes herself. She starts driving again before suddenly making a U-turn and driving back towards the beach.
Maru is driving back to Seoul and he enters a tunnel. Eun Gi enters the tunnel from the other direction, and we see their cars driving towards each other on opposite lanes. Maru sees Eun Gi first and then she registers his car.
She stares at him, and then purposely swerves her car into his lane. There is still some distance between them and Maru's eyes open when he sees this. But he doesn't move out of that lane nor does he avert his eyes.
Maru locks eyes with Eun Gi as she steps on the acceleration to speed up. As her headlights shine directly on his face, there is unshed tears in his eyes and he finally breaks into a tiny smile, as if he's at peace. Eun Gi starts to cry as she gets closer to Maru's car. The scene cuts to darkness.
Jae Hee's brother is eating at a restaurant and sees on TV a news report about the death of the Chairman of Tae San Group and how his daughter and primary heir got in a car accident in a freeway tunnel. We see news reports at the accident site, with a car with shattered glass. The reporter says that it was a violent two car accident, and both drivers Seo Eun Gi and Kang Maru are severely injured.
It's been 12 months later and folks are discussing how Eun Gi is missing and she disappeared during her treatment at the hospital. They wonder who will inherit Tae San Group if Eun Gi never returns, and perhaps she's already dead. Jae Hee's brother holds a flyer for Eun Gi as everyone is searching for her. Jae Gil stands before a grave and it turns out to be his dead dad. Jae Gil won't back to work for his dad's handbag company because he claims his dad exploited the workers.
Flashback to the night of the Chairman's death, and Joon Ha is about to call the cops when lawyer Ahn calls him. Lawyer Ahn tells him to go ahead and call the cops, but then he has information to give the cop, too. He has evidence that Joon Ha's dad was involved in the not-so-accidental death of Eun Gi's mom in a car accident. What the what Lawyer Ahn claims that Joon Ha's dad blackmailed Eun Gi's mom to engage her to Joon Ha. Joon Ha has no choice but to stay silent. Noooooooo, don't turn into an unwilling accomplice, Joon Ha!
Jae Hee, sporting a fancy new bob, runs into the wife of another company president. Madam Jo acts like she doesn't recognize Jae Hee, who explains she's on the Board of Tae San Group. The two ladies greet each other. Madam Jo asks if Jae Hee recently applied for VVIP membership of her club?
Madam Jo gloats that she rejected the membership because she doesn't want a low-class woman entering the club. Is Jae Hee here to beg her to reconsider? She tells Jae Hee to just lay low and hold the fort until the rightful owner of Tae San Group, Seo Eun Gi, returns. That is what Jae Hee is suitable to do. Madam Jo reveals that she was the best friend of Eun Gi's dead mother and she will never accept Jae Hee's place as the Chairman's second wife. Hahaha, first time ever I'm rooting for the even richer, even snottier bitch to give it to Jae Hee.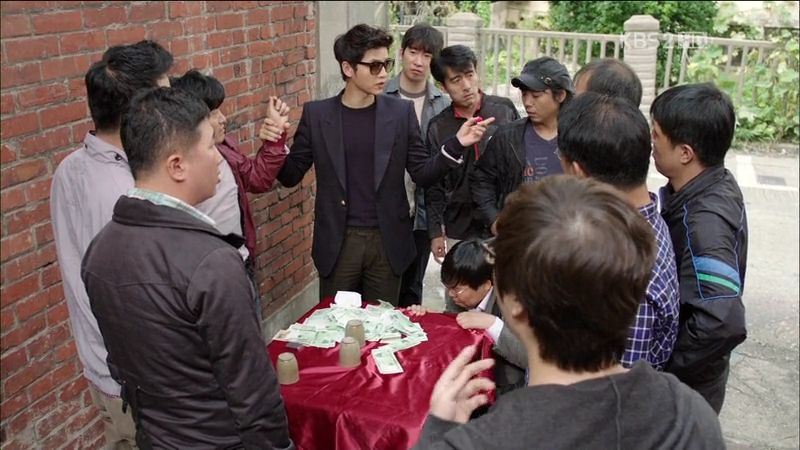 A man is playing a gambling game on the street and is losing profusely. Maru walks up and stops the game, catching the proprietor cheating red-handed and helping the losing man get his money back.
Maru asks the man to dinner and turns out he's doing the guy a favor to ask him for other information. The man explains why he was gambling the money he borrowed from loan sharks to pay for increasing medical costs. Maru knows the man's name and tells him to do whatever Maru asks. The man is a product development engineering at a company. The man doesn't want to work with Maru, but he knows how sick the man's wife is and points out he will need even more money going forward. Maru tells him to hand over the secret development notes for the Active Matrix LED. The man asks Maru how much he'll make if he helps.
Maru says a lot and takes a drink of water but he almost throws up. After dinner, Maru heaves in the restroom and it appears he's not in perfect health and he knows it.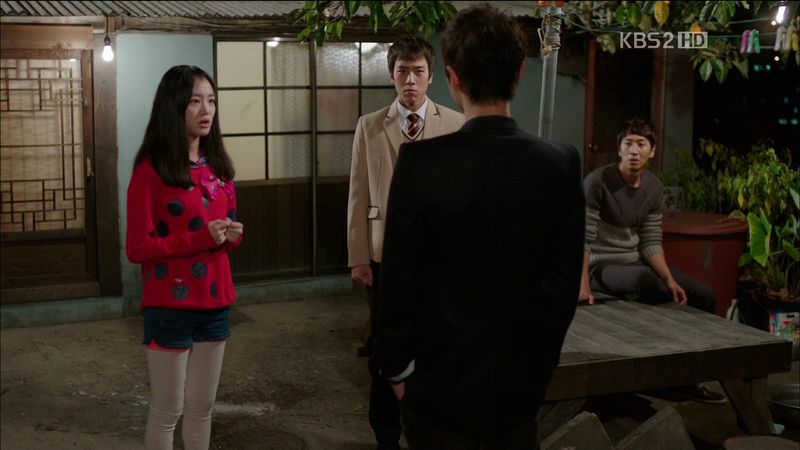 When Maru goes home, a young man is waiting for him. The man accused Maru of swindling his dad, and before Maru got home, Choco has been defending her brother to the man as not that type of person. The young man says Maru swindled his dad's entire retirement pension.
Maru tells the guy that his father is the idiot for trusting Maru when he knew nothing about him. If he feels aggrieved, then he needs to get stronger and come after Maru and take him down. It feels like Maru is talking to his old innocent self. Choco is stunned that her brother has gone from a gigolo to a financial swindler. Aren't we all?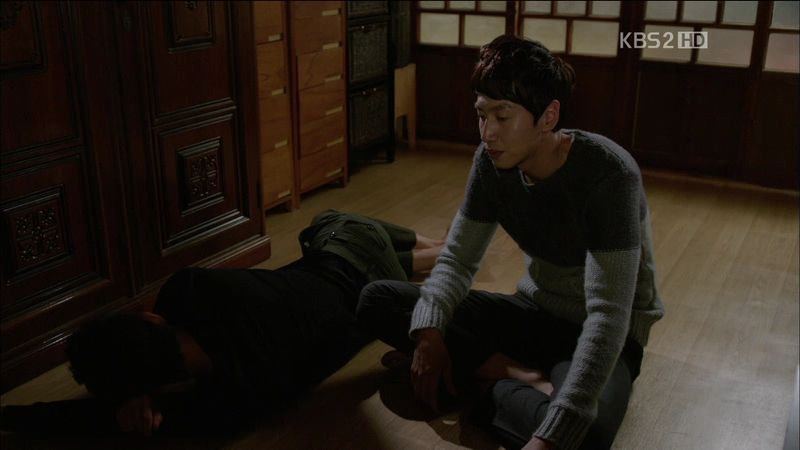 Jae Gil goes to find Maru inside the darkened house. He asks Maru what happened since the accident? Both he and Choco feel like another person's soul has entered into Maru's body. Jae Gil asked if Maru was so scared because he almost died. Does he want to quickly die now. He has a death wish now, and wants to quickly earn money for all of Choco's medical fees for the rest of her life so he can die without any worry?
Maru is like a thing without any will to live. Jae Gil points out that Maru was not even as bad as this when he lost Jae Hee and he got over it. Jae Gil says he's really scared he'll lose Maru. Jae Gil knows how hard it is for Maru, but he sobs and Maru to please not be like this.
Jae Hee goes home and finds her brother waiting outside. She's not afraid of him anymore, telling him to hit her if he dares. She's already given him money and if he's gambled it all away, then its not her business anymore. She walks inside.
Jae Hee goes inside and orders the housekeeper to immediately turn Eun Gi's room into a play room for Eun Seok, remember how Madam Jo derided her as nothing but a placeholder for Eun Gi to come back. The housekeeper hesitates and Jae Hee screams that Eun Gi isn't coming back after a year where they have searched high and low for her.
Maru sits in his dark room and stares at a flyer with Eun Gi's face on it. He remembers her rain confession, that her only wish is to see him everyday and say I love you to him and hear him say I love you to her. To have kids and a family with him, to grow together with him. Is that even possible? He then remembers what she said on the beach, calling out his lies that he did everything with her because of Jae Hee. Eun GI knows that the person standing in front of her is not the Maru she fell in love with, that Maru is why she threw everything away like a crazy person to be with him.
Maru crumples up the flyer and leans back with a sigh.
Jae Hee goes to meet Madam Jo who is getting a facial. Madam Jo tries to call for security for letting a dog into this club. Jae Hee shows Madam Jo a picture showing Jae Hee flirting and dining with Madam Jo's husband. Madam Jo tries to slap Jae Hee for being a skank but she grabs her hand. Jae Hee admits she's a skank and there isn't a man she can't seduce. She managed to seduce Chairman Seo, who has ten times the will power of Madam Jo's husband. Madam Jo asks what Jae Hee wants to keep away from her husband. Jae Hee wants the rights to allow Tae San to buy a company first, then stop blackballing Tae San, and finally to get down on her knees and beg Jae Hee's forgiveness for insulting her.
Choco is at work and being sad when she thinks about how kind and wonderful her Maru oppa used to be. Jae Gil waves at her from outside the window and writes messages on a notebook trying to cheer her up. Jae Gil's father died but still he's got a smile on his face and is soldiering on. He tells her that if they stick by Maru, they can bring the old Maru back. Jae Gil goes inside and gives Choco a reassuring hug.
Maru gets a call and prepares to leave the house. Jae Hee's brother is in the neighborhood and has a stomach ache and is looking for an outdoor toilet stall. We see two women walking up the neighborhood steps. One is dressed all in white and is holding the other woman's hand. The other woman, who is Eun Gi's secretary from an earlier episode, tells the woman in white to hold on and runs down to get something. The woman in white nods and we see its Eun Gi.
Jae Hee's brother bangs on the door and runs into the bathroom, and his interaction with the kid inside makes Eun Gi smile broadly. Eun Gi then joins two kids who are drawing on the wall with chalk. Eun Gi draws the picture of a man and writes that this is Kang Maru. The kids laugh at her for writing the name incorrectly in hangul, they call her an idiot for not knowing how to write hangul correctly despite being an adult. Eun Gi repeats Kang Maru and tries to write it correctly. Maru is walking past Eun Gi and stops in his tracks when he hears his name being said aloud.
Maru turns around and stares at Eun Gi drawing on the wall. He then hears the kids making fun of her and he walks up to write his own name correctly. Eun Gi smiles to see it written correctly. The kids are called home to dinner leaving Maru and Eun Gi alone.
Eun Gi finally looks at Maru and recognizes him. She asks if he recognizes her? Eun Gi explains that she's lost her memory in an accident but it will come back slowly. Right now she doesn't remember anything other than her name is Seo Eun Gi, which took her a long time to even remember. Maru just stares at her without saying a word.
Eun Gi takes out her camera and shows him a picture of her and Maru taken in Aomori. She says that the unni taking care of her told her that man's name is Kang Maru and he lives in this neighborhood. She doesn't remember who Kang Maru is, but seeing his face she remembers him.
Eun Gi asks if they were in madly in love with each other before, right? Maru's eyes become a tad moist as he hears Eun Gi ask him that question and he swallows hard and stares back at her.
Maru then flashes back to Aomori and what happened at the street festival after the hug. Eun Gi is happy and takes out her camera and snaps pictures of Maru, who doesn't want to take pictures. But she persists and he allows her to take a selca of the two of them.
Thoughts of Mine:
I think trying to dissect NG as it airs is a faulty proposition. One can try, and perhaps prematurely reach conclusions about this drama's overarching narrative or grand scheme, but that both defeats the experience of watching and there isn't enough evidence to formulate a credible hypothesis. I shant even try, and instead shall savor and digest each episode as it comes, and try to connect some dots along the way while understanding that there is so much more I am not yet aware of. I do think the revenge plot has turned out to be a red herring and likely serves no purpose going forward. It was merely to give Maru an excuse to take action against Jae Hee, and now that Maru has finally worked through his Jae Hee issues, its moot. Perhaps Eun Gi has a reason to take revenge against Jae Hee once she regains her memory and learns she (and lawyer Ahn) let her dad die rather then summoning help. But wrapped up in that are so many more layers of rights and wrongs that I wonder if Eun Gi will ever find the need to deal with Jae Hee herself or Jae Hee will end up getting her comeuppance in due course.
The beach talk was a moment of absolutely clarity for me where I finally understand Eun Gi's feelings for Maru. That life and death moment on the cliff when she almost fell to her death and he saved her, then he descended to get her precious doll and almost die, that was an intense experience for both of them. That moment is seared in her memory and this man entered her mind and heart just like that, impossible to explain with logic but it was so heart pumping that it shook her world. She saw in him a genuine concern for her well being, the pulling her up to safety was real, the getting her doll was because he saw how much it meant to her and he acted for her sake rather than to advance his agenda. She saw all of that, and everything subsequently was her trying to reach out for this man. I love that Maru knows she sees through his excuses and bullshit, but he's too scarred and feels too guilty towards Eun Gi to accept that she still wants him despite it all. So he pushes her away. But in that tunnel, when Eun Gi drives towards him, he doesn't avert her eyes or her car, not because he thinks he owes it to her to die. But because for that moment he is at peace thinking that he can leave this painful world with her, and perhaps everything that cannot be in this life can allow them to start over if there is an afterlife.
As for Eun Gi trying to kill herself and Maru, I find her desire for an out in her shitty life totally in line with her personality. She's always got a death wish and barrels towards anything without reservation. In learning that her dad died and Maru so cruelly pushed her away, in her own limited world she's just lost the only two things that anchors her. Tae San was never a dream, it was always an obligation. She's an emotionally stunted young woman who lacked positive emotional feedback when she was growing up so now she only knows extreme ways of going about confronting life's challenges. En Gi's intense attitude mirrors how Jae Hee's poverty stricken childhood makes her seek security at all costs. But unlike Jae Hee, Eun Gi doesn't step on others to climb on top, she appears to step on herself and assume all the risk. Now that she gets a clean slate to start over, while everyone else around her remembers, I'm fascinated with how her journey will continue to unfold. And finally, Maru clearly has feelings for her. He had it pre-accident when he pushed her away, and it is likely the reason he's living on the edge now as a form of self-flagellation. I hope he realizes that he's getting another chance with Eun Gi and not to let it slip through his fingers. Though the spectre of a rocks fall down ending still hovers strongly over everything, I remain ever hopeful that happiness, however short-lived, can be found by Maru and Eun Gi with each other. And that Jae Hee will infected with a flesh eating bacteria when she goes skinny dipping to seduce yet another chairman type guy to advance her own agenda.