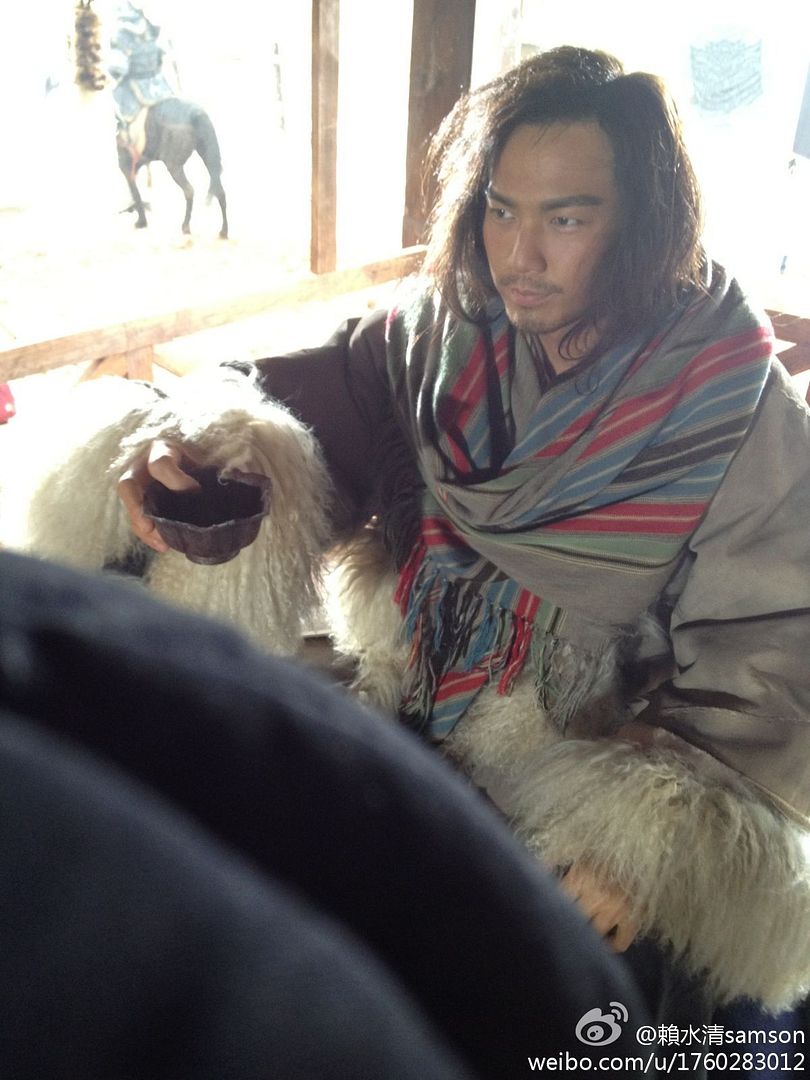 Director Lai wasn't joking when, after hitting ratings gold with his craptastic drama adaptation of the wuxia novel The Magic Blade, he announced that he was setting his sights even higher and remaking Louis Cha's masterpiece Demi-Gods and Semi-Devils. Apparently the ninja assassins I sent to kidnap him and brainwash this idea out of his head didn't work, as the cast and crew commenced filming for the fourth drama adaptation of DGSD this weekend in the high desert plains of Central China. DGSD is one of the most sprawling novels written by Louis Cha, with three parallel story lines with three male leads that dovetail in the middle and form this epic narrative that barrels forward to a thunderous ending. As such, the first half of the drama will have the three male leads pretty much filming independently of each other so its no surprise that we only see main male lead Qiao Feng (Xiao Feng) played by Wallace Chung in costume. I seriously needed a moment to peel myself off the floor with from laughing too hard when I saw Wallace's get up as the Leader of the Beggar Sect. I'm sorry? Did you change clothes with an ancient Tibetan/Mongolian monk on your way to beg for alms? Otherwise why are you dressed like that, Wallace!?!? This is clearly better than his atrocity of a look in The Magic Blade, but I swear that the heroic Qiao Feng is not supposed to look like an unkempt bum. Knowing this is coming from Director Lai's hands already has me steeling myself for the myriad unintentional laughs, the jawdropping deviations from the novel canon, and the hamming it up on the acting front from all the leads. Aside from Wallace, the other confirmed leads are Kim Kibum as Duan Yu, Zhang Meng as Wang Yu Yen, and Jia Qing as Ah Zhu. Let the countdown begin!
Above is the first picture taken of the cast and crew on the first day of filming out in the desert. Front and center is male lead Wallace, and next to him is one of the female leads and his onscreen OTP Ah Zhu, played by rising C-actress Jia Qing. Below is a still of her from another period drama she did recently. I'm not familiar with her but as long as she can act decent enough it'll be a win because I think she looks perfect for the part of Ah Zhu. I totally approve! And the glimpse of her above in purple gets me super excited now! There is some confusion as to whether she is also playing Ah Zi, the younger lookalike sister to Ah Zhu and one of the chief female antagonists in this drama. I personally prefer any adaptation of DGSM to not have the same actress play both roles. The drama can just tell me they look amazingly alike and I'll believe it. But since everyone from great-grandmothers to babies in their crib loathe Ah Zi to the nth degree, I worry about the visual disconnect seeing the same actress do both roles. Just my 2 cents.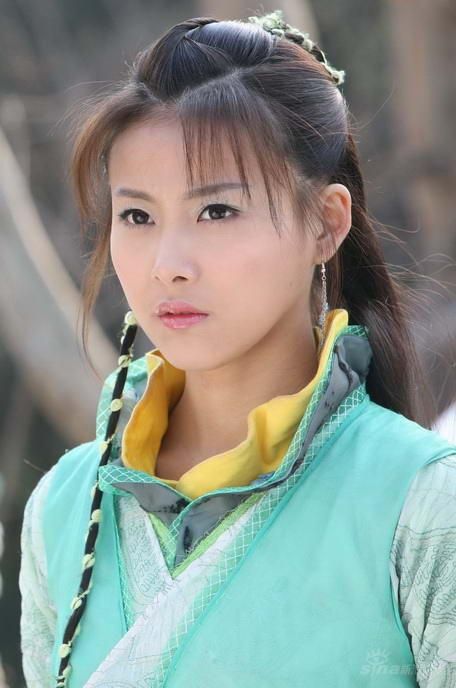 I don't know whether to laugh or cry that Zhang Meng is playing Wang Wu Yen. On one hand that means she barely has any scenes with Wallace and is most definitely not playing his OTP. Their one go-around in The Magic Blade was painful enough for me. On the other hand, the thought of Zhang Meng as the female lead of DGSD gives me a headache. Not to mention she's playing Kim Ki Bum's OTP in this drama. Wang Yu Yen is written as one of Louis Cha's top three most beautiful female leads, and like the other two (Xiaolongnu in Return of the Condor Heroes and Princess Xiang Xiang in The Book and the Sword) I find her equally as inane and vapid of a character. But despite my dislike of her, she plays a useful part in this story which is why I'm a firm believer that the actress cast in this role has to be drop dead gorgeous to sell this character convincingly. Let me put it this way, the last three actresses to play Wang Yu Yen also were cast to play Xiaolongnu in RoCH (Idy Chan in the 80s, Carmen Lee in the 90s, and Crystal Liu in the last decade). Looks wise Zhang Meng can't even begin to compare with those three great beauties, and I think she's also a pretty terrible actress, so I have no clue how she's going to rise to the occasion. Here's the hoping, because I love DGSD too much to skip this version.