Much as I'm finding enjoyment in Missing You for reasons unrelated to its quality writing or lack thereof, it's truly frustrating to have the really obvious ham-handed narrative shoved in my face all the time. This drama feels like the writer is writing around her conclusion or tailoring things to fit her script. As opposed to an organic fluid approach where what happens flows with a sense of purpose. Initially that manufactured narrative manifested itself in the buckets of sad things heaped one on top of the other to the main characters. Now that the sadness and woe has been toned down, what's happening is a terribly dumb rapist murder plot (let's not forget ridiculous Nurse Hye Mi drowning plot) that is forcing the characters to have reasons to keep interacting. What's keeping this thing grounded is in the conversation and interactions between the three leads. Jung Woo annoyed me immensely with his forcefulness in interacting with Soo Yeon, but redeemed himself with his conversation with Ah Reum and Eun Joo about Soo Yeon likely hating him and wanting nothing to do with him.
If he knows that, then he needs to back off and let HER decide what she wants to do. Soo Yeon was believably torn with all sorts of emotions coming whooshing back towards her, but I loved how she really expressed what Harry means to her. Forget the romantic love, he was the person who did not abandon her in her time of need. What hurts Soo Yeon is the moment Jung Woo left the warehouse, and it doesn't matter that he later tried to help her or kept looking for her. What mattered is that in the split second he made a choice, it would forever stand between the both of them. Whereas Hyung Joon told Nurse Hye Mi that he wasn't leaving without Soo Yeon and he used his smarts to get her to take care of them. That is what Soo Yeon remembers and what's important to her now. Yes, she has lingering feelings and unresolved issues with Jung Woo, but at the end of the day, one guy left her at her moment of need while the other didn't. Girl's got every reason to stick with one over the other at this point.
Episode 8 recap:
Jung Woo suggests that he and Soo Yeon be secret lovers and pulls her closer to him. Dur, do not get handsy with her, not cool dude! She pushes him off and says to let go, this joke is too much. He tells her not to talk and then he forcibly takes her away by putting his arms around her shoulders. He tells her that he's going crazy right now. Yes, imma go crazy on your ass if you don't stop physically moving this girl around.
Hyung Joon stares at them leaving and finally gets anxious and gets out of the car to chase them but his leg hurts and he can't move. He watches as Jung Woo drives Soo Yeon away. Hello? You have a car, Hyung Joon, use it.
Jung Woo drives while Soo Yeon asks where they are going? Hung Woo says to go to that restaurant needs to wait until nighttime when they can enjoy the view. He wonders what to do now during the day. She tells him to stop the car and he reminds her that she asked to be friends when she was in Seoul. Jung Woo says she picked a good friend, he's been thinking of what to do with Soo Yeon for the last 14 years. Dinner, movie, amusement park. Soo Yeon looks out the window as he talks. He asks if it's enough for her to turn her head, for her to get angry? He starts saying the same "let's be friends" line and ends with Zoe.
Hyung Joon looks at his phone and then sees Secretary Nam and Jung Woo's stepmother. Stepmother tells Secretary Nam about Harry and Zoe being a couple (and Harry is Zoe's sponsor) and Secretary Nam makes the connection with Zoe is Lee Soo Yeon. If they can land either one, the other will come alone. She tells Secretary Nam to make it happen.
Jung Woo takes Soo Yeon to a restaurant he frequents and asks if he's got the chops to be a secret lover. Soo Yeon orders very expensive wine that she claims suits him well. Soo Yeon asks if he is free tomorow, she needs to go to Hong Kong to buy a few things. Jung Woo says she's exactly the type he likes.
Jung Woo grabs her hand and says that no matter if she goes to Hong Kong or anywhere else, he won't let her go again. She tries to pull it back and tells him to let go repeatedly. Jung Woo says today they can eat, tomorrow they can shop, they can do anything they want together. He says they should go to the neighborhood playground to ride the swings.
Soo Yeon snatches her hand out of his and Jung Woo remembers how their bloody hands were joined before the rapist dragged Soo Yeon away. Soo Yeon slaps him for being impertinent and says she shouldn't have come on to him in the first place. He laughs and says the slap felt good and this is enough for today. Jung Woo walks away to get the car and we see her hand shaking.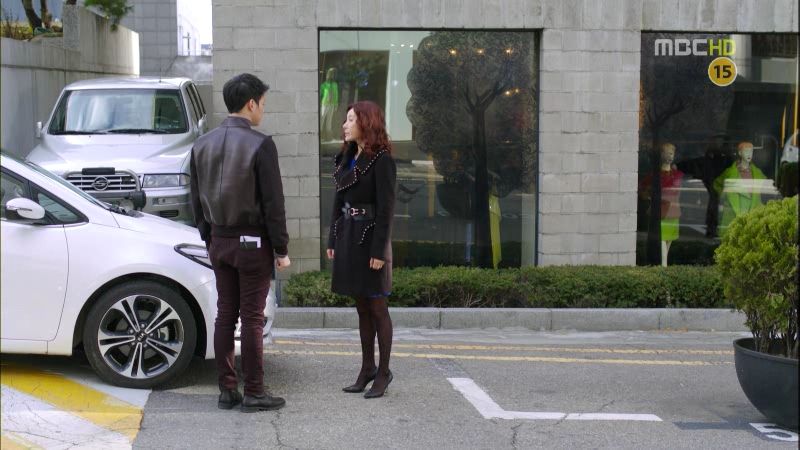 Soo Yeon gets in her car and speeds off. Stepmother arrives and warns Jung Woo not to show up near her store. Jung Woo shows her the pictures she sent to Soo Yeon and warns her to stay away from her. Stepmother thought Zoe would bring a lawyer and instead she went to a cop. Stepmother wonders what Jung Woo's connection with Soo Yeon is.
Soo Yeon drives and thinks back to her meeting earlier with Jung Woo, as well as how young Jung Woo asked to be friends with the murderer's daughter Lee Soo Yeon. Soo Yeon calls Hyung Joon and finds out he's resting in bed because he was injured. She rushes home.
Jung Woo calls Soo Yeon and she doesn't pick up. He gets a call from Hyung Joon, who is returning his call. Hyung Joon asks for an update on the autopsy of Nurse Hye Mi, which isn't ready. Jung Woo asks for some time to meet but Hyung Joon says another time since he's getting medical treatment due to his injured leg. Jung Woo asks to meet earlier otherwise he will feel even more apologetic towards Hyung Joon. You think? Coveting someone else's fiancée is clearly not decent upstanding behavior.
Eun Joo is home and sees Ah Reum bringing over clothes for her oppa Jung Woo. Jung Woo comes home and Ah Reum teases that she's here to check to see if the unni and the ahjumma are mistreating him.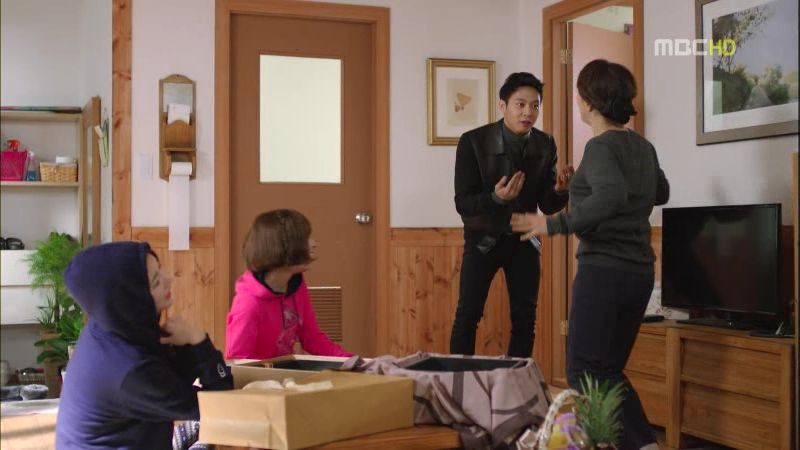 Soo Yeon's mom comes home and asks why he wanted to eat chicken soup, wondering if he's not feeling well. He says his heart feels empty and wants to be nourished. The four of them sing and dance in the house.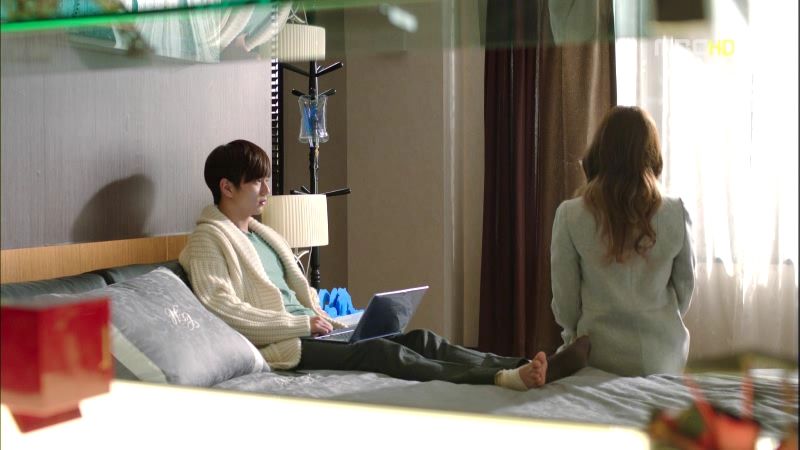 Soo Yeon goes home and rushes to Hyung Joon's room and finds him resting in bed. The doctor leaves and tells Soo Yeon that Hyung Joon's leg is very weak right now and he's not allowed to bike anymore.
Hyung Joon asks how the battle with Jung Woo's stepmother went? She admits that she saw Jung Woo and that interrupted her. She was surprised that after so much time, he appears to still have lots of memories of Soo Yeon, which she chalks up to guilt. She asks if he wants to hear the truth and Hyung Joon of course, like that is how they always communicate. Sigh, so wonderful.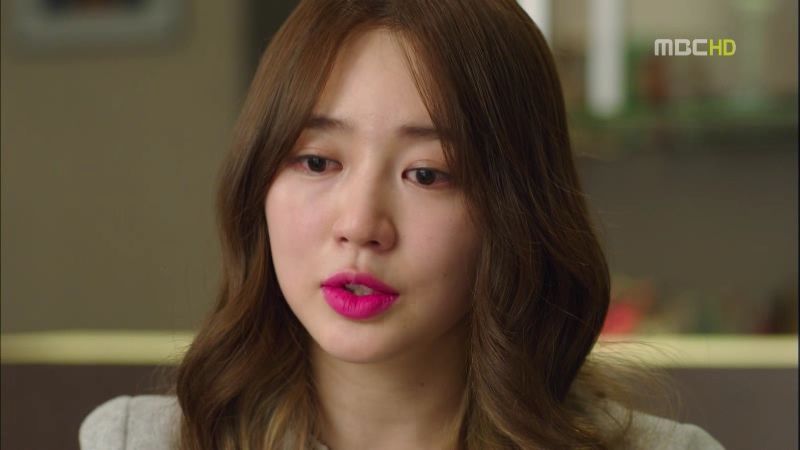 Soo Yeon says that initially she wanted to punish him but its causing her unhappiness because she hates remembering that she was the daughter of a murderer and hates remembering…… It took her so much to forget Lee Soo Yeon. If it wasn't for Hyung Joon 14 years ago, she would have died after being abandoned. She wanted to tell Jung Woo that it's too late now, but she thought about it and realized it's not necessary. Now everyone has their own lives. She has confirmed once again that Lee Soo Yeon's death is best for everyone.
She ask Hyung Joon "tell me I did well." Hyung Joon reaches out his hand to give her emotional support and she puts her hand in his. Soo Yeon asks if the party can still go on with his injured foot. Hyung Joon says its for his clients so it needs to go on. Soo Yeon says that she'll leave Seoul after the party and go wait for Hyung Joon. FINALLY! Someone in the drama acting in a productive way rather than moping and psychological self-flagellation.
Jung Woo, with clothes pins in his hair, is washing clothes at home. Ah Reum is spending the night and she tells Jung Woo to go home. Jung Woo asks Ah Reum as a woman to tell him how much Soo Yeon likely must hate him. Ah Reum says she doesn't know but if it was were, she would want revenge. Because meeting Jung Woo changed her life and brought her such scars.
Jung Woo agrees and says he would do the same. But Ah Reum quickly says Jung Woo hasn't been living well either all these years and if Soo Yeon knew she wouldn't do it. Jung Woo says Soo Yeon should hate him and want to hit him and glare at him and refuse to acknowledge him. He mimics all the things Soo Yeon did to him and Ah Reum asks if her oppa has gone crazy. Eun Joo comes out and tells Ah Reum to go home since she's so noisy.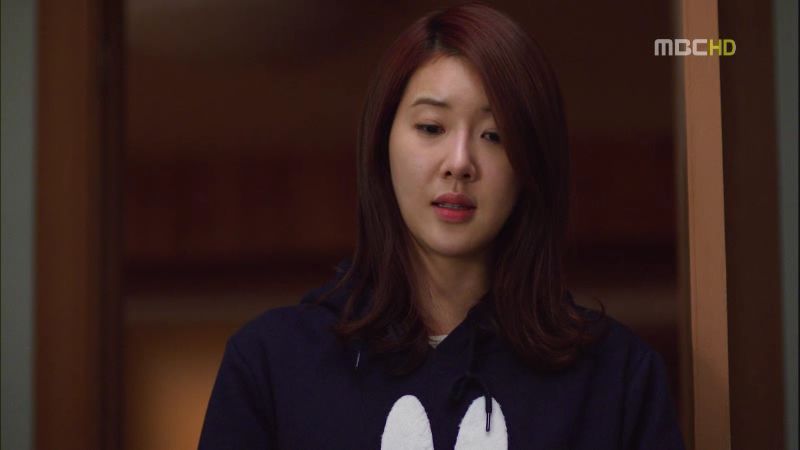 Jung Woo and Eun Joo make plans to visit Detective Kim at the cemetery this weekend. Eun Joo tells Jung Woo that the woman isn't Soo Yeon and he needs to stop seeing her. That is the best course for him.
Jung Woo is at the police station and asking about the investigation. His partner interrupts Jung Woo's information gathering and Jung Woo uses his cajoling on him. He tells Jung Woo about the phone and Zoe. Jung Woo remembers now that Zoe said her phone was stolen. He runs into the cleaning ahjumma who pulls him aside to chat.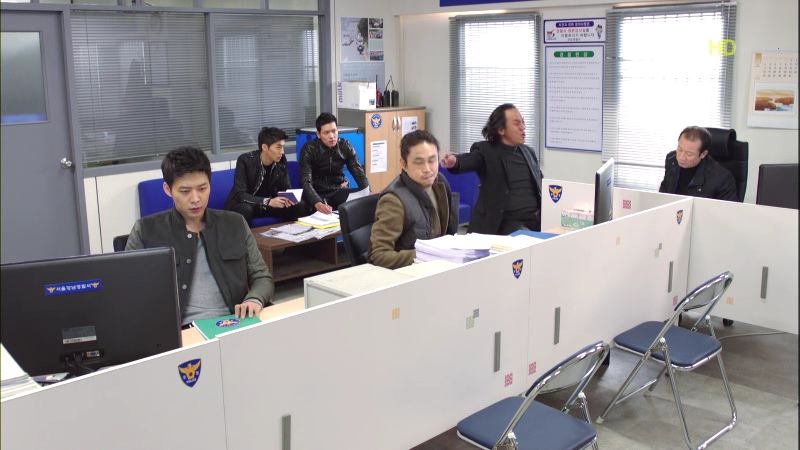 The rapist's brother arrives at the police station and causes a ruckus when he sees Jung Woo. The police assure him that the murderer will be caught. The brother accuses Jung Woo but the police says Jung Woo has an alibi.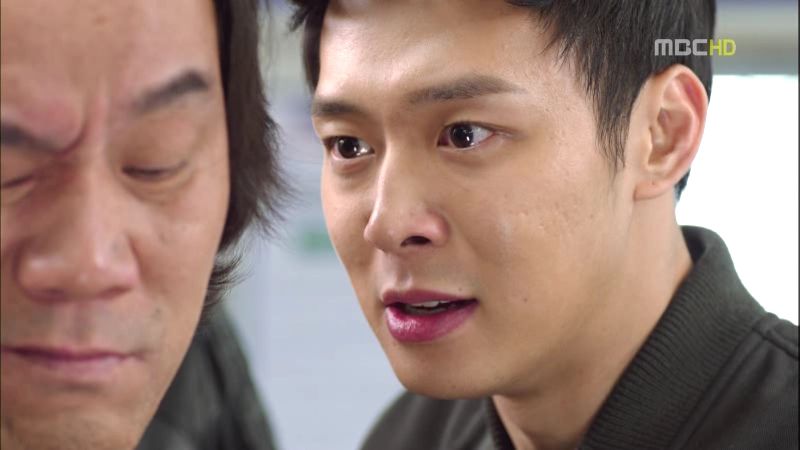 The brother suddenly suggests that it could be Lee Soo Yeon. Jung Woo is furious and says he is not allowed to say her name. If he says it one more time Jung Woo will arrest him. He vows that the pain inflicted on Soo Yeon, he will get it back a thousand fold.
Stepmother is home with evil Dad who ignores her during dinner. Why is Evil Dad wearing a hot pink track suit? WHY? And his pornstache? Yikes. The younger Secretary reports that the money withdrawal is still in progress. Dad asks for the whereabouts of Secretary Nam.
Secretary Nam is meeting with Hyung Joon, remarking that its hard to get into his vast mansion. Hyung Joon says the house that his mother used his life to exchange for him, of course he won't let anyone in easily. Secretary Nam reveals he knows about Hyung Joon and Soo Yeon and wants a bribe to keep quiet. Hyung Joon says greed is always the motivation and tells Secretary Nam to bring him evil Dad's secret account books first as a gesture of good faith.
Evil Dad calls Secretary Nam asking to arrange a meeting with Hyung Joon, for himself and his wife is also interested in meeting him. Hyung Joon says thing are getting more interesting and agrees.
Soo Yeon is shopping for Hyung Joon for the party when Jung Woo shows up and offers to try it on. Soo Yeon ignores him and continues shopping. Jung Woo wants to ask about her missing cellphone when she takes her new one out to snap pictures of the clothes and calls Harry to send him the pictures. Jung Woo can see how happy she is talking to him and looks down.
Soo Yeon picks out an outfit for Hyung Joon down to even the scarf, worried that he might catch a cold. Jung Woo leaves and Soo Yeon zones out a bit and when she turns around Jung Woo has left.
Soo Yeon angrily leaves the store and Jung Woo is outside asking to talk. She ignores him and then gets a text asking for 5 minutes. She sees Jung Woo following her in the car. Soo Yeon finally pulls over and Jung Woo teases her that even if they are secret lovers they shouldn't meet in such secluded places. He asks where she lost her cellphone because he's investigating.
Soo Yeon drives off and Jung Woo gets a text from Hyung Joon asking to meet. He follows Soo Yeon back home and they walk into the house together. Hyung Joon is on the second floor and notes that they walked in together. He asks Jung Woo to come up to talk.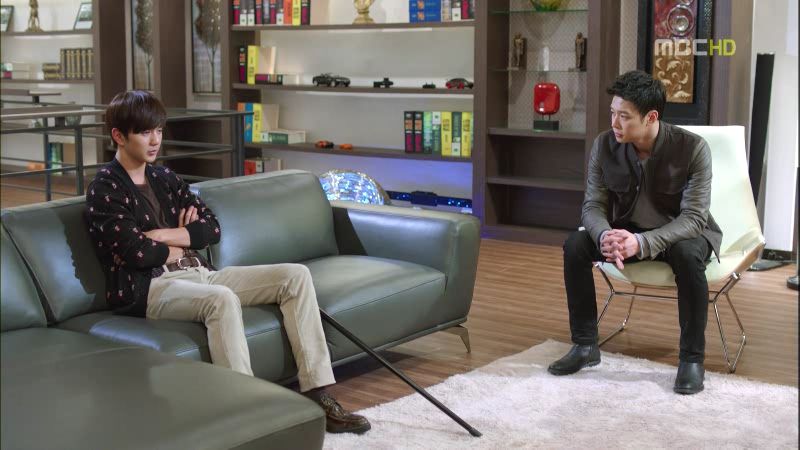 Jung Woo asks Hyung Joon about the car accident and Hyung Joon confirms it happened. Jung Woo points out Soo Yeon's excessive fear which Hyung Joon brushes off as her being scared of such things since childhood. He explains that they were in an accident before which is why his leg is inured. She was traumatized by it and shortly thereafter they were adopted.
Hyung Joon says it happened when they were 3 or 4 years old so he doesn't remember. Jung Woo switches to personal matters and says Soo Yeon is very similar to a girl he knew. If she refuses to admit it there is a reason as well, because she's still very angry at him. He knows she must hate him. Everything about Zoe is just like Soo Yeon.
Hyung Joon tells Jung Woo to get a DNA test then. He doesn't mind. Soo Yeon walks up and says she'll do it if Harry wants her to. She'll do even more outrageous things for him, because he saved her. When she was small and in that car accident, it was Hyung Joon who saved her. She was catatonic and couldn't feel anything. It was Hyung Joon who held her hand and made her wake up. He said "I am not leaving without her."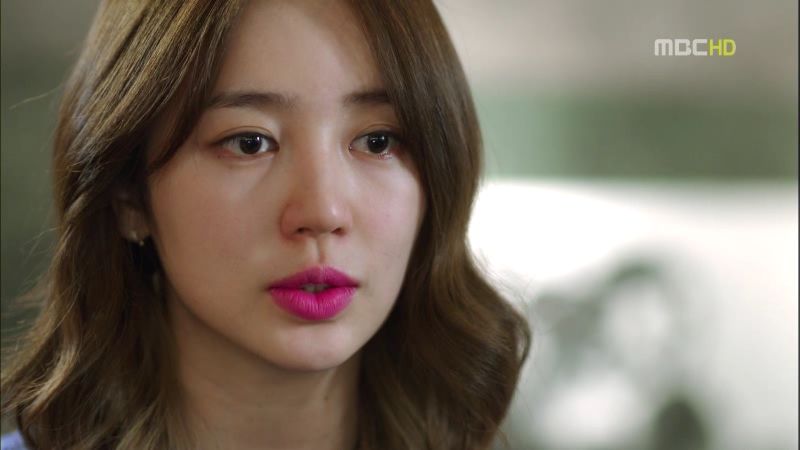 Soo Yeon tells Jung Woo he might remember Soo Yeon's voice but for her, she will never ever forget Hyung Joon's voice from back then. Until the day she dies she won't forget it. She asks if he's waiting for Lee Soo Yeon still? If he's still waiting and she doesn't come, that means she's discarded him. She offers to go right now for the DNA test.
Jung Woo stands up and says it's not necessary. He's waited 14 years and he can wait longer. He remembers everything about Soo Yeon, that it was 108 steps from her house to the street lamp. Even if she doesn't come he will not give up. She's wrong – waiting and she's still not there isn't because she doesn't want to come, it means she's still on her way. He ends the conversation and leaves with tears in his eyes.
Soo Yeon can't believe he still remembers everything, while Hyung Joon looks concerned.
Jung Woo goes to the parking garage and keeps thinking whether Zoe is Soo Yeon. He hears the police officers discuss who has reason to hate the rapist and his partner suggests Lee Soo Yeon, who might still be alive.
They investigate further and find out the rapist used a cellphone from France.
Han Tae Joon and his secretary are waiting for Hyung Joon at a restaurant and he calls from home, where he is playing pool, and lies that he can't make it due to a car accident. Evil Dad is annoyed and Hyung Joon just casually apologizes. Soo Yeon brings him a glass of juice and he shushes her.
Turns out the dry ice used to hurt the rapist was mailed to his house and addressed to him. But the sale record shows that it was purchased by Soo Yeon's mom, which Jung Woo says must be a mistake.
When approached, Mom cries and tells the cops to arrest her. She's wanted that guy dead many times. She's worried about Jung Woo and says he's like her son and if anything happened to him she won't be able to live.
Jung Woo looks at the CCTV footage and sees a woman driving a car wearing a baseball cap, and it's Soo Yeon. He starts to cry.
Hyung Joon is in his secret room, which had a framed picture of his mother and lots of files and the CCTV feed of the entire house. He takes off the necklace his mom gave him and he cries when thinking of how he escaped the dogs and seeing his mom locked up. He puts on the cross necklace and goes outside when he hears Soo Yeon calling him.
Hyung Joon walks out and Soo Yeon comes in with two pairs of shoes asking for Hyung Joon's opinion. Hyung Joon wants to give her a present since today is her last day in Seoul.
He takes off his necklace and places it around her neck.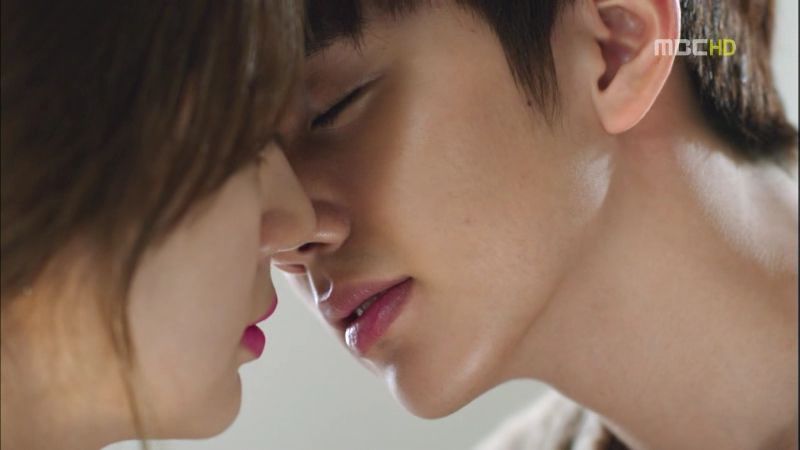 Hyung Joon then leans in to kiss her and Soo Yeon tenses a bit and allows it only to turn her head at the last moment.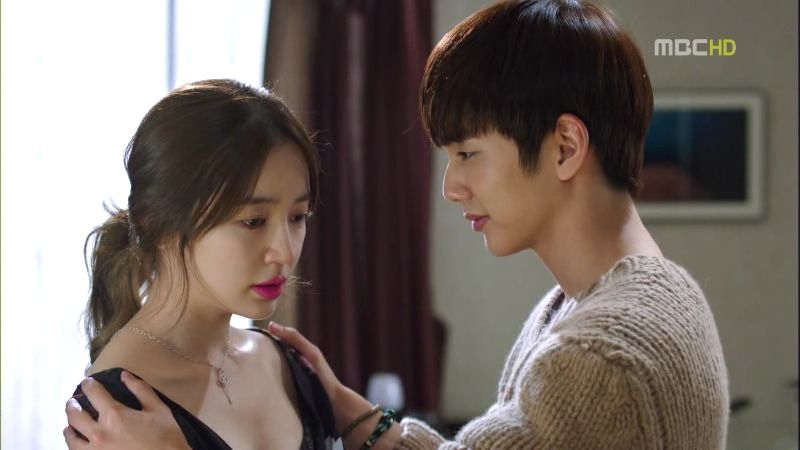 Hyung Joon smiles and says its alright, he will wait for her any time.
The party begins and Han Tae Joon arrives and sees Hyung Joon's back and the cane. Secretary says the man is younger than he expected. When Hyung Joon turns around, Evil Dad is shocked to see it was the kid on the bike who almost ran him over.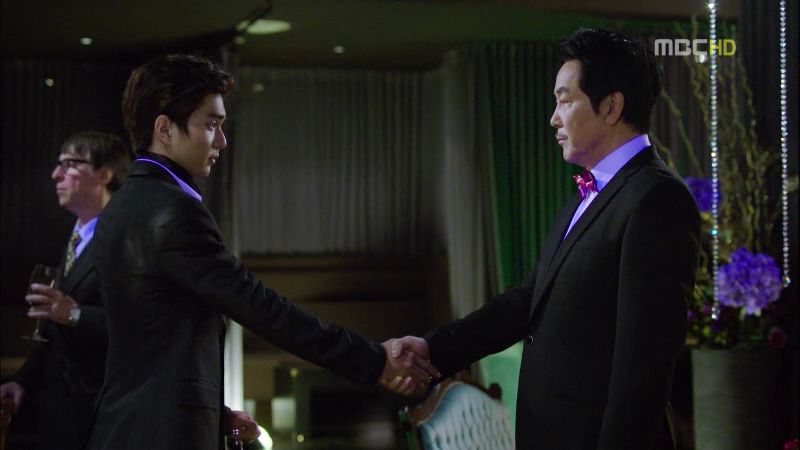 He notices that Hyung Joon's leg is injured and walks over to greet him. The two men shake hands and Hyung Joon gives his name as Harry. This scene is so hilarious because this look on Hyung Joon makes him look like he's 12 years old and playing pretend with his dad.
Hyung Joon sits down and Soo Yeon frets over his injured leg. He smirks and she asks why? Hyung Joon tells her to look to her left and she sees Han Tae Joon staring at them. She asks him who that man is, he makes her spine shiver? Hyung Joon asks if she wants him to go teach Evil Dad a lesson. This doesn't bother her and when something does scare her she'll tell him.
Jung Woo's partner checks the phone records and says the last number dialed was to Hyung Joon's house and learns that Hyung Joon took away the CCTV box. At the party, Evil Dad keeps staring at Hyung Joon and Zoe, and the camera keeps focusing on the key necklace she is wearing. Hyung Joon moves to take Zoe away when Jung Woo shows up.
Thoughts of Mine:
When I watch MY I find myself really noticing a lot of visual details at the expense of a story progression that tries my patience. I notice Yoon Eun Hye clothes and her every lipstick change. I notice Yoo Seung Ho's watches and his shoes. I notice Yoochun's make up bruises on his face. While the drama is admittedly still pretty to look at, having that be the first thing to engage my viewing interest is never a good thing. The rapist investigation is bordering on a farce, and the fact that a bajillion coincidences are about to tie it to Soo Yeon leaves me clucking already over why this drama can't just be about her coming back to Korea and facing her demons once and for all. Not that she needs to, because I don't believe getting over a shared trauma necessitates the participants to go through therapy together. It's like saying the survivors of a plane crash need to get together and work through their issues. I would prefer the writer take out all the murders, deaths, revenge plots, and focus on healing the characters not through outlandish plot contrivances but through sincere interactions.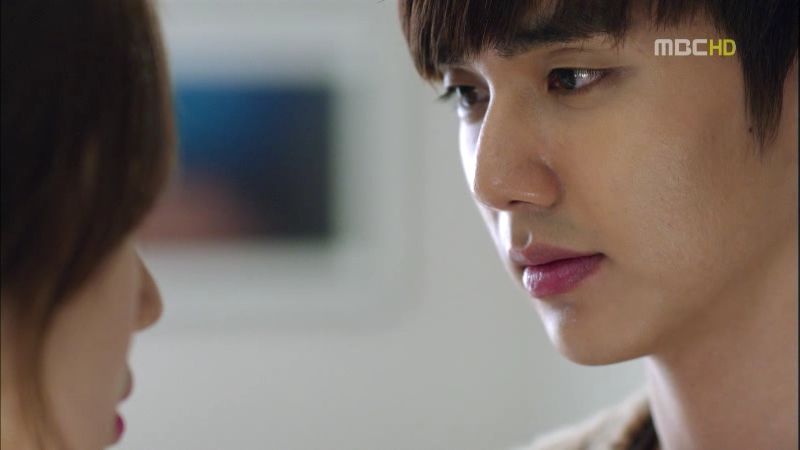 Once again the scenes in the hybrid Lee home really stole the episode. Jung Woo, Ah Reum, Eun Joo, and Soo Yeon's mom together act like people and communicate like normal human beings. Once outside of that cocoon they are start acting wonky again, especially Jung Woo. I really disliked how forceful he was with Soo Yeon, and don't get me started with the grabbing her shoulders to steer her off or grabbing her hand in the restaurant. What happened to no means no. I don't care if he thinks she secretly wants it or even likes it, but he has no right to get all up in her personal space. Especially since she repeatedly voices her displeasure at it. I feel like Jung Woo has been living for 14 years over HIS guilt, and meeting Soo Yeon his first act is to do what HE wants, namely to see her and talk to her and push himself back into her life. Can't he see that she appears just fine, with a rich fiancée and a fashion designer career. Yes, he can atone, but can't he let her decide what she wants from him before pressing forward with what he wants to do?
I guess what really makes Hyung Joon-Soo Yeon work for me is their level of candid communication and trust with each other on their feelings (though he's keeping the whole "imma avenging my mother" bit secret from her). It's clear she's not ready to get all intimate with him and that averted kiss is likely not the first time. But I don't have a problem with that, because she is a rape victim and if she needs more time before getting romantical with Hyung Joon, then I appreciate that he gives it to her. What's more telling is how comfortable she is with real intimate skinskip, the kind where she puts her legs on his and the full bodied hugs. Clearly she's still scared of sexual intimacy, but she's already got the emotional intimacy with Hyung Joon to ground her. I think this story really has potential on addressing issues of anger and resentment, but the execution is so far just weighing it all down while the actors try to raise it back up.
Click here to watch Missing You.