This episode was slightly better in pacing and execution than the previous episode 11 but the fundamental flaw in the narrative direction leaves this drama still coming across as missing the forest for the trees. I like Black Se Kyung, I like her way better than Candy mopey Se Kyung, but right now her actions are premised on a very stupid and faulty proposition that I can't grasp how such a smart girl wouldn't realize. She can manipulate the situation all she wants to keep her "ugly love", but the method isn't trying to plug leaks every time there is a threat the truth will come tumbling out, she really needs to out herself and then manipulate/grovel/win over Seung Jo back. That is the smartest thing she can do because too many people know the truth not to mention evidence of her original intentions are laying everywhere for people to trip over. This is the fundamental reason Cheongdamdong Alice is losing me – I feel like we are wasting time when the inevitable will be that Seung Jo and everyone else will know the truth of Se Kyung and Yoon Joo and all the interconnected histories and then the two women will have to figure out a way to get themselves out of the bind. There is no way this story will end without the truth coming out so why is the drama wasting our time?
I like seeing Se Kyung and Seung Jo being happy for a change, but it lacks their genuine connection from before and now all I can think is "she's just playing to win even if she does love him". Nothing wrong with that but emotionally its losing me as a supporter of their union. Seung Jo has been relegated to an object of everyone's machinations and he is such an emotional little boy that when he beams around Se Kyung I get this odd sensation that she's the missing maternal affection that is at the root of his insecurity and fears. I'm not feeling the sizzling man-woman romance between them which was so potent in the early parts of the drama. Now it feels like she's the puppeteer and he's dancing on her string, even if she's leading them both to an ending that they each want. I want Seung Jo to take control of his own life so badly, to know the truth and finally grow some balls and face it head on. He claims to love Se Kyung? Fine! Find out that she's flawed and calculating and kind and considerate and make himself think about whether he loves ALL of her rather than the idealized version of her he is carrying around like some trophy Madonna. I loved the many shades of Se Kyung, but what I want to see is whether Seung Jo can as well. Then that will make this OTP and this drama worthwhile after all is said and done.
Episode 12 recap:
Seung Jo and Se Kyung high five and head elsewhere. Seung Jo's dad sits at home and looks at a picture of Se Kyung from when she was young and laughs happily as he thinks back to seeing Seung Jo come home for the ceremony and drinking the altar wine.
In Hwa watches the smoking gun video of Se Kyung and Yoon Joo's conversation, so conveniently recorded by Tommy's spy in close proximity, and then easily stolen by In Hwa the sleuth. Hwa looks at Se Kyung's resume and calls her a fox and says she is starting to understand now. She is furious that someone toyed with In Hwa like a monkey. She balls up the resume and tosses it aside.
Min Hyuk comes home and finds In Hwa waiting for him in his study. In Hwa starts by asking if Min Hyuk first met Yoon Joo when she was working at the jewelry store, and if he loved her when he married her? Min Hyuk laughs and thinks this has to do with getting rejected by Seung Jo. He tells In Hwa to let it go and their dad is coming back soon from Paris.
In Hwa doesn't spill the beans and leaves. She runs into Yoon Joo outside and Yoon Joo notices the tablet she is carrying which we know is the same cover as Tommy's. She sneers at Yoon Joo and leaves. Min Hyuk asks Yoon Joo to find a marriage partner for In Hwa is that leaps better than Cha Seung Jo. Yoon Joo says yes.
In Hwa is leaving when she sees Seung Jo and Se Kyung pulling up to the building across the street and going in hand in hand. She realizes that Seung Jo lives directly across from her brother and Yoon Joo's apartment and looks even more shocked.
Seung Jo takes Se Kyung inside and gives her a present. Se Kyung suggests a parental meal soon and Seung Jo agrees. They then get all awkward before Se Kyung tries to leave, which is when Seung Jo pulls her into an embrace and spins her around happily.
President Cha is starting to get press inquiries about whether Seung Jo is his son and he says to confirm it with the press. Tommy reads the same news reports and smiles rather impressed with Se Kyung's ability to mend the breach between father and son bit by bit. Tommy's sudden positive appreciation of Se Kyung is so weird. It feels completely random, not to mention shoehorned in at such a late juncture when it would have been intriguing that he started to like her after the soy sauce incident and thereby add more stakes to this story. Now it just comes across as pointless since its clearly not going to lead anywhere.
Yoon Joo finds out that Tommy has agreed to help Se Kyung in exchange for her patronage in the future. Se Kyung says Tommy is like them and she trusts him on his word since a contract is worth nothing. Yoon Joo confirms that Tommy deleted the video in front of her. Se Kyung says the marriage is going forward, first with the parents meeting. Yoon Joo gives Se Kyung advice that President Cha treats marriage as a business arrangement and since Se Kyung doesn't fit the bill, she must show him that she would be an asset in business. Yoon Joo says Se Kyung must do well because two futures are at sake.
Yoon Joo meets with her brother and she is very confused still about Tommy agreeing to help. She doesn't think he has any reason to help and he doesn't trust anyone. So why would he stake his future on the same boat at Se Kyung after one conversation? She is certain something else is going on.
Se Kyung goes to see President Cha and invites him to dinner tonight with her family and Seung Jo. Seung Jo didn't want to go to the ceremony but went to extend his hand. Se Kyung asks President Cha to also extend his hand and attend the dinner tonight. After Se Kyung leaves, he asks his secretary whether its a formal meeting when two sets of parents dine together and is told that it is.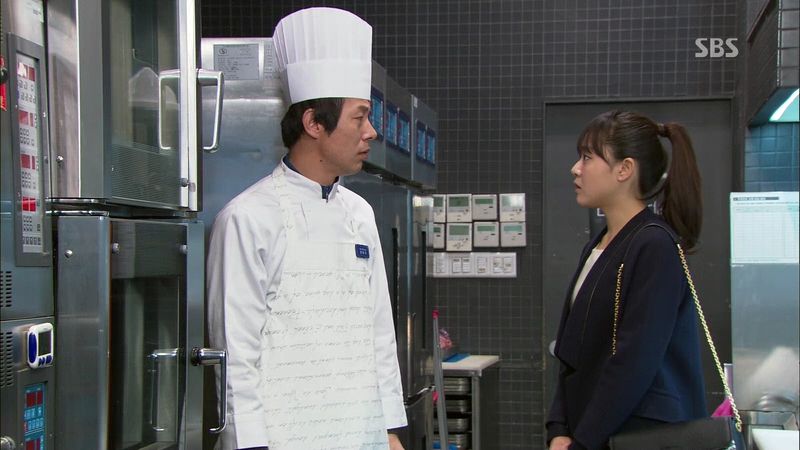 Se Kyung goes to convince her reluctant dad to attend the dinner tonight and says Seung Jo's dad is also coming. Se Kyung asks if her dad doesn't see how happy she is lately? Er, really? She aegyos her dad to coming.
President Cha swings by the bakery and makes an excuse to chat with Se Kyung's dad. He asks Se Kyung's dad if he has officially met with the parents of the guy who likes his daughter? Se Kyung's dad says not yet but a formal meeting is arranged though the other family is rather messed up. President Cha says his situation is worse, the other side has no money. Se Kyung's dad finds out President Cha has dined with his son already but his son is too difficult still.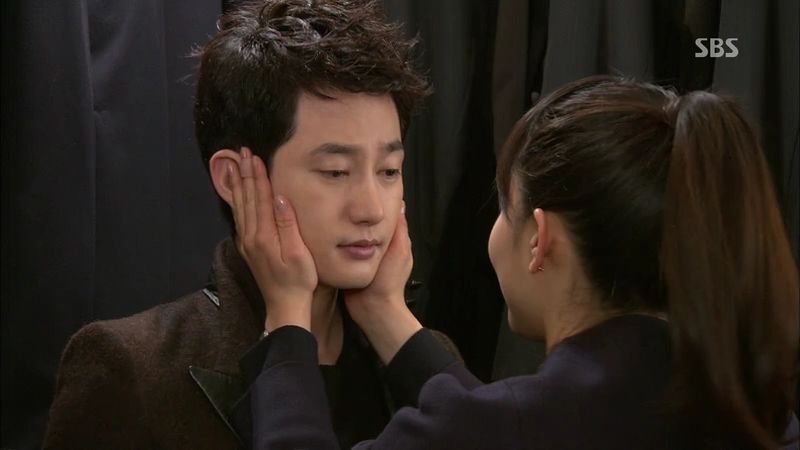 Se Kyung dresses Seung Jo and picks his outfit though Seung Jo looks worried. She calms him down bu putting her hands on his cheek and telling him things will work out. She switches to French and he replies as well asking if it will be fine? Se Kyung confirms that her dad is coming.
Se Kyung's dad and President Cha enter the restaurant one after the other. The both find each other in the private room and realize that they are meeting each other because their kids are Se Kyung and Seung Jo.
Seung Jo and Se Kyung arrive with Mom and Se Jin and are led to the room. The two dads awkwardly sit in the room gulping tea and chastising each other on what they said earlier. Seung Jo's dad is upset his family is seen as mess up. Se Kyung's dad is upset that his family is considered to have nothing. Se Kyung's dad says he needs to fix his family problems before he will even marry his daughter to him. Seung Jo's dad says he doesn't want his son to marry his daughter either!
When the kids walk in, Seung Jo's dad announces that Se Kyung's dad has already refused to marry his daughter to Seung Jo. Seung Jo drags his dad out and Se Kyung's parents wonder why she didn't reveal that Seung Jo is the son of Royal Group. Dad doesn't want her to marry into that family, it's going to be much too hard in the future.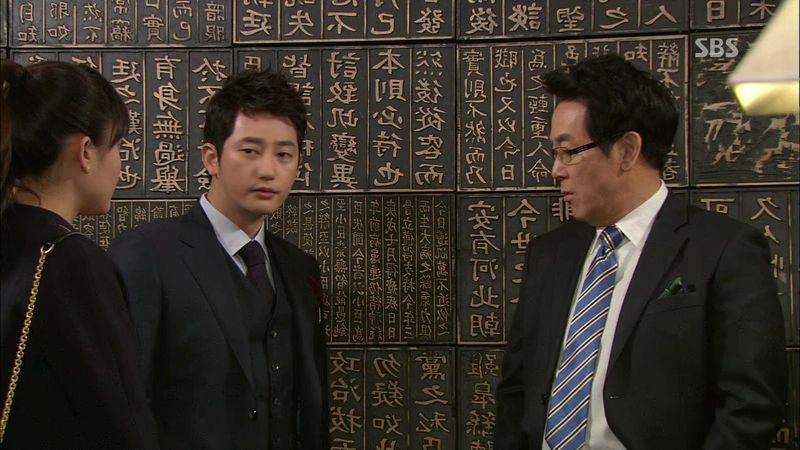 Seung Jo asks his dad why he came and finds out that Se Kyung invited him. He thinks dad is here to purposely ruin things but dad says he didn't do it, it was the other side who refused to marry their daughter to Seung Jo. They start arguing until Se Kyung walks up and loudly tells them to stop. She apologizes to Seung Jo's dad and tells Seung Jo to apologize since his dad came here to extend a branch so why did Seung Jo assume he was here to ruin things. She tells Seung Jo's dad to apologize to Seung Jo as well.
Se Kyung already apologized to her dad so why can't they apologize to each other. She makes Seung Jo say it first and Seung Jo awkwardly looks away and mutters a so….sor…..sorry. Seung Jo's dad returns a "me, too". Seung Jo invites his dad to an Artemis event and he agrees. Seung Jo leaves and his dad wants to talk more. Se Kyung thanks Seung Jo's dad and runs after Seung Jo.
In the car, Se Kyung tells Seung Jo that his dad is a very awkward person but he's trying so Seung Jo needs to try, too. Seung Jo says he's afraid everyday that Se Kyung won't be able to handle his dad and leave him. Se Kyung grabs his hand and reminds him that she promised never to leave his side. Seung Jo smiles because he knows that she is indeed very persistent.
Yoon Joo sits with Tommy who never thought he would see her again. He did make a few Cinderella matches but none to such a degree as Yoon Joo. She confirms that he deleted the video and Tommy says of course since they have a deal. Yoon Joo cuts to the chase and asks why he agreed to the deal? Does he have faith Se Kyung will succeed? Tommy asks why Yoon Joo is helping Se Kyung? Yoon Joo says her future is riding on Se Kyung's success but Tommy's isn't. Tommy tries to explain and Yoon Joo just asks if he likes Se Kyung?
Tommy laughs and says its not his personality to randomly like someone. Yoon Joo says it doesn't matter, they are now all on the same boat. As Yoon Joo is leaving, Tommy warns her to be careful of In Hwa, she has been by twice to ask about Se Kyung. As Yoon Joo is walking out, she notices Tommy's tablet cover is the same as In Hwa's.
In Hwa is at a clothing store and secretly asking for Yoon Joo's resume from when she worked there three years ago. The sales lady agrees to fax it to In Hwa. Yoon Joo is in In Hwa's office when the fax arrives and almost sees it but doesn't because In Hwa returns at that moment. Yoon Joo says she is here because Min Hyuk wants Yoon Joo to help arrange another potential match for In Hwa. Yoon Joo is dismissed and she reminds In Hwa that President Shin is returning tomorrow before leaving.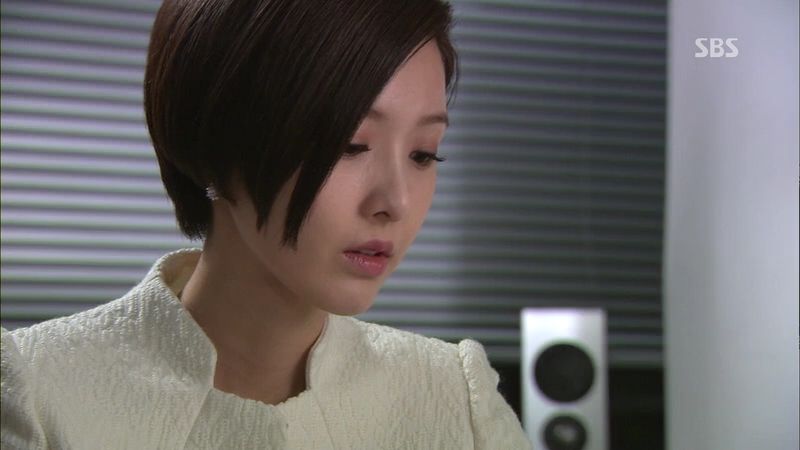 In Hwa sits down and looks through Yoon Joo's resume. Everything looks fine until the last line which says the person recommending Yoon Joo is President Cha Il Nam. She cringes and now thinks President Cha knows all along and is in on it, too.
President Cha is being driven home and he smiles thinking back to Seung Jo trying to apologize but then loses his smile when thinking about Se Kyung's dad. He goes to see Tommy who apologizes about the marriage fiasco. President Cha asks Tommy to brief him on Han Se Kyung since he's already investigated her. Tommy says Se Kyung and Seung Jo really like each other. Tommy encourages President Cha to accept Se Kyung as a way to reconcile with Seung Jo. Tommy says Se Kyung's background isn't that bad but President Cha says In Hwa is even better. President Cha reveals that President Robert, the chairman of Artemis France, is arriving in Korea to close a deal.
Min Hyuk picks up his dad President Shin at the airport and hears that the deals with Artemis and Royal Group are all going well. He compliments his son on doing a good job. President Shin returns home where his In Hwa, his wife, and Yoon Joo are all waiting for him. I love how Yoon Joo and In Hwa shoot dirty looks at each other.
During lunch, Yoon Joo notices that In Hwa isn't at the table. She arrives later carrying a tablet with the same cover as Tommy's and this time Yoon Joo makes the connection. She thinks to herself that the covers are merely the same. Tommy calls about the painting he was called away to sign for and it turns out not to be the painting delivered to him. He has his secretary investigate who bought the painting that was delivered to him. He calls Se Kyung and asks if everything is fine with her. She says yes and wonders why he's worried?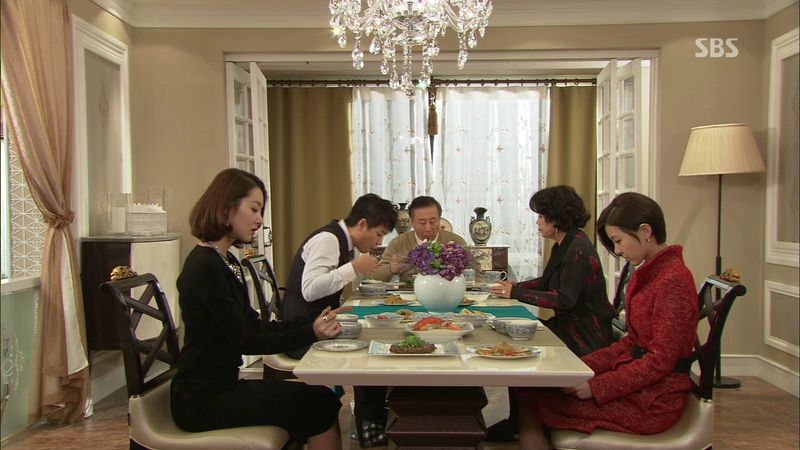 In Hwa looks very nervous and keeps looking at Yoon Joo and her brother and dad before saying that she has something to tell her dad. She is about the take out the tablet when Min Hyuk gets a call that President Robert has arrived and they have a lot prepare for. Artemis is now willing to consider doing business with them because they are partnered with Royal Group and that is how they can finally expand and become an international brand. In Hwa looks very tormented knowing that if she spills the beans it also means ruining the partnership with Royal and Artemis. Tricky. She decides not to spill the beans.
Later Yoon Joo wonders what In Hwa was planning to reveal at the dining table. In Hwa comes by and asks if its been three years since Yoon Joo married into the family. What has been the best, what has been the worst? In Hwa says she puts the business first and even stakes her marriage on it. She has been number 1 at everything she's done in the past and always in control but right now she's feeling very uneasy. Turns out she really is human after all. She doesn't know how long she can hold it all in. After she slithers away, Yoon Joo is trembling and wondering what In Hwa is vaguely threatening her with?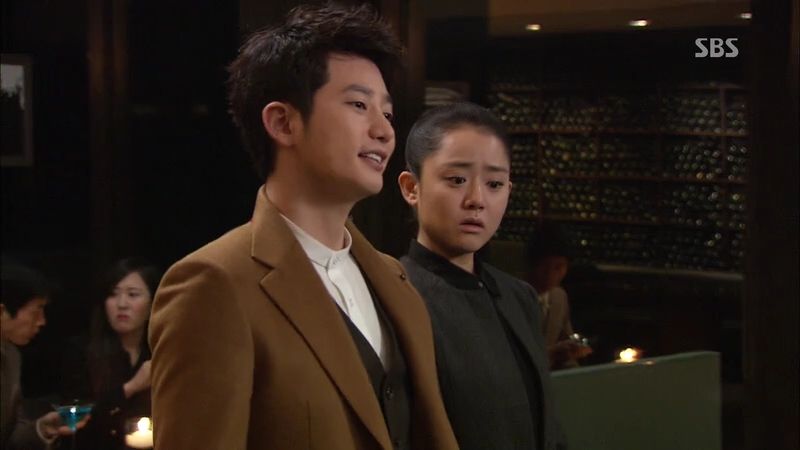 Seung Jo discusses with Se Kyung about the arrival of President Robert who Seung Jo considers a father figure. Back at corporate, he was extremely supportive of Seung Jo and all his proposals were always accepted. He's here so that Artemis can open a direct outlet store. He wants to introduce Se Kyung to him because, compared to President Cha, he wants even more for Se Kyung to have a good relationship with President Robert. Se Kyung is nervous but promises to do her best, asking Seung Jo to help her. He teases that she's back to being so earnest again.
Seung Jo takes Se Kyung out shopping and says Artemis is a global brand with many different luxury lines. He gives Se Kyung information on what President Robert likes. When they stand before a painting of a bride and groom kissing, Seung Jo and Se Kyung pose the same way and he kisses her adorably a few times.
President Robert's favorite wine is a very expensive one that can only be bought auction. Seung Jo explains that there is a French wine making town called Chateau Chalon and a church there with a stone door that leads to a field where the grapes are harvested to make this wine.
Se Kyung goes home and does research on President Robert. Tommy calls her out and takes her to an art bookstore where all the books about Artemis can be found. Tommy encourages her to take this chance – to reconcile father and son and help Seung Jo's dad win the business expansion he wants. He brings up Pretty Woman and needing to bring a woman to business settings at times to strike a balance in the life of successful men. Se Kyung understands and vows to do her best.
They flip through books and she sees a design that looks like a spider that links to all the various Artemis brands. She asks Tommy what he called about the other day. Tommy decides not to tell her and asks that she focus on what needs to be done now.
Yoon Joo meets with Tommy and reveals that In Hwa as the exact same tablet cover. They discuss how In Hwa may have the video which is why she is so upset lately, but she can't reveal it during this critical business discussion for fear of angering her father. But once the deal is done, who knows what In Hwa will do.
Secretary Moon is talking to Seung Jo when he gets a call and calls someone "Madam" and agrees to do everything she asks. Seung Jo is confused and asks who "Madam" is and finds out its Se Kyung. Secretary Moon says he talks with her on personal matter and he can't divulge what it is. He runs off and Seung Jo is happy that Secretary Moon refers to Se Kyung like she is his wife.
Later Seung Jo harangues Se Kyung to tell him what she wants Secretary Moon to do but she won't. She tries on a pretty black lace dress which Seung Jo admires a wedding dress. Se Kyung uses French to practice her greeting to President Robert. He thanks her for working so hard. Se Kyung wants to do well for Seung Jo and wants his dad to approve of her. He grabs his hand and says "aja aja" like Seung Jo did to her when he thought she was asleep. He's embarrassed but she just smiles at him.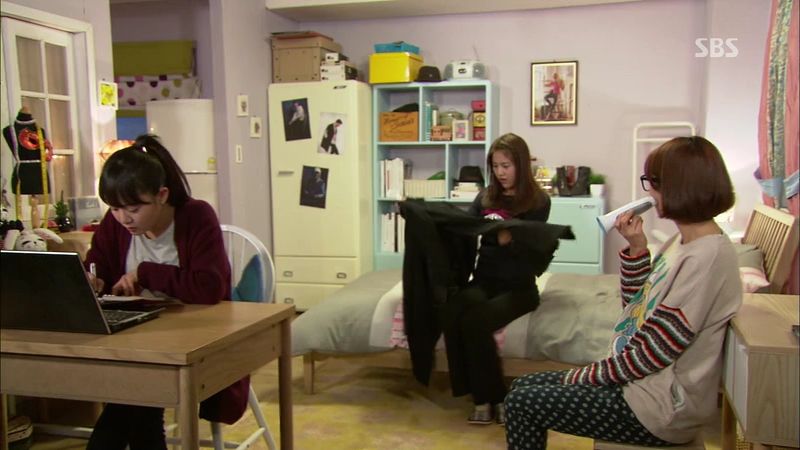 Ah Jung and Se Jin admire her dress while Se Kyung practices her French in the mirrror.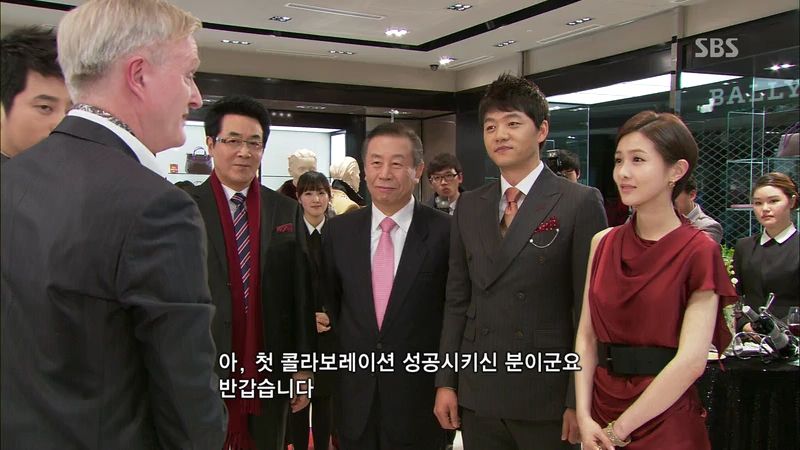 President Robert is at a party and Seung Jo introduces him to everyone at Royal and GN Group. The President is especially happy to meet In Hwa who arranged the first collaboration between GN and Artemis. Seung Jo whispers to Secretary Moon wondering where Se Kyung is and is told that she is with Driver Kim.
When its time to toast, Secretary Moon brings out a Chateau Latour but not with its original label. Secretary Moon explains that the drawing if done by President Jean Thierry Cha's fiancee Han Se Kyung. She arranged the Artemis corporate structure not like a spider which has a negative connotation but as a flower. President Robert likes it very much and says it needs to be shown to the press. Se Kyung arrives at that moment and Seung Jo goes to bring her over. Dayum, girlfriend means business.
Seung Jo introduces his fiancee Han Se Kyung to President Robert, and she greets him in French. He says Seung Jo is a lucky man and she is a very talented artist. In Hwa rolls her eyes in annoyance. Once the group is alone, President Robert brings up one issue he's not quite pleased with. Why did this collaboration not go through Seung Jo but instead In Hwa went straight to President Robert for approval. Everyone looks uncomfortable so Se Kyung speaks up that Seung Jo is the son of President Cha of Royal Group and the President didn't want to put his son in an uncomfortable position so did it secretly. He wants President Robert to approve of this collaboration on its merits.
President Cha speaks up and discusses this deal and President Robert is very pleased. He toasts on this deal and then on Se Kyung and Seung Jo's upcoming marriage. The press swarm to snap pictures of the happy couple and In Hwa looks upset and GN Group moves aside. A reporter asks if this is true wondering about In Hwa and Seung Jo's earlier rumored match and In Hwa says it never happened. Se Kyung pulls President Cha over and allows him to stand next to Seung Jo to take a picture. In hwa looks more and more unhappy looking at this.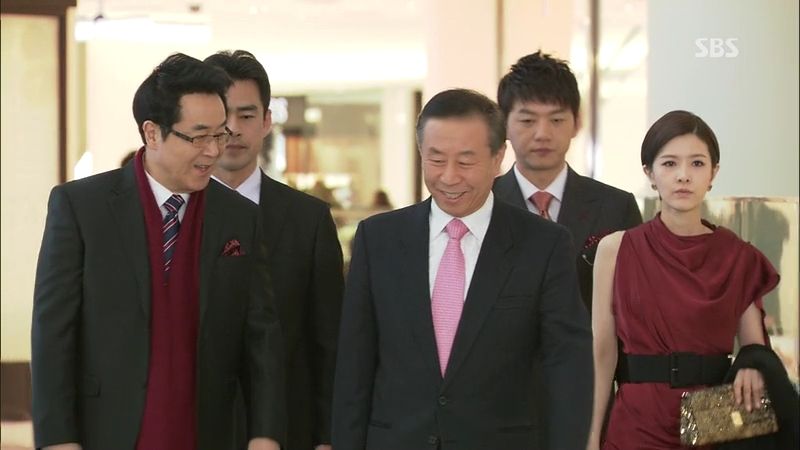 President Shin walks with President Cha and compliments him on his future daughter-in-law, saying she is quite accomplished and will be a good help to Seung Jo in the future. After President Cha leaves, President Shin brings up Se Kyung as being smart and accomplished. Even Min Hyuk agrees that Se Kyung does have ability and isn't just a pretty face. In Hwa thinks to herself that Se Kyung's ability is to be a seductress fox. Hahaha, she's so jealous its actually pretty funny.
Yoon Joo sneaks into In Hwa's office and finds the sketch she did of the tablet cover. She takes it to the assistant and finds out that In Hwa specifically asked him to buy the exact same cover.
In Hwa gets into her car and happens to see Seung Jo and Se Kyung leaving as well. Seung Jo spins Se Kyung around and gives her a peck on the lips before driving away with her to a place he already made reservations at. In Hwa calls Tommy and informs him that she doesn't care what he is planning but she will tell him that he's failed. Tommy finds out from his assistant that the painting that was delivered that day was purchased by GN Group.
Se Kyung is in the dressing room and receives a call from Tommy worried that something happened. He looks relieved when he hears nothing happened. He finds out she's trying on wedding dresses and tells Se Kyung that something might be up with Shin In Hwa.
Yoon Joo is pacing at home and gets a call from Tommy but she can't answer it because Min Hyuk comes home. She asks how it went and is told that it is fine. Min Hyuk puts down his wallet and phone and goes to change. Yoon Joo sees a video come in on his phone and she types in his password and unlocks his phone to find that In Hwa sent her brother the incriminating video of her conversation with Se Kyung. Yoon Joo rushes off and deletes it.
In Hwa then sends the same video to Seung Jo, who is currently pacing in the waiting room while Se Kyung tries on the wedding dress. Yoon Joo tries calling Se Kyung but she doesn't pick up. She gets a call from Tommy that In Hwa transmitted the video to Min Hyuk from an unknown number. She reveals that she deleted the video from her husband's phone. Tommy asks if she called Se Kyung and is told she's not picking up.
Tommy grabs his jacket and rushes out towards the wedding dress shop. The video comes in on Seung Jo's phone and he goes to open it. As its loading the curtains open and Se Kyung stands there wearing the wedding dress. Seung Jo puts down the phone and the video is seen playing on it but he's now focused solely on Se Kyung.
Tommy arrives and composes himself before walking in. He looks towards the table and sees the video playing on Seung Jo's phone. Se Kyung notices him and realizes something is off. Seung Jo turns around and looks quizzically at Tommy.
Thoughts of Mine:
Despite my gripes about the recent episodes of CA, this drama really isn't that bad. It's the fact that it's chock pull of potential and the beginning was so awesome that makes this deflating disappointment feel much keener. It hasn't delved into the issues of money and the limitations of near poverty after grazing the surface in the beginning. Now it's back to the same old superficial tropes of snotty rich people looking down on the poor, and the rich hero elevating his poor girlfriend into his circle and she impresses by hard work and sincerity. If Se Kyung can patch up Seung Jo and his dad's broken relationship as quickly as she seems to be doing, I'll be even more disappointed watching this drama resolve complicated issues with the shallowest of actions. All the great side characters are transformed into one-note caricatures (In Hwa and Min Hyuk have become rich vindictive pricks) or shunted to the side to be trotted out for a scene or two (Dong Wook, Secretary Moon, Ah Jung, etc). Tommy is suddenly so impressed with Se Kyung's gumption that he's tossed his future in with hers, and this from a guy surviving in Cheongdamdong by his wits and bootstrap for the last ten years. Yoon Joo remains the only character who's actions and thought processes I appreciate – I understand why she wants to keep everything a secret because there is no way the horrible Shin family and her now assholey husband Min Hyuk will ever forgive her, though they are really stupid as bricks if they can't see that she is an asset for their family because she's so smart and capable.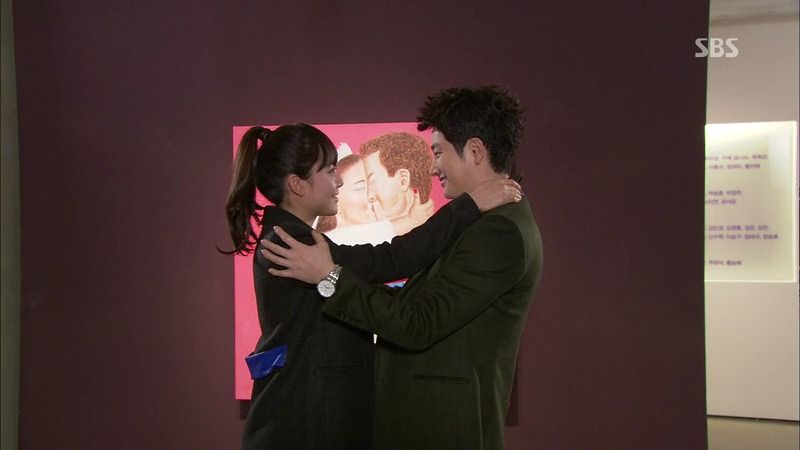 I've enjoyed rom-coms written way worse than CA and the reason why is because the OTP in those stories make sense to me and their love journey is one that I can relate to and root for. While Se Kyung and Seung Jo make sense in the long run, their current journey leaves me cold and actually rooting for them to fail. I'm not convinced Seung Jo should be dating anyone now – he needs to go back to therapy with Dong Wook and repair his relationship with his dad BEFORE he even attempts a mature and fulfilling relationship with Se Kyung. He has her on a pedestal and has barely known her before declaring himself madly in love and rushing into marriage. Does this man sound like he has a healthy emotional foundation for a lifetime together? Oh hells no. Which is why he needs to be slapped awake from his pipe dream that Se Kyung is his home and go fix his life and then come back and love Se Kyung as a flesh-and-blood flawed and complicated woman rather than as a paragon of perfection he happened to stumble across. I find Se Kyung and Seung Jo's recent interactions still cute, but it comes across as superficial and manufactured because as the audience I know it's premised on a faulty foundation. With 4-episodes to go (no confirmed extension yet), I have no hope this drama will manage to satisfactorily resolve any of the interesting issues its raised in the remaining time left. To say I'm really disappointed is a understatement. Such an incredible start only to peter out to the same old tricks.