So I'm totally and completely jet lagged. Again. I've been doing international travel multiple times a year since I was 5 years old but good gracious the tolerance is inversely proportional to experience and instead manifests itself with age. As I painfully tossed and turned in my comfy bed, I ended up trying to watch random dramas to see if the sheer tedium could lull me back to sleep. The Swordsman, like a zombie that won't die and keeps reproducing more offspring in terms of episode count, is still so bad as to be literally unwatchable. After watching some J-doramas (Dinner – I'm ready for lunch now, Nobunaga no Chef – time-traveling AND cooking?), I randomly clicked play on a new C-drama I knew nothing about. Not even who the stars were. It's called Hello Gorgeous (Chinese title 华丽一族 The Extravagant Clan, not to be confused with the famous period J-dorama 華麗なる一族 Kareinaru ichizoku starring KimuTaku) and stars the enchantingly real and charming Li Xin Ru, the immortally good looking Godfrey Gao (who is next going to be Magnus Bane in the upcoming movie adaptation of City of Bones in case anyone cares), and real life Chinese male supermodel-turned actor Li Xue Qing (English name Jed Lee). The drama is a remake of the 1997 K-drama classic Model starring Jang Dong Gun, Kim Nam Joo, and Han Jae Seok, which I have not watched other than guffawed over the ridiculous make up and outfits way back when. Within minutes I was hooked – this is what I wanted SOP Queen to be except that one turned out to be a bore and so intent on making every actor and scene look good that it became a poseur show. Hello Gorgeous is instead ridiculous and entertaining with promises of crazy but fun makjang to come that will hit all my kinks (betrayals!, angry make outs galore!, deliciously juicy love triangle!). This drama took over the weekend time slot from Drama Go Go Go and now I'm dying for more more more! I have to also point out how tall all three leads are – Godfrey is 6'5″ (195 cm), Li Xin Ru is 5'7″ (170 cm), and Li Xue Qing is 6'2″ (188 cm), which is nicely realistic if the drama wants to convince me they all play super models onscreen.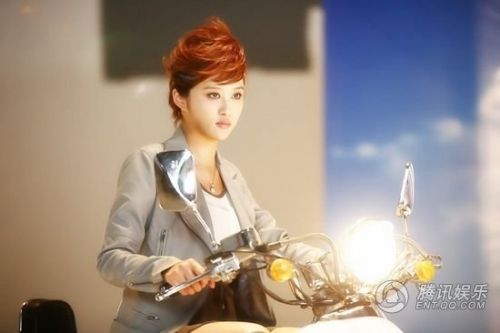 Hello Gorgeous tells the story of Song Jiao Yang, an aspiring fashion designer who finds herself becoming a super model quite by accident. She toggles the two sides of the fashion profession (modeling and trying to become a designer) as she also navigates between a love triangle with Li Zhen played by Godfrey Gao (a displaced chaebol heir) and male super model Zhao Yu Tian played by Li Xue Qing. Since I've never seen the original K-drama Model, I went into this drama with no expectations and found it super easy to watch. The directing is fast and decent but the acting is what's so endearing. Li Xin Ru as the heroine Jiao Yang won my heart within minutes of meeting her. The character itself is just okay, but Li Xin Ru has this winsome and wholesome charm that is increasingly rare these days. Her face isn't plastic at all, with imperfections that showcase her own unique and all-natural look (her face moves and her eyes crinkle when she smiles!), and her figure is tall and statuesque in an era where all the ladies are stick thin. She looks like a cross between Lee Na Young and Crystal Liu, but with more warmth than the former and an infinitely better actress than the latter.
What's also awesome is the amount of chemistry she has with both her male leads. It's literally flying off the screen and I can fry an egg on the tension and cuteness in the banter. I didn't watch the long trailer for this drama so I had no clue what her relationship would be with the two men (I didn't even know which one is guy1 versus guy2), but immediately I enjoyed watching her play off the very different personalities of both guys. Li Zhen is playful and perceptive, while Yu Tian is impatient and difficult. This drama started airing this past weekend and is only up to episode 4, so as far I can tell the OTP is still up in the air. Every scene other than the OT3 has me fast-forwarding because all the modeling bitchiness and fashion design scheming bores me to death. But I love love love every little tidbit with the three leads. Of course, after I watched all four episodes I went looking for the long trailer and nearly fell off the bed I was so shocked at what this drama has in store. Holy bejebus is this thing headed down an insane makjang route, which shockingly I am totally looking forward to. It's like the emotional torment of Sealed with a Kiss type of love-hate relationship, but without all the blackmail and raping. This, people, is the very definition of guilty pleasure.
So the first four episodes were chirpy and breezy with some potentially makjang elements alluded. Li Zhen is an angry displaced chaebol heir returning to Shanghai from the US after 17 years abroad looking to seek revenge against his uncle for causing the death of his father. Jiao Yang is surrounded by potential snakes and vipers in her fashion school friends who are backstabbing her, her teacher steals her work and turns it around and frames her for stealing his design, and competitors in the modeling world have their claws out for her. I like that Jiao Yang is smart and figures things out quickly, but she's not stubborn to the point of insisting on justice prevailing. She takes the hard knocks as life lessons and plows forward to achieve her dream even if she has to swallow the bitterness of defeat time and again. One hilarious element is how dreadful all the fashion styling and modeling look in this drama. Both Godfrey Gao and Li Xue Qing are actual male super models in real life, and they fare okay when asked to play models onscreen, but the ladies are generally hilariously terrible. And Jiao Yang's "designs" are so laughable its actually quaint how the drama wants us to believe she's a very talented aspiring designer.
Those are all quibbles that don't detract from the central deliciousness of this drama for me, which is the love triangle. Already I'm loving Jiao Yang with happy cheerful Li Zhen, though her bristly relationship with Yi Tian is also quite goose-bump inducingly good. But when I watched the long trailer and saw the reversal of roles later on I let out an audible gasp. So the first 4 episodes introduces Li Zhen as this super nice guy, who is plotting revenge against his awful paternal side of the family who runs a fashion conglomerate called Legend Group, but there is no indication that he has any shadiness. Similarly Yu Tian is totally douchey and difficult with Jiao Yang all the time it appears the two of them can't ever have a civil conversation. I expected the OTP to be Jiao Yang and Li Zhen, and I am probably right, but their road to happily ever after isn't so certain based on the juicy reveals in the long trailer. Li Zhen apparently turns evil mid-way and betrays Jiao Yang and they end up having this totally hot love-hate relationship which involves lots of kissing and slapping and making out. I'm fanning myself here. Conversely Yu Tian becomes her protector and loves her from afar and she ends up accepting him because she hates how much she keeps letting Li Zhen hurt her.
According to an interview Li Xin Ru gave last week, this drama is the most passionate romance she's ever played on screen. She giggled that the director pulled her aside before filming began to tell her that she will have LOTS of kissing and bed scenes in this drama. Based on the long trailer, I can attest that is totally true. And it's not the placid pecks, but all the kissing scenes are sexy and intense and spine tingling type with lots of emotionally punch. The media reviewing this drama has said that Hunan TV is preparing itself for the bitching to come from the viewers for how makjang this drama will be, what with all the kissing and slapping left and right. I can attest there are tons of slapping in the long trailer, to the point I laughed and felt the urge to slap a stuffed animal. Bring on the slapping, especially since the slaps go in every direction with the heroine dishing it out and receiving it in equal measure. This certainly isn't quality entertainment in any shape or form, but I find myself dying to watch more. In case folks are wondering about the dubbing – Godfrey and Li Xin Ru are not dubbed but Li Xue Qing and the rest of the cast are dubbed.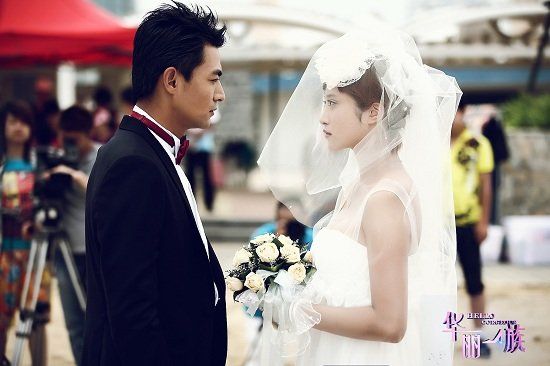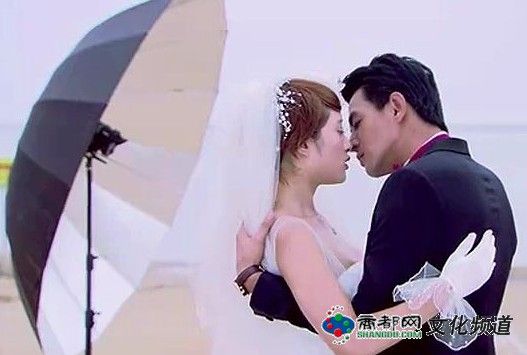 I love that picture above! These three are so cute together. Li Xin Ru is really so easy on the eyes, especially moreso when she's not saddled with the weird mop in this drama and allowed to have lovely long locks. She's totally my first C-actress find of 2013! She's also super endearing and smart in interviews. She gave an interview about working with two super hot guys and she giggled when confessing that neither are her "dish" in real life as she likes very low key but cool and confident guys, as if wink-nodding that both guys are too high maintenance in real life but then blushing when discussing her making out with both of them. Lucky girl! This drama seriously isn't very good at all but it is just so amusing and entertaining to watch. Plus I have tons of kissing and slapping to look forward it, that counts for something.
Short trailers for Hello Gorgeous:
http://www.youtube.com/watch?v=aTk3sWy70x0
Long trailer for Hello Gorgeous: