Being addicted to Terry King Flower is so frustrating because it's like trying to train a beloved puppy to shake hands. You keep pointing to the paw and saying shake, and sometimes the pooch wags his tail, other times it cocks the head, and sometimes it licks your face. That all good and cute, really very very cute, but that's not what I want. I want the darn thing to shake hands, and it stubbornly or cluelessly refuses. I'm a pretty obstinate person when I start something and in this case I have to know how it'll all end. Turns out the filming wrap photo by the river that James Wen posted two days ago wasn't his final scene, the last scene filmed for the drama involved James, Chris Wu, and Chao Chun Ya at the indoor rock climbing facility that showed up once in episode 2 when Terry took Liang Yen to meet Qin Mo. First of all – Guan Jun is rocking climbing with Terry and Qin Mo? So that means rivals in love Terry and Guan Jun are on good terms? How is that even possible? My head hurts.
Mad doctor Qin Mo making an entrance to wrap up the show is a welcomed return, since he's been the driving force behind the extravagant adventure in the first told. He was the one who encourage Terry to take Liang Yen climbing, he was the one who concocted the substitute princess plan, and he was the one who did the plastic surgery on Da Hua. All in all, he needs to come by and wave his magic wand and GIVE MY TERRY A HAPPY ENDING! The press was there for the filming of this final scene and interviewed the three hot male leads of KF. I loved learning that Chris calls the older James "Sheng Hao Ge" (Big Brother Sheng Hao – James' Chinese name is Wen Sheng Hao), which goes to show how close the cast got on the set and how they probably are laughing at all the fans hatred for Guan Jun and love for Terry because in RL they are all pals. Chao Chun Ya confessed he was the weakest climber and James joked about not knowing why his character was here. I also don't know why your character exists in this drama or any drama, James, but I applaud your professionalism and positive spirit.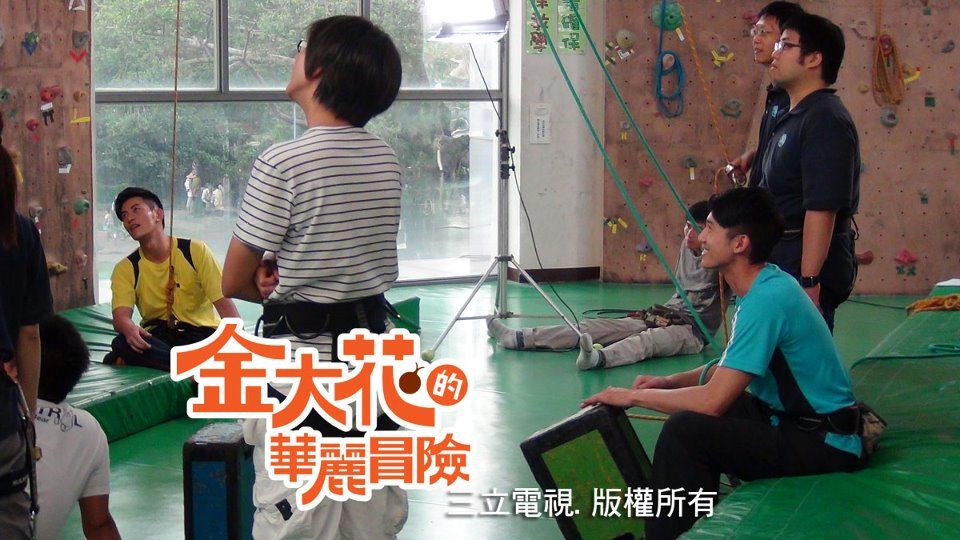 I noticed that James Wen has a totally different hairstyle in this scene. I bet there is a time jump coming up. Good or bad for us Terry loving hearts, we'll just have to wait and see.
The boys climbing the wall:
Male leads interview at the final scene for KF:
So Chao Chun Ya ignited a firestorm of controversy (and SETTV probably put him in a time out) when in his picture posted on his Weibo about the wrap of KF filming, he included a page from the script. It wasn't just any old page – the dialogue reads Guan Jun running around looking for Da Hua, Da Hua running through the streets wearing a wedding dress, and Xiao Fei telling Da Hua that Guan Jun was just pretending to date her to give Da Hua up to Ouyang Tai and he still loved Da Hua so she can't marry Ouyang Tai.
Of course fans shit a brick about this (so Terry was the groom but Da Hua runs off at their wedding? I will kill SETTV if that happens) and everyone said they weren't watching anyone with this stupid ass ending – runaway bride PLUS going back to Lin Guan Jun? What shit is this? The moderator of the King Flower Official FB page actually had to make a statement that this script page was NOT the ending of the drama and there was more to come, telling fans that the ending was highly unexpected. Chao Chun Ya then posted a update on his Weibo telling fans that this leaked page was not the ending and the ending was really exciting and to please keep watching.
I……give up on having a coherent thought process about this drama anymore. It's sole existence is to plague me.