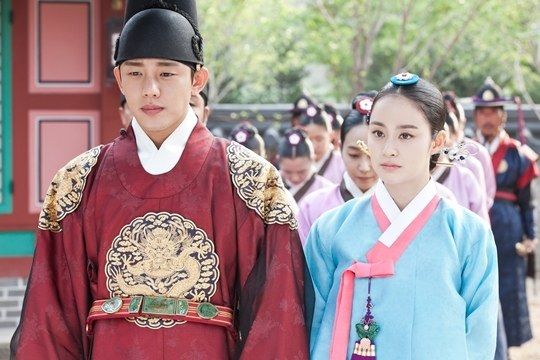 I'm rather ambivalent about how quickly and how heated the romance between Ok Jung and Lee Soon went from longing to rolling in the sack in episode 10 of Jang Ok Jung, Live in Love. Yes, they are both adults and at least this drama is honest that sexual chemistry and desire plays a big part in people falling in love. But I don't want to see the romance overwhelm what has been some well-developed political conflict and power plays. It shouldn't be so personal is what I'm getting at, because we've seen Lee Soon and Ok Jung spend 9 episodes gradually falling for each other but that romance was only secondary to their main goals in life. He wants to become a powerful ruler, one who not only makes Joseon a better country for the common people, but also a King that keeps his power hungry ministers in check and reclaims power for the royal family. She wants to become a fashion pioneer, the best designer in Joseon who holds her own fate in her hands and uses it to liberate her mother from slavery.
It's pretty heady stuff, and I want their romance to complement the other parts of their life and show us how they can achieve their goals together even better than without each other. I was a little taken aback with how angry Ok Jung got with Minister Min's put down, since she's gotten it all her life and appears to have taken it in stride. But suddenly she's turning ambitious and angry because a high born man looks down on her right to love a King? That seems like the reality, while her love is the exception. I love that she's becoming calculating and is willing to fight (and scheme) to make her dreams to come, but it does seem like a schism happened in Ok Jung's formerly passive and bear-it-in-stride personality. Lee Soon similarly went from politics and power first to ruled by his other member, though I can accept that a hot blooded young man will finally let his emotions do some talking rather than being so asexual as he was with Queen In Kyung. I actually think In Hyun is written so far with the most consistency and subtlety, and I can't wait to see the two smart and thoughtful women fight for the attention of the King in the Palace.
Written preview for episode 11:
Ok Jung joins forces with Jang Hyun knowing that she does not have the ability to achieve her goal by her own power. At at party for Princess Myung Ahn, Ok Jung and Queen In Hyun use their own methods to design their outfit for the party.
Preview for episode 11: