Potential drama crack addiction alert! I'm still loving every minute of tvN's Cyrano Dating Agency but I actually enjoy just watching it without the desire to recap it. The couple of the week stories are disposable narrative fun but nothing to write about, while the main cast is doing a fantastic job but their stories don't yet have any meat to discuss. To help ease me down from the King Flower ledge where a Terry-less existence feels so empty, I started watching Monstar (the ridiculous splicing of Monster + Star) at the recommendation of some folks who think it's right up my alley. Thanks to those who pushed me to check out this 12-episode (once a week) offering airing on music channel Mnet because I am now totally, utterly, and passionately in love with a drama I never even knew existed a week ago comprising of a main cast of young singers and idols I couldn't pick out of a line up prior to this drama airing and never heard of their names before. Goes to show what an actual compelling narrative presenting deftly can do. This feels like Answer Me 1997's cousin with a different but equally interesting attitude, with some of the best elements of Dream High thrown in as well. Starring Yong Jun Hyung of pop group Beast, newbie singer-actress Ha Yeon Soo (a dead ringer for 1990s HK actress Theresa Lee), Kang Ha Neul in the silently caring second male lead role, Dahee of girl group GLAM, and other youngsters to round out the high school cast, watching Monstar feels like an exhilarating breath of fresh air punctuated with great music and a very compelling story. This is nothing new or extraordinary, it's simply something deliciously consumable prepared just right. Doesn't hurt that it's from the PD of Sungkyunkwan Scandal and Cinderella Unni, two of the most visually pretty K-dramas out there, and written by the writer who also adapted Sungkyunkwan Scandal from the novel. There are only three episodes out so far but after marathoning through it last night I can safely say this drama is Da Bomb.
Min Se Yi is a high school transfer student who just moved back to Seoul from living in New Zealand for the past 5 years on a sheep farm (What are you, Heidi? That's the Swiss Alps). Just go with it, it's a running joke and important to the narrative because she has no clue about Korean pop idols and fan culture, plus she has a hilarious dead pan personality which occasionally fires up when the one person who can push her buttons makes her acquaintance on her first day at school. For once the leading lady is not a cookie cutter Candy character or so feisty as to border on being a social caricature. She's got a bit of Suzy's Hye Mi robotic weirdness from DH but she's a very caring and socially aware girl. The only person to get under her skin is of course our resident leading man.
That guy is high school-aged idol Yoon Seol Chan ("I am a star! A star!), lead vocalist for boy band Man in Black and all-around emotionally arrested development boy wonder. In their first meeting he mistakes Se Yi for an overzealous fan, manages to get a hold of her cell phone, and promptly gets intrigued by her oddness. Seol Chan lands in hot water with the public for a fan incident and to rehabilitate his image he gets sent back to high school as a real student until all the scandal dies down. Seol Chan seeks out Se Yi to share the same table with since she's the only one who doesn't give a fuck about him (either as a fan or as an anti). They are so like fire-water I slurp up their mutual fascination and/or disdain for each other.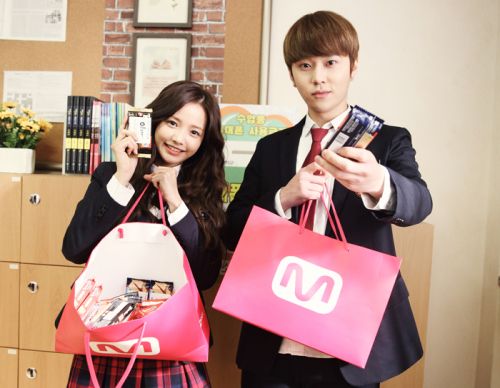 Their class comprises of class president Jung Sun Woo (played by Kang Ha Heul from To the Beautiful You) who appears to have mutual loathing with Seol Chan, class bully Shin Jae Rok and his large minion Cha Do Nam, bullied aspiring singer Park Kyu Dong, resident gossip Shim Eun Ha, and class bad girl and outcast Kim Na Na. These seven kids are clearly going to have their school lives all tangled up together as music is the pervasive thread that brings conflict and camaraderie.
I'm the first to admit I'm not a K-pop fan and don't know any of the songs whether its new stuff or oldies being sung in Monstar, but I can safely say that the music is very effectively weaved into the story and sounds fantastic even when its being purposely butchered. There is a sincerity that surrounds this production, so that even when its produced to launch music careers and tie in with music products, I feel like the actors and production actually have a care about telling a meaningful story with heart.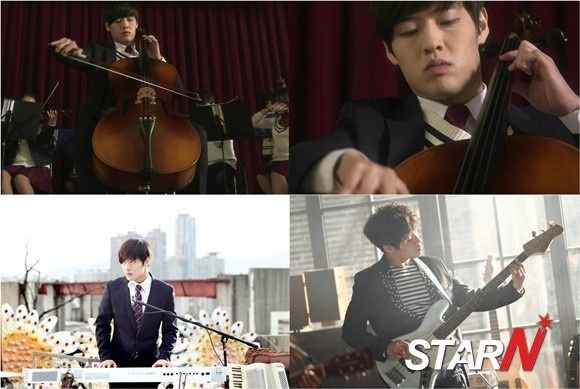 I am unhealthily obsessed with the OTP of Se Yi and Seol Chan, all you second lead Sun Woo shippers to the left, to the left please. Heck, I even gave you a Sun Woo photo bomb above so that ought to satisfy. Seol Chan has the EQ of a sheep and Se Yi is so emotionally dysfunctional beneath her poker face, and they are the only ones who always pushes each other's "awkward and off-kilter" buttons in ways that make me literally squeal out loud. I'm not a fan of Seol Chan's penchant for pulling Se Yi all around, even if their chemistry is so potent I'm fanning myself and wondering how these two youngsters bring more heat than many drama OTPs consisting of older and more experienced actors. I love that Seol Chan and Se Yi are opening up and experiencing things because of each other, and both have this laser-sharp way of zeroing in each other's sore spots and avoidance areas to push each other forward. When one does something wrong, the other hits back just as hard, and neither ever gives in inch. It's a very contentious yet fascinating dynamic that is the opposite of nurturing and understanding, which works perfectly for their personalities because they run away from stuff so they need to confront their demons in order to break free of their emotional baggage.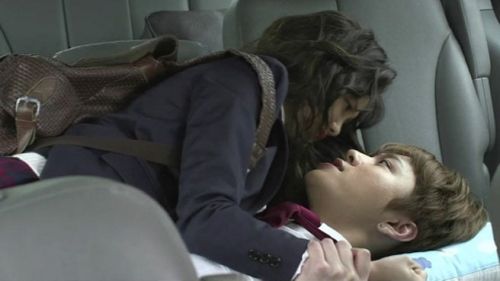 This drama is funny, weird, adorable, entertaining, everything that makes watching something come alive visually and then take root in the imagination. By episode 3 the story is barreling full speed ahead and all the main cast members have characters that have been fleshed out in a few short but effective strokes. The adults are wonderfully cast and add the gravitas to this show, with Ahn Nae Sang playing a mysterious character with some connection with Se Yi, Lee Hee Jin as Se Yi's aunt and high school teacher, and hilarious Jo Jae Hun as Seol Chan's put upon manager. Check out a few choice scenes from the drama while I mull over whether to recap this baby.
First trailer for Monstar:
Se Yi sings as about everyone being born alone:
Se Yi, Seol Chan, and Sun Woo harmonizing to "Trouble Maker":
Seol Chan daydreams about Se Yi laying on top of him, and then imaginary Sun Woo shows up for a grammar lesson follow up: