The heydays of watching tons of dramas all the time are long gone for me, but in its place is a contentment borne from finding just a handful a year that bring me delight. This week started with the end of Cruel City (Heartless City) and will end with the conclusion of Monstar. I'm sad two of my fave dramas at this moment are ending the same time but optimistic the newly arrived options will yield one or two to take its place. Monstar was the biggest surprise of the year for me, having heard nothing about it and the depth of my affection for it once I started watching really is unprecedented for something so simple. Just a bunch of high school kids and lots of musical interludes, with background stories filled with angst peppered in to form a narrative glue. But it worked like magic on me and I was totally swepted into its world. The latter half of its run lacked the excitement and pop of the earlier episodes but was lovely nevertheless. I'm not annoyed that the drama stuck with the Seol Chan-Se Yi-Sun Woo love and friendship triangle until the end since that was the main crux of the emotional narrative to begin with. Of course the drama could have done more and did things better, but I am strangely certain I'll like the ending to come. New stills have been released showing Seol Chan serenading Se Yi in his bedroom singing her father's song with his newly learned guitar skills courtesy of Ji Woong. Nice, and she better notice that he adorably framed her note and shone a spotlight on it. This was one of my favorite OTPs this year and I'm praying for a little bit more cuteness and skinship before these kids swan off to stage left after this Friday.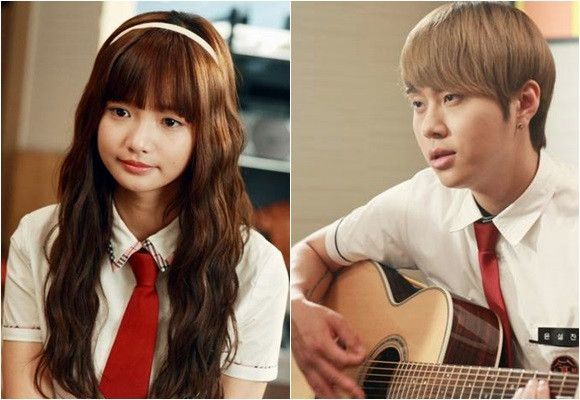 Written preview for episode 12:
Hearing Se Yi say that she really likes Seol Chan, Sun Woo is very heartbroken. Seol Chan and Sun Woo's mental battle continues. The kids of Color Bar practice even harder for their upcoming competition against All for One. Seol Chan helps the Color Bar kids. On the other hand, the PD interviewing the Color Bar kids about their personal lives finds out a very shocking truth about Se Yi….
Preview for episode 12:
Seol Chan: Stay away from Se Yi.
Sun Woo: I don't want to.
Seol Chan: You are being particularly immature right now.
Se Yi: So embarrassing.
"Sun Woo's challenge to Seol Chan once again"
PD: What does this mean, Yoon Seol Chan didn't show up?
Joon Hee: Yoon Seol Chan isn't participating probably because he has another plan.
Eun Ha: You have to ask, he's probably down in the basement……..
Joon Hee: Let Color Bar's Min Se Yi participate.
Seol Chan: This is a well-intentioned competition.
"What is the secret about Se Yi that will be revealed?"
Male voice: What is it that you can't reveal?
"Once again, the competition between Color Bar and All for One!"
Sun Woo: If Se Yi is hurt, I will never let you get away with it.