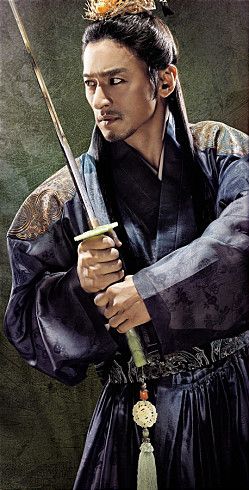 Ho ho, what have we here? I dig this casting, I dig it very much. Ha Ji Won has been cast to headline the epic 50-episode (!) sageuk Hwatu (same name as the playing card game) for two months now. The drama premieres in October on MBC following Goddess of Fire, which means it has very very small shoes to fill. When I wrote about Ha Ji Won's potential leading man, I went down a list of fantastic male actors in their 30s that would be suitable to co-star with her and one of the guys was Joo Jin Mo. So to hear that he's been cast is a great relief and much happiness, because now I don't have to worry that a sucky actor will get tapped and thus significantly decrease my potential enjoyment of this drama. Joo Jin Mo is no stranger to sagueks, he won a Baeksang Best Actor in Film award for his turn as the gay possessive King in A Frozen Flower opposite Jo In Sung, who coincidentally was Ha Ji Won's famous leading man from What Happened in Bali. Ha, I can make a threesome joke easily but shall refrain. Funnily enough, in the movie Joo Jin Mo played a fictional take on the real life King Gongmin of Goryeo dynasty who married a mongolian princess from the Yuan dynasty, and in Hwatu he'll again be playing a Goryeo King.
In Hwatu, the drama centers around the life of Empress Ki (also pronounced Qi) of the Yuan dynasty, who was born Ki Ja Oh, a Goryeo noblewoman. She is forced by political alliance to marry the Yuan Emperor Soon Jae (born Toghun Temür Khan) and she rose through the ranks of the Yuan dynasty from Consort to Empress and gave birth to the next Emperor. In this fictional account of the life of Empress Ki, Joo Jin Mo is cast as the Goryeo King Chunghye and grew up with Ki Ja Oh. There is a long drawn out and passionate love triangle between King Chunghye, Empress Ki, and her husband the Yuan Emperor Soon Jae. Good lord does this woman aim high to toggle two men. Today there was also news that Jang Geun Seok was offered the role of the other male lead, the future Yuan Emperor who is a prince that got his crown stolen by his younger brother so he is sent into exile in Goryeo where he meets and befriends both King Chunghye and Ki Ja Oh. Originally it was confirmed he accepted and then quickly his agency said he turned it down because he's already signed on to Beautiful Man.
This is actually a fantastic casting of Joo Jin Mo for yet another reason. He was originally signed on to do Damo, the seminal fusion sageuk from 2003 starring Ha Ji Won, but he had to turn it down due to scheduling conflict. He's always lamented passing on that fantastic drama and also wanting to work with Ha Ji Won. Now he'll finally get his chance. If Jang Geun Seok had accepted, he would be reuniting with Ha Ji Won from having played her first love in the sageuk Hwang Jin Yi. The leads will all be going to China later this month to start filming so folks might get some star sightings. The supporting roles have quietly been cast as well and its sprawling – Kim Gab Soo, Jin Yi Han, Kwon Oh Joong, Kim Sung Oh, Choi Moo Sang, just to name a few. Expect a humongous production that sounds like the next Queen Seon Deok. Writing will be the team behind Giant, History of the Salaryman, and Incarnation of Money. If I didn't love Kim Bum in GoF so much I would gladly pay someone to put that drama out of its misery so Hwatu can air earlier.