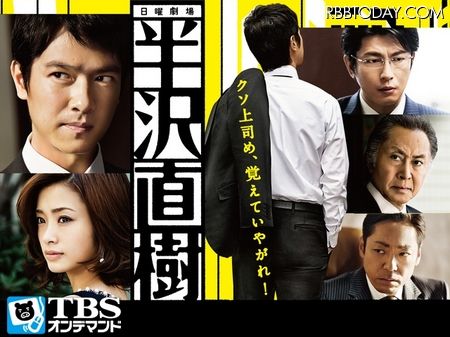 To say I'm shocked is an understatement, but its more like I'm wondering what magic sauce was in this J-dorama to create these results. A workplace dorama premiered earlier in the Summer that totally flew under my interest radar as those types always do. Hanzawa Naoki starring the currently on career fire Sakai Masato in a drama about banking turned out to be the biggest J-dorama of the Summer, of the year, and when all the ratings were tallied up, of the last decade. Co-starring Ueto Aya and Kagawa Teruyuki, it premiered strong and went on a steep ratings climb with each successive episode and more and more Japanese viewers tuned in to watch the titular Hanzawa Naoki stand up against fraud and injustice. It all culminated in the final episode 10 breaking 40% in all regions of Japan (hitting 42.2% in Kanto region that includes metropolitan Tokyo), with the final two minutes of the final episode hitting 46.7% in Kanto and 50.4% in Kansai. This is what I call a national dorama, people! The final episode of Hanzawa Naoki did the same or higher ratings as the annual Kōhaku Uta Gassen (紅白歌合戦) for the last decade. Incredible, just incredible, and this dorama is about bank loans!
Two years ago Matsushima Nanako's robotic housekeeper Kaseifu no Mita had very good ratings in the 20% range during its run, with only the final episode jumping slightly past 40%. That episode cemented Mita as having the biggest single episode rating in 12 years since Kimura Takuya's Beautiful Life final episode. In less then two years since Mita ended, Hanzawa Naoki has broken her short reign and now Sakai Masato can do no wrong in the eyes of Japanese viewers (and he just married actress Kanno Miho earlier this year as well). He already had a hit dorama this year with Legal High with Aragaki Yui, and season 2 is about to air for that dorama and I foresee some Sakai residual popularity been a boon there. Hanzawa Naoki has already secured itself a season 2 as well, and with its incredible ratings averaged out over its entire run, this dorama has managed to crack the top-10 list of the most highly rated doramas of all time. This dorama is so popular that catch phrases have spawned, visitors are going to the filming sites to take pictures posing like the characters, and in general this has energized a wave of can-do-fight-back-against-the-fat-cats mentality sweeping through the nation. It's not only popular in Japan, the dorama is a hit all over Asia where it's aired and I better be checking it out soon rather than remaining totally perplexed that a dorama about bad bank loans could be the biggest hit in a decade.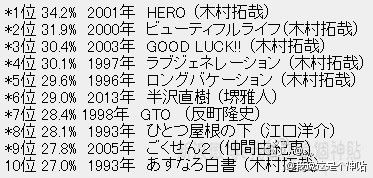 Everyone knows KimuTaku is the Crown Prince of Japanese entertainment, and his reign on the top of the dorama ratings chart is unparallel. Let's put it this way – out of the top-10 highest rated J-doramas of all time (taking the average by adding up each episode's rating), KimuTaku has a total of 6, but importantly, 5-out-of-6 of his doramas occupy the number 1 through 5 rank. That's insane. For those who can't read Japanese, below is the English title of the top 10 rated doramas of all time with the lead actor/actress.
1. Hero – Kimura Takuya
2. Beautiful Life – Kimura Takuya
3. Good Luck!! – Kimura Takuya
4. Love Generation – Kimura Takuya
5. Long Vacation – Kimura Takuya
6. Hanzawa Naoki – Sakai Masato
7. GTO – Sorimachi Takashi
8. Under One Roof – Eiguchi Yosuke
9. Gokusen 2 – Nakama Yukie
10. Asunaro Hakusho – Kimura Takuya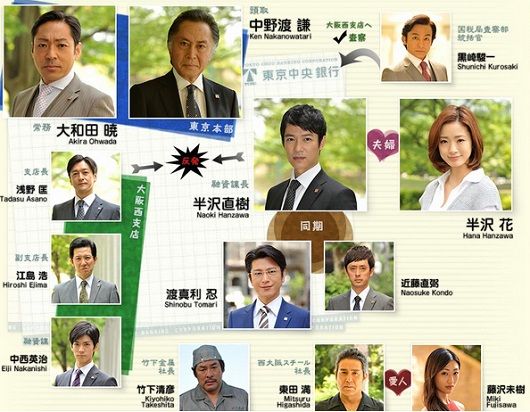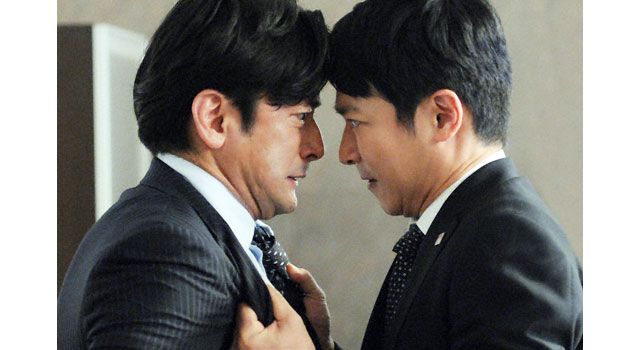 The overacting in this dorama is out of control though, and it appears completely intentional because Sakai Masato is a fabulous actor. And hot. But here I kinda want to tranquilize him just by looking at the stills. Without giving anything away, anyone having fun watching Hanzawa Naoki? When I start watching I'll provide my two cents then.