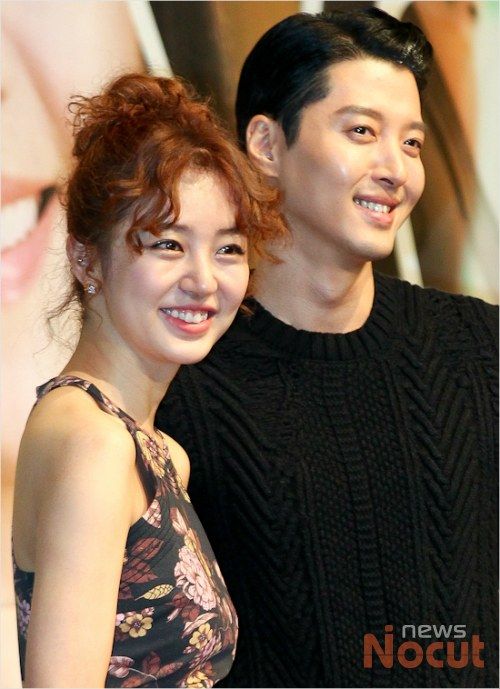 After the mega-sized drama press conference for Heirs earlier this week, it's a mite relaxing to see the much smaller cast of Marry Him If You Dare (Mirae's Choice) attend its drama press conference yesterday. Starring Yoon Eun Hye, Lee Dong Gun, Han Chae Ah, and Jung Yong Hwa, the drama is a late-comer to the time-travel trend in K-dramas and explore what would happen if one person went back to try and change her own matrimonial fate. This concept is not new to either dramas or movies, and I for one vividly remember the old TVB drama Cherished Moments, and C-dramas recently did a similar story called Fall in Love With You Again with Choi Siwon, Wang Luo Dan, and Yuan Hong that hasn't aired yet. The premise is always that fate and love can't be toyed with even if the intention is to not make the same choices, and I see the same trajectory from the most comprehensive 10-minute long preview to date. The press conference was a mish-mash of sartorial choices. Yoon Eun Hye continued her trend of wearing dresses made from a material resembling grandma's old flora curtains, but this time the cut was more fresh and flattering than the similar print dress she wore to the press conference of Missing You. Add to it she actually looks happy, well rested, and glowing here, I say this one was a win despite my wish that she ditch these prints once and for all. Lee Dong Gun and Jung Yong Hwa appear to have switched their drama character wardrobes, with Jung Yong Hwa going older man suit and Lee Dong Gun doing the all-black hip route. Neither looked very good IMO, but Lee Dong Gun was especially awkward in most of his pictures for whatever reason. Maybe he needs to ease back to seeing a bajillion cameras flashes in his face. While the press conference wasn't terribly interesting, the long preview which I've recapped below definitely is because it adds further color to the reason for future Mi Rae's insistence on changing her own marital fate. I'm a bit annoyed that she doesn't just mess with herself, what she does also breaks up the fate between Se Joo and Yoo Kyung as they were supposed to fall for each other as well. But now all four are criss-crossing their love lines, and I can only hope fate steps in and makes it all right in the end.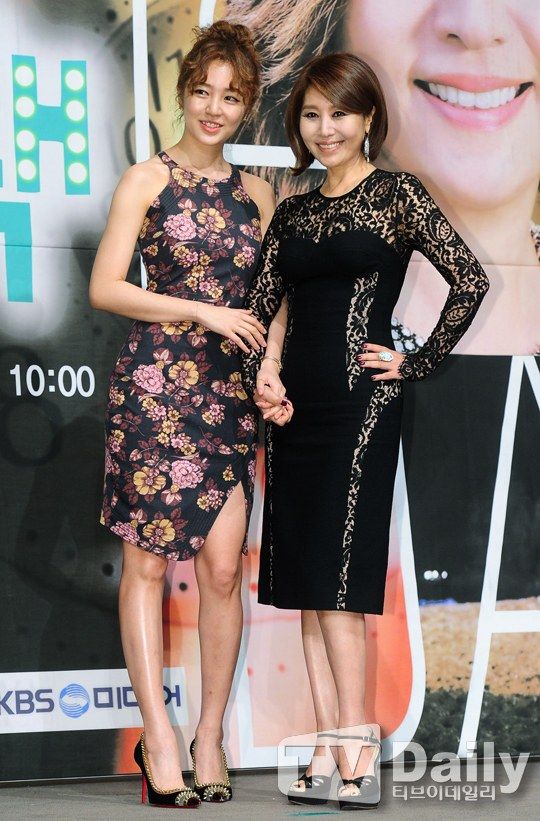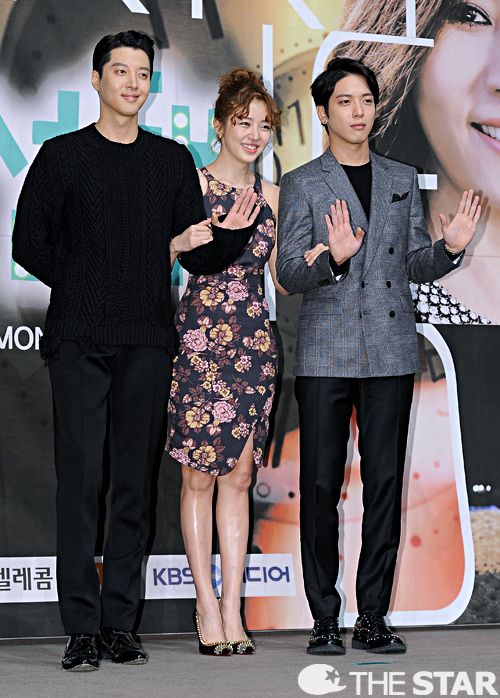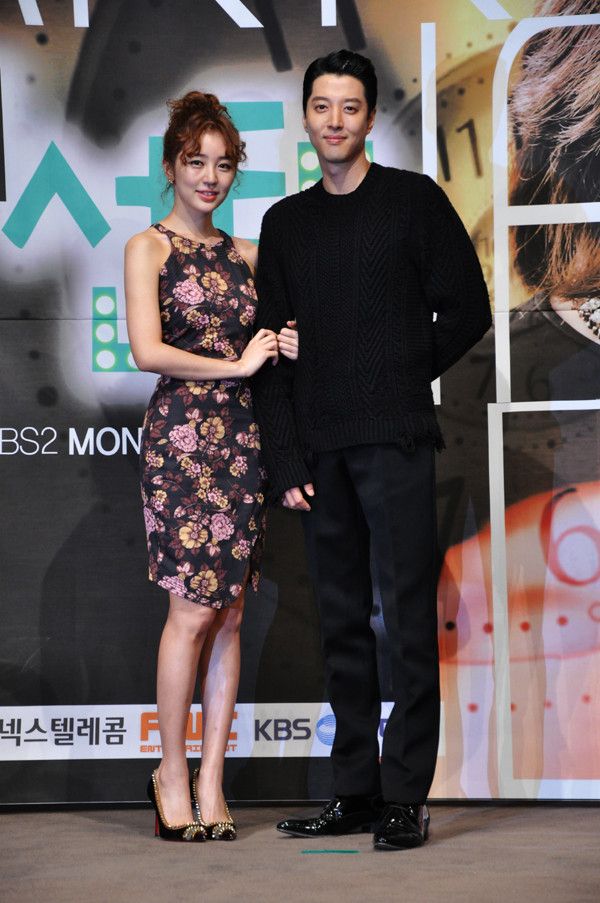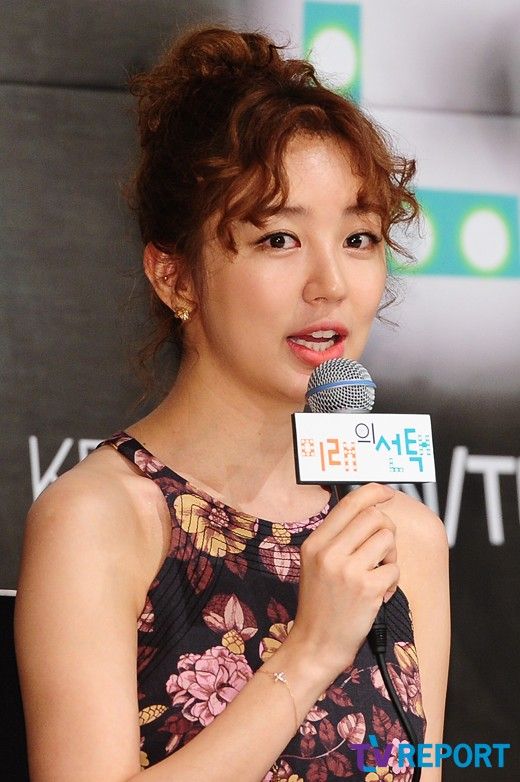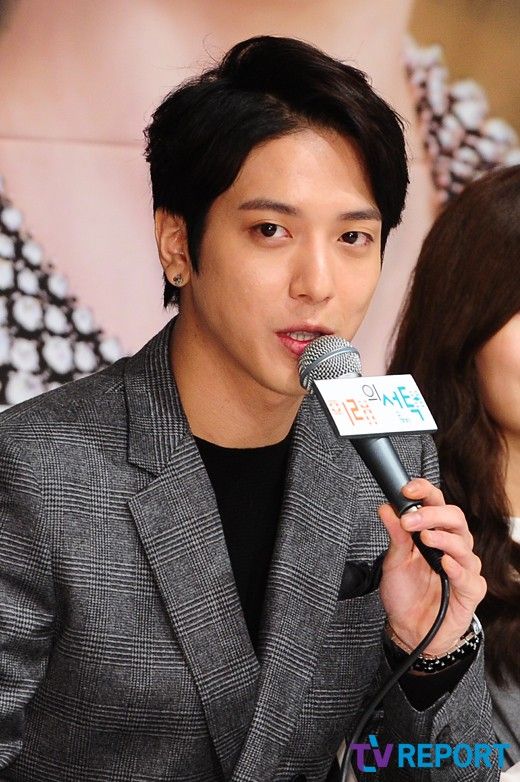 10-minute preview for Marry Him If You Dare:
Recap of the long preview:
Na Mi Rae is a hard working call center employee with dreams of being a screenwriter, Kim Shin a foul-mouthed but principled news announcer, Se Joo a chaebol heir posing as a VJ, Yoo Kyung a perky news reporter who asks Shin if he heard the rumor they are getting married and then gets upset when she buys Se Joo's drinks but learns he had three. We see the wedding of Shin and Mi Rae, and then the image splits down the middle as future Mi Rae gets into a time-traveling elevator of sorts. She apologizes to her hubby, but this is the only way and she must do it.
One day a strange woman approaches Mi Rae in the parking garage and tells her specifically not to take the third lane of the Sung San Bridge. As Mi Rae is driving, she's disbelieving, but ends up switching lanes out of the third lane. Which is when an accident happens that would have involved her but now doesn't. That accident is now between Kim Shin, who rear ends the car driving by Seo Yoo Kyung. What should have been Shin and Mi Rae's first meeting is now between Shin and Yoo Kyung, thanks to the meddling by future Mi Rae.
Future Mi Rae goes back to see Mi Rae and convinces her about the time-travel bit and insists that she will change Mi Rae's life for the better. She encourages Mi Rae to enter a company talent show and how to win the first prize tickets to Jeju, to quit her dead end call center job, and to keep pursuing her screenwriting dreams. Mi Rae wants her future self to help her win prizes but future Mi Rae says she's here to change her life. Mi Rae goes to Jeju and future Mi Rae specially asks the hotel if Park Se Joo is around, and the picture of Se Joo she is holding is actually one half of a cuddling couple between with Yoo Kyung but future Mi Rae ripped it in half.
Se Joo's grandmother the YBS President tells Shin that he can't be a news anchor because he's too old now and people want pretty faces. Se Joo sees Mi Rae walking into the ocean at night and trying to catch the swimming fishes and he's intrigued. Because of the accident, Yoo Kyung is in the hospital and did not end up going to Jeju, where she goes every year. Instead, Shin takes care of her in the hospital, and conversely Se Joo meets Mi Rae instead of Yoo Kyung in Jeju. Future Mi Rae has succeeded in changing four people's meeting fates.
Future Mi Rae pushes Mi Rae to confront all her dashed dreams and stop pretending everything is fine, and the dare to dream again. Mi Rae quits her job and as she's driving and talking with future Mi Rae, she gets into a car accident with Kim Shin. future Mi Rae tells her to avoid YBS because the guy there is the one who will cause the death of the person Mi Rae loves. So their meeting does happen inevitably, and its a car accident as well, just not the one on the bridge. Shin introduces Mi Rae to YBS networks and despite her uncertainty she ends up going to interview and gets hired. She runs into Se Joo in the video booth when she runs to hide.
Future Mi Rae is pissed and rushes to YBS to yell at Mi Rae that she specifically told her to avoid YBS! Mi Rae hides behind Se Joo and future Mi Rae is all excited to see him. Future Mi Rae tells Mi Rae that Se Joo is not a VJ, he's a secret chaebol. Future Mi Rae says that Se Joo is the one Mi Rae needs to grab to be her future husband, whereas the dude who was supposed to hit her car is the one she needs to avoid. Shin takes Mi Rae on a tour of YBS studios. They end up in the costume and prop room and they engage in round of cosplay. Shin dons a Darth Vadar costume while Mi Rae turns herself into Scarlett O'Hara. They get tangled together.
Future Mi Rae can tell Mi Rae is getting closer to Shin and asks if they are falling in love? Mi Rae says its just work. Future Mi Rae says that ill fate is still fate, and perhaps Mi Rae will marry Shin……just like she did. Mi Rae is disbelieving that future Kim Shin is future Mi Rae's husband, and asks if its true that Kim Shin killed the person future Mi Rae loves? Future Mi Rae sighs and says its all a lie and tells Mi Rae to forget what she said. Future Mi Rae says it doesn't matter anymore, because already the fates have been changed. We see Mi Rae and Se Joo listening to music together, Shin smiling at Yoo Kyung in the hospital, Yoo Kyung and Se Joo having a drink, and finally Shin leaning in to kiss Mi Rae.