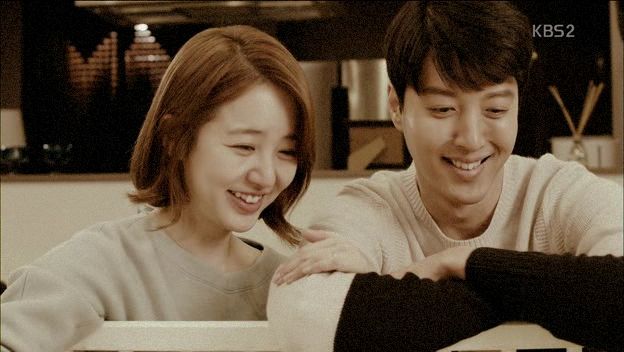 The was the best episode of Marry Him If You Dare (Mirae's Choice) to date, followed by the wonderful subway fire episode that brought the OTP past one hurdle only to later come up against a wall. This one showed us that the wall might really be there for a valid reason, but then also confirms that our four leads are thoughtful, strong, and complicated individuals that might have a chance to buck the odds. This episode should have happened about 4-episodes ago but I'll take what I can get and pray that the writer knows how to resolve everything. There is still almost zero romance to be seen, and I say romance meaning the spine-tingling falling in love feeling that so many K-dramas deliver even in nonsensical ways. What the drama has settled on is a feeling of caring, and suddenly we have people that care about others and not just deliver statements such as "I like you" or "Can't you see me?" Shin learns the whole truth and nothing but the truth from future Mi Rae, which includes the death of their son and something even more devastating than that. It finally shapes future Mi Rae's journey as one not framed around marrying rich or negating the birth of their son by preventing the marriage. We don't know what it is, but it must be a doozy by the way it affected Shin even more than learning he had a son with Mi Rae that both of their lapses in judgment resulted in his early demise.
We also finally learn what's up with Oppa's hot-and-cold attitude, which turns out to be a secret illness in the present that even future Mi Rae never knew about until now. This clarifies his harsh behavior with Mi Rae in forcing her to become independent and self-sufficient if he's not going to be around to take care of her much longer. It further colors why Oppa is as invested as future Mi Rae is in making sure Mi Rae's future is a happy one, rather than a risky one with Kim Shin. All of this actually delivers on the stakes and angst, too bad I've been waiting for so long I'm still barely caring. But this episode had so many lovely quiet moments from Se Joo's Jeju walk on the beach to his fireworks Christmas wish for Mi Rae all the way to how everyone saw the first snow of Winter and felt the cold blanket over them in a moment when each felt so hurt inside. This drama has been a struggle to slog through but episode 12 raised the bar and managed to make me love all four leads equally. The slow and inconsistent character development all came together and now I'm settled in for the final stretch of the ride no matter where it goes. I pray it goes somewhere extraordinarily satisfying. Come on drama, you can do it! You took a giant step forward today, don't take two steps back next week.
Episode 12 recap: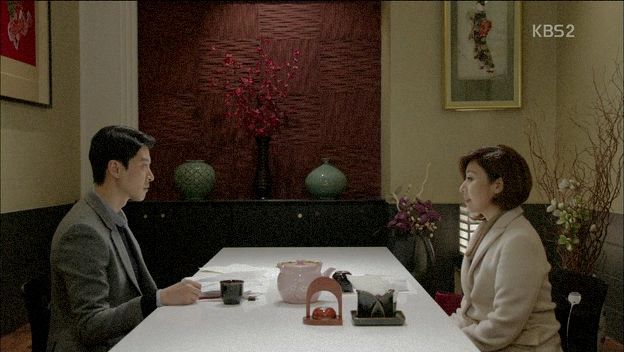 Future Mi Rae decides to keep outing her identity, especially now that things look dire since present Mi Rae is totally falling for Shin in earnest. Oppa arranges the dinner and tells future Mi Rae to say everything she needs to say. He goes outside and tosses Shin the envelope with the DNA test. Shin reads it in shock and future Mi Rae says she's the Mi Rae who came from the future. She drops the bombshell news that in 2014, she married Kim Shin.
Cut to the other tete-a-tete where Se Joo continues with his feelings for Mi Rae and pulls her aside to talk after she can't get into the house. He confesses he overheard what she said earlier. Does she not see him? Can't he be more to her? He said they could be friends but he only did it so she wouldn't run away from him. Mi Rae keeps saying sorry. She is sorry she didn't say no when he asked to be friends. She knows he's a good guy so she pretended not to see what he was really feeling. Se Joo asks why she likes Kim Shin? Because that ahjumma said she was future Mi Rae and she married Kim Shin? Mi Rae says no, it's not that ahjumma, she was always liking Kim Shin from the beginning. Se Joo says fate let him meet her first and he liked her from the very beginning.
Back to the dinner of dire reveals where Future Mi Rae is finally have a honest convo with Shin for once. She tells Shin that he is always being scouted, now and in the future. Soon YBS rival MTN network will scout Shin and give him a huge signing bonus and make him head news anchor. They were so happy and thought they would be set for life. Shin went to work at MTN but because of his stubborn personality he got in a fight with management and quit before he even got to be MC once. They were left with a broken contract penalty and a mountain of debt. Shin confirms this was the event that future Mi Rae said to him on air at the studio.
Future Mi Rae continues and says they were very happy still. They had a son named Gun, but their relationship with Oppa worsened. He wanted Shin to go to and MC at events but it was Mi Rae who didn't want him to since he used to be a famous MC and she didn't want to see his pride so harmed. But real life intruded and she started to resent him. In the end they would fight and she was so tired.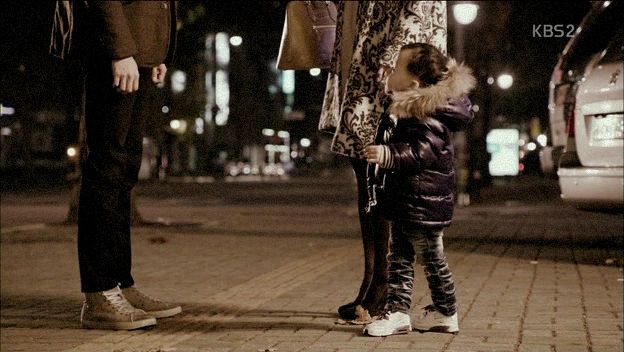 But they were happy because they had a son together, a little boy who learned to talk very early on just like his father. One night they were fighting on the street and Shin saw Gun wander away. Shin remembers future Mi Rae accusing him of letting "that person" die when they first met. Future Mi Rae cries and admits that she was just as much to blame because she also saw Gun wander away as well and did nothing because she was too preoccupied with arguing with Shin. As a mother how could she just focus on her own problems. As parents how could they be so self-absorbed. Future Mi Rae sobs and Shin looks so stricken. He reaches his hand out towards her but stops himself as she cries.
Mi Rae asks Se Joo to stop now. He confirms she wants him to stop liking her but he can't do it. Mi Rae doesn't want to see him so tired but he's tired seeing her not be happy. If he could see Kim Shin liking her as much as she likes him, then Se Joo will give up. He congratulates her on becoming an official writer and hands her a present. Mi Rae hesitates to take it so Se Joo sets it on the bench and walks away.
Mi Rae waits outside the house with the present and sees Oppa pull up with future Mi Rae. They all go inside, with future Mi Rae going up to her room to rest. Mi Rae is worried and asks what happened? Oppa pulls Mi Rae close for a hug and says she has to be happy.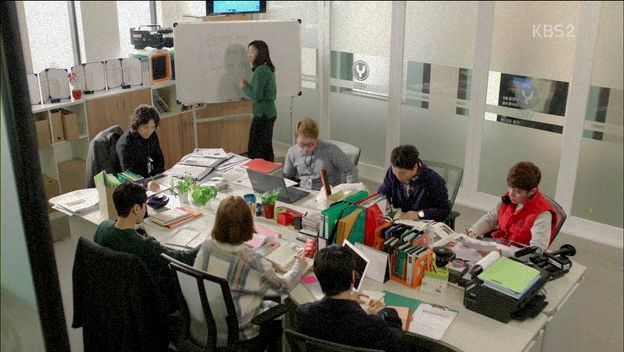 The Morning Team is at a meeting about their upcoming Christmas program and the topic is about how a single person can spend Christmas together because there are lots of single people in Korea. PD Lee says everyone here other than Writer Bae is single. Writer Bae says one doesn't know what will happen in the future and looks around at the love triangle. PD Lee asks if Shin has someone and he says no. The mood is awkward and everyone breaks to go brainstorm ideas. Shin gets a text from Mi Rae asking to have lunch together.
Shin walks to the restaurant and sees Mi Rae sitting inside checking her hair and waiting for him. Mi Rae sees him standing outside and waves him in. Mi Rae tells him to eat well because its her treat for becoming an official employee. She asks if he's not going to congratulate her and Shin asks if he hasn't done it yet? Mi Rae says they haven't seen each other since the program ended. He congratulates her and she asks why he's always just saying things like congratulations and I like you, as opposed to doing something. Her hands move as if she wants to reach for him but she doesn't. He asks what she wants and she laughs that he can't ask her. He needs to think about what she likes and make her feel like he put thought into it. Shin laughs and says he'll do that.
Oppa and Se Joo are walking to lunch and he sees Shin and Mi Rae sitting at the restaurant eating.
Mi Rae brings up what Shin said at the camping trip and she knows it must have been hard for him to say it. She apologizes for getting mad at him and from now on she will do what she wants. Right now Oppa is really upset because he's her only family member. But when time passes things will get better. She brings up their first meeting and laughs at how they could meet like that. She thanks him for all he said to push her and help her. Even if he doesn't say it, she knows he's always helping her. Mi Rae says its so magical to think that all their interactions, little by little it's led to them being together like this. She doesn't seem to notice that Shin has been very quiet this entire time. Mi Rae asks if he'll watch their Christmas program with her and Shin nods.
A little boy trips next to their table and Mi Rae goes to help the child. She's so tender towards him and Shin remembers future Mi Rae crying about how they could be parents and yet more focused on fighting than on their son? Shin gets a call at that moment from MTN network asking to speak with him and he realizes that future Mi Rae said is coming true.
Mi Rae is working with Writer Bae on their upcoming Christmas program. She asks Writer Bae for the name of the famous restaurant where they did a program before. Writer Bae teasingly asks if she's going with Kim Shin? Mi Rae makes a reservation there for Christmas dinner.
Yoo Kyung meets up with Se Joo at the bar and she says this is the first time he's called her out. Se Joo says this is the last time he'll meet with her as a VJ. He wants to buy her a drink to thank her for all that she's done for him all this time. Yoo Kyung wonders why so sudden and Se Joo says it's been in the works but got sidetracked because of Mi Rae. It's not happening right away but he's taking a few days off to go to the family vacation home in Jeju.
Yoo Kyung brings up how she was supposed to go to Jeju in the Summer as well. She then finds out Se Joo was in Jeju the same weekend she was going but ended up getting into a car accident with Shin. Yoo Kyung asks Se Joo if he met someone at Jeju that weekend and Se Joo just smiles but doesn't answer. Se Joo tells Yoo Kyung that he will always be her good friend no matter what position in life he holds. Yoo Kyung says "friend" and Yoo Kyung smiles and accepts it. She then reminds Se Joo that she doesn't like being his friend before leaving with a smile. God I love them together.
Shin stands in the office late at night by himself and answers the call from MTN. Mi Rae comes home and finds future Mi Rae sleeping in her room. She sits down at the edge of the bed and wonders if future Mi Rae is sick? The fact that her hair is turning silver overnight apparently doesn't alarm Mi Rae. She lays down next to future Mi Rae and apologizes for not following her suggestion. But she will work hard and not be unfortunate. She will do her best so that future Mi Rae doesn't have to ever come back again.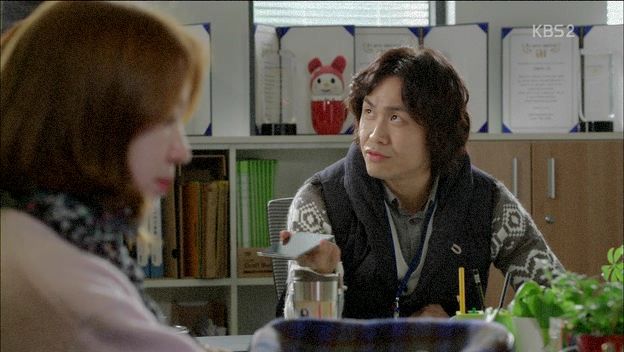 The Morning Team holds a meeting and everyone teases why Oppa and Mi Rae doesn't come to work together since everyone knows they are siblings. Oppa seems tired and Mi Rae mutters that he needs to drink less coffee. Oppa gets back-to-back calls from Shin and Se Joo saying they are taking time off.
Shin meets with the NTN person who offers Shin a position as their main anchor. He asks Shin to meet with their Vice President lady to discuss the offer. Shin closes his eyes, upset that future Mi Rae's words are coming true.
Yoo Kyung is called in to see Miranda who wants to talk about the ahjumma Na Mi Rae. Yoo Kyung says that Mi Rae is the young Mi Rae's future self, back from 25-years in the future. She wants to change the past and get Se Joo and Mi Rae together. Miranda doesn't care who future Mi Rae is, whether she is a fortune teller or someone from the future. She just cares if someone can aid her. So even if Mi Rae isn't in the position next to Se Joo, it's not a position that Yoo Kyung can ever hope to sit in. Yoo Kyung laughs and says she is just friends with Se Joo.
Se Joo drives in Jeju and goes to walk on the beach. He remembers his first sighting of Mi Rae in the ocean and then putting her to bed. He stands at the edge of the water and looks very sad.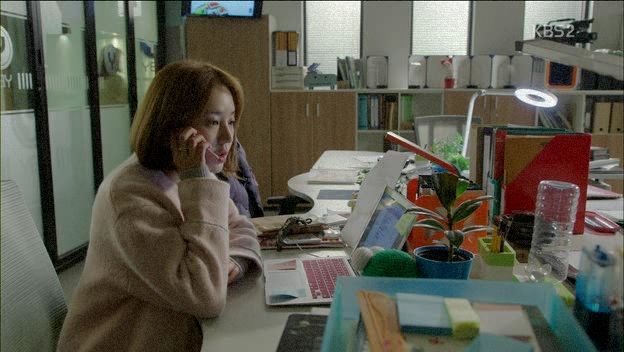 Mi Rae tries calling Shin but he's turned his phone off. She texts him and asks him to call back. Shin reads the text and he's sitting across from future Mi Rae.
Shin reveals that NTN has come calling just like she said would happen. What she said was too much for him to process all at once but now he's finally digested it. He asks why she doesn't go just back to the time of the accident to save their son? There must be more, there must be something that needs her to come back to this time to prevent their marriage. Future Mi Rae nods and Shin asks what it is.
Mi Rae is walking with her friend who is so impressed with all her successful programs. The friend asks about Announcer Kim and she heard he was dating the 3rd daughter of a chaebol group or a famous actress. She calls Kim Shin a playboy and Mi Rae says no way. They see Shin walk back to the network and Mi Rae goes up to ask him if anything is going on. Shin looks dazed, clearly whatever future Mi Rae said to him was devastating. He says he's been busy and when Mi Rae tries to introduce her friend, he just walks off.
Mi Rae is at the office and when she walks out, Se Joo walks inside and looks around. He sits down at Mi Rae's desk and touches her items on the desk. He texts her about the filming tomorrow for the single person Christmas event program. She texts back and asks if he's feeling better. Se Joo texts back yes and then leaves his resignation letter on Oppa's desk.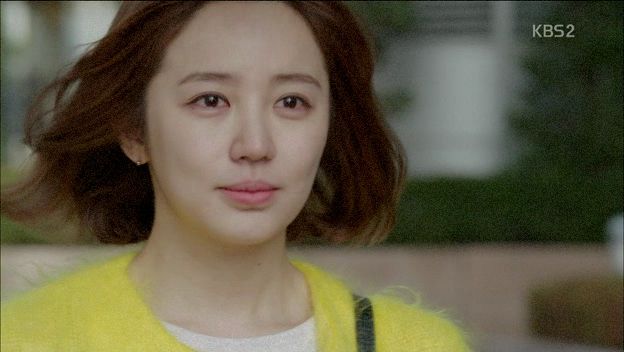 Mi Rae and Se Joo meet up the next day for the filming. Both of them are awkward when they first meet but Se Joo breaks the mood by smiling which gets Mi Rae to smile as well. They go to the movie theater which is the first option for singles to spend on Christmas day. Mi Rae buys four tickets and plans to watch multiple showings. Next they go to the amusement park. Finally she goes shopping to buy herself a present.
Mi Rae and Se Joo are filming outside where she jogs to stay warm. They then walk by the Han River and Mi Rae thinks they are done filming. Se Joo says there is one more activity, he saved the best one for last. Se Joo turns and wishes Mi Rae a Merry Christmas. He's saying it earlier because he doesn't think he can say it to her that day. She asks if he's going somewhere. Se Joo hugs Mi Rae warmly just as the fireworks are going off over the Han River. He laughs that he had to hold it in until this very moment. He pulls back and tells her to take care of herself before walking off. Mi Rae looks up at the exploding fireworks as Se Joo gets into a chauffeured car.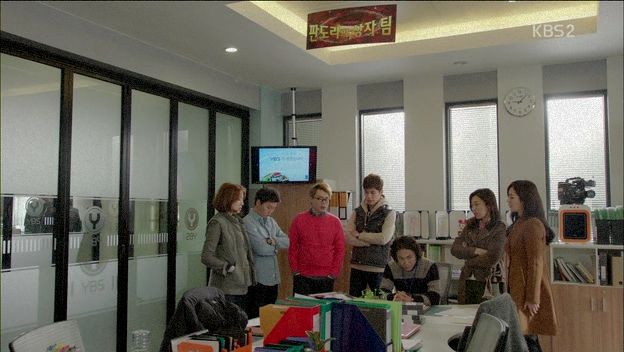 The Morning Team gathers to complain about how Se Joo quit so abruptly. Oppa asks Yoo Kyung and Mi Rae if they knew anything and both say they didn't know. Mi Rae goes outside to answer a call from the restaurant to confirm her dinner reservations for Christmas. She texts Shin about meeting earlier at dinner before they can watch the Christmas program together.
Christmas Eve arrives and the entire city is blanketed in Christmas cheer. The Morning Team is putting up a Christmas Tree and someone calls for Se Joo only to remember he quit already. Mi Rae narrates that Christmas makes one think of a miracle, like an old friend coming back or a lover calling after a long absence. Mi Rae tries calling Shin but gets no answer still. Even if Christmas doesn't bring a miracle, she still has hope. She hopes this is the best Christmas of her life so far. Mi Rae sits with Writer Bae who compliments her on a well written script for this program. She tells Mi Rae that Shin has extended his vacation probably because so much has happened in his life lately. Mi Rae finally gets a confirmation from Shin that he will meet her at the restaurant and it makes her so happy.
Mi Rae happily gets dolled up for her date with Shin and heads out. She walks into the restaurant and is led to her seat. She spots Shin sitting already and smiles, only to suddenly see a woman sit down across from him. She sits down at her own table where she has a view of him dining with that woman. God this must hurt.
Se Joo is working and gets a call from his chaebol buddies to come out drinking. Yoo Kyung walks outside and sees all the couples spending the holiday together. She gets a call from the YBS department head who calls her to join them at a gathering. She tries to decline but he hangs up.
Yoo Kyung goes to the bar and sees a bunch of old dudes sitting at the table. She turns to leave and runs into Se Joo. He asks if she's still meeting with those chaebol guys? Yoo Kyung is so upset and is about to storm off. She turns around and lies that she still comes here all the time and there isn't anything wrong with that. The department head goes to get her and brings her to the table. Se Joo watches as she's introduced as the prettiest reporter at YBS and then sits down where the guys pour her a drink and start getting close to her.
Se Joo goes to join his chaebol friends in the private room. Yoo Kyung goes up on the stage and sings and dances for the guys as their entertainment. She ends on one final song since she has a 5 am broadcast tomorrow. Se Joo comes out and sees Yoo Kyung singing as entertainment for those old guys. Yoo Kyung finishes and grabs her things and walks out right past Se Joo.
Se Joo follows her outside to see her crying by the side of the building. She knows she's pathetic but he apologizes for misunderstanding her back there and offers to take her home. Yoo Kyung says he can misunderstand because she doesn't care anymore what he thinks of her. Yoo Kyung walks away and Se Joo lets out a big sigh.
Mi Rae dines all alone while watching Shin eating with that girl. She finally can't take it anymore and calls him. She looks over and he clearly sees his phone ringing but he doesn't answer it and turns it around. This hurts me so much, for both of them. Mi Rae walks out just as Shin and the girl are toasting. Shin sees her leaving and the looks forlorn but resolute. Turns out the girl is the Vice President of NTN and tells him to relax, she's not here to meet with him in her official capacity but just as a fan.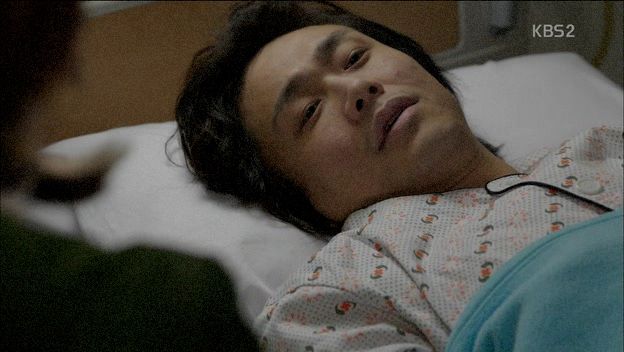 Mi Rae goes home and finds the house all empty, with two glasses left on the table. She goes to Oppa and future Mi Rae's rooms and finds no one there. She sits down on this lonely Christmas Eve and takes out her phone to call Oppa only to find that he's left his phone on the sofa. Oppa is in the hospital with future Mi Rae beside him. He asks if she learned about his illness and turns out she never knew until now. She asks why he's been keeping his illness a secret? She tells him to do a full check up at the hospital but he just wants her to keep this from Mi Rae.
Mi Rae settles into the sofa and watches the Pandora's Box Christmas program all alone. Shin ends the dinner with the VP and sends her off. He looks up at the night sky when the first snowflake falls. This is just so lovely. He reaches his hand out and the first snow starts to come down in earnest.
Se Joo is being driven home and he notices the snow as well, lowering his window to stick his hand out. Yoo Kyung is standing outside as well and she also puts her hand out to catch a snowflake. Future Mi Rae tells Oppa that it is snowing and they both look out the window.
Shin arrives at work and Mi Rae is waiting for him outside the studio. They go up to the roof to talk and she asks him what happened yesterday? Why was he with someone else at the same restaurant when they already made plans? Shin asks why she can't read his clear signs and just leave? Mi Rae asks what is going on, especially after he said that he likes her. Shin says it was a spur of the moment thing and he's sorry for it. Mi Rae thought they felt the same way but Shin says that is not true. Mi Rae asks if something happened but Shin just says he doesn't like her. Mi Rae is totally devastated and walks away crying. Shin stands there looking at her as she leaves.
Shin gets into the elevator and goes to the top floor of the network where a YBS management meeting is about to take place and he's the MC. Shin reads the script and realizes what is happening. Miranda comes in and everyone sits down.
Shin starts to read from the script and this is a meeting where Chairman Miranda is about to introduce to the directors the next Chairman Park Se Joo. The door opens and Se Joo walks in. Shin and Se Joo stare at each other.
Thoughts of Mine:
If this drama wants to keep its slow pace, this episode at least delivered some emotional resonance with how all the characters processed so many harsh realities. I still wished future Mi Rae came out and told the major players the truth from the beginning, her early stage antics still come across as wholly incongruous to the truth she holds inside of her. I appreciate that the future isn't all bad, and that Mi Rae played a part in how life with Shin unfolded. They are both flawed and made bad choices, but their love was real and their marriage was happy at times. It was Mi Rae who didn't want Shin to do other menial gigs, that was a shocker to discover, and I appreciate that future Mi Rae owns up to her own failings. That includes her culpability in the death of Gun, a horrible judgment choice on both their parts. But if Gun died so young, Mi Rae and Shin spent another 20 years married before she hopped on the time machine for the travel back. What happened during the time? Is the other shocker future Mi Rae revealed to Shin, and the real reason for why she is trying to prevent Mi Rae from marrying Shin, occur during that time? It has to be, because Gun's death would at most make Mi Rae divorce Shin and go start afresh. There is no reason for her to stay with him unless they do love each other and chose to stay in the marriage. I'm glad future Mi Rae isn't ridiculous enough to negate the existence of their son solely because he later died which is just nonsensical. Since future Mi Rae hasn't talked to Oppa in 20 years and didn't know present day Oppa is sick, I'm guessing it has nothing to do with Oppa either. My guess is once again that Mi Rae is trying to save Shin, and that its her love for him that is the driver for this whole trip.
This was the episode where I fully connected with Se Joo and now love him as much as I do the other three leads. His character has finally matured a bit while still remaining true to himself. Everything he said and did in this episode with Mi Rae was something I approved of and enjoyed watching. I liked how he told her that he is allowed to still like her, and he would be able to let go if he knew she picked someone who was going to make her happy. He didn't impose on her and also stopped trying to use being friends to stay close to her. Mi Rae was also pretty awesome in this episode, being direct with both Se Joo and Shin and allowing her attitude to remain unwavering and sincere. Her character growth has been subsumed by the mystery of the time-travel but we can finally see that she has come into her own and is a completely different person now than at the beginning of the drama. I'm upset that Shin is hurting Mi Rae but at least this isn't noble idiocy at work. Whatever he learned about the future is clearly that devastating that a man who believes that he can make his own destiny is for the first time letting destiny control him. At least the drama let Mi Rae and Shin have a wonderfully low key lunch date, one where he clearly tries to stay distant but can't help himself and be pulled towards her. This drama fails in showing us the romance but does explain why the OTP is meant to be – with Mi Rae saying that she is just pulled towards Shin and everything he does she sees has helped her and made her better, while Shin is disarmed by a Mi Rae that pierces his rude and aloof shell and questions his attitude in life. If only the romance was dialed up then this OTP had a chance to be so much more memorable.
Yoo Kyung really shined as well and its such a shame some viewers have already written her off early. She's such heartbreaking character, with hard working ethos but no proper stage for her to showcase herself other than being a ditzy reporter to win some chances. Her entire emotional arc with Se Joo is just brilliantly done, without any manufactured selfless niceties but instead a fierce desire to protect Se Joo while at the same time hoping he would notice her. I get why she's trying to get to the bottom of the time-travel mystery because it matters to her that her fate with Se Joo may have been stolen from her. In the same way, we applaud Mi Rae for fighting for her right to pick Kim Shin. These two women know who is the man each loves and won't quit easily. What makes episode 12 so heartbreaking is that the whole fate thing seems to have finally worn them down. When Yoo Kyung told Se Joo that she didn't care anymore that he misunderstood her, I wanted to applaud her for being such a proud woman in front of him. I think by giving up she might actually make him realize the totality of Yoo Kyung and also what she means to him. With Mi Rae, Shin's Christmas Eve dinner dagger was a devastating blow indeed but she knows future Mi Rae has been interfering and I hope she goes to confront her to find out what exactly she did to make Shin so cold to her. I want all four characters to stay smart and thoughtful, trying to win their happiness but not at the expense of being strung along by future Mi Rae's dire tales of future woe.
Click here to watch Marry Him If You Dare.