I have to confess I almost dropped Empress Ki about 10 minutes into episode 1. It happened at the scene where second male lead Ji Chang Wook as the Yuan Emperor Huizhong (nee Ta Hwan) whined like an insecure kid towards Joo Jin Mo as the Goryeo King Wang Yoo about whether Wang Yoo still loves Seung Nyang played by Ha Ji Won. Bearing in mind this was Ta Hwan's coronation ceremony to make Seung Nyang his Empress, and all I saw was a boy bleeting about how much he lurves Seung Nyang and way more than Wang Yoo so neener neener. My head hit my desk and I pressed stop on the video. It was days before I made my way back, and thank god I did because Empress Ki has turned out ever so watchable. It bills itself as a sageuk (which means historical drama), and in the olden days of yore in K-drama land that word "sageuk" actually meant something. It meant a dramatization of history, with some fictional license, but by and large it was merely putting dry history from the pages transformed into the big screen with pretty people acting it out. Now sageuk means that all the way to straight up fantasy make-believe but slapped with the names and events from history.
The latter is what Empress Ki is, zero historical accuracy other than borrowing names and major events, but it acknowledges it with a huge disclaimer that this story is all made up. I'm good with that and off we go to the races! This drama is fun and fast, utilizing its talented sprawling cast marvelously. Episode 1 starts with a mid-drama open showing Seung Nyang becoming the titular Empress Ki, but that's nowhere as riveting as when she looks at her future husband Ta Hwan like she wants to string him along on a leash in between shooting devastating lovelorn looks at Wang Yoo. That was the moment I was sold on his drama, with an OTP of Goryeo King Wang Yoo and future Empress Ki Seung Nyang that is epic and cannot be, but perhaps with all the fictional license this drama can give them a happy ending? I'm onboard for all 50-episodes dying to find out. Check out my OTP recap from the first 7 episodes and hop on this steam rolling drama train with me. So far there is more romance between the OTP in 7-episodes when he spends most of the time thinking she's a man than in the entirety of Goddess of Fire.
The drama starts with Seung Nyang marrying Ta Hwan, which has about as much romance as marrying your nemesis to stab him during the wedding night. Put aside His Supreme Whino and his need to announce to rival Wang Woo that "Seung Nyang is all mine", Seung Nyang could probably break his arm with a flicker of her pinky, and that amuses me to no end that she's marrying him to advance her own interests while he's wallowing in his own one-sided love. It also starts the OTP angst wagon when Seung Nyang spots Wang Yoo in the crowd of thousands, standing in the far back to watch her marry another man. He can't get any closer because his heart will literally break, but he also can't bear to not see her one more time.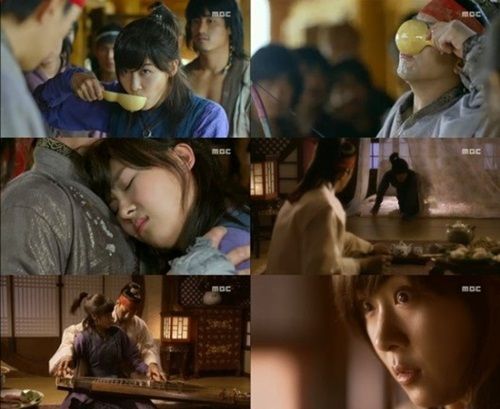 Rewind back to the first meeting of the OTP, hoodlum gang boss Seung Nyang is challenged to an arrow shooting contest by pretend hooligan Wang Yoo. Loser has to listen to the winner. Seung Nyang puts up a valiant effort but passes out drunk in Wang Yoo's arms, and then barfs on him. Seung Nyang may have ended up losing but she won herself a King's heart so I think she's the ultimate victor.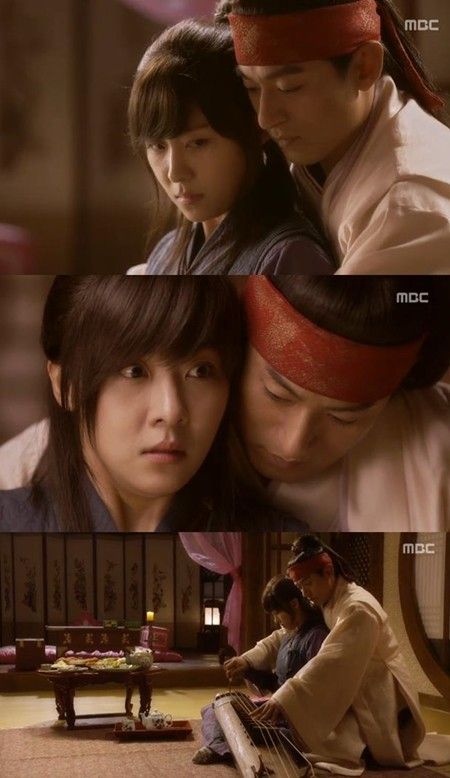 Seung Nyang wakes up from passing out drunk and finds herself in Wang Yoo's room. She sees him playing an instrument and he offers to teach her so she can impress the ladies. LOL. His idea of teaching is the sit behind her and make her all tingly and uncomfortable with the male awareness. I approve of this type of homo-erotic subtext skin ship.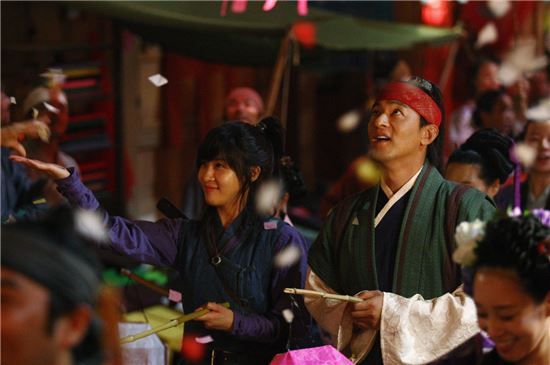 They spend a night out at the festival and it's as magical as it gets in sageuk land.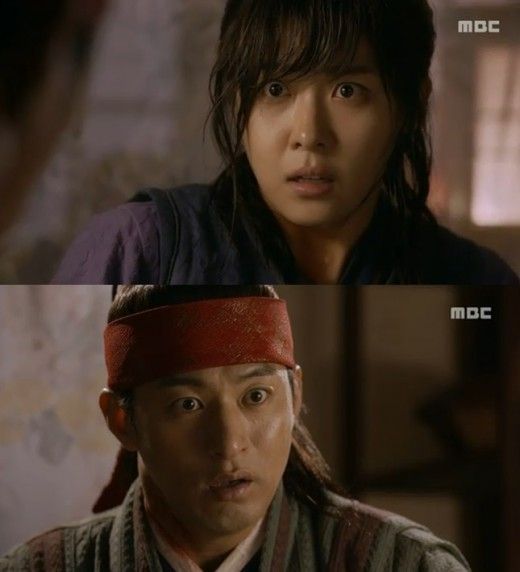 She takes an arrow to the leg to protect him. He princess carries her back home despite still thinking she's a guy. She slaps him when he tries to bandage her up. These two with constant skin skip. I can't get enough of it.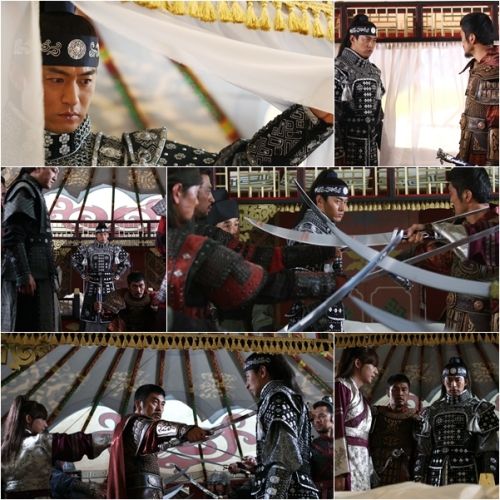 Seung Nyang leaves on a mission that takes her to the camp of the exiled Yuan dynasty crown prince Ta Hwan. The Yuan dynasty prime minister is in cahoots with the Goryeo minister to assassinate the crown prince while on Goryeo territory, eliminating him and pinning the blame on Goryeo and thereby take out the Goryeo crown prince Wang Yoo. He hears about the plot and races to save Ta Hwan for the sake of saving Goryeo from becoming a Yuan colony.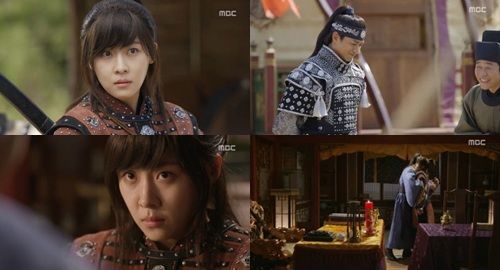 Seung Nyang ends up being the one to discover Ta Hwan survived and she reunites with Wang Yoo and discovers he's the Goryeo crown prince.
Wang Yoo is way too happy to see Seung Nyang again. He gets down to her level to talk to her and then pulls her up for a hug.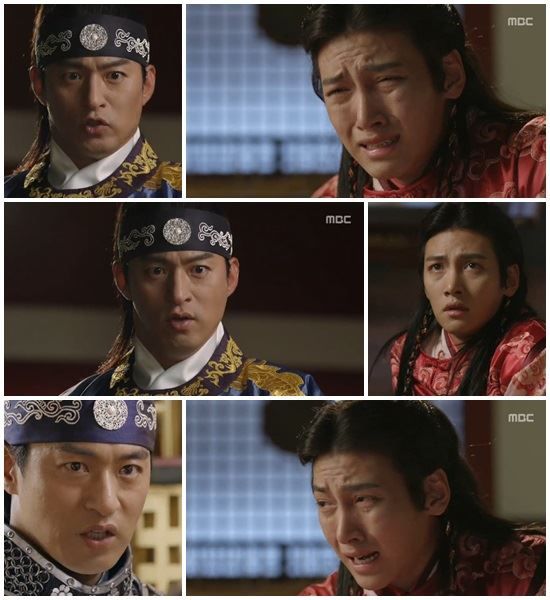 It's a man vs. boy showdown as Wang Yoo lights into the sniveling Ta Hwan about why he is still alive and if he were to die he better do it back in Yuan territory. I actually like Ta Hwan, he's smart but plays stupid and is hilariously emotional. Ji Chang Wook plays him well, except his character isn't compelling in the least as a contender for Seung Nyang's heart. He's like a little puppy following her around. Seung Nyang needs a man, not a puppy.
Wang Yoo gives Seung Nyang a mission to accompany the Yuan crown prince Ta Hwan to his exile and keep him safe. She ends up escaping with him when the assassins come again to kill him. Wang Yoo tries to race to save her but sees her and Ta Hwan falling down a cliff. They both survive and his relief that she's alive earns her yet another hug.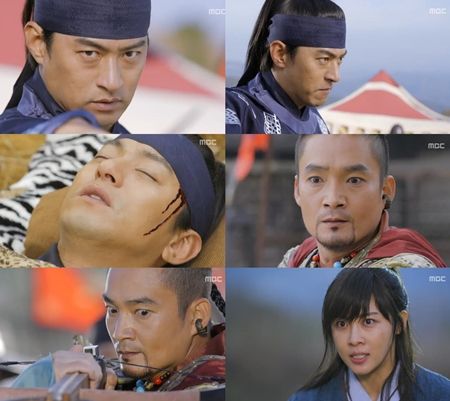 Ta Hwan betrays Seung Nyang and Wang Yoo and lies that Seung Nyang's father a Goryeo general was the one who tried to kill him. This results in daddy's death, Seung Nyang's eternal hatred for Ta Hwan, and Wang Yoo being taken a Goryeo crown prince hostage to the Yuan dynasty. Seung Nyang is also taken to be a slave. Along the way, Wang Yoo takes an arrow to stick up for the mistreatment of Goryeo hostages.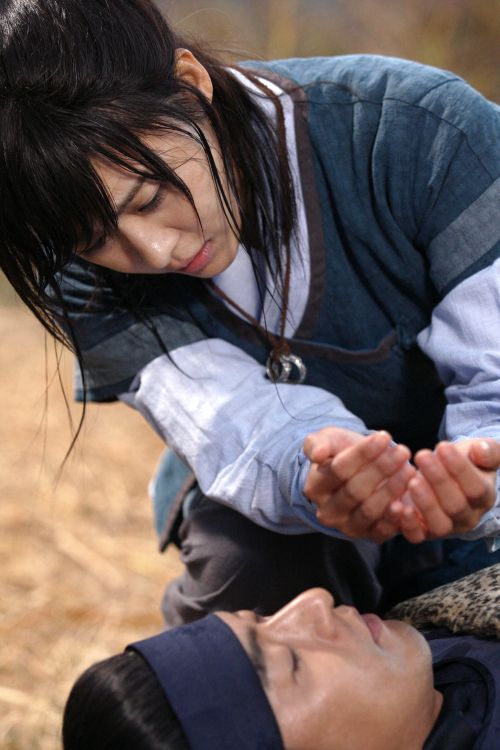 Seung Nyang drags him on a board behind her to keep up with the Yuan convoy so that he isn't left to die. It's not everyday that a leading lady is as tough as her leading man.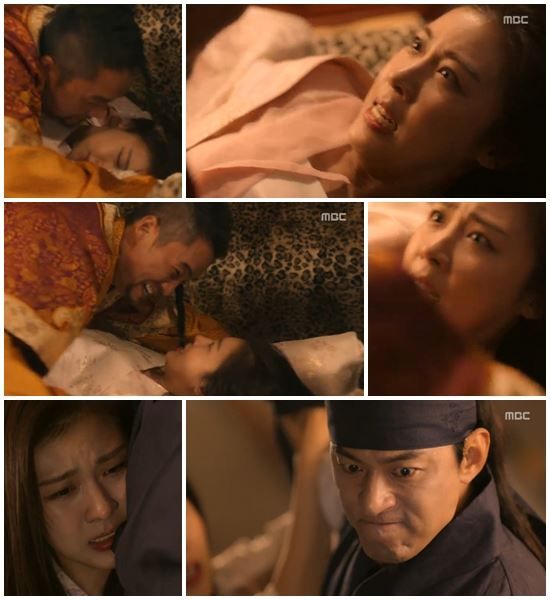 When Yuan general Dangkise learns that Seung Nyang is a girl, he has her dressed as one and taken to his tent to be ravaged. Wang Yoo arrives and beats him up, but Seung Nyang keeps him from killing Dangkise otherwise he'll be killed as well.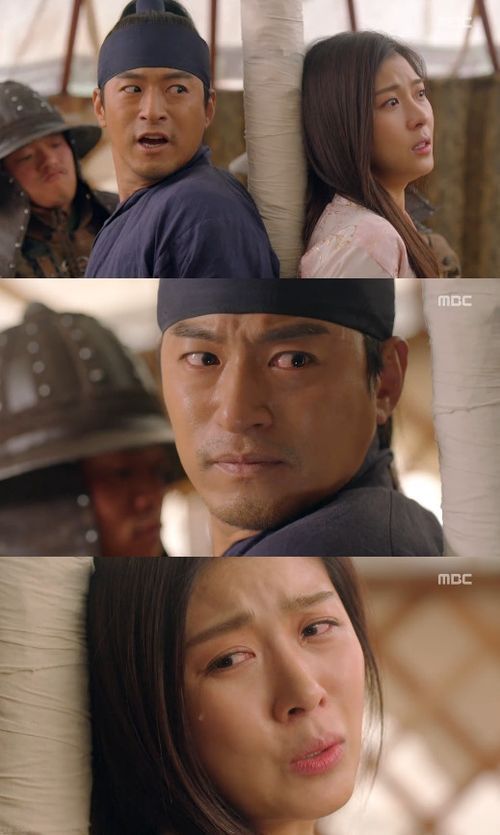 They are tied up back-to-back in a pole all night. She asks if he's mad that she lied about her gender. He is clearly not mad and just upset he can't get her to safety.
When they are forcibly separated, with Seung Nyang being taken to the Yuan capital to be a palace slave while Wang Yoo is sent to the war torn borders where he"ll likely die, the way their hands are loath to separate speaks volumes.
My two sets of OTPs. Seung Nyang+Wang Yoo = for love of Goryeo patriotic dignity and kindred spirits that transcend class. Ta Hwan + Tanasiri = for the good of the Yuan dynasty and hilarity all around. Because this drama is pretty much pure fiction, I like how MBC changes Empress Ki from a traitoress to a patriot in the eyes of Koreans since she married into the oppressor Yuan dynasty and rose through the ranks there and joined in the subjugation of Goryeo people. Now she's a red-blooded Goryeo citizen who wants to free her people from Yuan dynasty oppression. Her love with Goryeo King Wang Yoo makes her marriage to Yuan Emperor Ta Hwan acceptable since she is sacrificing the man she loves for the country they both love. I heard a spoiler rumor that this drama will end with a Da Mo Yao ending for the OTP. I'm positively giddy with glee since after this whole shebang both the Goryeo and the Yuan dynasty doesn't last for much longer anyways.
Ha Ji Won and Joo Jin Mo are even perfect together at the press conference in complementary black and white.
[youtube id="suI3IBWOefw" w="650″ h="450″]
They are tied up on a pole back-to-back. Promising they will stay alive for each other. He tells her that he will come back for her. She tells him that she will wait for him. The way they grab each other's hand. How they cry for each other even in front of their enemies. When he's dragged out, the way he turns back to look at her and never lets his eyes leave her. How she calls out for her Jeonha and he screams out her name. This tough girl who never cries for anything as she's survived it all, she's sobbing with worry for him. Guh.
[youtube id="T9qjqDPwgKg" w="650″ h="450″]
Their first meeting is an archery showdown. After drinking. This one needs no discussion, just watch and laugh. OTP for life after this meet cute to end all meet cutes.
[youtube id="jwWX9r144YQ" w="650″ h="450″]
They go out to the night festival. She takes an arrow in the leg for him. He princess carries her back to his place. He tries to bandage her up and gets slapped for his trouble.