I'm having a hard time writing about Miss Korea after catching up on the last four episodes in one sitting because its just that good I don't even know where to start. I put this drama on the backburner for the last two weeks as I was traveling plus the first four episodes were extremely well done but not quite cracky enough for me to anxiously await each new episode. That's all changed now. Oh. My. God. Is. This. Drama. Awesome. It's so good it might be the best prime time drama airing right now in terms of writing, directing, and acting. And above all else, there is so much heart in the story and the characterizations. The Pasta duo have done the near impossible, which is to capture the delicious nuanced characterizations and chemistry of Pasta and fix the one thing that drama lacked which was an overarching purpose. MK is absolutely compelling and each episode makes me actually choke back tears because I hurt when the characters hurt. It's not just the leads but all the characters are so dynamically rendered this is like a buffet where each item you pick up is something tasty. Lee Seon Kyun is fantastic as cosmetics company president Kim Hyun Joong who at the verge of bankruptcy and finds his high school girlfriend Lee Yeon Hee as Oh Ji Young in one last ditch effort to make her the next Miss Korea so she can endorse their magical product the ViVi cream.
Lee Seon Kyun being good is a no-brainer but holy freaking hell I am bowing down at the jaw-dropping performance of Lee Yeon Hee so far. She is so good she might be the best of the three SM actress transformations including Yoona in Prime Minister and I and Go Ara in Answer Me 1994. Just go back and read anything I wrote for Gu Family Book or Paradise Ranch and I've ripped her to shreds easily because her level of suck used to be incredible to behold. Take that level of bad acting and flip it around and that is how good she is here. I love Ji Young and Lee Yeon Hee's steely and soft performance is the stuff she will be able to take to the bank afterwards as validation that no award can impart. Episodes 7 and 8 are especially funny, exhilarating, and tense all wrapped into one. The best part is how raw and dynamic this drama feels, taking the heightened world of beauty pageants and giving it genuine stakes for both Ji Young and Hyun Joong. Both of them are there for and knowingly using each other because neither have anything to fall back on. It's this back to the wall guts and strength of the OTP that makes me gasp in pain when they face adversity and make tears come to my eyes when they stand up and move past a failure. I love all the supporting characters as well and I could write a paragraph on each of them alone. MK has it all and with the hot off the press release of the main OST containing three songs performed by Every Single Day (my fave being the soaring "New World") and with half the episodes in the bank, now is the time to dive right on in folks.
The weakest parts of Miss Korea are probably the first four episodes. Its harder to watch all the leads struggling with such dire problems and without a team to root for yet. The drama starts off with Ji Young working a dead end job as an elevator girl for a department store, armed with a beautiful face and a backbone but forever degraded by a sleazy boss and the mind-numbing grind. But her life is at least a better that that of her high school ex-boyfriend Hyung Joon who is now the president of Vivi Cosmetics Company which is struggling to stay afloat with creditors breathing down his neck. His fate becomes intertwined with that of gangster Teacher Jung who has to collect the Vivi debt back at any costs. Hyung Joon sees a sliver of hope in the creation of the miraculous new invention called the Vivi Cream pioneered by his whip smart and take no attitude R&D head Dr. Ko. If he can get an investment into the Vivi Cream or a face to rep the new product then the company could be saved. His path crosses with Ji Young and he offers to turn her into the next Miss Korea. Unbeknownst to Hyung Joon, beauty queen maker and former Miss Korea Ma Ae Ri also has her eyes on Ji Young to take under her wing to avenge her lose of last year's Miss Korea crown to a girl who came out of the rival salon run up the upstart Yang Choong Ja. Ji Young has the most wonderful family of all men consisting of a grandfather, an uncle, a cousin, and a dad she calls mom. After enduring yet another series of humiliations at work and life, Ji Young decides to gamble it all on her one last shot at doing something with her life. She accepts Hyung Joon's offer to make her the next Miss Korea.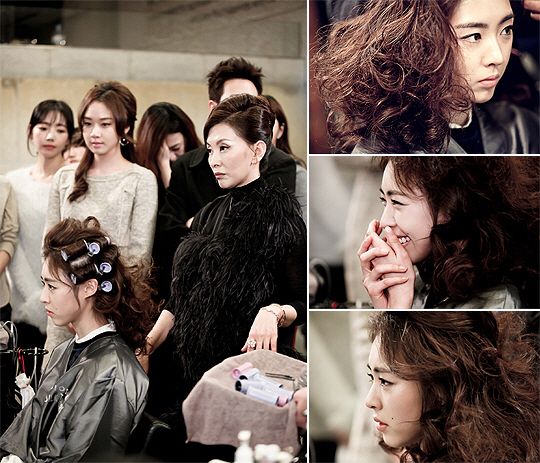 What makes this story a meaningful watch is how complicated this journey is to Miss Korea. Ji Young and Hyung Joon have a history together that is slowly revealed through flashbacks. They are neither friends nor foes and their conversations and interactions are illuminating yet the whole of their past relationship remains shrouded in mystery. They are like friendly exes and oppa-dongsaeng but its clear there is still something present between them. Ji Young's first attempt at winning a local beauty pageant shows her its not about what she has to offer but who is behind her to shape her evolution. She ditches Hyung Joon's ragtag bunch and throws her lot with storied queen maker Ma Ae Ri, a woman who has ice water in her veins but turns out to care about Ji Young and treat her with honesty and acceptable. Her candid suggestion for Ji Young to get breast implants ends up with Ji Young realizing that she wants to win but not at all costs. Ma Ae Ri lets Ji Young go and turns her attention to another prime candidate Kim Jae Hee, an illegitimate daughter of a powerful politician who is looking to step into the limelight after a life in the shadows. Ji Young returns to Hyung Joon's side and decides that she's going to use Vivi as much as Vivi is going to use her and they are in it together. Ji Young's family is predictably outraged that she's going to bare her body in a swimsuit and swan around on stage for some sleazy pageant and tries to bring her home but Ji Young's determination wins out and she makes it onstage in episode 8 for the Miss Seoul pageant. She needs to be one of the top-3 finalists to enter the Miss Korea pageant and despite the odds she rallies through the pageant organizers getting orders to tank her chances as well as the other girls ganging up against her. Episode 8 ended on a major cliffhanger emotionally but narratively I know its not the end of the road for Ji Young and everyone at Vivi whose hopes hinge on her.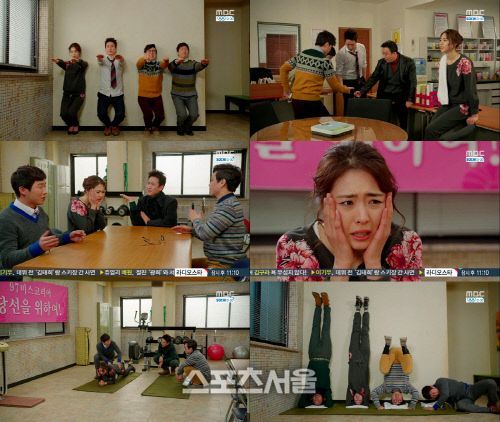 What I love about MK are the strength and resilience of the characters, taking me along their hard fought every victory no matter how big or small. Sometimes we watch dramas where the motivations of the characters feel so petty. They are making a big deal of what is really nothing all that dire and raising hell to achieve something rather inconsequential in the bigger scheme of things. Many times romance as the sole motivator is exactly what renders a drama much ado about nothing. MK is the opposite of that where romance comes naturally when people are forced together by circumstances and bound together by a common commendable goal. Ji Young and Hyung Joon are absolutely incredible together as they spark and hurt in the best of ways. A secondary romance is also blooming in the most unlikely of places between debt collector Teacher Jung and R&D research scientist Dr. Ko. Lee Sung Min is incredible to behold as a rough and tumble gangster who has a heart despite trying to do his job. When I look at him bluster and rage, I see a nugget of my beloved King Jae Kang in The King 2 Hearts shine through despite the complete void of refinement. The two queen makers played by the deliciously steely Lee Mi Sook and the delightfully airy Hong Ji Min are perfect contrasts in style but stand on their own as characters. Lee Mi Sook's Ma Ae Ri defies all odds at being either bitchy just because or winning at all costs and instead turns out to have her own integrity in the midst of a no holds barred competition. Ji Young's affection for Madam Ma and her understanding of Ji Young's choices make for a subtle mother-daughter connection that rises above their being competitors. It's good writing like this which makes MK such a mature drama to watch. We see both the cutthroat intensity of preparing for the Miss Korea pageant, including training and even the option of going under the knife, but everyone involved is fleshed out so they are not caricatures going through the motions but instead humanized so we connect with the desire to win for whatever reason.
Lee Seon Kyun is a phenomenal actor that needs no further validation and he continues to be delightfully fluid here, with the sole blip being it's impossible to take him for a high schooler in the flashback scenes. Aside from that suspension of disbelief, he nails every bit of Hyung Joon's personality whether it be his shyster nature to grab any opportunity to save Vivi from bankruptcy or his reluctant affection and genuine concern for Ji Young. I wanted to save the best for last and that is the ascendance of Lee Yeon Hee to an actress that I can admire and compliment without any reservation. She is naturally beautiful but that beauty has in the past felt like a shield to lessen the cringing over her bad acting. She was a bad actor not just in one way, such as over-acting, she was bad in every way. She would over-act, under-act, act inexplicably wrong for an emotion, look blank, look constipated, you name it, she's probably done it before. She was like the second Kim Tae Hee, which now seems even more apt a comparison because last year Kim Tae Hee showed me she could act in Jang Ok Jung, Live in Love, and this year Lee Yeon Hee has done the same in Miss Korea. She is so on it's not even funny. Her every expression whether it be happiness or sorrow is palpable, making Ji Young come alive as more than just a girl with a pretty face but no discernible talent or skill. This drama isn't a character study the way a drama like Me Too, Flower! is in making two flawed and broken individuals try and figure each other other and in the process address their own pain. MK is a drama with a tangible goal – for Ji Young to win Miss Korea 1997 – and the execution follows in all the steps necessary to make that happen and in the process the characters change and grow together.
I've run down all the main plot and actings elements which make MK such a rare and satisfying human element drama to watch, and its worth noting that there isn't a snappy line of dialogue anywhere that feels like it was extracted from the brain of a screenwriter trying to wow with wit alone. The drama comes further alive through one of the best OSTs in recent years mainly by indie band Every Single Day as well a track called "Moonlight" by Onew of the boyband SHINEE. From the first listen of the OST in the teaser trailer for the drama I was smitten, and the end product is even better than I expected evoking the same perfect synergy in music and tone that was My Princess. The cinematography has this patina of age to it ever so lightly, and the ending scenes always cut into an old VHS tape fuzz that reminds us this drama is set in the late 90's before digital entertainment came of age. The 90's fashion is nicely conveyed with both the make-up and attire but doesn't distract from the story in any way. Setting the pageant around the time of the financial crisis of '97, the sense of foreboding and desperation of so many of the characters becomes such an integral motivator that even something as superficial as a beauty pageant takes on added significance and deeper purpose. The contestants are not mocked for their shallowness and the road to becoming a beauty queen is as commendable as any goal in life if the sacrifice and stakes are this high.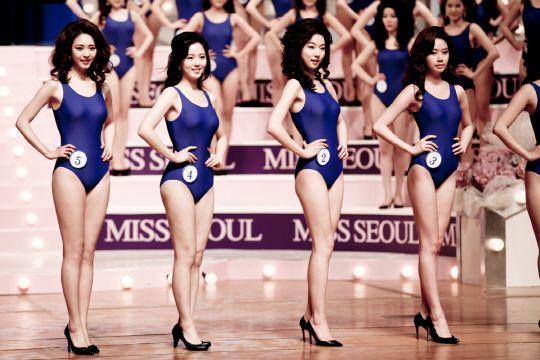 Episode 8 is really the highlight of this drama so far, taking Ji Young and all her major competitors and giving them a preview of the Miss Korea pageant by competiting in the Miss Seoul pageant. The tricks of the trade are amusing to behold, but its counterbalanced by the deviousness and unfair playing field that also exists behind the scenes. Check out some snippets of the latest episodes courtesy of MBC.
Ji Young training with her Vivi oppas and then a game of rock-paper-scissors to decide who measures her curves:
[youtube id="en4m9CEOyRE" w="625″ h="445″]
She tells her oppas they don't need to do this with her but is told that the father of a famous golfer hit even more balls than his daughter when training her.
Ji Young is so nervous about wearing a bathing suit in public she practices in her oppa's presence first, then comes a game of hide under the blankets when her protective family members come knocking:
[youtube id="YL0F35zsv8k" w="625″ h="445″]
Ji Young decides to defy her protective family members for this one last chance in her life:
[youtube id="utQsHfVMHhk" w="625″ h="445″]
Ji Young doesn't make it to the top-3 and her dreams end here, or does it?:
[youtube id="C7UoLIQCst0″ w="625″ h="445″]
The devastation of everyone who loves her and is cheering her on in the the audience is so heartbreaking. And the way Ji Young cries through her smile, and how Hyung Joon reminds her to keep smiling, guh it just kills me. Clearly she's getting another shot since the drama has another 12 episodes to go, and a big spoiler is that the winner was secretly drinking malt water in the backstage which means she recently gave birth which would disqualify her from the competition.
Lee Yeon Hee perfectly captures the look on my face when I watch her act as Ji Young in MK. If I could plant a kiss on her I would. She's amazing here and it's a shame her metamorphosis isn't getting a wider audience to appreciate the blood, sweat, and guts she's pouring into this performance.