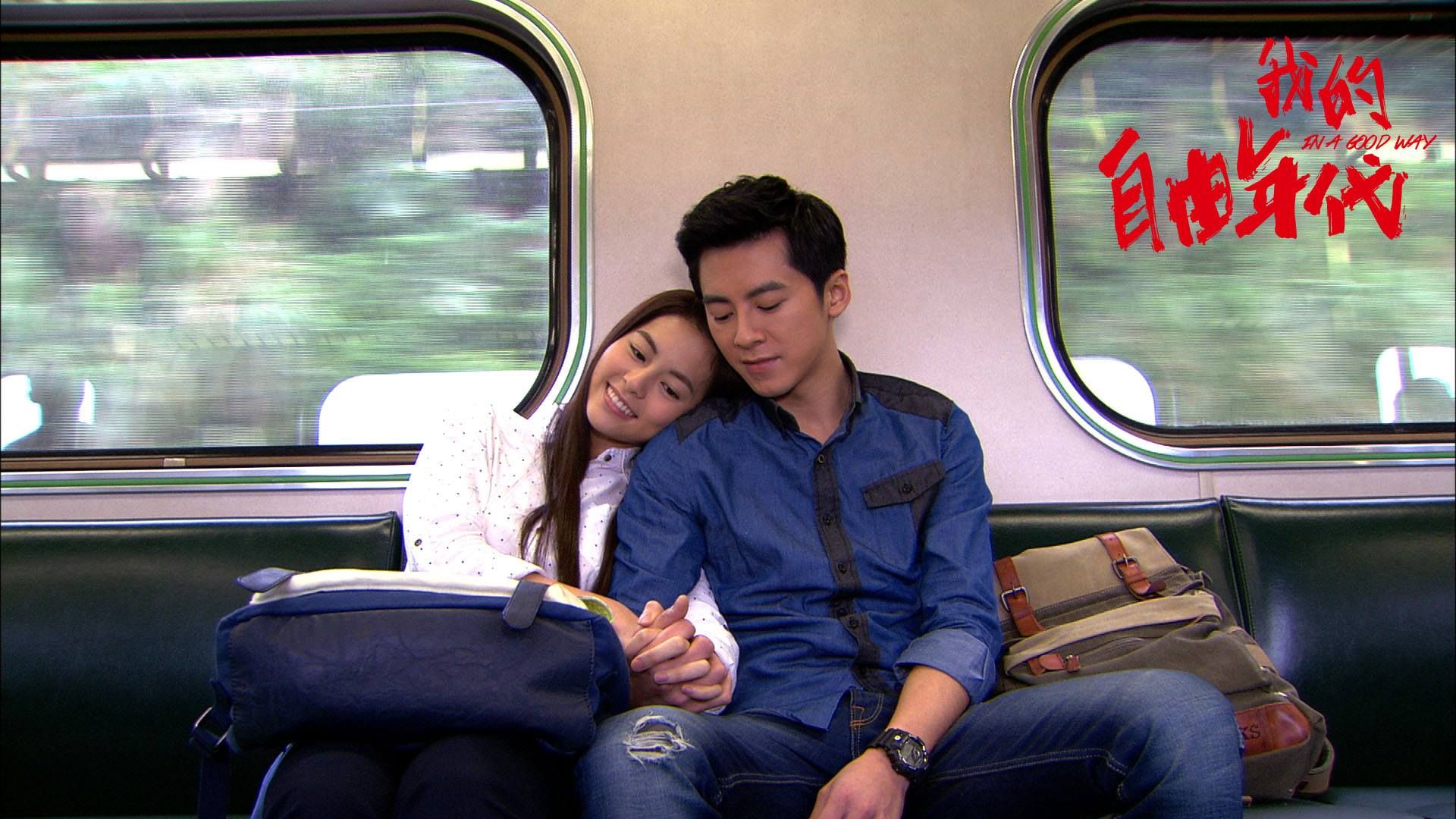 Whatever magic elixir that the combination of Liu Chuan and Jia En together creates, I wish SETTV can bottle it and sell me. It's positively intoxicating. Episode 16 was a slower episode of In a Good Way, yet the drama continues to command my entire attention with it's lovely storytelling that deals with happy moments and growing pains all with sincerity and sweetness. Liu Chuan and Jia En's relationship is out in the open with the parents and everyone accepts it as they should. No pointless parental objection and angst here, not even from Ren Wei's dad who is sad that his sonny boy isn't going to bring home the daughter-in-law of his dreams. All Jia En's dad tries to convey is a caution for the kids to take it slow, which is always great advice, but I'm going to tell Jia En to listen to Tracy on this one. I'm terribly self-serving, aren't I? But who doesn't think Jia En and Liu Chuan aren't ready to keep on burning on the screen as they escalate their romance from chaste to a bit more burning. Episode 16 was a decidedly Ren Wei-centric episode, focusing on his conflict with his dad and his overblown desire to prove himself. Not sure why he can't get good grades and graduate college with a useful degree and then start his business dreams, rather than diving into a pretty iffy scheme to sell tamagotchis over the Summer.
But this is very true to his headstrong personality that does first and then thinks of how to do it later. At least he's figured out his feelings for Jia En (he does like her), admits he dreams of breaking her up with Liu Chuan, and then acknowledges that he would never do anything other than patiently wait this one out. His friendship with Bai Xue has turned into one that really helps both of them work through issues and bring out the best in each other. Bai Xue is already out of the shadow of her long Liu Chuan crush and the way she is glowing and happy makes me so thrilled for her moving on. I hope she can counsel Ren Wei to also let go, and she probably is making inroads there as well by reminding him that if a person likes another, then the getting together part is inevitable, whereas if the feelings aren't there, time and proximity isn't going to make it happen. Episode 16 did make all its Liu Chuan moments sizzling in that low key intensity only he can deliver, from the way he confidently greeted the parents and stared at his girl Jia En, to how he surprised her with a late night (non-booty) back hug call and a pink promise, to their train ride at the end of the episode that involved so much side-by-side snuggling I actually needed to dig out my heavy duty skiing sunglasses so my eyes didn't go blind from all the firepower shooting from the screen. Don't say I didn't warn you.
Episode 16 recap: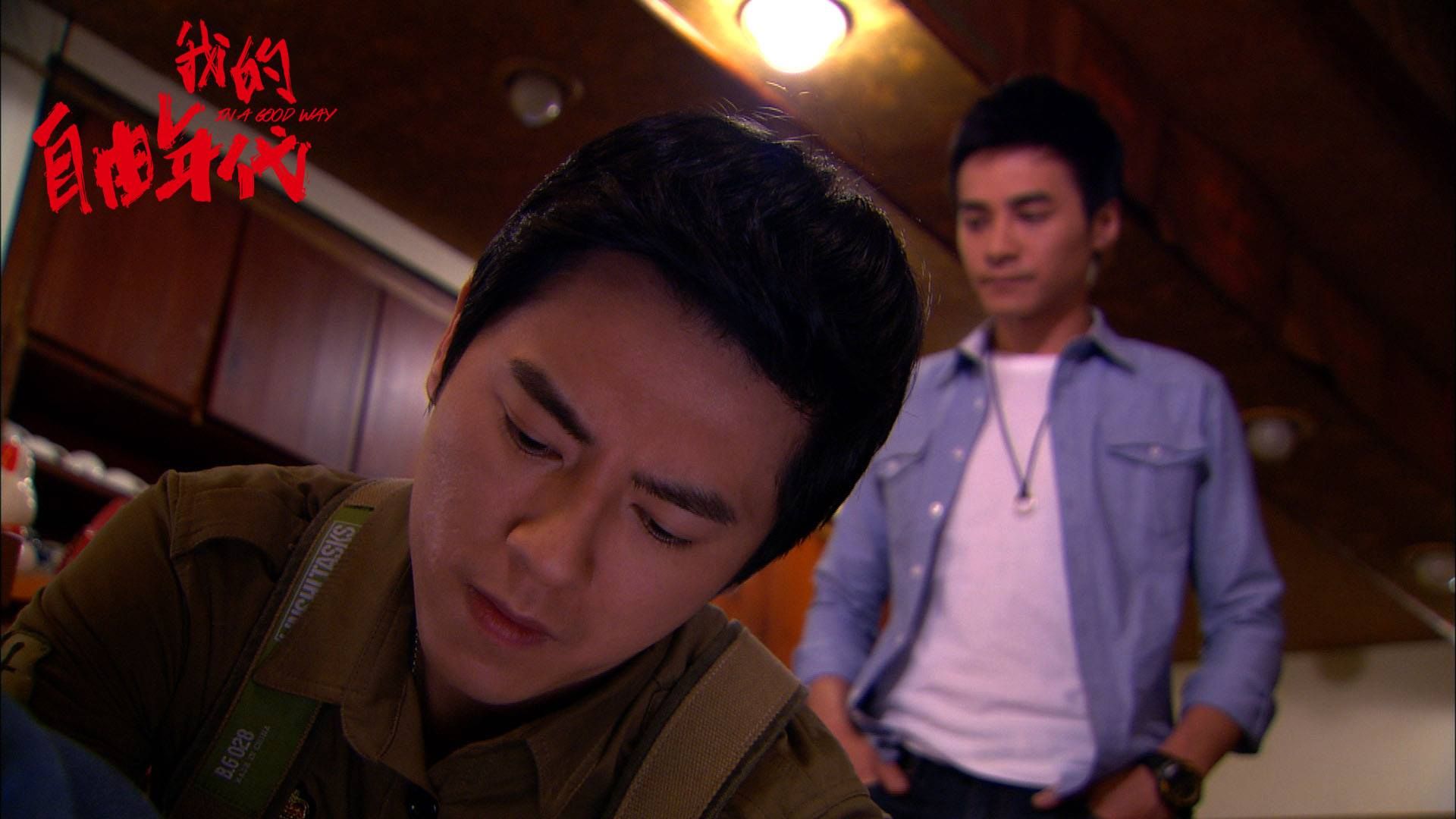 Jia En gets off the back of Liu Chuan's motorcycle and promptly twists her ankle. Liu Chuan hurries to tend to his girlfriend's owie and massage her ankle. They look up to see a crowd has gathered with Jia En's parents, Ren Wei's parents, and Ren Wei all standing there staring. The party moves inside the teahouse and Liu Chuan deposits Jia En on a chair and confirms her ankle will be fine. Jia En happily greets Ren Wei's parents and is happy to hear they are staying for the Summer. Ren Wei's dad asks who Liu Chuan is? Liu Chuan introduces himself as Jia En and Ren Wei's university club president and classmate. Ren Wei's dad introduces himself as Ren Wei's dad and Jia En's future father-in-law.
Ren Wei interjects that he is not dating Jia En, they are just friends from childhood. Ren Wei's dad accuses him of wasting his time in Taipei and not even able to win Jia En's heart. Ren Wei says dating is not his priority, he wants to pursue his career and he plans to earn money to support himself. Ren Wei's dad scoffs at his plan to sell tamagotchis but Ren Wei rejects his dad's financial help and tells him to cut off his financial assistance. Ren Wei's dad doesn't care what Ren Wei does with his life as long as he marries Jia En because she's a wonderful girl. Ren Wei finally can't take it anymore and announces that Jia En's boyfriend is Liu Chuan! Everyone stares and Liu Chuan turns to look at Jia En like "yeah, she s mine." Ren Wei storms out to get some air and Jia En follows to check on him. Liu Chuan also excuses himself but promises Jia En's parents that he'll come talk to them about his dating Jia En at a later time.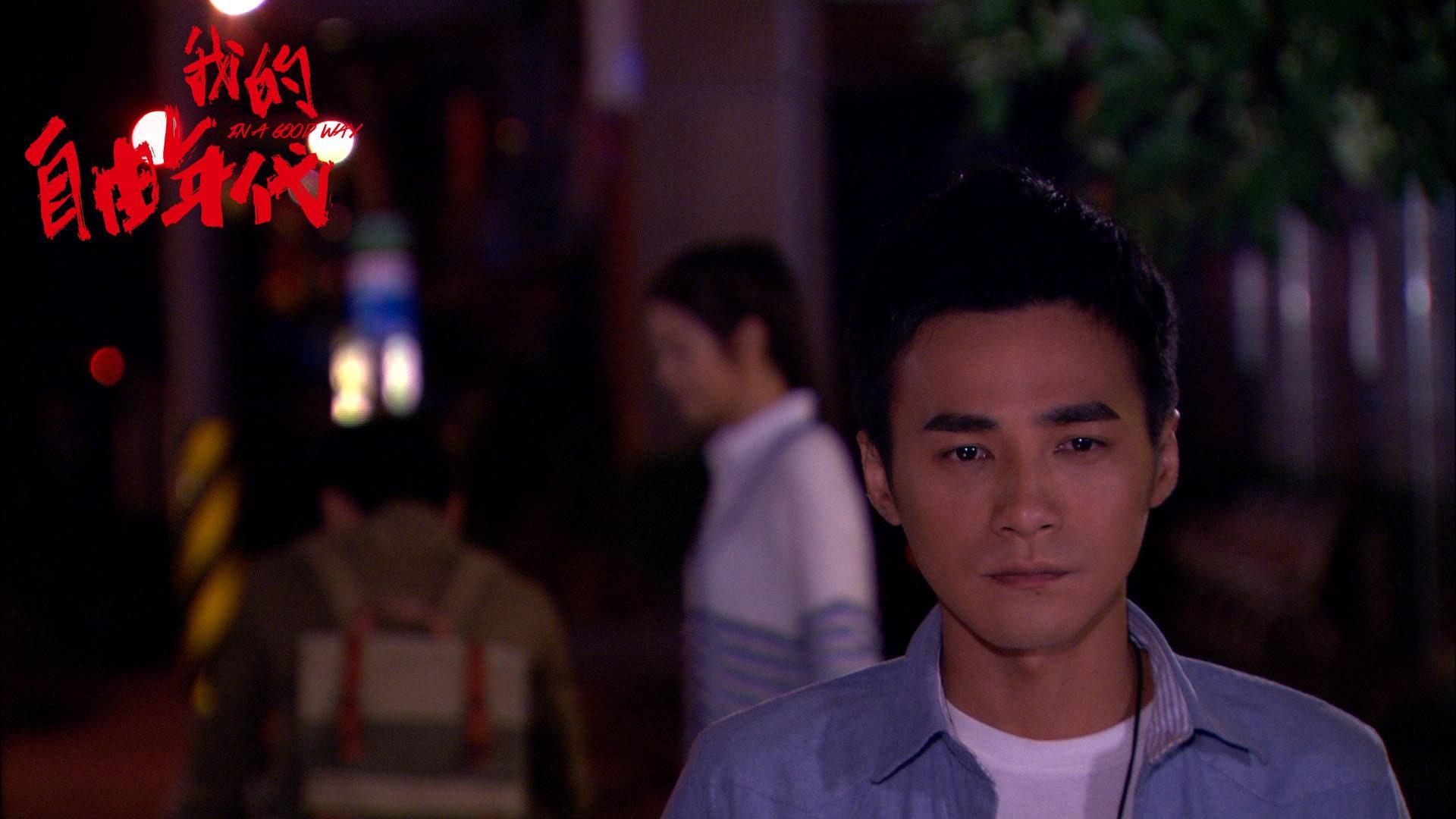 Liu Chuan goes out to see Ren Wei who apologizes for his dad back there. His dad is so old fashioned and has always seen Jia En as his future daughter-in-law. Liu Chuan doesn't think Ren Wei's dad is old fashioned, all parents want their kids to do what they plan. He is simply more direct about it, and he finds the two Cheng men very alike. They are both very impetuous and straightforward and Liu Chuan is quite envious of that. Liu Chuan says Ren Wei's dad said one thing that is totally true, which is that Jia En is a very wonderful girl. Jia En tells Liu Chuan to leave first and she'll work on Ren Wei and his dad, both guys are too stubborn and prideful so with Liu Chuan around they can't resolve it that quickly. Ren Wei silently watches Jia En send Liu Chuan off and then she asks Ren Wei what he wants to do now? Why have such a fight when his dad came up to see him? Ren Wei wants to know when Jia En started liking Liu Chuan? She tells him to grow up, even if he pretends he needs to act like he can take care of himself and not worry his parents.
Jia En's mom takes Ren Wei's mom to the guest room while Ren Wei brings things inside. Ren Wei's mom is very disappointed with Ren Wei's immaturity but impressed with how grown up Jia En is, so pretty now and has a very handsome boyfriend. Ren Wei's mom notices his jeans are torn and doesn't buy that it's the latest trend. She hands money to Ren Wei to buy new jeans and when he tells her he doesn't need it, his mom tells him to let his dad cool down first and keep the extra money on him just in case. Ren Wei considers taking it until Jia En walks in and then he sticks to his pride and hands it back to his mom. He wants to sell lots of tamagotchis and even have money to take his parents out to tour Taipei this Summer. Ren Wei's mom pushes his dad out to avoid further confrontation and Jia En suggests Ren Wei return the tamagotchis. He says it's just 800 of them and he used all his money to buy it. Jia En is furious at how irresponsible he is and doesn't understand the value of money.
Ren Wei wants her support and not to keep thinking he can't do it. He sold one box of it already with the stamps, why are they focused on the two boxes he has left. Plus they are young and he needs to take a gamble to win big. Jia En gets a page and quickly runs out to her room to return the call. She calls Liu Chuan back and Ren Wei stands at the doorway and watches her while sighing. Ren Wei picks up his tamagotchi and wonders what new name to give it. Vivian Chow? Sakai Noriko? Tarcy Su? He settles on Lin Jia En junior and writes it on the back. He asks JN2 if it wants to eat or play ball? He glances at Jia En talking to Liu Chuan and chastises the egg for playing too much so he won't let it eat. How can it have a boyfriend when it's still so young? Ren Wei's mom comes back and asks if he's trying to sell the tamagotchi or playing with it himself. She points out that Jia En is happily chatting with her boyfriend while Ren Wei is playing with tamagotchis. When is he going to give her a golden grandchild? Ren Wei tells his mom to pick a tamagotchi from the box and name it golden grandchild if she's so desperate wants one. Ha!
Jia En is encouraging Liu Chuan to not hold a grudge with Momo for destroying the horn blower Jia En bought him. Whatever he likes, of course Momo likes, plus who gave him the horn blower, right? She'll buy him another next time, and then asks what else he likes? Jia En's parents are standing at the doorway peering in and they try to push off the responsibility to interrupt on each other. Jia En notices them and tells them to come in. Dad wants to talk to Liu Chuan since he promised to explain to Dad later so this is the later. Dad takes the phone from Jia En and tells Liu Chuan not to get nervous and no need to explain. It's late so Liu Chuan can come by another day to talk with Dad and then he hangs up.
He then chastises Jia En to be more mature and not on the phone all the time. He doesn't want Jia En to worry her parents or have other adults see her as too….. Jia En says what? Dad can't say it so he stammers and stammers until Jia En's mom assures him that both kids are very good and won't do anything. Jia En thinks they are worried about their school work suffering with the dating and assures them that her grades have gotten better because Liu Chuan is such a good student and they study together. Dad knows Liu Chuan is a good kid but they are still young so they can all make more friends. Jia En wonders if he's agreed to let her date Liu Chuan but Dad just stammers a bit more before walking out. Mom assures Jia En that her dad doesn't dislike Liu Chuan, he's just uncomfortable with her dating so young.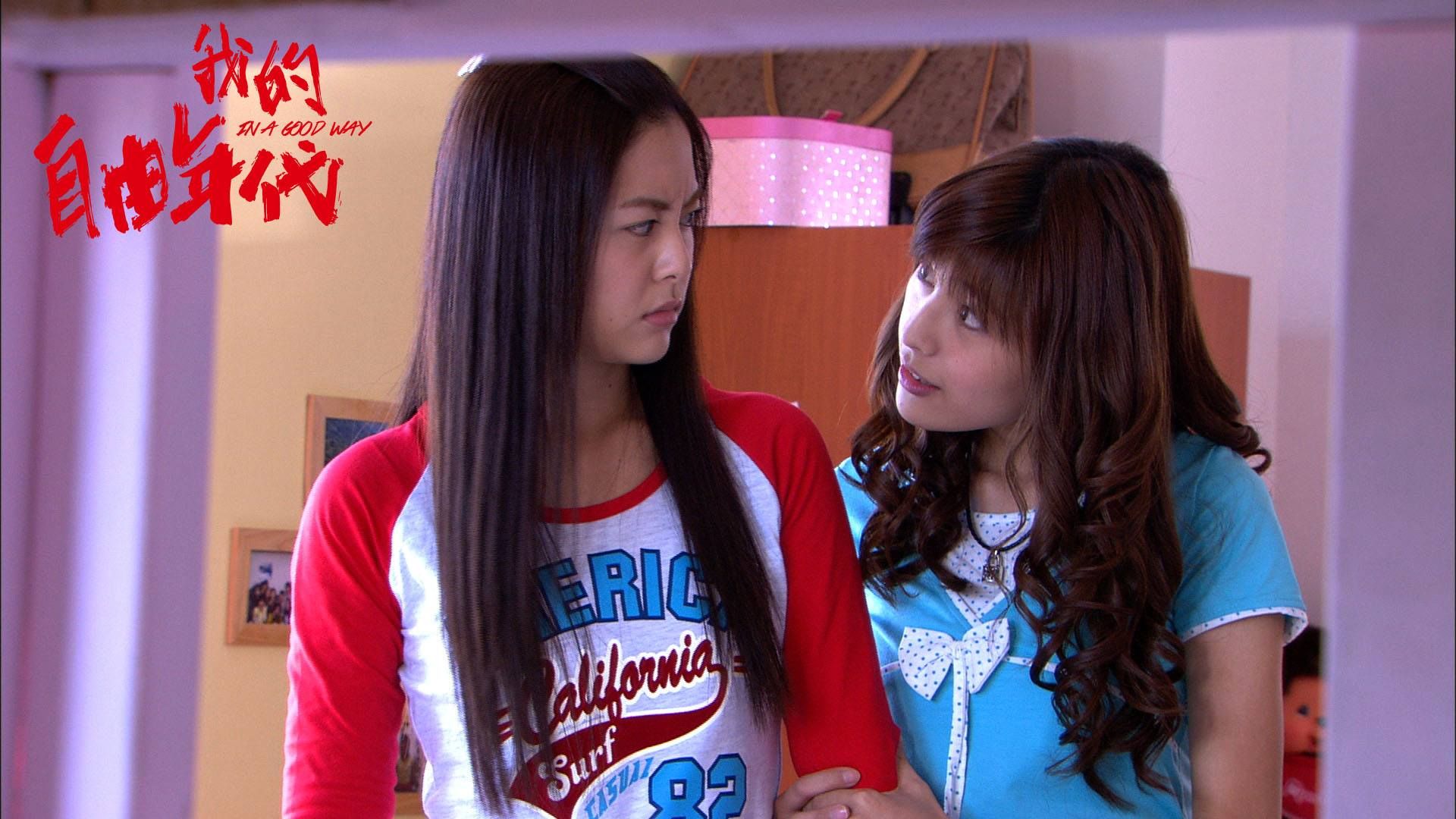 The girlfriends are in Tracy and Xiao Wei's room as the two girls are packing up to go home for the Summer. Tracy offers a lot of new items she bought but can't bring home in her luggage. Jia En notices a black lace thong and is schooled that this is for wearing under tight bottoms to not show a pantyline. The other girls think the thong would be very uncomfortable but Tracy assures them it's comfortable and necessary for going out on dates and not showing the tops of grandma underwear. She tells Jia En to start learning these tricks and then asks how far along she's gotten with Liu Chuan in terms of bases? Jia En is confused as is Xiao Wei but Bai Xue seems to have a clue.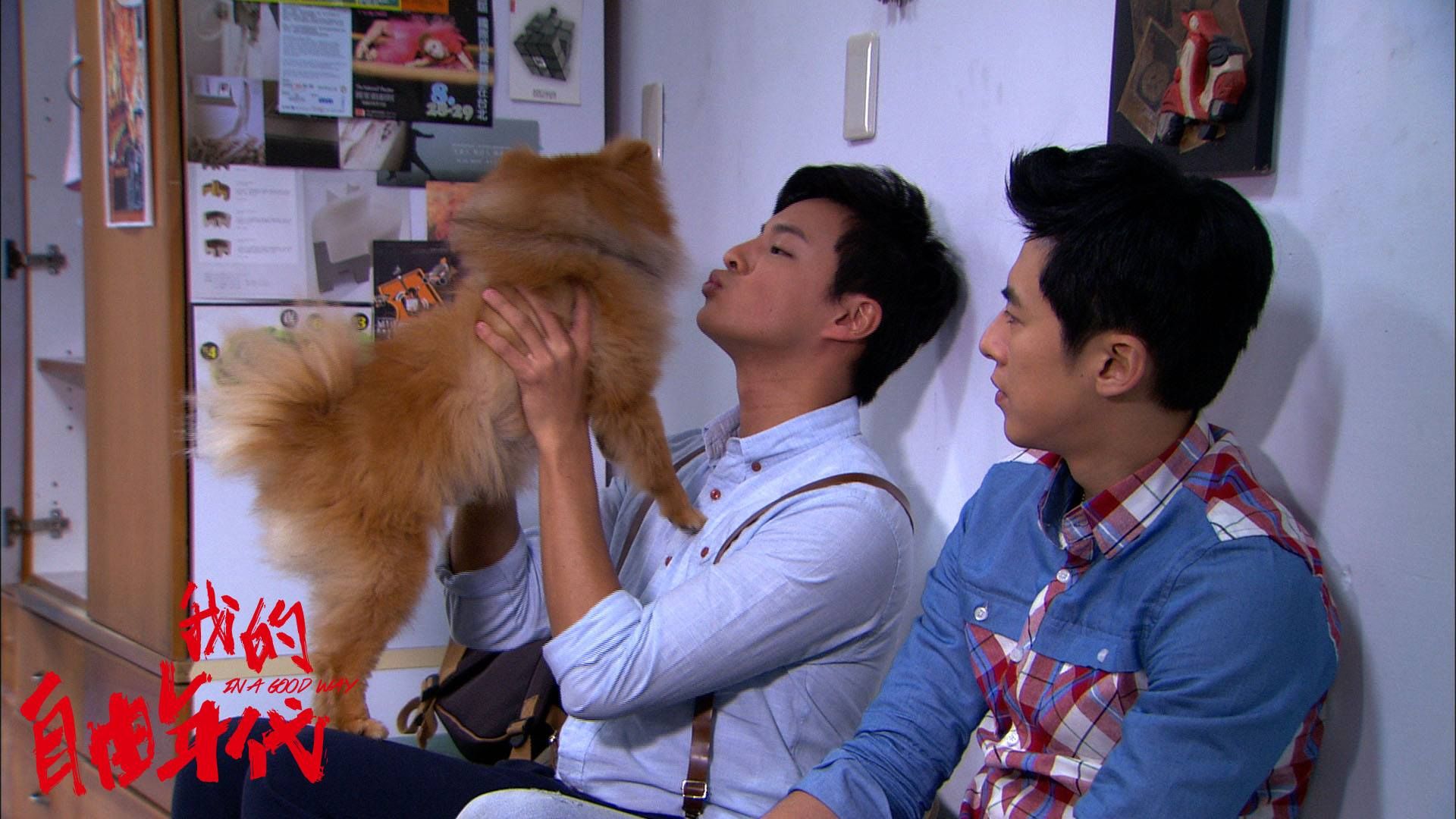 Liu Chuan goes back to his dorm to pick up Momo as Ah Qing and RI Qi are also packing up to go home for the Summer. Ah Qing cuts to the chase and asks Liu Chuan what base he's gotten to with Jia En? Liu Chuan says dating is not a baseball game and the talk of bases. Tracy looks at Xiao Wei and pushes her aside and uses Bai Xue as her test subject. Tracy demonstrates first base as hand holding, second base as hugging, and third base as kissing. Bai Xue runs off and reveals that she has never been kissed before. Ah Qing uses poor Momo as his test subject and demonstrates the bases to Liu Chuan with first base as hand holding, second base as kissing, and third base as touching all over. Liu Chuan pulls Momo back and chides Ah Qing for making Momo uncomfortable. Ah Qing notices that Liu Chuan is blushing while watching him practice on Momo and asks who is on his mind right now? Even Ri Qi gets into it and asks what location is on Liu Chuan's mind? The beach? The park? Heh.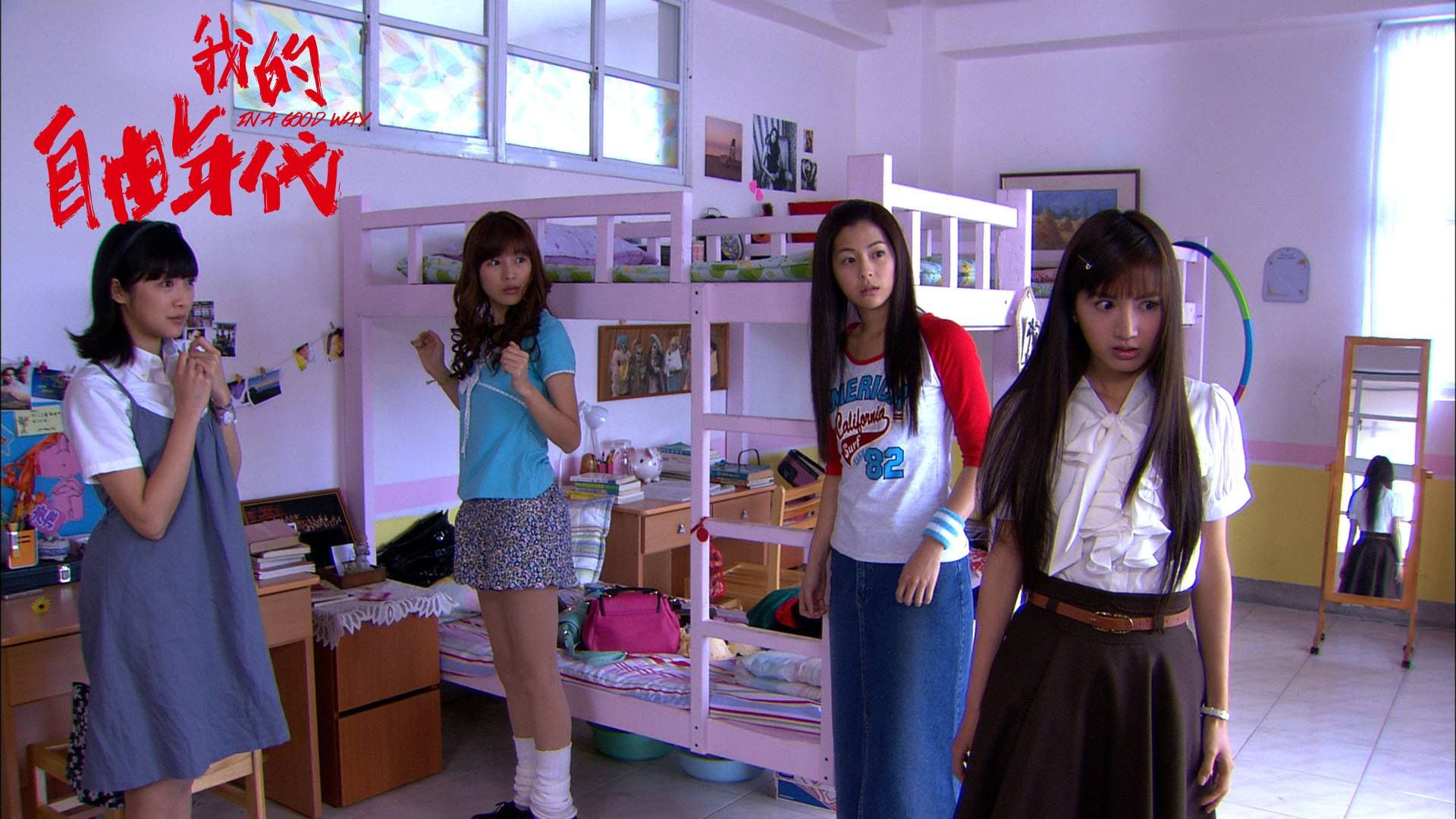 Tracy decides to demonstrate the home run on Jia En herself and then remembers Jia En and Liu Chuan have already gotten to second base at the concert. She suggests Jia En to be prepared for the home run soon so she needs a full set of underwear. All men are trained by the lingerie commercials to expect a girl to wear matching sets. Bai Xue doesn't agree that women needs to satisfy male whims and fantasies. Tracy disagrees, during the early stages of romance, it's fine to satisfy each other's little fantasies. How would a girl feel if she kissed a guy and found vegetable in his teeth crack. Xiao Wei shyly asks if all men use the bases to determine how the romance is progressing? Tracy isn't sure about Liu Chuan but the other guys like Ah Qing, Jacky, Ah Di, she's sure they are all like that. Which is why girls need to know so they can test whether the guy is just fooling around.
Back at the men's dorm, Ah Qing continues giving advice and says women are prone to speaking in opposites such as yes means no. Liu Chuan points out that was the excuse used by a rapist in a recent rape trial. Ah Qing says Liu Chuan and Jia En like each other so they need to be aware of the little details. If Liu Chuan doesn't know what Jia En really means, then he'll end up disappointing her. Liu Chuan assures them he knows how to handle it so they can stop worrying. Ah Qing says girls are different after dating since their hormones are suddenly all spiked.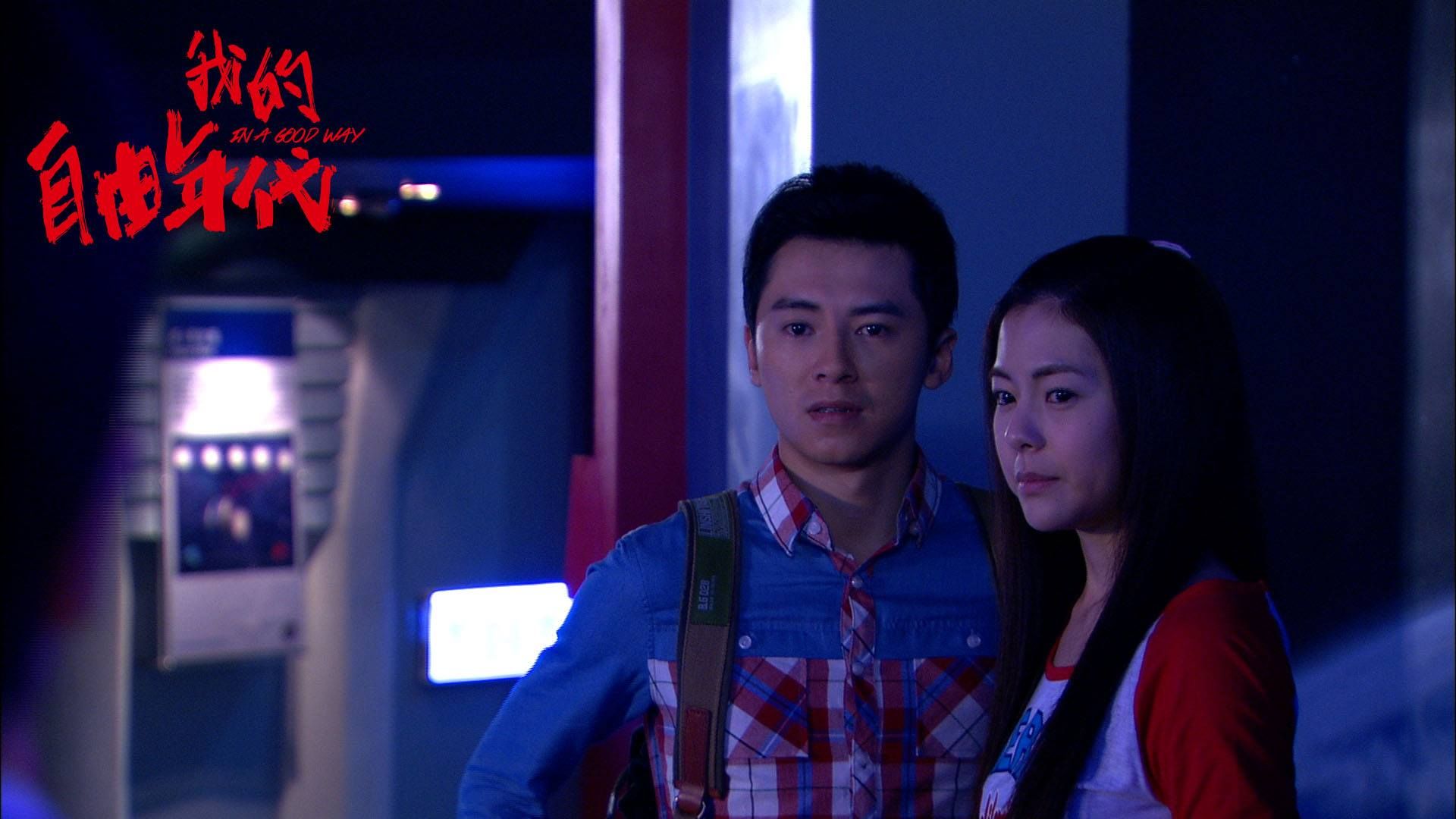 Tracy takes Jia En out shopping for lingerie and Jia En blushes at everything sexy Tracy suggests. Jia En grabs a simple pink bra and refuses to try on the black on but Tracy insists. They walk out with the purchases but Tracy is sad Jia En didn't go with what she suggested. Jia En gets a page to meet Liu Chuan on a date and heads off. Tracy knows Jia En will thank her once she gets to third base and the new lingerie comes in handy. Jia En meets Liu Chuan at the science museum and they wander around together. They chance upon a couple making out in the corner and Jia En quickly tries to walk away. She bumps into Liu Chuan and the two of them can't help but blush to see another couple making out. Sadly it doesn't spur them to make out on the spot as well.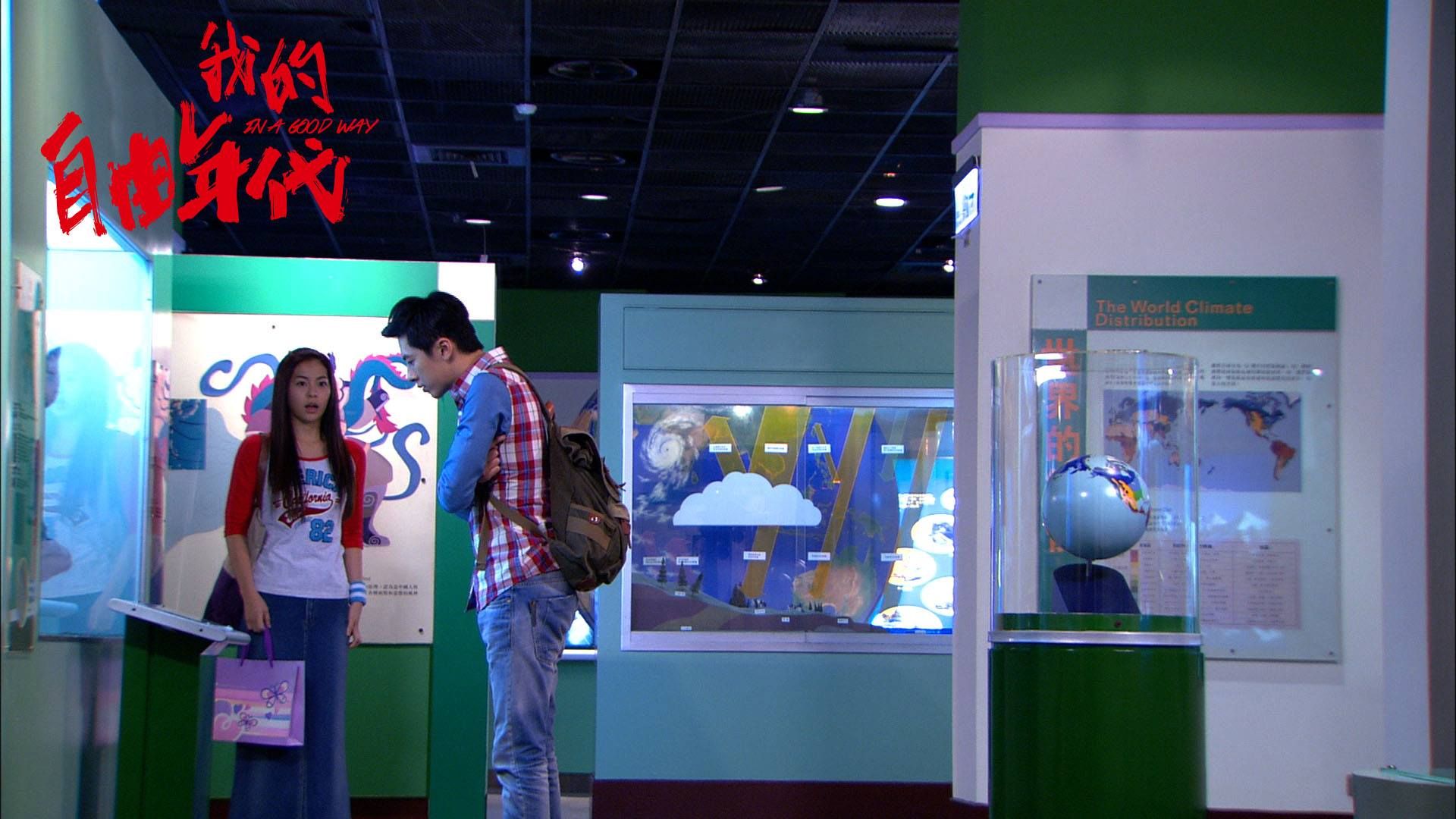 Jia En remembers what Tracy said about hitting third base which is when Liu Chuan asks her if she's interested in lightning, which also sounds like bases. Jia En of course misunderstands and asks if he's not moving too fast? Liu Chuan stares her and then points to the display and says the sound of thunder is of course fast and lightning comes after. Liu Chuan then notices Jia En is carrying a shopping bag and asks if she went shopping? She quickly hides it and then asks what Liu Chuan thinks of a girl's outfit so she can get a feel of what he likes. He shakes his head at all the other girls and she thinks he's being picky and has high standards. Liu Chuan stands there just staring at her and smiling. He takes her to a display mirror and tells her she needs to stop looking because he likes what is right here. AWWWWWW. That makes Jia En smile.
Ren Wei has roped Ah Di and Jacky to help sell his tamagotchis. Jacky thinks they named their product wrong calling it Men of Steel Tamagotchis so women aren't interested. Ah Di points out the even bigger issue is that no one is on campus during the Summer so they have no customers at all. Ren Wei decides to call it a day and head out to lunch even if they have sold nothing today. Ah Di and Jacky ask for their salary of NT500 each for their daily salary regardless of whether they sold anything. Both guys leave him since this endeavor is going nowhere which is when Bai Xue walks up and finds out that the tamagotchis are not selling. She feels somewhat responsible as well since she organized the yard sale but Ah Di and Jacky said the tamagotchi idea was all Ren Wei's alone. Ren Wei tells his two buddies to leave work and he'll pay them a salary at the end of the month. He doesn't know how to sell since there are no students on campus to spread the word. He thinks the only way is to sell it online at their campus BBS portal. Bai Xue agrees that it's a great idea and offers to write the sales pitch for him.
Ren Wei and Bai Xue return to the teahouse and the two dads are sitting there having tea and find out Bai Xue is here to write a sales pitch for Ren Wei. Ren Wei introduces Bai Xue to his dad and is complimented for being so pretty since she's a Taipei girl. But Ren Wei's dad still prefers the girl from Pingdong like Jia En, but Jia En's dad points out that the Taipei boy landed the Pingdong girl. Bai Xue sweetly tells Ren Wei's dad that Jia En is her classmate and she also likes Pingdong girls. After they head upstairs, Jia En's dad reveals that Ren Wei has liked Bai Xue for a long time. Ren Wei's dad can see Bai Xue is lovely but she's like a star in the sky and Ren Wei can't ever win her. He knows his son keeps chasing after a series of pretty girls but doesn't know what he really wants deep down inside.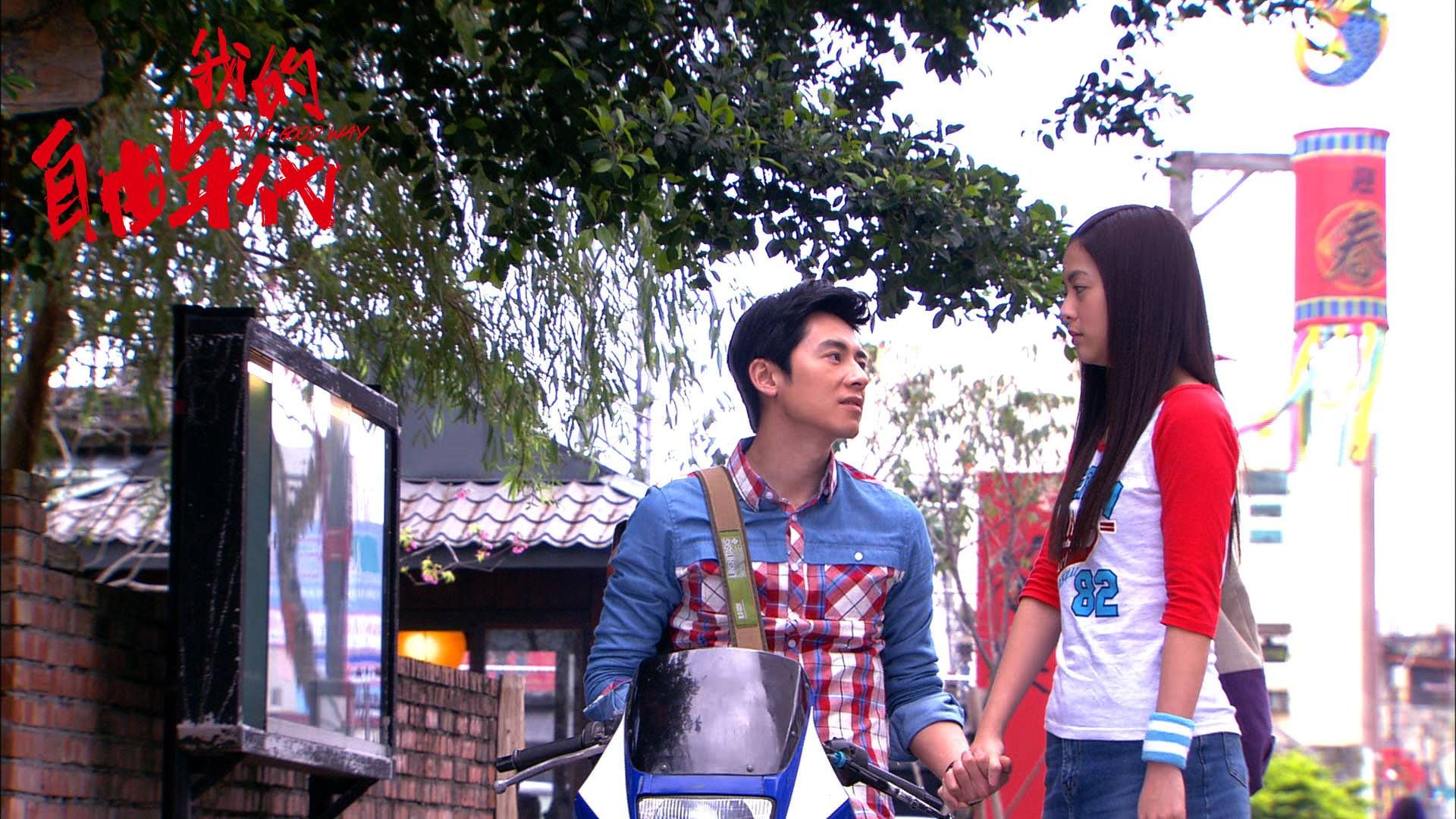 Liu Chuan and Jia En return home and Ren Wei's dad sees them and sighs that Pingdong came to Taipei and became someone else's. Jia En gets off the motorcycle and Liu Chuan reminds her that he's gone for a week to Taichung for an internship. Jia En is sad that she won't get to see him for a week but he promises to call her everyday. Liu Chuan grabs her hand and pulls her close. His head starts to lean in for a kiss which is when Jia En's dad walks out and invites Liu Chuan in to chat. Jia En extricates Liu Chuan as having to go home to pack to head down to Taichung. Liu Chuan rides off and Jia En's dad watches as she stares at him leaving with a giant grin on her face.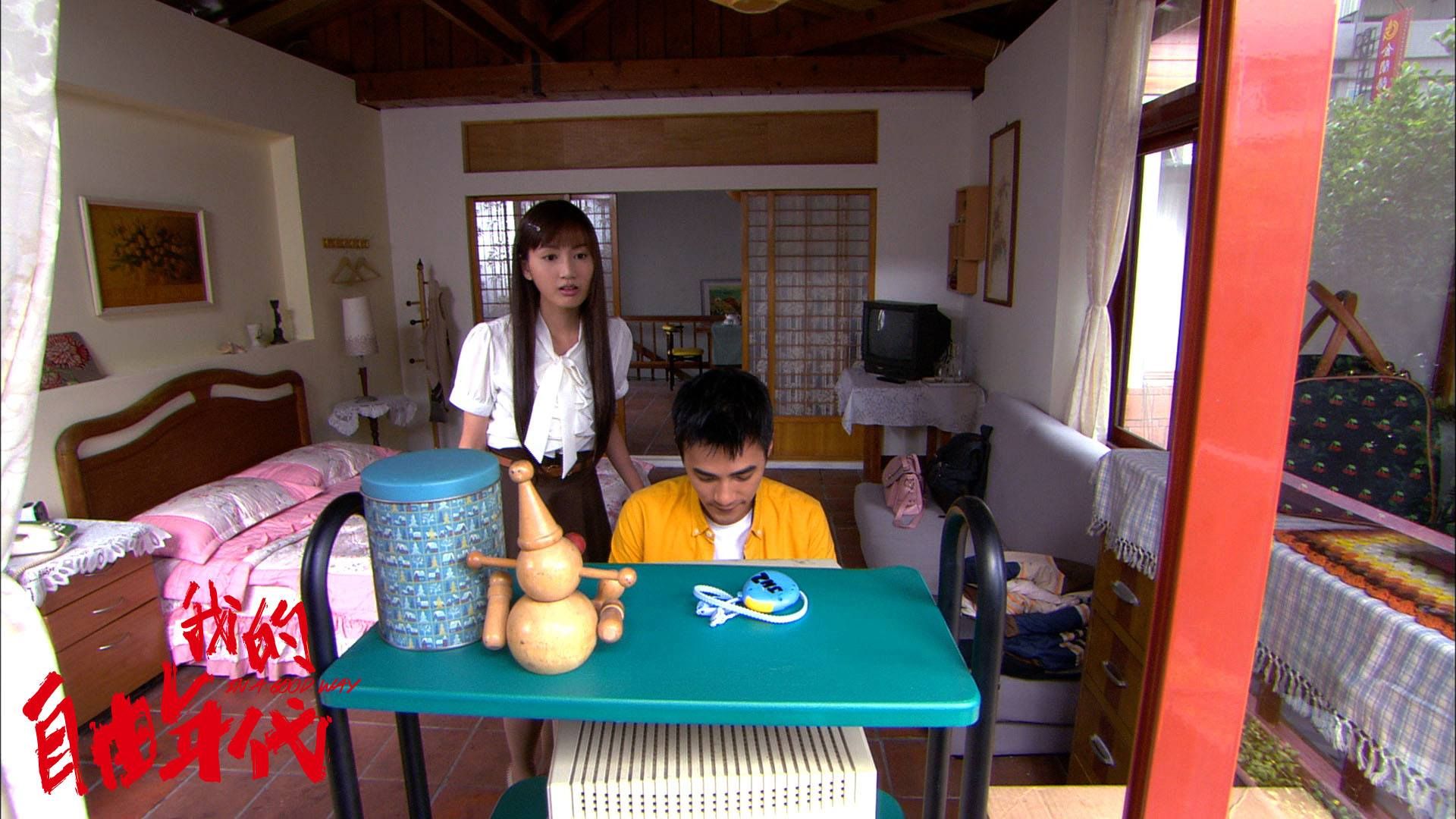 Bai Xue sits at Ren Wei's computer and writes a pretty nifty sales pitch for him. She then picks up Ren Wei's tamagotchi and notices he wrote JN on the back. She asks if JN means Joan i.e. Jia En? Bai Xue asks if he's really fallen for Jia En? Ren Wei admits it but he doesn't know how that happened? Bai Xue says when Ren Wei likes a girl, the entire world can tell. Ren Wei says this time is different, he doesn't want Jia En to know. Bai Xue agrees not to say anything but is surprised that Ren Wei would nurse a crush when he is normally so open about it. Ren Wei says "Jia En, she's different."
Jia En's dad notices she bought something and opens it thinking it's something for him. He opens the bag and finds underwear inside and asks if she went to buy lingerie with Liu Chuan? Jia En says no, she went with Tracy and Liu Chuan just drove her back afterwards. He asks if she knows to behave and she promises that she will. He's not worried about her behaving, he's worried about someone else's son misbehaving. Jia En hears that Bai Xue is upstairs with Ren Wei right now.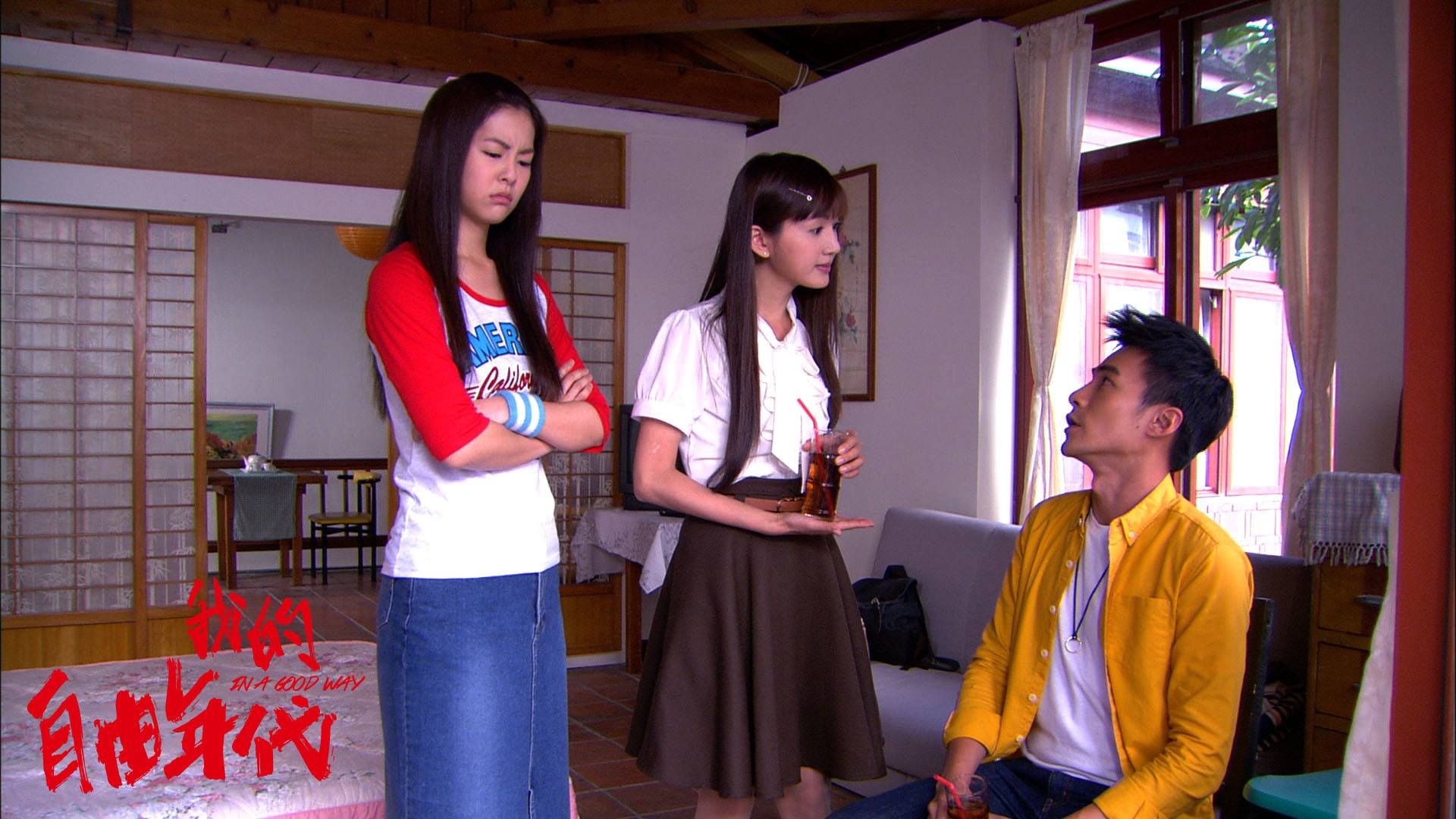 Ren Wei feels like Jia En is growing farther and farther from him and he really wants to snatch her back. Bai Xue says Jia En is not a thing and doesn't belong to him. She thinks Jia En and Liu Chuan must be very happy right now. Ren Wei knows that and he's just saying and wouldn't ever do anything. He'll wait patiently and if Jia En is mistreated then he'll be the first to stand up for her. Bai Xue asks what he will do if they are happy forever? She doesn't want Ren Wei to wait forever like she did with Liu Chuan and thus waste his youth. Like Ren Wei liked her for two years, she still never liked him back. If one likes another, then they just want to be together. Bai Xue has finally gotten over her feelings. Now when she sees Jia En and Liu Chuan happy together, it doesn't make her feel sad or tough, it's so easy to be happy for them. She offers to get new books for Ren Wei to read and he candidly admits he has no clue how to read those books she likes. Jia En brings tea for them and hears that Bai Xue wrote a sales pitch for Ren Wei. She tells Ren Wei to make it happen with the online sales otherwise he'll have to go crawling back to his dad. Bai Xue has faith Ren Wei can get over the business starting hump.
Liu Chuan and Jia En are online and he asks what she wants to do this Summer? She wants to visit parts of Taipei she hasn't been before such as Jiufen and Wulai. He promises she'll get to go. For some reason she can't get her excitement up now that Summer is actually here. Liu Chuan writes …… and tells her it means for her to wait for him a bit. Jia En goes back to studying and occasionally looking up at her computer waiting for Liu Chuan to get back online. She sits down at her sofa to read and then gets a page "now outside." She looks out her window and sees Liu Chuan waving at her from outside. She breaks into a beaming smile and he gestures for her to come outside.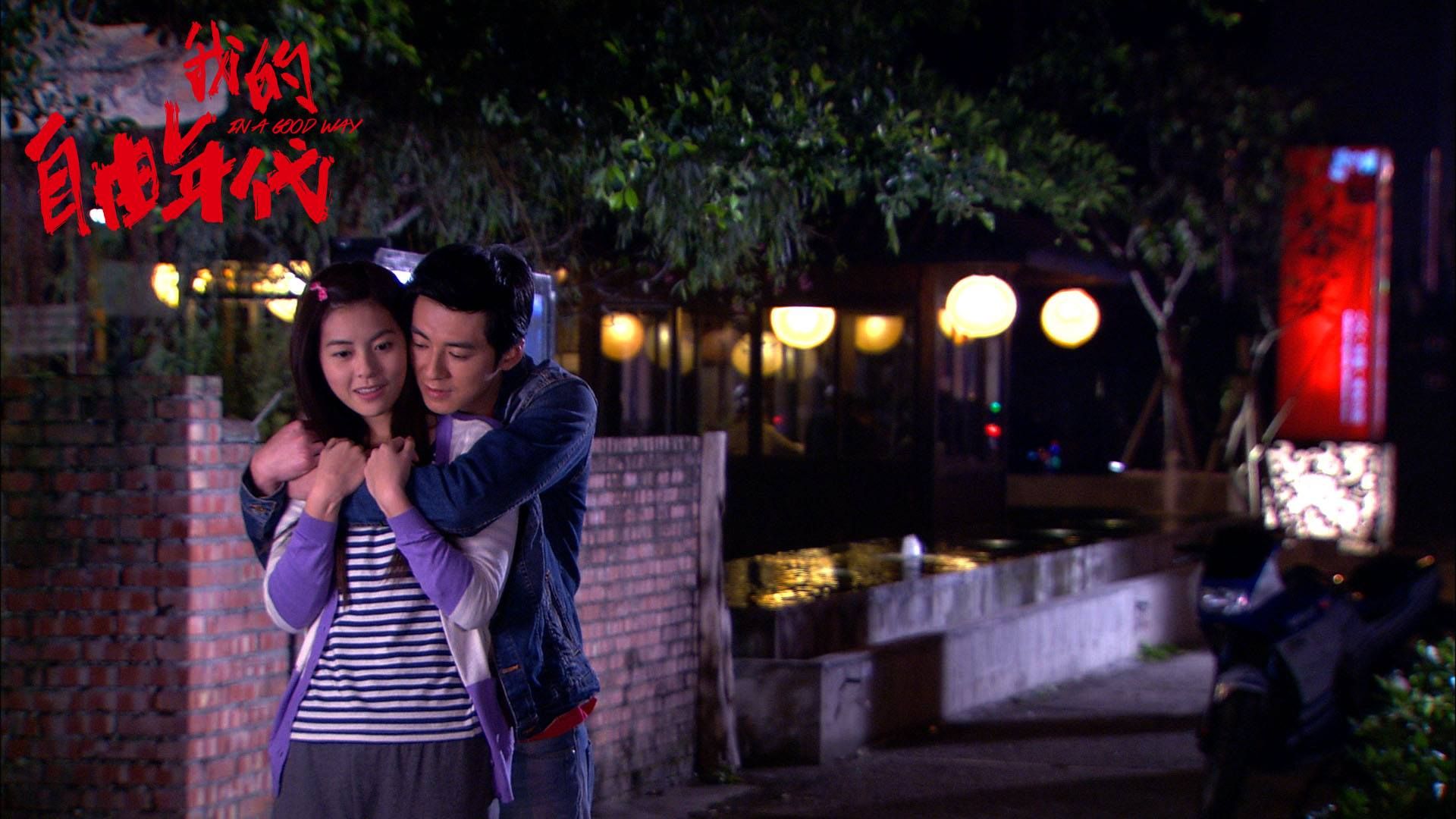 Jia En runs outside asks why he's here? Liu Chuan tells her that he feels bad he can't spend time with her all week and wants to take her out when he comes back. Jia En admits she wasn't upset at him for not being around, she was just being coy and pouting. They smile at each other while Ren Wei walks out to the balcony and notices them downstairs. Liu Chuan tells her to turn around and when she does, he steps forward and back hugs her. He admits he likes her being coy and pouting with him. Ren Wei sighs and turns around to leave so he doesn't keep watching this. Liu Chuan makes a date with her next week at Jiufen and they seal their promise with a pinky swear.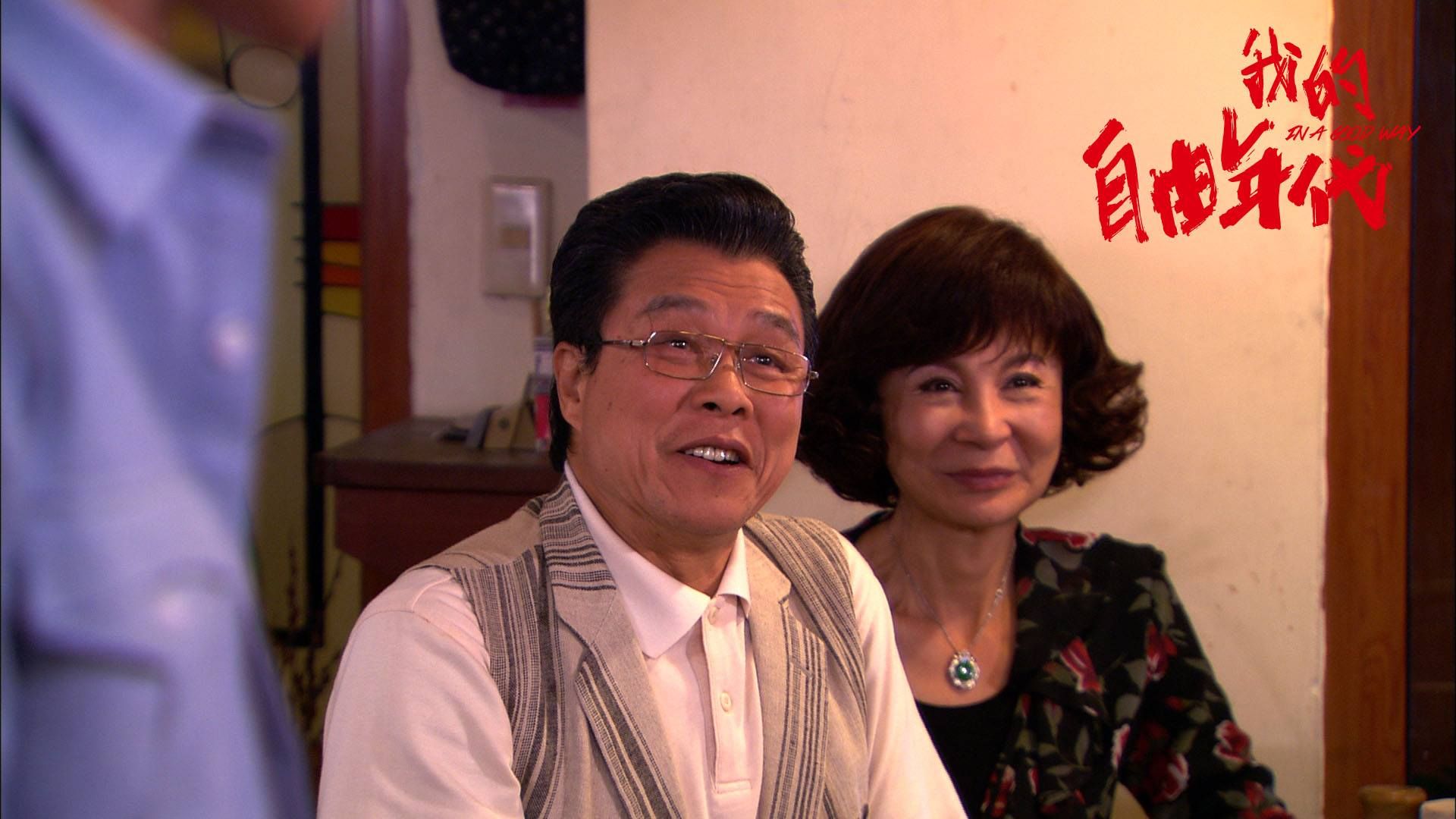 Summer starts and Jia En does her morning workout and then goes to deliver drinks for the store. She spend the afternoon reading in her room and then she marks down the date on her calender when she is going to Jiufen with Liu Chuan and circles a heart around it. Ren Wei's dad finally is fed up with him and orders him to pack up and go home to Pingdong NOW. He hasn't sold anything and he is a total failure at business. Ren Wei reveals that he's sold the first 800 on BBS already and used the profit to buy 10 more boxes. Ren Wei's dad calls it trash and he can't possible succeed. Ren Wei's dad knows he doesn't have enough from selling 800 to buy 10 more boxes and asks if his wife gave Ren Wei more money. Ren Wei admits he borrowed money from his mom to expand his business. Ren Wei's dad reveals he started with only a few bills in his pocket and had to earned money to support his parents and his wife and son. He can tell Ren Wei treats this as just fun and isn't taking it seriously because Ren Wei has no stress about failure. How can he really succeed with this attitude? Ren Wei's dad wants Ren Wei to learn from him. Ren Wei yells back that he is not his dad. He can live his own life his own way! Ren Wei storms out and Jia En follows. Jia En's dad comforts Ren Wei's dad and tells him to pack up and they can go to Taidong and deal with this later.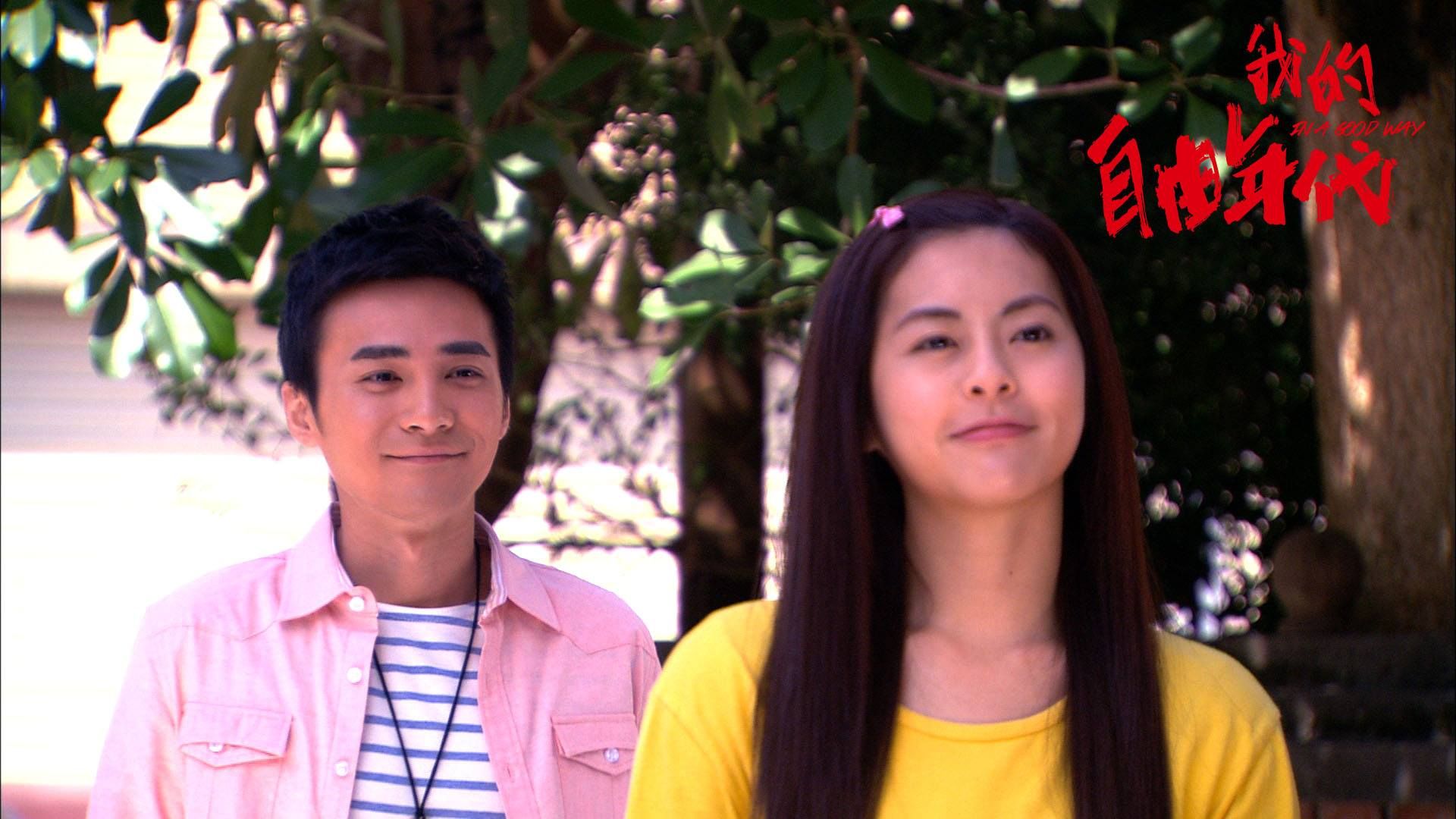 Jia En and Ren Wei sit down with breakfast and Ren Wei is still upset that his dad is discounting his own dreams and just wants him to take over the family business. Jia En encourages him to make up with his dad. Ren Wei wonders why Jia En is so concerned about him today but Jia En says she is always concerned about it. She reveals Liu Chuan is in Taichung this week at a law firm internship so he's not around. Ren Wei wonders if her parents said anything about her dating Liu Chuan? Jia En says her parents seem fine about it but her dad tells her to make more friends. Ren Wei describes Jia En and Liu Chuan as just really good friends so they should just hold hand and hug and keep it at that. Jia En asks if Ren Wei has a "friend" like this as well? He wants her to just not do more and she chastises him for thinking all sorts of weird ideas. Ren Wei just wants her to be careful. Jia En asks if Ren Wei would just hold hands and hug if he was the one in a relationship? Ren Wei says of course not! Jia En smacks him for having a double standard and Ren Wei ends with a promise to teach Liu Chuan a lesson if he is mean to Jia En. The two of them head home and happily send the two sets of parents off to Taidong for a short trip. Ren Wei's mom encourages Ren Wei to do well and not upset his dad anymore. The parents leave and Jia En notices Ren Wei just staring at her.
Ren Wei points out that Jia En is all mopey now that the parents are gone and Liu Chuan isn't around. He offers to take her out since it's such a nice day but she goes back to nap since Ren Wei and his dad woke her up early with their fighting. As Jia En lays down to nap, Ren Wei sees that she's circled a date with Liu Chuan at Jiufen in a week. He tells her to sleep well and walks out. Ren Wei goes downstairs and picks up the phone to call Jacky to plan a trip to Jiufen on the exact same day and time as Liu Chuan and Jia En. Ahahaha, okay, he's so bad but smart about it. He then calls all the rest of their friends from the Treasure Hunting club one by one to invite them as well. Cut to Ren Wei's daydream that Jia En and Liu CHuan are kissing at Jiufen and he jumps out to interrupt them and everyone else comes out as well and succeeds in keeping Liu Chuan and Jia En apart. Ren Wei fantasizes that he manages to tell Jia En all sorts of lame jokes to make her laugh and then she forgets about kissing Liu Chuan. Dream on dude!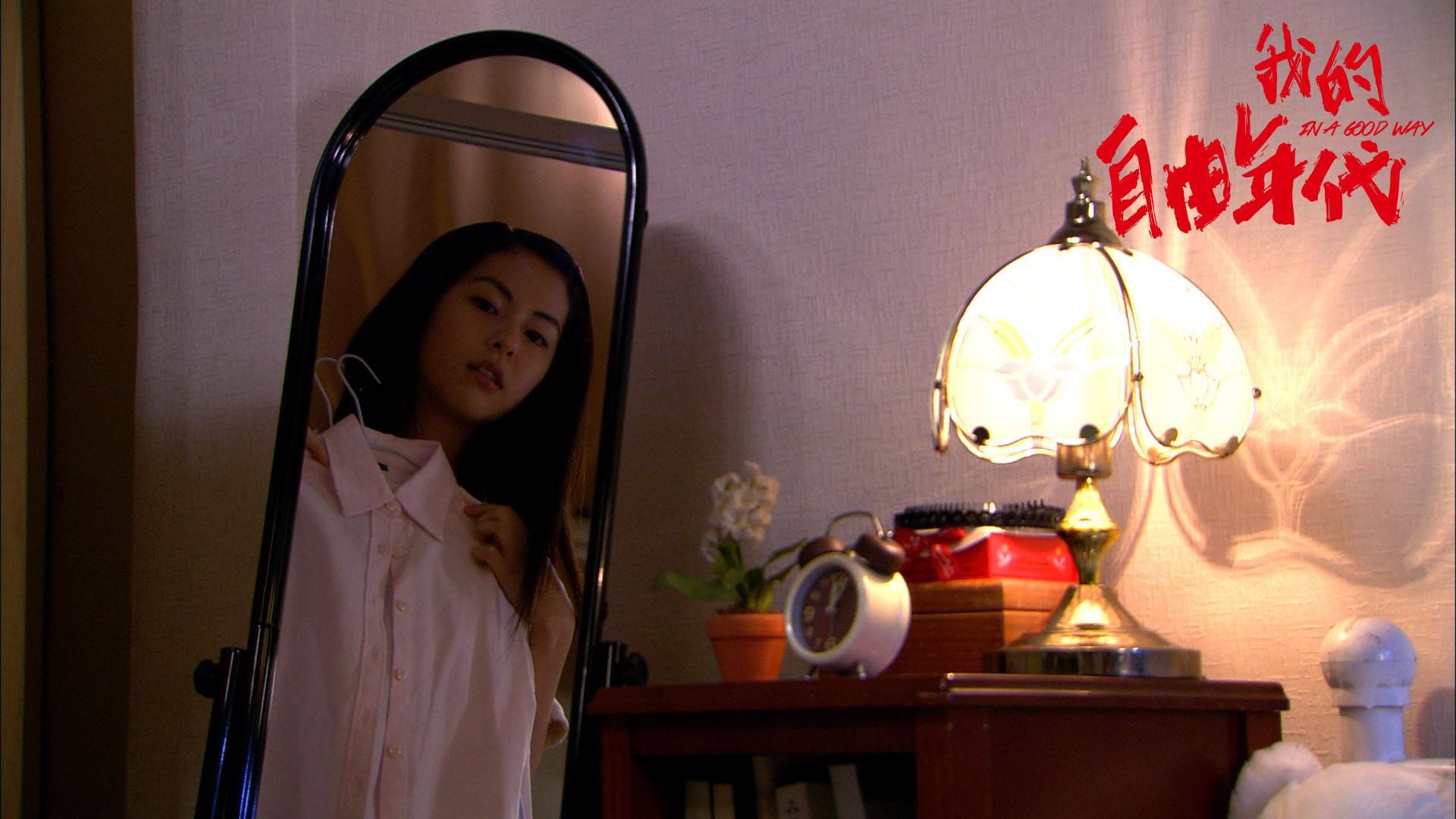 Jia En goes through her wardrobe to pick the right outfit for tomorrow's trip. Ren Wei is already packed and laying in bed sleeping already for his trip bombing tomorrow. In the morning, Ren Wei is leaving but notices Jia En is still home and asks why she hasn't left yet? She's leaving soon but wonders why he knows she's going out? Ren Wei runs off and meets up everyone at Ruifang Train Station. He tells the group to wait for Jia En and Liu Chuan because they haven't arrived yet. We see Jia En and Liu CHuan holding hands and heading into Taipei train station. LOL, they changed their starting point! Ren Wei pretends to go call them while everyone else takes pictures. Ri Qi suggests they leave first since those two are probably off dating alone. Ren Wei asks what people have done this Summer already? Ah Qing took the lawyer's exam while Tracy did a modeling gig. Everyone wonders why Tracy and Ah Qing seems unclear with what each other did and Tracy says even dating couples can do their own thing.
Bai Xue reveals she's doing an internship at a movie production company and gets to tag along to the Venice Film Festival. She gets to watch movies before it premieres as well and it's so exciting. Xiao Wei reveals she's still working part time and studying. Jacky thinks everyone is doing interesting things this Summer except for the Men of Steel. Ren Wei reveals that he sold all 800 tamagotchis which is why he bought more products but now he's afraid he really bought too much and can't sell the new stuff. Tracy points out the fad is fading so he might not be able to sell the rest. Bai Xue offers to help Ren Wei since she has a few more days until she goes overseas with the movie production company. Jacky calls out wondering where Jia En is? Ah Di says they have to leave now and Ri Qi seconds that since Xiao Wei says today is her only free day. Ren Wei wants to keep waiting and suggests they head inside the train station to wait.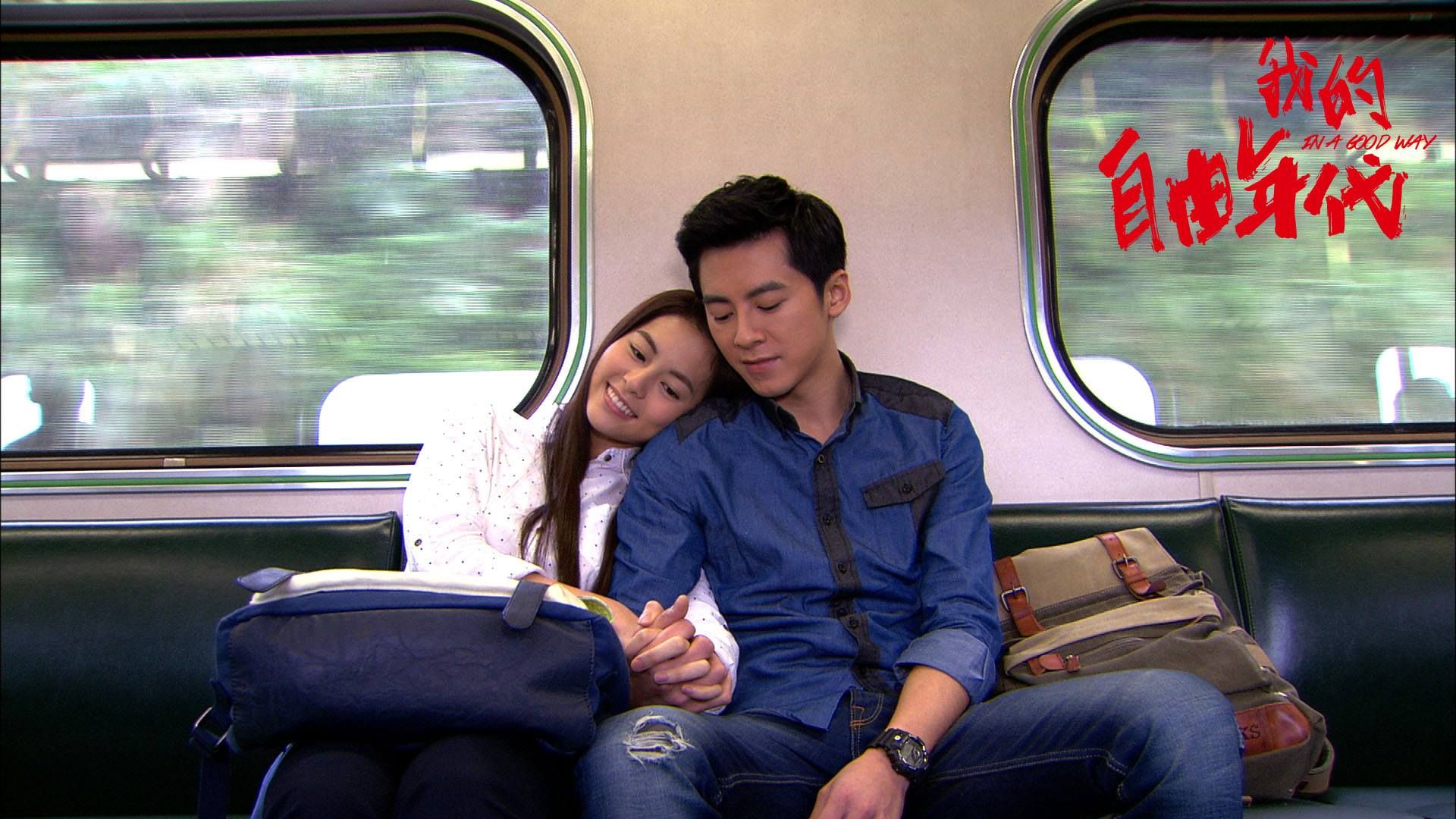 We see Liu Chuan and Jia En are already on the train and headed to Jiufen. They are sitting together and so so so cute and cuddly. Liu Chuan asks if she's hungry and Jia En shows off all the snacks she brought along. Liu Chuan teases that she's like a kid going on a field trip. Jia En was so excited she couldn't sleep. Liu Chuan reveals he forced himself to go to sleep early so he could get up early and see her sooner. Jia En literally buries her head in his shoulder to snuggle some more and he moves his head to rub against her head. Holy frak these two are nnnnnggggg. She asks if he's tired coming up from Taichung early morning and picking her up at the house? Liu Chuan says "how can I be tired when I'm with you?" *dies*
Thoughts of Mine:
All that talk of bases running and lingerie shopping turned out to be setting the stage for episode 17 which is a big group trip to the outskirts of Taipei to a little town called Jiufen. I'm not upset Ren Wei is playing games, because I expected that from him and I think he's harmless. He's not deviously trying to break up Jia En and Liu Chuan, he just wants to be a pesky third wheel and/or keep them from running bases. He can try because he's only going to fail. Ain't nothing keeping touchy-feeling Jia En and Liu Chuan from going wherever those two are ready to go. I loved this episode even if it was light on Liu Chuan and a little too much Ren Wei. I find Ren Wei just too immature still and wish he could be a little less fiery with his parents who really mean well. Liu Chuan's way of rebelling against dad is so much more thoughtful and less self-sabotaging. Thank god Ren Wei has Jia En around to take sense into him, as well as a confidante like Bai Xue to work through his feelings for Jia En. I'm relieved the drama didn't throw more angst at Liu Chuan and Jia En in this episode and instead just let them keep on dating in their cute way and in their little happy bubble. Next week's trip to Jiufen looks awesome and I'm glad the drama took a little breather with episode 16 so that we can get our anticipation up for Jia En-Liu Chuan on an overnight stay!
Click here to watch In A Good Way.