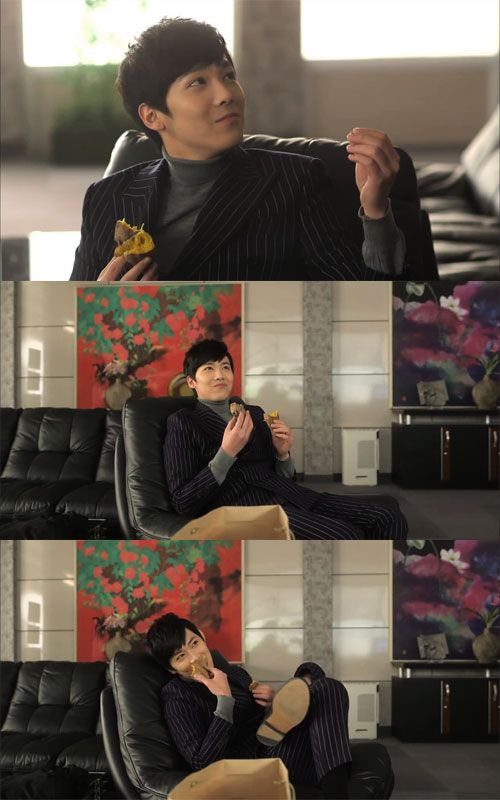 It's funny how Lee Hong Ki just has that "it" factor. I know plenty of folks who loved him in You're Beautiful but I confess his character annoyed me and was rather inconsequential to the overall narrative I tuned him out to the degree I can't even opine as to whether he acted well in that role or not. So it's really the cracktastic Bride of the Century where I'm getting my first real Lee Hong Ki exposure and he totally reminds me of another idol boy who can act Beast's Yong Jun Hyung (and they actually have a smidge of a resemblance as well!). I can admit that compared to Yang Jin Sung, Hong Ki is nowhere near as expert at the craft, but his natural charisma compensates ably for any technique lackings, and the end result is a fun leading man that I can love and want to smack from time-to-time. That is probably how Doo Rim sees Kang Joo, this man-child who is a man in all things other than emotional maturity. I do love when he gives in to his kid side such as when he discovered his love for roasted sweet potatoes thanks to Doo Rim. Watching Kang Joo eat sweet potatoes will never get old, a narrative moment that really delivers on the feel good sensation of a closed off guy tasting something heartwarming. The written preview is out for episode 7, and long with the video preview, it appears Doo Rim goes back to Seoul as expected and might even have resumed her substitute princess charade again. I'm curious what reason President Ma and Yi Kyung will cook up this time to get her to agree, but ultimately we need a bit more Doo Rim-Kang Joo falling in love time before the truth all comes out and the this drama ratchets up another notch in preposterous genius storytelling.
Written preview for episode 7:
Learning the truth about how his first love died in a car accident thirty years ago, Kang Joo's dad brings Doo Rim to the place where he had the most loving memories with his first love. He tells her that Kang Joo wants to end the engagement because of the family curse and he's scared of losing the person he loves. Knowing Kang Joo's real feelings, Doo Rim's feelings for him grow stronger and stronger…..
Preview for episode 7:
[youtube id="3ABJC2HeTsg" w="625″ h="445″]