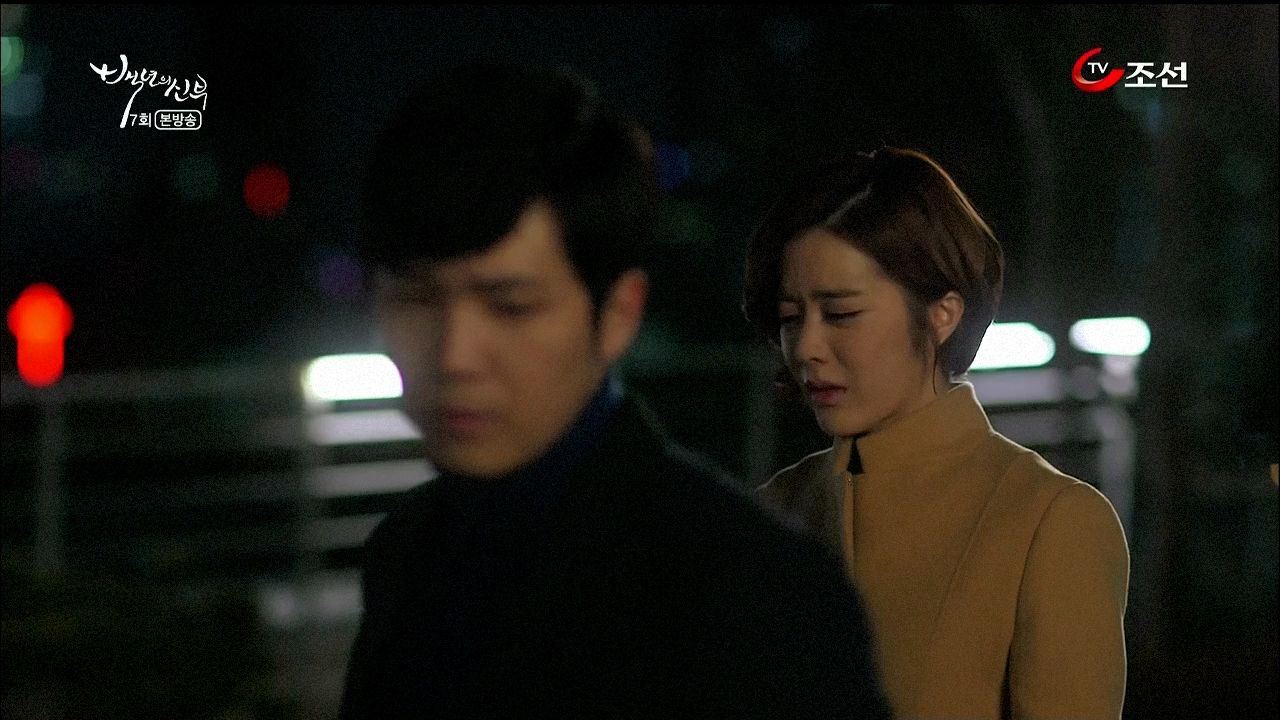 The episode 7 dose of Bride of the Century arrived a day earlier than usual as this drama has moved time slots on cable network Chosun TV from Saturday-Sunday at 8 pm to a more adult time of Friday-Saturday at 11 pm. Dare I hope for some hot sizzling action to come? This is the network that had Yoo Seung Ho and Park Eun Bin kissing like there was no tomorrow in Operation Proposal. I loved all the early kisses in BotC so far but there is still such a endless pit of tension and chemistry to mind between Lee Hong Ki and Yang Jin Sung. The story has currently headed towards the OTP separation angst period, and likely one of many to come. The layers of issues going on in this drama keeps it so fast-paced without anything to bog down the proceedings. The big development is the rise of Kang Joo from a passive presence to someone who wants to control his own fate. He doesn't want to end up like his parents in a loveless marriage, and he wants even less to put Doo Rim in danger. He's someone who has lived through danger with his own childhood kidnapping and grown up in watching what a loveless marriage looks like. His friendship with the family ghost took me by surprise but quickly added to Kang Joo's increasingly interesting character development.
I never thought there was a curse on the Choi family, and definitely never thought this ghost is killing the first brides willy nilly. Who she was and what her purpose is to haunt the family remains a curious unknown and I do like how she alternates between freaky scary and sassy sweet. I worried that the drama would keep Kang Joo and Doo Rim apart, and having Kang Joo interacting only with Yi Kyung for the time being, but President Ma's quick thinking brought Doo Rim back to the substitute princess gig pronto. Poor Yi Hyun oppa looks like someone took the candy from right under his nose and ate it in front of him. He's really not a bad or annoying character, and his warmth with Doo Rim is quite sweet and harmless. Even if he likes Doo Rim I can probably wrap my mind around it since Doo Rim and Yi Kyung are so different even if Yang Jin Sung plays both girls the result is like watching two actresses onscreen so the "looks like his half-sister" resemblance grows less icky. The problem with Yi Hyun is that he's on the verge of proposing and I was like "huh?" at his going from point A to point Z in a nanosecond. I do think Doo Rim is so adorable even I'd fall for her, but at this point everyone plotting their own agendas around Doo Rim makes me wish the girl could unleash her brand of awesome talk on everyone and set them all straight. Then she's free to kiss Kang Joo all she wants.
Episode 7 recap: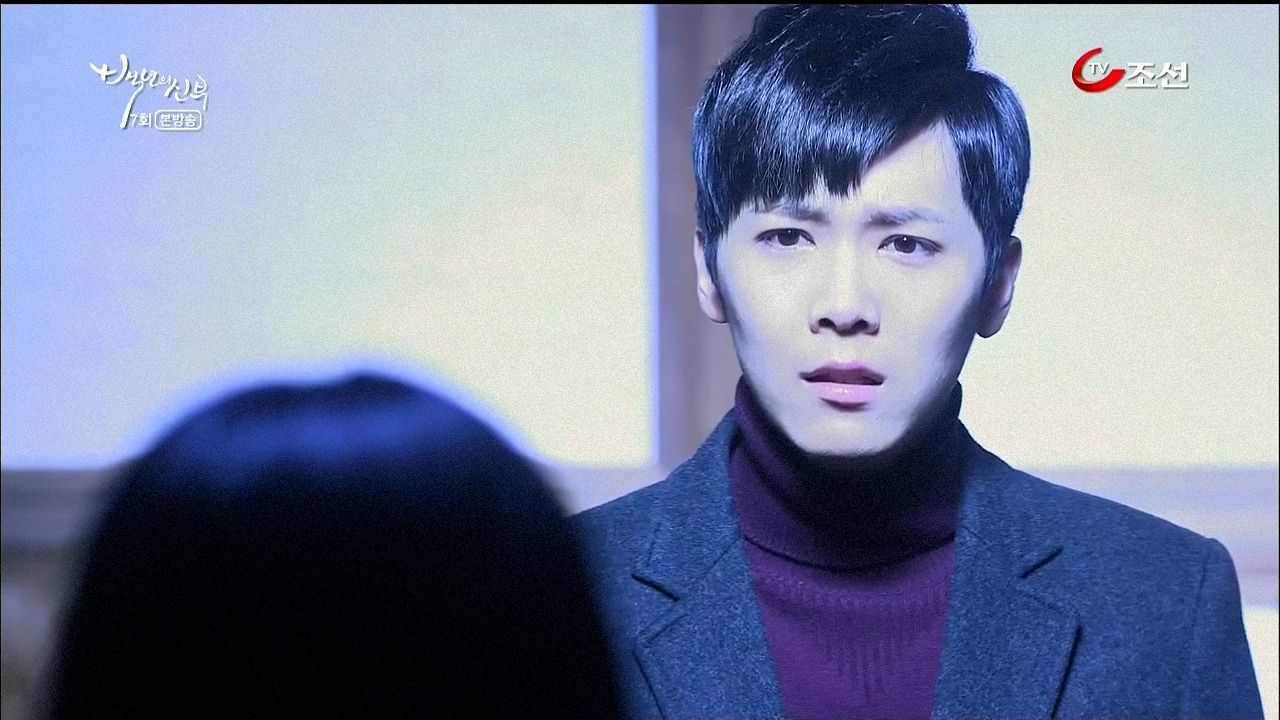 Kang Joo goes to the ancestral altar and the ghost appears but he doesn't appear surprised or scared to see her. Instead he says "you came."
Flashback shows us that when little Kang Joo was kidnapped and scared, the ghost came to him and held him to comfort him. When little Kang Joo was sick and laying in bed, the ghost came to sit beside him in bed and stroked his head until he woke up. She asks if he wants to know who she is? Little Kang Joo nods and the ghost explains that he will become the head of this house when he grows up and it is her duty to protect the head of this house.
When teenage Kang Joo is tired from studying and sleeps at his desk, the ghost comes and strokes his head.
Back in the present, Kang Joo turns around and asks the ghost if it's not true. She comes to save him each him he encounters danger and she comforts him whenever he's tired and sick. He doesn't believe she's behind the dead bride curse. The ghost says people believe what they want to believe and Kang Joo is the same. To become the head of this house, the man must sacrifice and suffer and that includes Kang Joo as well. If he doesn't sacrifice and suffer then he can't get what he wants. Kang Joo cannot allow her to be hurt but the ghost says he holds the key. His decision will determine the outcome. She disappears leaving Kang Joo alone and processing the hard decision he's faced with.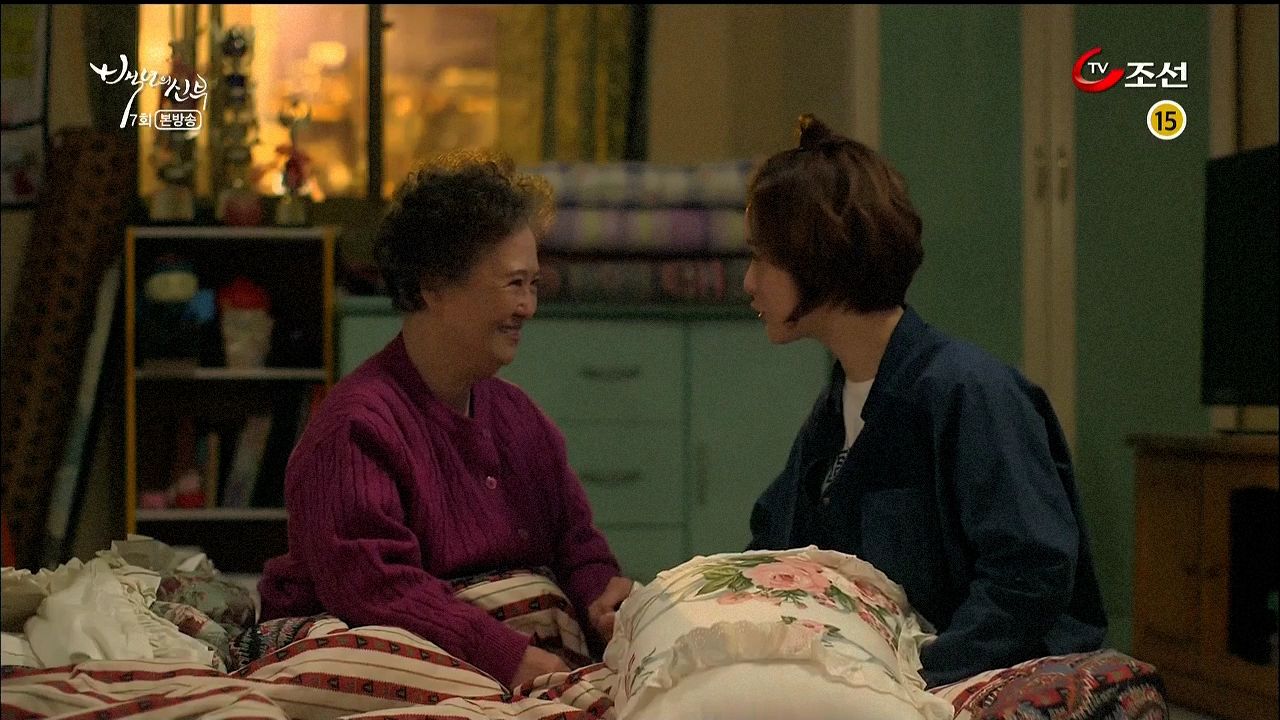 Doo Rim calls Yi Hyun to let him know that they have decided to move to Seoul. He's really happy and will pick her up tomorrow at the train station. After the call, Doo Rim turns to asks if halmoni will regret this decision but she doesn't. She knows Doo Rim's friends have all moved away but she's stuck here with her. Halmoni will see this as a chance for herself to experience the bigger world that is Seoul. Doo Rim vows to make lots of money in Seoul and then buy a house, a car, and even take an overseas vacation. Halmoni has been wanting to visit Hawaii and Doo Rim promises to make it happen, and then even more places like the US and Europe. Halmoni cackles about showing off to her twin halmoni friends who lord their travel adventures over her.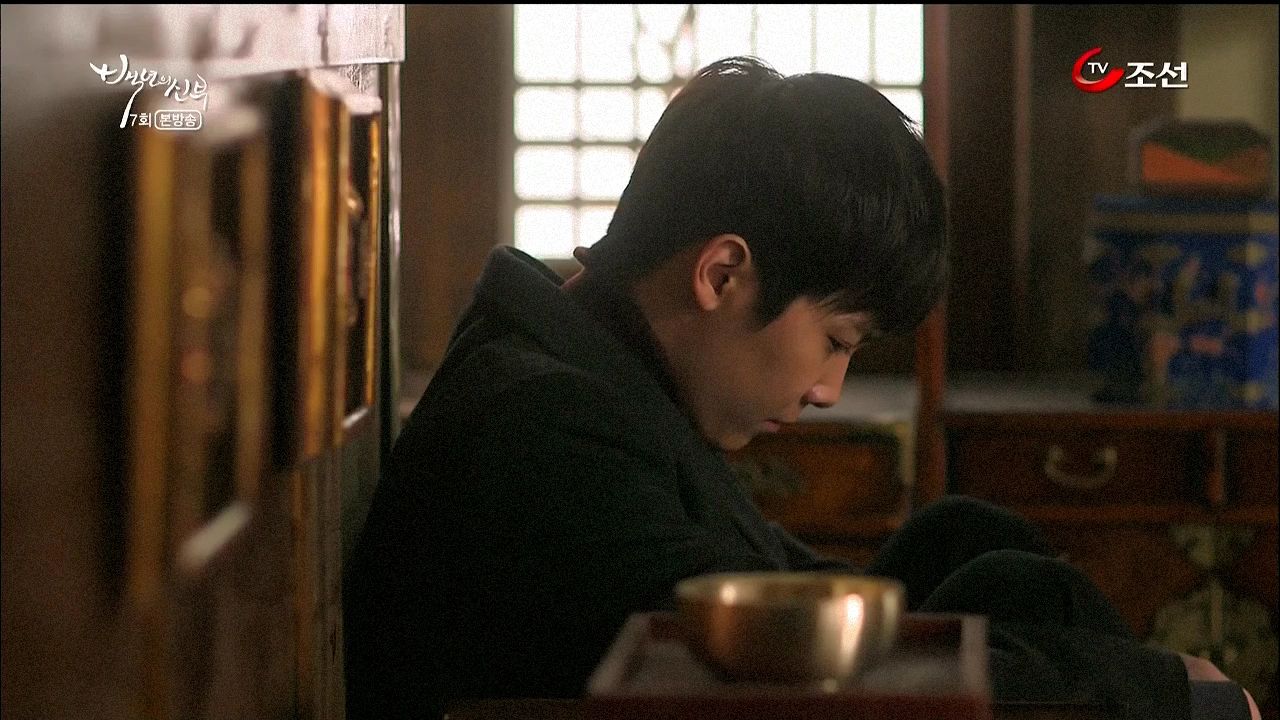 Kang Joo's mom goes to his room in the morning and finds it empty. Kang Joo has slept the night in the altar room and he stands up looking very determined and walks out of there.
Yi Hyun tells President Ma that Doo Rim and her halmoni has agreed to move to Seoul. She's happy to hear it and asks Yi Hyun to help settle them in. Yi Hyun is happy to do so. As Yi Hyun heads upstairs, he runs into Yi Kyung who notices that he seems happy so something good must have happened. She wants to meet his girlfriend but Yi Hyun isn't ready for that yet. He asks Yi Kyung to keep it from their mom for now until the time is right. She agrees but after he walks away, she mutters about the girl and why it's so irksome to meet her.
President Ma calls Yi Kyung over to discuss how she's going to try on wedding dresses today. Yi Kyung feels a bit frightened but President Ma calms her down by revealing that Doo Rim is moving to Seoul. So Yi Kyung needs to pick out an especially pretty wedding dress that Doo Rim will be wearing. Doo Rim will become the tragic heroine of that wedding so her wedding dress much be gorgeous, right? Yi Kyung smirks and I just want to punch all her teeth out.
Yi Hyun drives Doo Rim to the restaurant that she and her halmoni will be running in Seoul. Doo Rim runs in and exclaims over everything. She's so happy and confirms this restaurant will be transferred to her name. He offers to remodel it for her but she doesn't see any need for that, just a new paint job and new billboard and it's good to go. She continues to run around in glee while Yi Hyun just stares at her. She is so so clueless about how he sees her.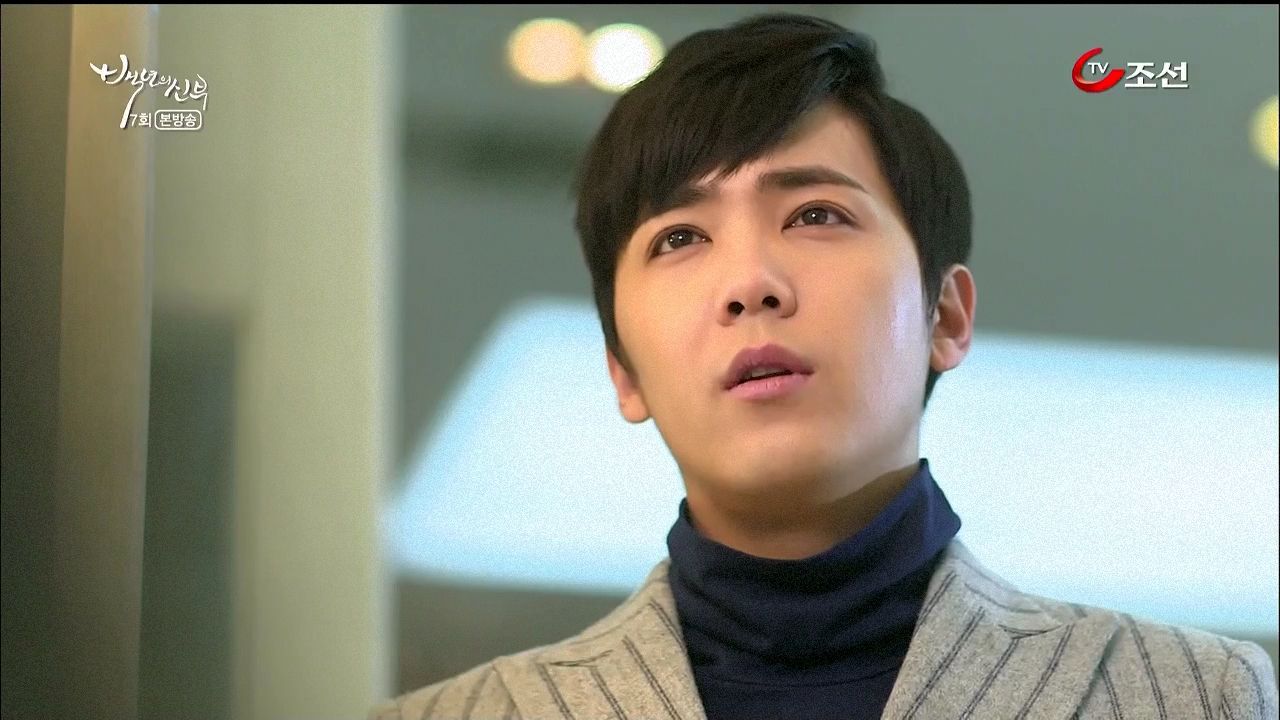 Kang Joo goes wedding dress shopping with Yi Kyung and when she asks what he thinks about a dress, he tells her there is no need to try it on since she won't be wearing it. Kang Joo ends their engagement right then and there. Yi Kyung confronts him about why he is doing this and Kang Joo says he wasn't happy about the engagement to begin with so he's decided not to do it. Yi Kyung switches tactics and begs him nicely not to do this. Kang Joo says it was a mistake in the first place and also wants nothing to do with her going forward.
Yi Kyung grabs Kang Joo's arm to plead but he pushes her away and says he knows she's upset at him right now but one day she will thank him. Kang Joo will inform his parents today and the engagement will officially end. He will give Yi Kyung whatever compensation she wants.
Yi Kyung runs to tell her mom that Kang Joo just ended their engagement. President Ma asks if she did anything that pissed Kang Joo off that he is ending their engagement? Yi Kyung claims she didn't and then accuses Doo Rim of having done something to upset Kang Joo. President Ma suddenly seizes upon this as a perfect excuse to bring Doo Rim back as her substitute.
Yi Hyun is having lunch with Doo Rim and he walks off to go stare at an engagement ring. What the whut? Aren't you moving faster than the speed of light, dude? He goes back to the table and finds Doo Rim talking with her halmoni. She asks to speak with Yi Hyun and he takes the phone and very courteously promises halmoni that he'll take good care of Doo Rim. After he hangs up the phone, he asks Doo Rim what she'll do if he was ulterior motives towards her. She laughs that he could never but he repeats the question again. Doo Rim notices he's not eating and asks him to eat while he just keeps staring at her. Yi Hyun says the food Doo Rim makes is the tastiest. She offers to cook for him all the time after she opens the restaurant.
Yi Hyun is about to pull out the ring and I guess propose to Doo Rim (again whut?) when his phone rings from President Ma calling. They go home and President Ma reveals that Doo Rim has to pretend to be Yi Kyung and go see Kang Joo who has announced that he's ending the engagement. She claims Doo Rim must've done something to upset Kang Joo. Yi Hyun is upset Doo Rim is being dragged back into this and doesn't want her to do it. President Ma is not blaming Doo Rim but just wants Doo Rim to find out what happened so it can be fixed. Yi Hyun says Yi Kyung can deal with it herself but President Ma reveals Yi Kyung is happy about this turn of events and doesn't want to fix it.
Yi Hyun storms off to talk to Yi Kyung and finds her packing a suitcase to go stay in their villa. He orders her to stay put here and deal with her own problem! Yi Kyung cries that she doesn't know what to do and she's tried her best. She cried and begged Kang Joo to not leave, she asked him what she did wrong, but she doesn't know what else she can do anymore. Yi Hyun walks out of Yi Kyung's room to find Doo Rim outside in the hallway and she agrees to go see Kang Joo.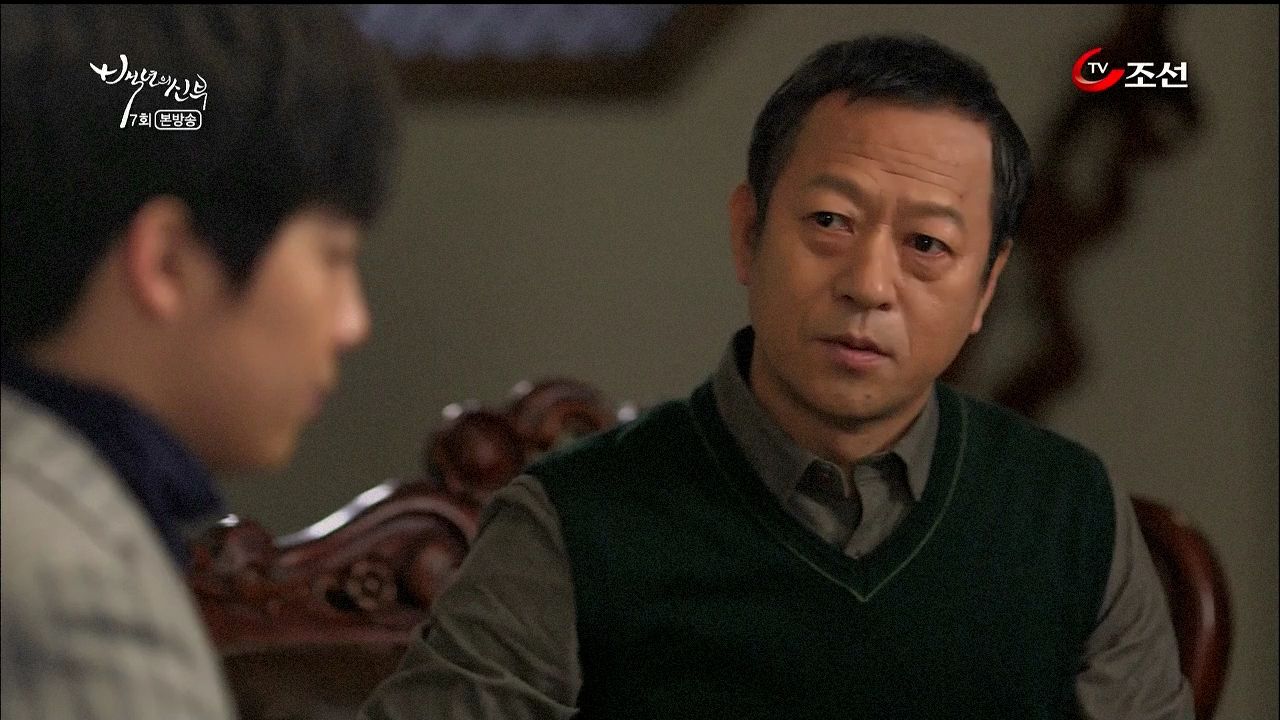 Kang Joo is sitting with his parents and awkwardly announces that he broke up with Yi Kyung and ended their engagement today. Mom is pissed but Dad asks what his reason is? Kang Joo claims he doesn't want a marriage that isn't based on real feelings and asks his parents to respect his wishes. He goes to his room leaving his parents deciding what to do next. Mom thinks they fought and goes to talk some sense into Kang Joo.
Kang Joo's mom follows him to his room and tells him that marriage is not child's play. Kang Joo says his mom knows exactly why he ended the engagement and then offers to tell Roo Mi about it.
Kang Joo's mom calls President Ma and assures her it's all just a misunderstanding and the wedding will still go forward. She apologizes for Kang Joo being too sensitive lately from working too hard. These two are so fake it's revolting.
President Ma ends her call with Kang Joo's mom and tells Yi Kyung that Kang Joo's mom is not letting him end the engagement that easily. He'll end up doing what his mom wants anyway and they were able to use this situation to bring Doo Rim back.
Yi Hyun drops Doo Rim off at Taeyang Department store and he asks if she's alright and gives her another chance to back out. He assures her this isn't her responsibility. Doo Rim thinks President Ma is correct, the engagement got blown only a few days after Yi Kyung came back and if she walked away she won't rest easy so she would rather try to help. Doo Rim heads inside while Yi Hyun looks on most unhappy.
Doo Rim barges into Kang Joo's office unannounced and then walks up to his desk to just stare at him. He peers at her and gets up to leave but she spread her arms to block his path. She asks if a broken engagement is the fault of just one person? She demands to know the reason she got dumped? She's so feisty I love it! Kang Joo looks past her so Doo Rim turns around to find Roo Mi staring wide-eyed having hard what she just said. Roo Mi calls Kang Joo to attend a meeting so he just walks past Doo Rim and leaves. Roo Mi stares at Doo Rim a bit and then walks out behind him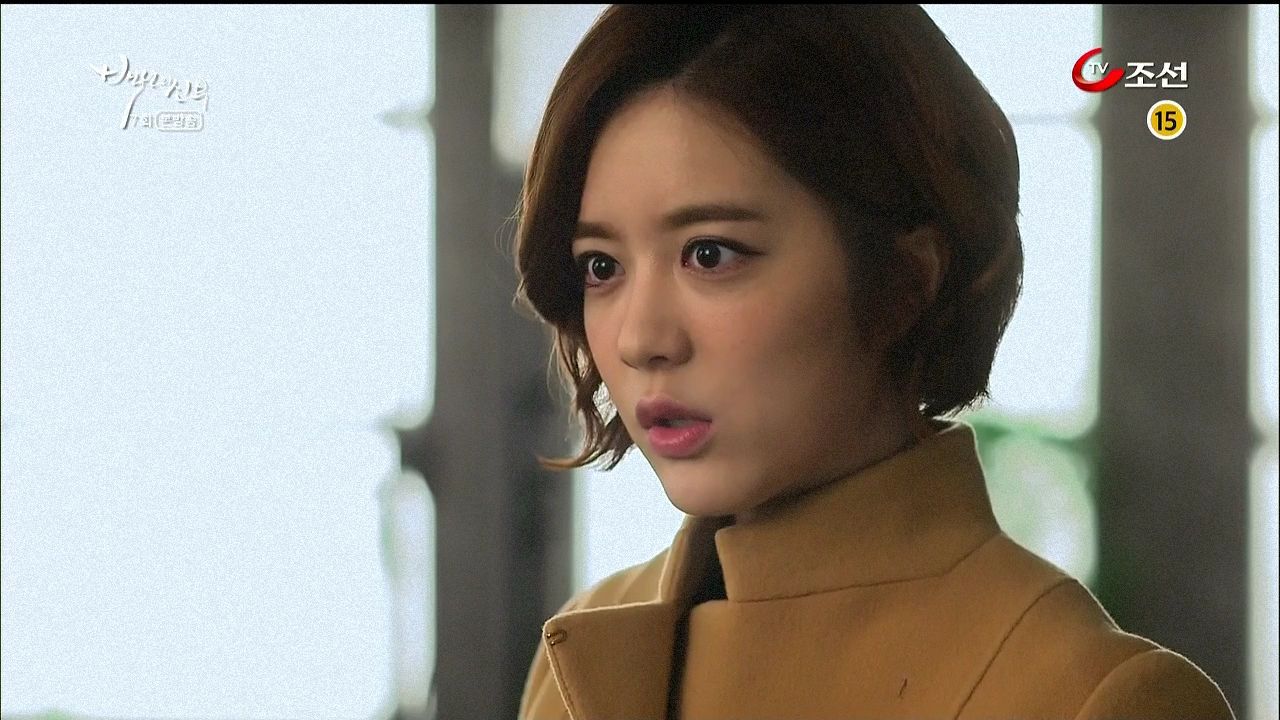 Doo Rim sits down and isn't about to leave until she gets to the bottom of things. She drinks some tea and complains about Kang Joo being such a bastard. Secretary Kim comes in and informs her that the meeting hasn't ended yet. She asks where the meeting room is?
The meeting ends leaving just Kang Joo and Roo Mi inside. She asks if what Doo Rim just said was true? Did he really end the engagement? Kang Joo turns to her and asks if she wants to marry him. Ahahaha, say yes bitch! Roo Mi asks why he is asking but he pushes her for why she's not saying yes when it's her biggest wish to marry him? Roo Mi sputters and Kang Joo knows all about why she had the sudden change of heart and gave Yi Kyung a wedding present. He assures Roo Mi that things will not happen like she hopes for. He won't allow that to happen. Doo Rim walks into the meeting room and Roo Mi uses the opportunity to escape, though she glares at Doo Rim on her way out.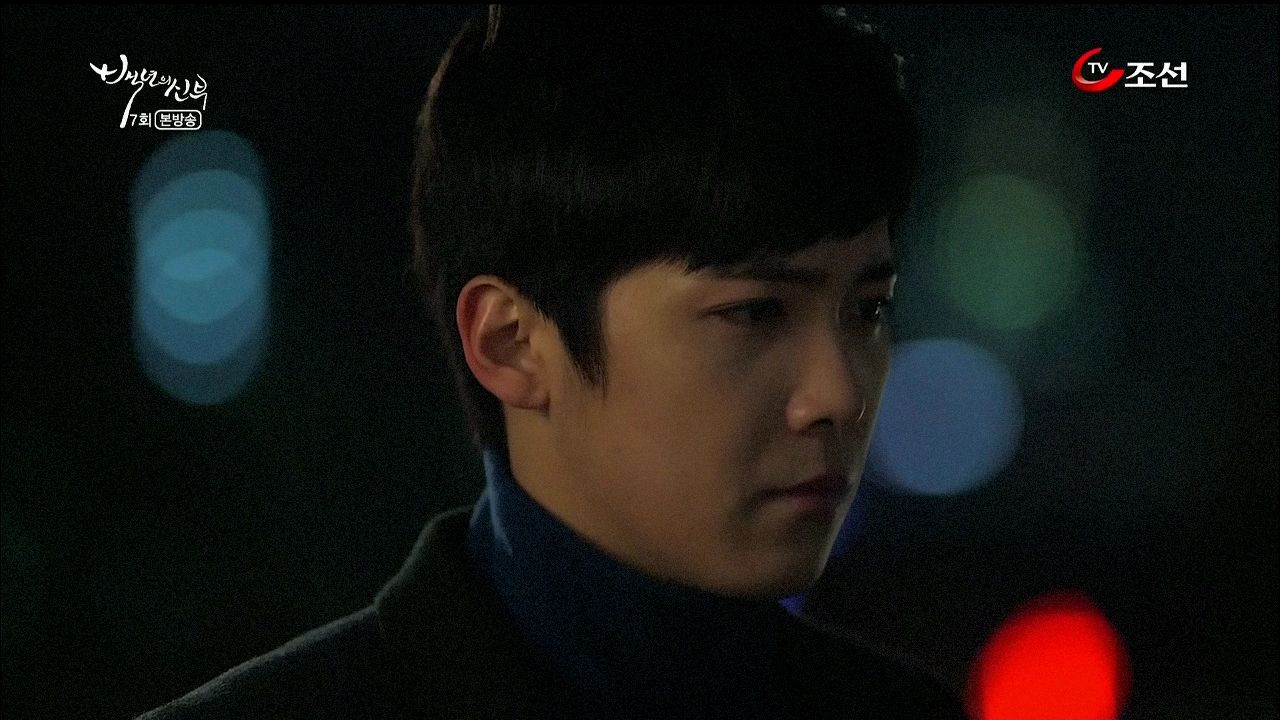 Kang Joo and Doo Rim are discussing the reason for the broken engagement and she'll accept it if the reason is legitimate to her. Kang Joo says this engagement was a business deal to begin and he simply doesn't think it's a good deal anymore for him. He doesn't see any qualities in her that are stellar, in fact all she does is get into trouble. Every time she causes trouble, he has to clean it up. Thinking about a lifetime of that after they get married leaves him with dread. Doo Rim says she doesn't just cause trouble but Kang Joo cuts her off and says he has responsibility to the Taeyang Group so he needs a woman who is smart and reliable and sensible. Doo Rim isn't up to his standards and doesn't match up to him.
Doo Rim cries and tries to argue back but Kang Joo cuts her off again that there is nothing he sees on her from her head to her toe that he's happy with. He initially wanted to just tolerate her but he can't ruin his life because of her. Doo Rim cries and Kang Joo tells her to leave now since this reason is legitimate and she said she would accept. Kang Joo turns to leave and Doo Rim says her heart…..but doesn't say anymore because Kang Joo has stormed off.
Kang Joo goes home and his mother is waiting for him. She tries to explain that it's all just a misunderstanding and wants him to trust her. He tells her that to substitute Roo Mi with Yi Kyung, will that work? She won't do that because it's not a misunderstanding, right? She can't sacrifice Yi Kyung for what she's planning, he won't allow that. He won't let anything happen to Yi Kyung just so his mom can have him marry Roo Mi afterwards. Kang Joo's dad walks in just in time to hear this. Kang Joo's dad goes to berate his wife for this ridiculous scheme of hers and because of it Kang Joo has called off the engagement.
The housekeeper chats with her husband the butler about how Kang Joo wants to call off the engagement. The butler doesn't think Kang Joo is this kind of guy and wonders if he's heard strange rumors. He orders his wife to not say anything about family matters. After he leaves, the housekeeper wonders if Roo Mi said anything to Kang Joo? She berates herself for having loose lips over some free cosmetics.
Yi Hyun finds Doo Rim drunk and crying over how she did ruin the engagement. Kang Joo said there wasn't anything good about her from head to toe. She calls Kang Joo a bad guy but then wonders why it hurts so much. She is just Yi Kyung's substitute so why does it upset her so much.
Yi Hyun takes Doo Rim to Jin Joo's place and Yi Hyun asks Jin Joo to take care of Doo Rim. Jin Joo drags Doo Rim inside but Doo Rim is still hollering about Kang Joo being a bad guy and Yi Hyun hears this.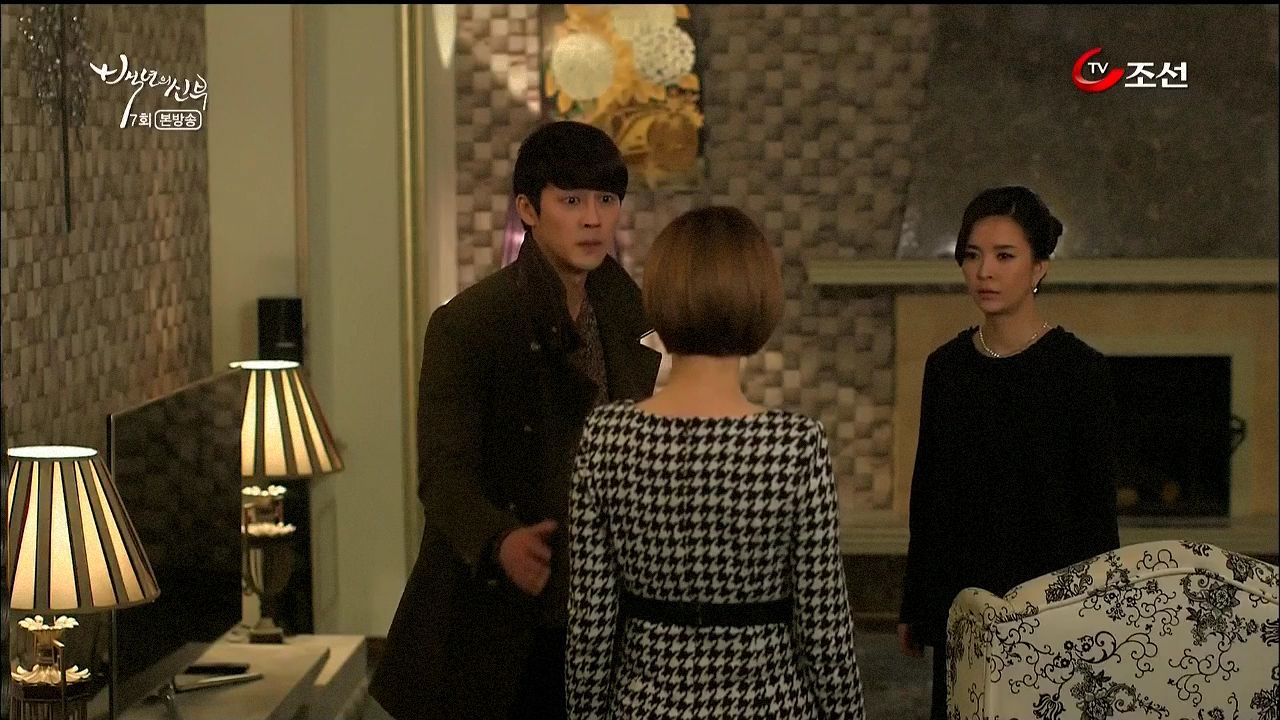 Yi Hyun goes home to tell his mom what Kang Joo said. President Ma blames Doo Rim since she did cause a lot of trouble but Yi Hyun says Yi Kyung can just step in to fix it herself. Yi Kyung walks down and announces she also wants to end the engagement. She thinks Kang Joo is right that it was a mistake. She doesn't want to do it anymore! President Ma threatens to bring Doo Rim back as her substitute if she won't continue with the engagement. Yi Kyung tells her to go ahead, she'll get married if Doo Rim manages to salvage the engagement. Even better if Doo Rim wants to marry Kang Joo herself, she can go right ahead! Yi Hyun yells at Yi Kyung for saying something so preposterous.
Yi Kyung says Doo Rim as her substitute was already preposterous and Kang Joo never knew the difference. Rather then suffer she would rather give up the position. She storms off leaving President Ma certain that Yi Kyung won't play ball so they need Doo Rim again. She reminds Yi Hyun that if the engagement ends then their company goes bankrupt. They need Doo Rim now more than ever! Yi Hyun sighs and later in his room he takes out the engagement ring and stares at it.
Kang Joo's dad goes to talk with Kang Joo and reveals he knows why Kang Joo did it and it must have been a hard decision. He asks if Kang Joo believes in the curse? His mom does but he doesn't know why Kang Joo does as well. Kang Joo says that is not the reason, he just doesn't want to marry someone he doesn't love. He cuts his dad off from saying anymore because there is nothing his dad can say that will change his mind.
Kang Joo's dad tells the butler to summon a man named Hong Man Soo because it's time he went to see him. For Kang Joo's sake he needs to find out what the truth is.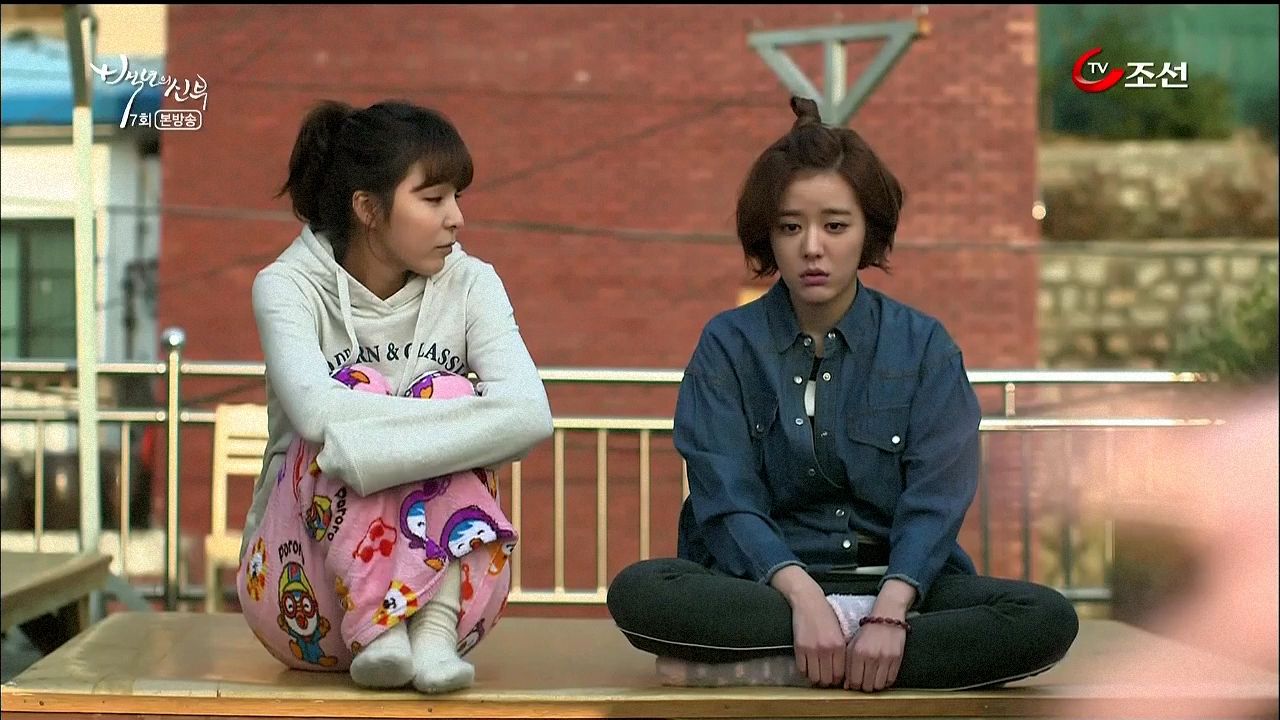 Jin Joo finds Doo Rim sprawled outside and asks if she's upset because of Kang Joo. Doo Rim curses him out but Jin Joo reminds Doo Rim that she's just a substitute so there is no reason to be upset. Sometimes there is no reason for liking or disliking someone so perhaps Kang Joo feels that way as well. Jin Joo notices Doo Rim is crying but she claims she got sand in her eyes. Jin Joo wonders if Doo Rim has really fallen for Choi Kang Joo? Doo Rim and Jin Joo are having breakfast when Doo Rim gets a call from Kang Joo's dad. She's called out to meet him today and promptly freaks out that she looks terrible after a sleepless night.
The two moms are meeting to discuss Kang Joo's engagement bomb. President Ma takes the hard line that even if her Yi Kyung has problems but Kang Joo still can't do this to her. Kang Joo's mom assures her that this wedding will go on because it's decided by the elders but asks for understanding of Kang Joo's concerns. President Ma points out that if the engagement is broken all of Korea will know and Yi Kyung can't get married in the future. Kang Joo's mom is certain Kang Joo will go along with it and thinks to herself that she's come so far she can't let the plan go awry now, while President Ma thinks to herself that Kang Joo's mom doesn't know they are progressing on two parallel paths and it's not clear who will win in the end.
The housekeeper waits for Kang Joo's mom to come home and quickly informs her that Kang Joo's maternal grandmother is inside. Kang Joo's mom goes to sit with her own mom who has heard of the engagement and wishes Kang Joo is marrying Roo Mi. She's here to ask her daughter to come home for their great aunt's 80th birthday and to bring Kang Joo's fiancee home for her to meet. She asks how her daughter is faring with Kang Joo's dad and is still upset that her daughter insisted on marrying him as his second wife when the guy doesn't care for her. Kang Joo's mom is happy, she wants nothing from him other than be his shadow by his side.
Kang Joo's had heads to the edge of the water with Doo Rim and reveals that this beautiful view is the place where the woman who is his everything rests forever. They got married in happiness but it was so short-lived. During their honeymoon an accident took her from his side. After she died there were rumors of a strange curse that the eldest Choi son's first bride will die by the family ghost. In truth many of the first brides did die in accidents or illness which is where this rumor came from. Kang Joo's dad reveals that Kang Joo believes in it as well and he's scared of losing Doo Rim which is why he wants to break off the engagement.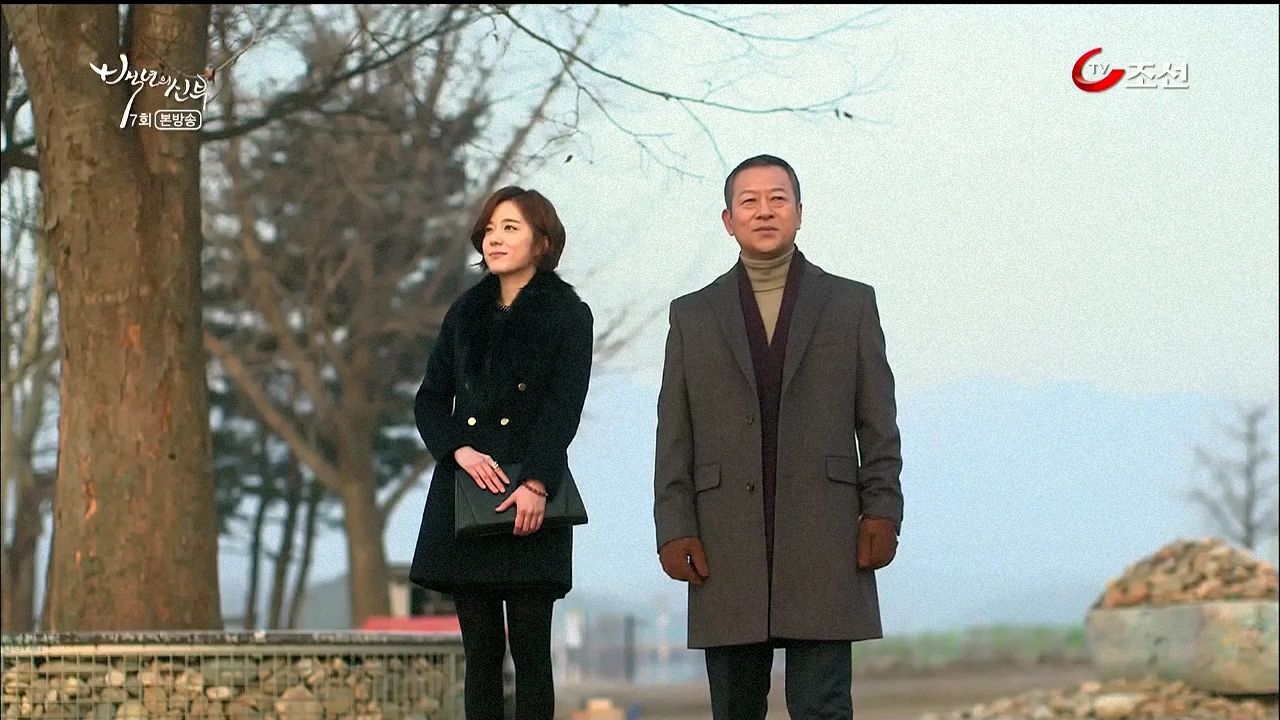 Kang Joo's dad reveals that Kang Joo is a very lonely person, he closed his heart as a child after suffering a cruel betrayal. He is afraid of trusting anyone but the way he treats Doo Rim is different. Kang Joo's dad won't force Doo Rim and will respect whatever decision she makes but he just wanted to tell her all this today.
Secretary Kim brings a plate of roasted sweet potatoes for Kang Joo at work having noticed he hasn't been eating much lately and last time he seemed to really like it. Kang Joo takes on and stares sadly.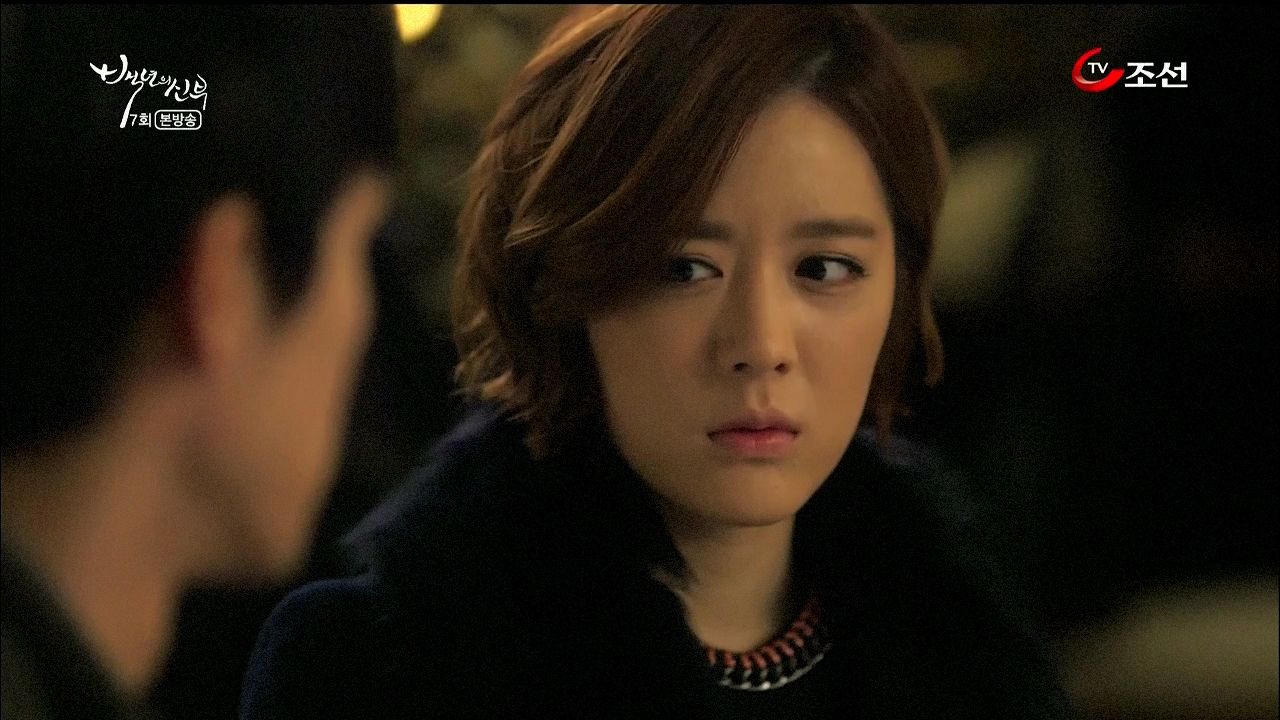 Doo Rim gets the deed to the restaurant from President Ma who then asks if Doo Rim met Kang Joo's dad today? His family doesn't want the engagement ended so Doo Rim just needs to convince Kang Joo to get married. Doo Rim reluctantly agrees and Yi Hyun stares at her. Yi Hyun walks her out and asks why she is doing this? It's no longer her problem. Doo Rim says she signed a contract and can't just walk away now that things are falling apart. Yi Hyun doesn't believe her and asks if there isn't another reason? Doo Rim says there is no other reason, and when she walks away, she thinks to herself that it's all because of the contract.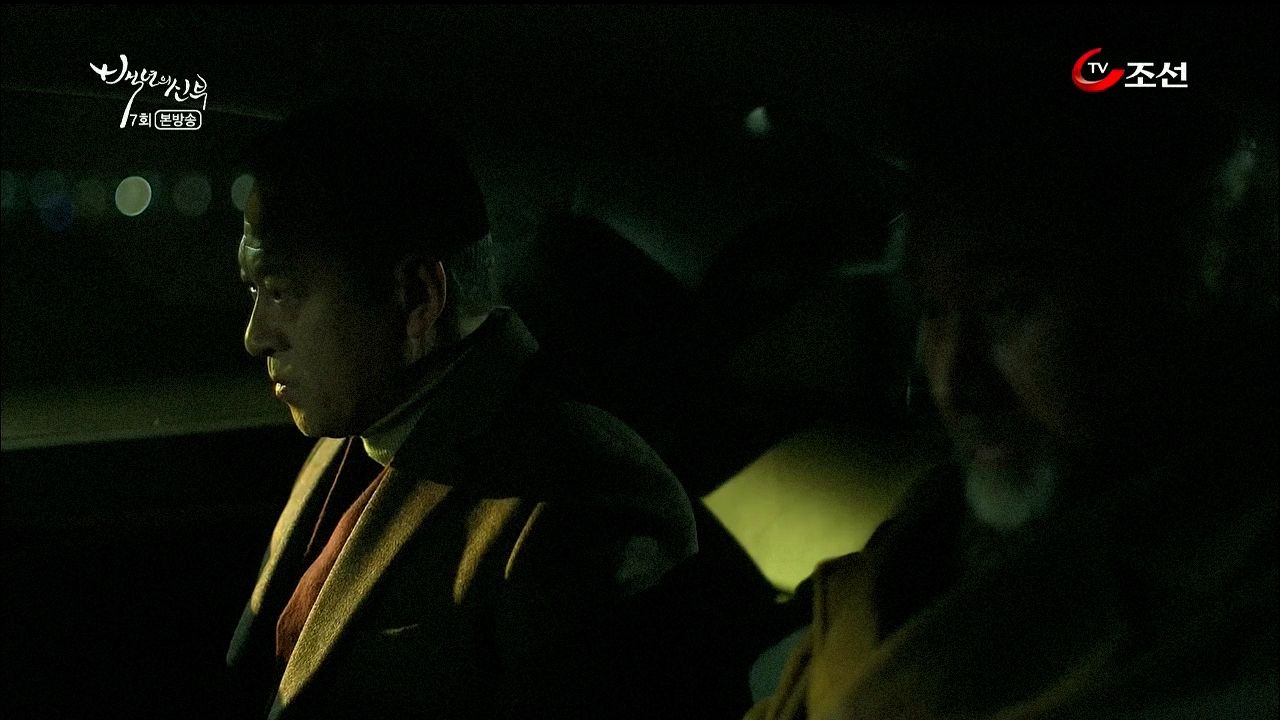 Kang Joo's dad has a secret and shadowy meeting with the man who works in Kang Joo's maternal grandmother's home for the last 30 years. He asks if the man knows about the car accident 30 years ago? Isn't that why the man has been calling Kang Joo's dad? We see a flashback of Kang Joo's maternal grandmother sitting in a car. We don't hear what the guy said but Kang Joo's dad gives this man money and tells him to leave and never show his face again. If he does then Kang Joo's dad will make his life a living hell. As the man gets out of the car, the butler tells him to keep his mouth shut and say nothing, the butler will be keeping an eye on him. The butler gets into the car and asks Kang Joo's dad if he's alright?
Kang Joo's mom tells her husband that her mom came by today to invite the family to go home for her great aunt's 80th birthday and to discuss Kang Joo's upcoming wedding.
Doo Rim sits in Jin Joo's apartment and Kang Joo but his cellphone is in his room while he's outside in the courtyard thinking about Doo Rim. Oooooh, new OST song sung by Lee Hong Ki! Squeeeeee~ Kang Joo thinks through all his past interactions with Doo Rim while she is also thinking about him. Guh, I love them so so much!
The Choi dysfunctional family head out to go to Kang Joo's maternal grandmother's place. The housekeeper natters about how nice it would be if Yi Kyung was here as well and no one looks happy to hear that.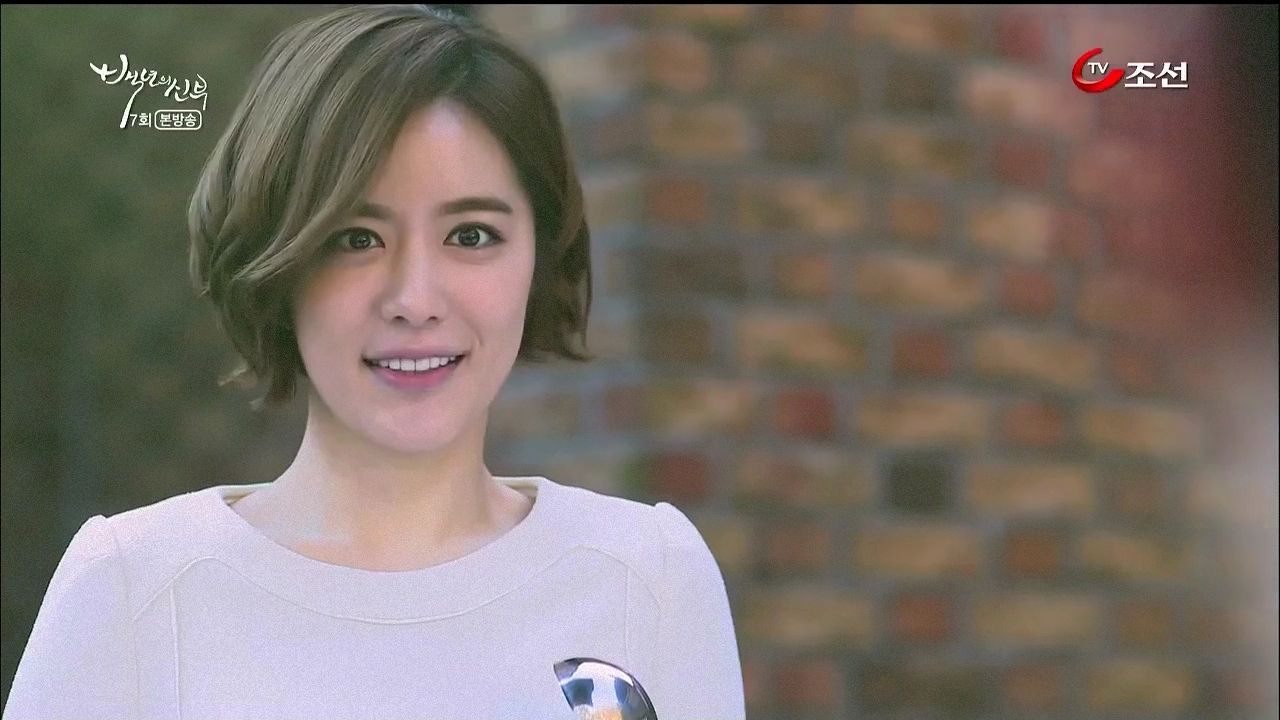 The car pulls up outside the maternal grandmother's huge estate and everyone gets out. Kang Joo's mom reminds Kang Joo not to mention he wants to end the engagement because his grandmother doesn't know yet. They walk to the front door when Doo Rim opens the door and walks out holding a ladle. She happily welcomes Kang Joo's parents and then turns to smile at Kang Joo while the poor boy looks gobsmacked see her. Ha!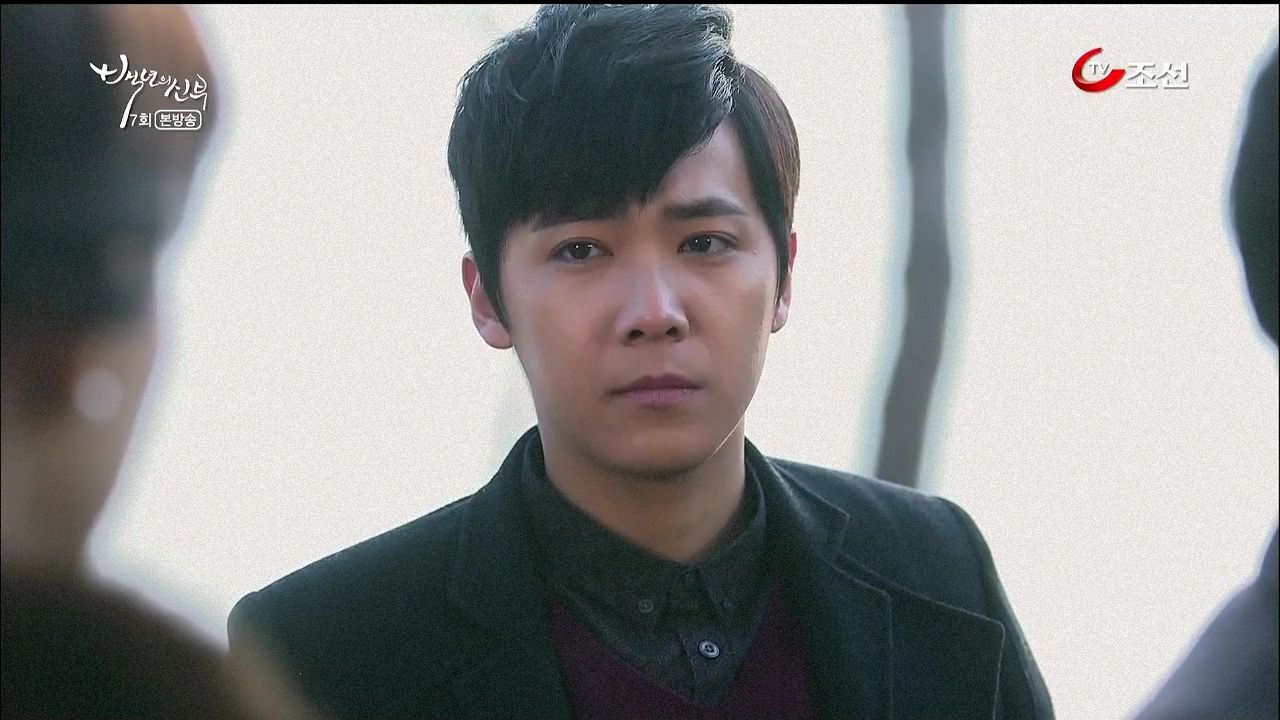 Thoughts of Mine:
This drama is so the bibimbap of K-dramas and such a guilty pleasure satisfaction at that. So Kang Joo knows the lady ghost of the family, which didn't surprise me, but I was rather touched that she seems to be his only friend and confidante in life up until now. No wonder he's always in the altar room and doesn't subscribe to the family curse nonsense. I still don't think he believes the ghost will ever harm Doo Rim, but the issue with what his mother is plotting and her belief in the curse makes him unable to go along and take that risk. I also think he's scared of giving his heart to her fully as well, and this gives him the perfect excuse to retreat back into his cold safe shell. Kang Joo's fear of emotional intimacy is in such odds with Doo Rom's way of giving everyone her all. I actually think Kang Joo would never fall for the real Doo Rim because he wouldn't have given her a chance to befuddle and charm him, but Doo Rim as Yi Kyung is that perfect opportunity where he thinks he's dealing with a rich bitch and instead finds himself putty in the hands of a plucky spitfire. Yi Hyun falling for Doo Rim is totally understandable in the sense that she's so good to him in a way he hasn't gotten from the family in his life. But for the fact that she looks just like Yi Kyung and Yi Hyun appears to have jumped the gun with picking out an engagement ring, I can sorta feel for the lonely guy. In many ways he and Kang Joo live very similar rich aloof lives and Doo Rim is the warm presence that they gravitate towards.
The two mom are such a pieces of work, aren't they? And now we learn that Kang Joo's mom has gotten all her sneaky plotting from her own mother at that! I wasn't sure the death of Kang Joo's dad's first wife was an accidental or murder, but it definitely wasn't some ghostly curse. Now to learn that the maternal grandmother did it is even scarier because that is exactly the same path Kang Joo's mom is looking to replicate with Yi Kyung. But every time I think Kang Joo's mom takes the cake, Yi Kyung's mom ups her own scheming what with using the broken engagement to bring Doo Rim back and all that cackling about Yi Kyung picking a pretty wedding dress because Doo Rim is going to die in it. Ugh. I hope all the horrible moms get their deserved punishment in the end, and I'm not talking about some slapping and sobbing. Kang Joo and Doo Rim appear to be falling for each other at the same pace and with the same denial techniques. He thinks he's just preventing some plotting by his mom, she thinks she's just fulfilling her end of the contract bargain to help keep the engagement secure. But people around Kang Joo and Doo Rim can see their feelings for the other isn't platonic in the least. I hope they can each admit it to themselves and then to each other soon.
Click here to watch Bride of the Century.