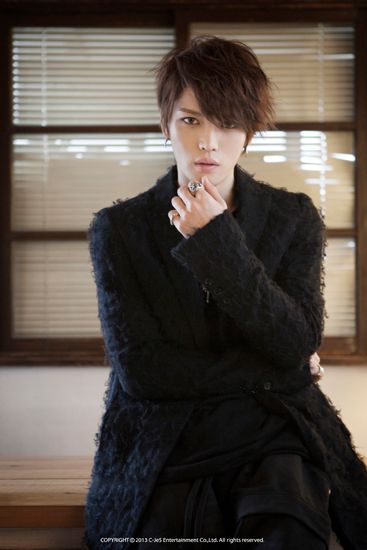 When the first rumored casting of Lee Bum Soo, Song Seung Heon, and Im Shi Wan as separated brothers who reunite as adults for the upcoming MBC drama Triangle was floated, I was all for it even if I think only one out of the three can act. The other two are eye candy enough for me to take it with a shrug. Then Lee Bum Soo and Im Shi Wan was confirmed as the eldest and the youngest brother, respectively, but no word on Song Seung Heon officially accepting which led me to think he ultimately passed and the network was looking for another pretty face to rope in. It didn't look any further than the original Dr. Jin mess bucket and unearthed a replacement that rivals Song Seung Heon in chiseled good looks and absolute acting stiffness. Jaejoong has been confirmed to play the middle brother in this Triangle, and his role is a gangster while hyung Lee Bum Soo plays a cop while Im Shi Wan is the adopted rich heir.
I can't believe the messiest hot mess that is Dr. Jin is actually having a reunion cast in Triangle, except it turned out to be Lee Bum Soo with Jaejoong rather than with Song Seung Heon. And let's not forget that another male lead from that drama in Jin Yi Han is currently scene stealing all over MBC's Empress Ki, which is the drama that Triangle is slated to replaced come May. Directing and screenwriting Triangle is the team behind All In and Swallow the Sun, so the gangster and revenge and bromance genre is not new to the production team in the least. I'm watching this drama no matter what but the unintentional hilarity factor has definitely been upped now that Jaejoong is on board. He was so awful in Dr. Jin as to defy description, but then again, I quite adored him in Protect the Boss, so maybe the PtB version of him will return for this foray. Or else he could just copy Song Seung Heon's performance as a gangster with a separated brother in East of Eden which consisted mainly of brooding, growing out facial hair, and getting bruised and battered from time to time.

A bunch of rumored leading ladies have all passed on this project ranging from Lee Mi Yeon, Go Ara (who is off doing You're All Surrounded with Lee Seung Gi and Cha Seung Won), and Park Jin Hee. Now the only confirmed female cast member is Oh Yeon Soo, which makes this an IRIS 2 reunion between her and Lee Bum Soo.