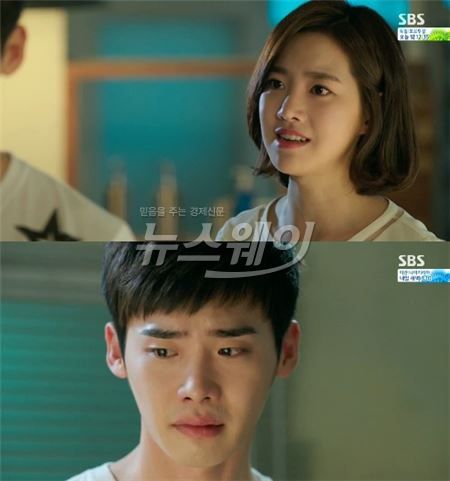 Hating on a drama for poor directing, wonky script, or even bad acting, that's all good and fine. Those are merely cogs that make the drama machine move and hardly worth getting emotionally invested in. What really chaps my hide is when the failure is with characters getting hijacked midway through after I've grown to care. Dr. Stranger has been operating in whiplash inducing extremes on that front. Hoon in episodes 9-10 was all about Jae Hee to the point that he was going to run away with her on a freighter ship and left Chang Yi by the side of the road. He was all "Jae Hee-ahhh" until even I was ready to shake some sense into him that he won't solve the scary problems looming over them that way. Now a scant three episodes later and one single incident is enough for Hoon to give Seung Hee the cold shoulder. And it's not even an incident that he has any right to be mad at her about specifically, she's neither the reason for his conundrum not the hindrance to his medical calling.
She's the one thing standing between him and death. What's even more preposterous is that Hoon knows he's a goner at any time, and so is Seung Hee/Jae Hee. He called off the surgery because Comrade Cha threatened to snap Seung Hee's neck. Then minutes later he did the surgery, how does he know Comrade Cha wasn't going to off Seung Hee just around the corner? He doesn't know that but he's conveniently put that plot element aside so that he can get on his high horse with her. How can the writer character assassinate Hoon this way? The Hoon who said "because she's Jae Hee" when asked why he loves her buckles under one disappointment which overtakes all those years of love? Sheesh. The previews for episode 14 indicate more train wreck horrible developments to come so I'm here to warn everyone to strap on your seat belts.
Written preview for episode 14:
PM Jang hands the corruption evidence on First Hospital which was chosen for his surgery over to Chairman Oh, and also suggests that he take Park Hoon back. On the other hand, Park Hoon sees Seung Hee's suspicious actions and no longer trusts her. In the end Seung Hee finally reveals the secret behind the nuclear tests….
Preview for episode 14:
PM Jang: Park Hoon's mother has disappeared. Could Park Hoon that bastard have taken her away?
Comrade Cha: How could Park Hoon's mom have disappeared? How can a person disappear at this critical juncture?
Secretary Kim: Did your side do it?
Hoon: Haven't you thought that I'm suspicious of you?
Seung Hee: Not once have I thought that.
Park Hoon: Tell me immediately where my mom is?
Soo Hyun: Sincerely welcome back Dr. Park.
Hoon: Hey Quack, why is your expression like that?
Secretary Kim: Han Seung Hee, that woman appears to be really Song Jae Hee.
PM Jang: That's impossible. I saw with my own eyes she doesn't have the surgery scar.
Hoon: Now I don't even know if you're really Jae Hee or not.
Seung Hee: Please trust me one more time, I beg of you.
While the drama wants to keep Seung Hee's identity under wraps, I will forever pin my conclusion that she is Jae Hee on Hoon's heartbeat confirmation hug. He of all people knows her heartbeat, as silly as that is the drama posited already that they have the same heartbeat. So Hoon knows she's Jae Hee in his heart, and yet he's going to act all aggrieved around her, and based on the preview for episode 14, start not trusting her? She offered to tell him everything earlier and he told her no need because he trusted her! Then he turns around and doesn't trust her. Why do I feel like this writer actually has short-term amnesia and forgets the dialogue and plot points he wrote earlier on. If I were Seung Hee/Jae Hee, risking my neck to protect a guy who is that inconstant, I really would feel so utterly hallowed out by a love that professes to be earth-shattering but can't withstand much pressure. I can't believe Seung Hee has to beg Hoon to trust her. To hell with that.