After episode 13 Dr. Stranger is officially one of the stinkiest piece of shit dramas that ever got crapped out of the ass of someone wearing the moniker of a screenwriter. If I can blackball someone then the screenwriter of DS is on the top of the list. This is worse than fan-fiction with every other word misspelled. This drama is turning into a grotesque monstrosity of servicing certain fan sentiments and doing so by completely shanking whatever was left of character motivational consistency as well as internal narrative logic. I was left quaking with anger after this episode, wondering if I should just cut my losses now even though I hate to drop recaps so late in the game. Plus I want to be there for folks who actually watched for a oddball drama that started off strangely mesmerizing even if it was ridiculous and rather all-over-the-place. There were so many mysteries but too many fans just wanted to talk about who would end up with whom, and now the drama appears to head down that path.
The Park Hoon I adored and fell for in the beginning of the drama died in this episode for me. Unless in future episodes we discover that he's actually acting this way to combat the threat against him and Jae Hee, otherwise his behavior in this episode was nothing short of brain-addled revolting. I wanted to retch when Hoon lectured Seung Hee about her urging him not to perform a surgery as if she was such a bad doctor while conveniently forgetting the looming threat against their lives with one false move.Jae Joon continues his rise to the sole leading man in this drama I can root for, same with Seung Hee/Jae Hee, who got the best scene in this episode when she manhandled Comrade Cha and told him to halt the fuck up and wait his ass down. Good for you, girl! If Hoon's feelings for you are that easily changed, then I suggest girlfriend finish her mission and screw Hoon's welfare in the process. Apparently he doesn't have any appreciation for a girl who sacrifices all for him.
Episode 13 recap:
Dr. Keom is so nervous with Chairman Oh breathing down everyone's neck that he accidentally cuts into the patient's heart. The surgery is about to go South real fast until a scrubbed in Park Hoon walks into the OR ready to join Team Good Guys Who Operate to Save Lives. He tells the head lowered surgical team to buck up because no one here did anything wrong. The people who are wrong are up there in the viewing room. The folks in the OR all pause dramatically to look up at the team of weeny doctors looking down from above. Hoon tells Team Good Guys that they are the ONLY real doctors in this hospital.
Everyone looks back up AGAIN and then Hoon gets everyone back to business by saying enough with the looking (you think?) and his neck hurts. Jae Joon tells Hoon to repair the cut first but it's in the middle of surgery so they can't do an X-ray to find the rupture. Super doctor Park Hoon to the rescue, of course, as he promptly sticks his whole hand in the exposed bloody chest cavity and closes his eyes to feel around for the incision point. He senses it and orders a suction of the blood and gets ready to suture. Dr. Yang notes that there doesn't appear to be a surgery that Dr. Park can't do. But that's no consolation to Dr. Moon since Dr. Park is about to be fired (again).
Soo Hyun worries about the patient's vitals and Dr. Eun assures the team that the patient is stable now. Hoon teases that Jae Joon has a great surgical assistant (namely him) so of course there is nothing to worry about. Chairman Oh snaps at Dr. Moon to go schedule an internal disciplinary meeting as well as prepare the lawsuit against Dr. Han. Dr. Moon tells the HR director about this turn of events which upsets the guy and he wonders if maybe the internal medicine department can be persuaded to admit their fault and not escalate the matter. Dr. Moon wishes that could work but he's never known a doctor to willingly admit to being wrong.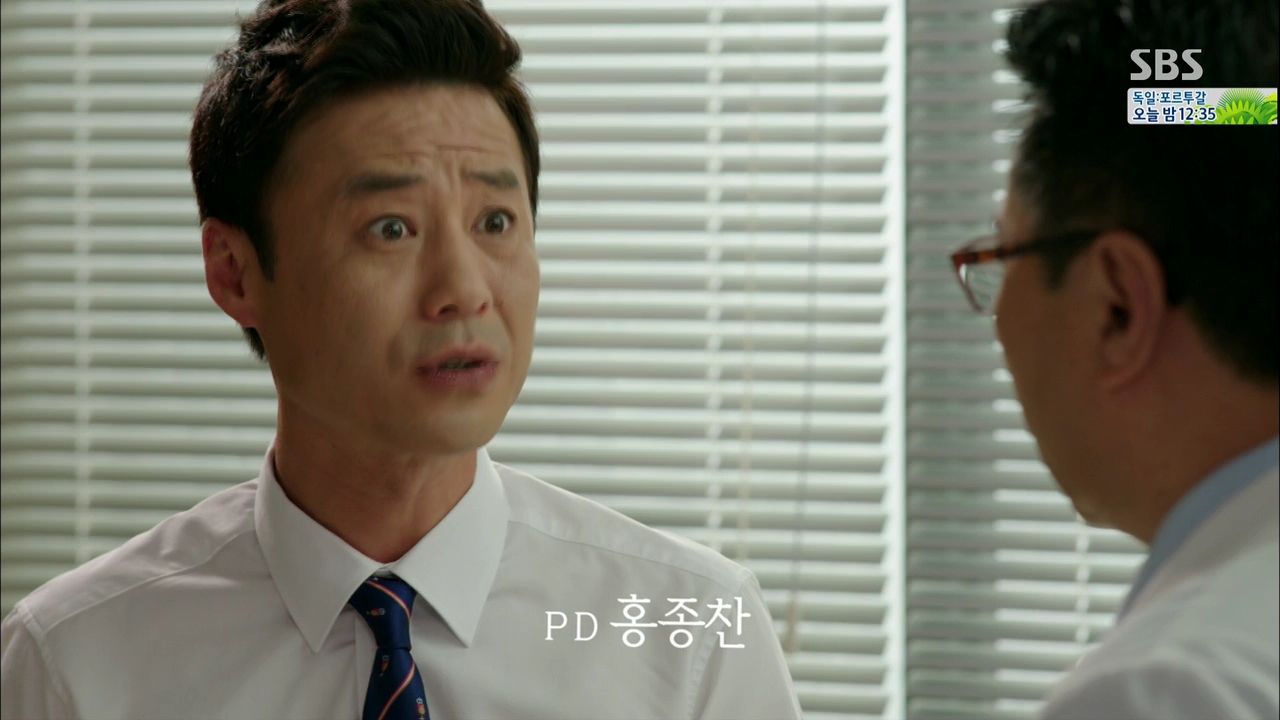 The surgery successfully wraps up and everyone looks around in resignation. Jae Joon looks up and sees Chairman Oh glaring at him before storming off. Jae Joon leaves the OR and Chairman Oh is waiting to remind him that his career here is done. Apologize to the patient and beg for forgiveness? Chairman Oh will wait to see if Jae Joon's method works and avoids a lawsuit for the hospital.
Jae Joon walks out to the waiting area to inform the family that the surgery was a success and apologizes on behalf of the hospital. The father knows Jae Joon did nothing wrong, the ones who messed up were the internal medicine docs. Jae Joon asks the father if he intends to sue and the father doesn't know. Jae Joon offers to help if the father needs anything.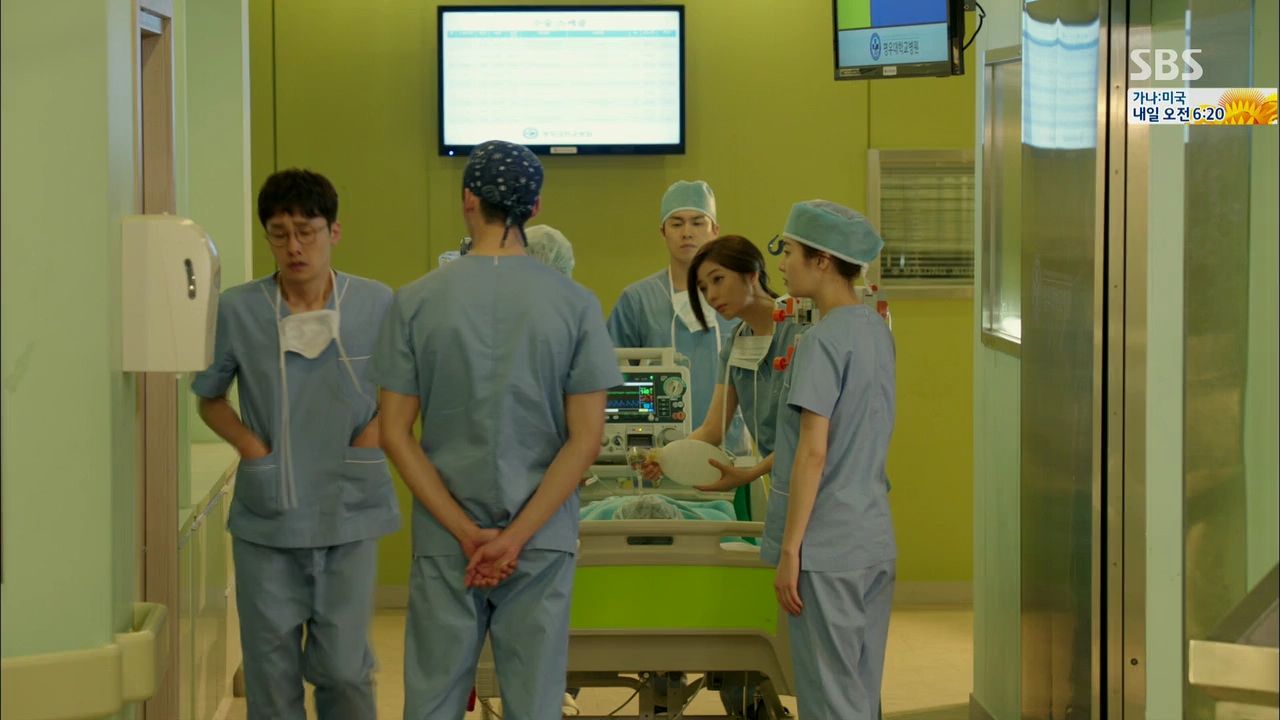 The doctors are pushing the patient back to her hospital room and wondering what can be done to save them all. Dr. Eun doesn't think anything can allay the furious Chairman Oh and they are all screwed, except for one person and she shoots at look at Chairman Oh's daughter Soo Hyun. Dr. Keom storms off and Dr. Eun follows and finds him letting out his frustration against a wall.
Dr. Keom is angry at himself for not doing his job during this surgery and the surgery for the twins. Dr. Eun is surprised to see him lose his temper for once and suggests that this is a good thing as he's just learning through mistakes as kids do. What? I'm sorry Dr. Eun, a surgeon should not be allowed to make mistakes on LIVE PATIENTS as a learning experience. Just….no. Dr. Eun takes umbrage to her calling him a kid and then decides to exert his manliness by pulling her in for a forced kiss. It's majorly awkward as he scrunches up her cheeks and makes his way to her lips before pressing on it. That earns him a slap from Dr. Eun after the kiss but he demands that she never see him as a kid from now on. Dr. Eun agrees and then it's her turn to push him in the closet as she announces that from now on she'll see him as a man. Sheesh, I can't even.
Soo Hyun and Hoon are pushing the patient back to her room when they pass by the father-son. Hoon assures the family the patient will be fine and Dr. Oh will watch over her. Soo Hyun takes note that he called her Dr. Oh for once in front of the patients. After they've put the patient back in her room, Soo Hyun brings up Hoon calling her Dr. Oh instead of Quack and lumped her into the group he considers real doctors.
Hoon tells Soo Hyun not to overthink it and suggests she's losing hair because of it. Soo Hyun points out Hoon's messy hairstyle is the problem and patients can't take him seriously. She tells him to clean himself up because patients like doctors who are tidy. Hoon is in no mood to pal around with her and assigns her the task to talk to her dad about what's going to happen to everyone who did in the surgery. Hoon especially wants her to help out Jae Joon because after today he can tell that Jae Joon is a good guy. I can't believe Soo Hyun needs Hoon to remind her to help her own boyfriend. Ugh.
Jae Joon sits in his office and stares at the old lawsuit and apologizes to his dead dad. Soo Hyun comes in and reassures him that the patient is doing fine and he was so cool today. She doesn't want him to worry about what her dad will do but Jae Joon cuts her off and reveals he wants to go back to the US after leaving the hospital. But he doesn't want to leave alone, he wants her to come with him and he'll find her a position at Harvard as well. Oh Jae Joon, you sane man, what the hell are you doing in this crazy drama? Go back to the US and save yourself.
Jae Joon takes Soo Hyun's hand but she quickly pulls it away and says it won't come to that. She will convince her dad not to fire everyone. She awkwardly tells him to hang in there before scampering away. Jae Joon looks down at his empty hand and then sits down sadly. Damn I so want to slap some sense into Soo Hyun it's not even funny. Soo Hyun pauses outside his office and seems to realize what she's doing but then shakes her head and leaves.
Hoon found time to get a haircut, apparently one word from Soo Hyun was all it took. *rolls eyes* He finds Seung Hee waiting outside demanding why he did that surgery? Hoon will talk at a later time and walks past her and goes inside to wash his face. Seung Hee offers him a towel and he doesn't take it and tells her to leave because he wants to be alone. Da fuck is wrong with you, Park Hoon?
Seung Hee angrily reminds Hoon that he was the one who didn't want to use a patient as a bargaining chip. She thought it would all end after this surgery but…..Hoon cuts her off and asks if she wanted him to ignore a dying patient. Oh I don't know, Hoon, it's not Seung Hee who wants you to do it. It's someone called Comrade Cha holding a big gun that demanded you pass on the surgery. Have you conveniently forgotten? Seung Hee points out there were lots of surgeons in the OR at that time and Hoon is near tears in yelling that the Jae Chul's mom was going to die and the other surgeons all needed his help.
Hoon turns and sees the prison Jae Hee video staring back at him and he talks to the video sad Jae Hee, telling her not to be like this. At times like this his heart is so jumbled. When he first saw Jae Hee here, he was really ashamed to see her because he did so many bad things during the time he lost her. But he got up the courage because he found her and found his dreams again. He wanted to become the Hoon who bandaged Jae Hee up. He asks how Jae Hee can do this to him? How can she tell him to ignore a dying patient? Are you shaming her, Park Hoon? Are you accusing the girl who is doing everything in her power to keep you ALIVE? Are you making her feel bad for the things that are beyond her control? OH YOU FUCKER!
Seung Hee walks out of the hospital and finds Comrade Cha pulling up in his car. He gets out of his car and whips out his handy dandy gun with silencer and strides off to kill Park Hoon that bastard. Seung Hee stops him with fierce determination and tells him to stop. Comrade Cha orders her to move and wake up. Seung Hee manages to overpower Comrade Cha and takes his gun. She fires all the bullets around his head into the ground and sends the final bullet into the street lamp.
Comrade Cha laughs maniacally while Seung Hee tells him they have time to wait. They can wait jut a bit longer. Seung Hee turns around crying and then composes herself to turn back around and tell Comrade Cha to stop using his point of view to assess whether Seung Hee's decision is right or wrong. Comrade Cha just stares at her.
Soo Hyun tries to convince her dad to not fire all the surgeons in that surgery. Chairman Oh compares a lawsuit to a fast spreading disease and it will destroy the hospital if not stopped. Soo Hyun wants to know if her dad will change his mind if the family doesn't sue? Dad wants to know why she's trying to change his mind, is it because of Han Jae Joon? Soo Hyun claims she only has Jae Joon in her heart and wants him to change his mind. Chairman Oh changes his mind just like that but tells Soo Hyun that there will definitely be a lawsuit. There are no such families like Han Jae Joon believes who won't sue the hospital. Soo Hyun grabs his hand and assures him that she'll resolve that problem.
Hoon sits down to curry rice in the morning but he pauses and looks at the empty chair across from him before digging in. Soo Hyun arrives and finds him eating such simple food and then sits down in the empty chair across from Hoon. Soo Hyun explains that if the family can be persuaded not to sue then Chairman Oh will forgive everyone. Hoon doesn't care about him losing his job but Soo Hyun asks if he doesn't care about the others. Hoon wonders why he has to help and suggests that taking off the white coat is no big deal. Excuse me? Didn't you yell at the woman you supposedly love with your entire heart and soul last night about your holy calling as a doctor to save lives? Now you don't think doctors losing their job is a big deal? Hoon asks what the first step is and Soo Hyun wants to convince the family to let it go. Hoon wonders if that's the best approach and Soo Hyun slams her hand on the desk and tells him to do as she orders.
Hoon and Soo Hyun predictably meet with resistance as the father wants to sue because he doesn't want to let the doctors who made the mistake get away with it. He wants to find who made the mistake and also get an apology from the doctor. Hoon mutters that the doctor won't apologize but agrees to try. Hoon and Soo Hyun meet a brick wall with the head of internal medicine refusing to apologize and declaring that the family can bring on the lawsuit and he won't even blink and eye. Hoon decides to look for the missing third year doctor who did the original surgery and made the mistake.
Hoon makes a call and Soo Hyun and Hoon return to the little clinic to find gangsters waiting inside. Soo Hyun gasps and Hoon puts his arm around her before the gangsters part and allow them to go inside. Hoon has asked the gangster dude from earlier to help him find the missing doctor. The gangster is happy to help but wants payment so Hoon has Soo Hyn cough up the money. Soo Hyun takes out money but the gangster wants more like the way Hoon extorted him earlier to sew up his boss. Soo Hyun takes out more money and the gangster teases that she's like a human ATM.
The patient's son talks to the internal medicine doctor but the man feels up the patient first to see if he's wired to record their conversation for the lawsuit. What the hell? The doctor can't find any wire but declares that the family can file the lawsuit because he did nothing wrong. The son agrees, he thinks his father is wrong in suing the hospital and he doesn't agree with it. The doctor tells the son to go convince his dad to not sue and then pushes the kid off in his wheelchair. Other doctors witness this scene and confront him for treating a kid this way.
Hoon and Soo Hyun come back with the third year doctor and there is almost a tussle in the hallway as the internal medicine department want to squirrel him away. Hoon manages to bring everyone to the conference room where Sang Jin is meeting with the father to strong arm him in not suing the hospital. Hoon pushes Sang Jin away and all the doctors walks in to bow their head low for their mistake in the surgery. It should have been done by an attending but they let a third year handle it and they are so sorry.
The father tearfully asks if it was so hard to apologize? He wants to sue everyone here but his son takes his father's hand and tells him to let it go. They made mistakes but they also saved his mom. They are also healing him as well, and one day if the father gets sick they will treat him. The father cries but is clearly that easily convinced to let it go.
Soo Hyun and Hoon are leaving the hospital and she thanks him for helping. He tells her to treat him to a meal as thanks but their attention is diverted by a child carrying a big teddy bear. The mom makes him put it down where he found it and Hoon goes over to pick it up. Suddenly Hoon's mother calls "son" and walks over to Hoon but then it's to take the teddy bear and hug it. Hoon asks if the bear is her son but before she can answer the nurse comes to take her away. Hoon's mom stops and turns back around to look at Hoon one more time. Soo Hyun points out the nurse is taking the patient back to the psychiatry ward. She wonders why Hoon keep staring at that patient but Hoon doesn't know either.
Chairman Oh and Sang Jin watch PM Jang holding a press conference to annoy which hospital he selected to do his surgery. He didn't pick Myung Woo Hospital and instead picked First Hospital. Chairman Oh is so angry he tosses his remote control at the TV. The President watches this press conference and smirks evilly.
Park Hoon watches the press conference with Dr. Kim and Dr. Keom and the other two doctors lament the hospital not getting chosen.
Chairman Oh informs Jae Joon that he gets to stay and this matter is now behind them. Soo Hyun wants to know if her dad is forgiving all the doctors who did the surgery and he is forgiving everyone other than Park Hoon. Soo Hyun tries to speak up for Hoon but the Chairman isn't budging.
Hoon says goodbye to Dr. Moon and thanks him for their time together. Dr. Moon wants his money back and Hoon hands it back all torn up. Dr. Moon gives him a hug and then kisses his money that didn't get spent.
Hoon is walking away and pauses to stare at Soo Hyun through the mirror. He walks in to get his stuff and Soo Hyun apologizes for not being able to help him stay. Hoon takes out his stethescope and hands it to her before taking his stuff out to leave for good. He pauses to take off his white coat and hands it to Soo Hyun to dispose off. Soo Hyun stares at it and Hoon tells her to keep doing what she's doing now and she'll become a good doctor. Soo Hyun wants to convince her dad to let him stay and Hoon says it's not necessary. Her dad will never let him stay after knowing who he is. Soo Hyun's confused but Hoon doesn't elaborate further and leaves.
Hoon runs into Seung Hee in the elevator and his smile disappears. He gets in and presses the button to go down and keeps his back to Seung Hee. He'll wait for her to tell him what to do next and she agrees. Soo Hyun catches up to Hoon in the lobby and hands him back his white coat to hold because who knows what will happen later. Hoon takes it with a smile and then tosses it into the trash. Soo Hyun picks it back up from the trash and takes it back to her office.
Soo Hyun tries to study but all she can think about is Park Hoon. She imagines seeing him around her and we get multiple minutes of wasted screen time involving Soo Hyun moping about missing Park Hoon. Somebody shoot me. Where's Comrade Cha when I need him. A bullet to the brain is really appreciated right about now. Soo Hyun is so missing Hoon that she started crying while standing at the nurses station and zoning out. Lovely way to be professional at work, girlie. All that crying and unbridled feelings for a dude you just met a few weeks ago? When over in the other corner is Hoon and Jae Hee having cried over life and death separations of true love.
Soo Hyun walks off and when she sees Jae Joon she runs into HIS ARMS and asks him to hold her for a minute while she cries over Park Hoon. I NOW FUCKING HATE her and her shitty emotional inconsistency.
PM Jang has dinner with Chairman Oh who is not happy that his hospital didn't get picked. PM Jang assures Chairman Oh that he's playing the President. He knows the President would have axed his choice so he purposely picked First Hospital but who knew that was also the President's choice. He tells Chairman Oh not to worry about this, shouldn't he be more concerned about the other matter? He hands Chairman Oh a file and says their project is going as planned.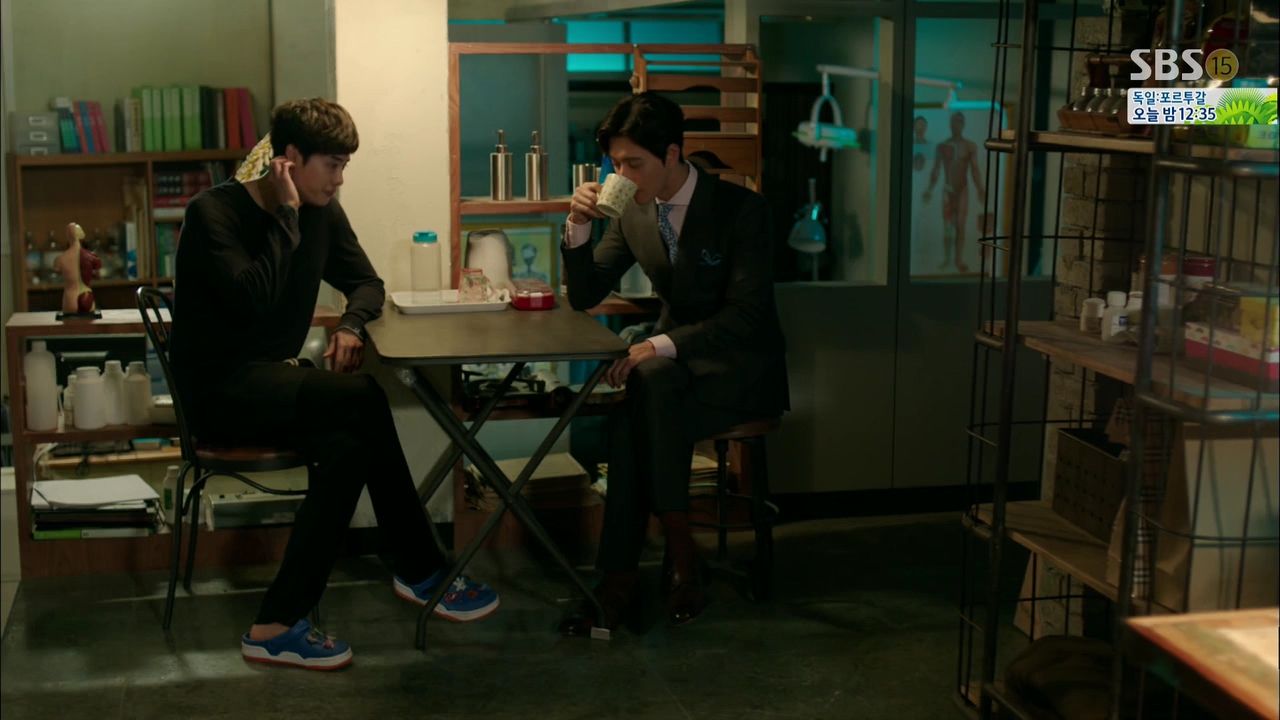 Jae Joon visits Hoon at the little clinic and remarks that it's quite a nice set up. Hoon serves him coffee in a chipped cup and Jae Joon doesn't mind the lousy cup if the coffee is good. He takes a sip and says this is the worst coffee he's ever drank. Hoon doesn't believe him and takes a sip only to spit it out because it's swill. Jae Joon teases that Hoon's coffee making skills are clearly not on par with his surgical skills. Hoon cuts to the chase and asks why he's here?
Jae Joon wants to know why Hoon helped him in the surgery? Hoon asks if Jae Joon stepped in because of the patient? Hoon should have done the surgery to begin with and apologizes for Jae Joon even needing to step in. Jae Joon thanks Hoon for helping and then asks if Hoon helped resolve the lawsuit because of wanting to help him? Hoon did but Jae Joon doesn't know why since they aren't very close or anything. Hoon is forced to admit that he helped because he thinks Jae Joon is a good doctor. Jae Joon smiles and invites Hoon out for a drink.
Seung Hee and Soo Hyun are cooking curry and end up with a giant pot. Soo Hyun stares at the giant pot of curry and wonders aloud how far it is to Hoon's place. Seung Hee asks why and Soo Hyun knows he likes it so wants to share since they made too much. Seung Hee asks if she made so much because she wants to give some to Hoon but Soo Hyun quickly makes the excuse that she saw him eating instant curry the other day and it's not good for him. She runs off to call Park Hoon while Seung Hee sits there looking really sad.
Jae Joon and Hoon are drinking about how hilarious it is that they are fighting for the right to do PM Jang's surgery except now Myung Woo has been eliminated from contention just like that. Jae Joon has been curious about how Hoon can be so young and from North Korea yet possesses such great surgical skills. Hoon explains his dad is also a doctor but when Jae Joon asks about his mom Hoon doesn't want to talk about it. He gets up to go take a leak which is when his phone rings from Soo Hyun calling.
Jae Joon picks up Hoon's phone and doesn't have a chance to say anything because Soo Hyun just launches into a tirade about why he took so long to answer and telling him to come over because she made a lot of curry. She asks why he's not answering? When he left just like that she felt bad so can he come over because she has something to say to him. Jae Joon finally speaks and tells Soo Hyun that he's out drinking with Hoon who stepped aside. Soo Hyun quickly makes all sorts of excuses and Jae Joon tells Soo Hyun that he'll pass her call on to Hoon. After Soo Hyun hangs up, Seung Hee asks why she's so flustered and hears that Jae Joon is out with Hoon. She suggests inviting both guys over to have dinner.
After Hoon gets back, Jae Joon asks what he thinks about Soo Hyun? Hoon laughs and says she's working hard to become a good doctor. She's rather cute and when he stares at her sometimes she reminds him of Jae Hee? OH WHAT THE HELL IS THIS SHIT! Jae Joon wonders if Soo Hyun looks like Jae Hee? Hoon says no, he just wishes Jae Hee would be more Soo Hyun when it comes to being a doctor. Park Hoon, maybe if Jae Hee wasn't dealing with the imminent threat of death ALL THE TIME then she can be a happy little doctor like Soo Hyun. Have you forgotten? Jae Joon asks if Hoon likes Soo Hyun which makes Hoon laugh. Jae Joon wonders about the reverse and Hoon laughs even more about the thought that Soo Hyun likes him.
Hoon keeps laughing about Jae Joon thinking either he or Soo Hyun could like the other. Seung Hee glares at him because it's clearly not funny. Soo Hyun asks why Jae Joon answered Hoon's phone and Jae Joon curtly points out that it could be an emergency. Seung Hee tells Hoon to eat up but Hoon is still laughing about how it's impossible between him and Soo Hyun. He apologizes for dissing her in front of her boyfriend but she's got violent tendencies and is full of herself. Soo Hyun is not amused and yells at him for assuming she even likes him. She just felt sorry that he got kicked out of the hospital.
Jae Joon tells Soo Hyun that she's the one acting out now but she just storms off to her room. Seung Hee wants to go talk with her but Jae Joon says he'll do it. Seung Hee wonders what's going on since Soo Hyun and Hoon get along at the hospital. Hoon's face immediately goes cold when they are alone and asks how she knows he likes curry? She wants to know how Soo Hyun knew he likes curry? Seung Hee sighs and tells him to just eat up and looks down sadly.
Soo Hyun is moping in her room upset about how Hoon can just tease her like that. Jae Joon calmly points out that Hoon is always like that and her overreaction is the strange anomaly. Does Soo Hyun like Hoon? Jae Joon suggests Soo Hyun calm down alone and to come downstairs later. After he leaves Soo Hyun gets on her bed and smashes pillows while calling Hoon a bastard and cries. I'm so sorry for Soo Hyun's character assassination that has turned her into a two-timing whiny bitch.
Jae Joon comes downstairs and notices Seung Hee's family picture. Talk turns to how their parents aren't around and Jae Joon wonders if Hoon's parents are both still in North Korea. Jae Joon asks the name of Hoon's dad since he must be a well-known surgeon to raise a son like Park Hoon. Jae Joon's eyes widen to hear that Hoon's dad is Park Chul. Hoon gets a call from Chang Yi and heads out.
Seung Hee also heads out and meets up with Secretary Kim at the hospital right outside the room Hoon's mom is being kept in. Seung Hee's eyes widen to find Hoon's mother here. Secretary Kim reveals that PM Jang's orders are for Park Hoon to meet his mother soon.
Jae Joon calls his Chinese buddy to ask him for a favor. He wants Dr. Park Chul located even though the man has been missing for a long time. Jae Joon wonders if maybe he went to North Korea and the friend agrees to help find him.
Jae Joon flashes back to the day of the hearing for the lawsuit. He waits outside the courthouse with his mom but hears that the hearing has been cancelled because Park Chul didn't show up. They go to Park Chul's house but no one comes to the door. Jae Joon's mom collapses right outside the Park residence and dies.
Hoon goes back to his little clinic and he thinks about running into the patient with the big bear outside the hospital waiting for her son. He takes the patient's mom to bring her back to his room.
Hoon can't sleep so goes back to his old house. He opens the door and walks inside to find everything completely the same 20 some years later. Riiiight, the magic of preservation at work. Hoon walks into his room and finds a notebook with his mother's phone number on it. He dials the same number and a woman answers asking if he's Hoon?
Thoughts of Mine:
I am genuinely sad to see Dr. Stranger heading down the path of complete obliteration. What's the point of telling a story when nothing matters anymore. The leads are gutted of their personality and motivations and the audience is left splintered by an attempt to cater to fanservice. I don't care who Hoon ends up with, never really did and definitely don't anymore. I just wanted to see the story of a strange North Korean doctor who loved one woman to the ends of the world because she was the sole ray of light in his painfully manipulated world. If Jae Hee died in the end, at least Hoon tried to save her, had a chance to love her when she was still alive, did everything he could for his love. What makes Hoon's entire about turn in this episode towards Seung Hee utterly unpalatable was the reasoning behind it. He blames her for wanting him not to do the surgery?
It's not Seung Hee who decides whether he can or can't do the surgery. It's the powerful people manipulating them, it's demonic Comrade Cha with a gun lurking behind them. Seung Hee is merely trying to keep Hoon alive, and now I wish she just let him do whatever he wants and deal with the consequences. Hoon's situation is not the fault of Seung Hee, she is NOT the one keeping him from being a doctor. The powerful North and South Koreans concocting whatever plan are the masterminds, anyone who blames Seung Hee is deluded in thinking she has any agency. She is merely a tool just like Hoon is. If Seung Hee didn't exist, the powers would still find another way to get Hoon to do their bidding. Seung Hee's presence is Hoon's only hope, she is the only thing standing between him and a bullet to the head. She's actually saved him so many times from Comrade Cha's gun, and did it again in this episode. What more does this girl have to do to get some love? She's currently my favorite character for being so badass.
Too bad she loves Hoon too much to call him on his bullshit when he was giving her the guilt trip. Hoon, the man who in earlier episodes also didn't want to operate on patients and was willing to let them die, is making Seung Hee feel bad about trying to save his life over a dying patient. I DON'T THINK SO ASSHOLE. This Hoon is anathema to me and Soo Hyun can have him for all I care. Seung Hee/Jae Hee deserves better. I feel just as sorry for Jae Joon, a character who didn't get any character development until the last episode but skyrocketed up the charts in awesomeness. Suddenly he's calm and the voice of reason and perceptiveness. Soo Hyun is a moron to gloss over Jae Joon for Hoon simply because they goofed around at the hospital and Hoon's encouraged her before. I've always felt Jae Joon's middle episodes assholery seemed very at odds with the warmth he treated Soo Hyun in the very beginning so it's a relief to see his character go back to interacting with her with sense and sensibility.
Soo Hyun's crying fest at the hospital because Park Hoon left was ridiculous and so pathetic. Really? He left the hospital, doesn't mean he left the country or died. If you miss him that much so see him every day after work. Ugh. And the way she exploded at him after he teased her is totally gormless. I miss the Soo Hyun with a spine and a reason for her temper. Now she's the epitome of the self-absorbed second female lead. Even Jae Joon tells her to take some time to get a grip on herself. It's such a shame to see precious screen time wasted on Soo Hyun's conflicted feelings when there are major mysteries still left unexplained. There is still no movement on the PM Jang heart surgery conspiracy or on whether Seung Hee is confirmed to be Jae Hee. At this point she has to be otherwise why would she care if Hoon lives or dies if she's just a doppleganger. I think she's a trained spy and always have been since she met Hoon as a kid but then she really fell in love with him hence all this conflicted identity conundrum.
This episode's heart surgery voodoo was just as hilarious as all earlier such Hoon magic hands moment. When he reached into the patient's chest cavity I was rolling on the floor laughing. Next time he can just do a Jedi mind trick and repair the heart without even needing to cut into it. I was surprised at how easily the Chairman changed his mind about firing all those doctors who did the surgery, which goes to show this drama really has no stakes. Like a revolving door at Myung Woo Hospital, no one will ever get fired and people who do get fired come back in the next episode. The patient's family deciding not to sue was no surprise but then none of the lousy doctors got called to task for their medical misconduct and that's pretty depressing. Which makes Hoon raking Seung Hee over the coals all the more hissworthy that he takes out his frustrations on her and then toddles off to hang around Soo Hyun. This story keeps acting with zero consistency from good guys to bad guys.
Chairman Oh threatens to fire everyone after the surgery and one convo with Soo Hyun and he's persuaded to change his mind. Seung Hee's choice to keep Hoon alive at all costs is evidently so disappointing to Hoon that he's ready to give the woman he supposedly loves with his entire being the cold shoulder. And don't even get me started about the unending Soo Hyun-Hoon scenes that have no importance to this story, though it's at least less nauseating than the scenes with Soo Hyun reminiscing, pining, and moping over Hoon. What happened to her character? Why does she have no emotional urgency other than to spend her time falling for one guy while still leading another on? I used to like her but she's tanking as much as Hoon is. Watching this episode left me with this lump of coal in my stomach feeling of watching a train derail in slow motion while I just want to save a few good passengers (Seung Hee, Jae Joon, Chang Yi) while I still can. If the screenwriter insists on sticking Hoon with Soo Hyun against all rhyme and reason, then can Seung Hee/Jae Hee please end up with Jae Joon. Pretty please! They can go to the US together and be doctors at Harvard and leave all the cray cray behind.
Click here to watch Dr. Stranger.