Remember how I said that in all the early teasers from It's Okay, It's Love showed the two leads Gong Hyo Jin and Jo In Sung giving off a more friends than lovers vibe? I added to it when the first poster was released showing the two of them buff in the bathtub, joking that they are could be llovers but in a friends with benefits way rather than romance-laden. I swear none of the released promotional information said anything about that type of relationship so I kinda hit it on the head by a lucky swing because the just released first substantive preview of the drama has Jo In Sung's character asking Gong Hyo Jin if she wants a friends with benefits relationship. He even wonders if she likes it rough or with handcuffs! LOLOLOL this is going to be interesting to say the least. I have no clue what to expect from IOIL but I like what I see in the very captivating first look at actual scenes in the drama.
Jo In Sung is charming and carefree, the type of character he can easily play that straddles the line between sleazy and assured. Gong Hyo Jin finally isn't playing frumpy (thank god for that) after four successive dramas where she's been stuck in the ordinary to dowdy category. The OTP is sparring but not in a "I hate you way" but a more cable drama adult flirting way. Rawr. The drama also released the rest of the official posters and none stand out as much as the naked bathtub one. Two of them with the full main cast of the OTP plus Song Dong Il, Kwang Soo, and EXO's D.O. fairly reek of hippie commune love what with the group hug time and another with everyone doing the jump for joy. It's different, I'll give you that. And none look like the characters took their own shots and were photoshopped into the final frame. All in all, keep on bringing the neat stuff IOIL, consider me still intrigued.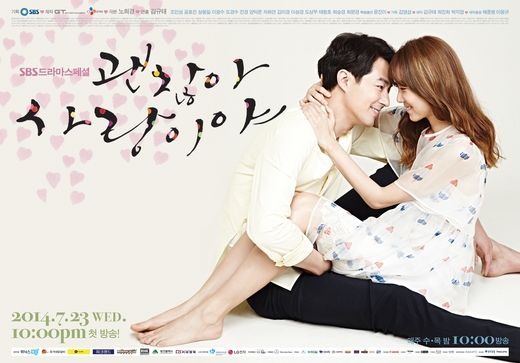 I really love this couple's poster above. It's so romantic without being cheesy, I think mostly because Gong Hyo Jin and Jo In Sung sell it madly with their in sync and intimately comfortable body language and eyes only for each other smile. LOVE.
First preview for It's Okay, It's Love (English subs):