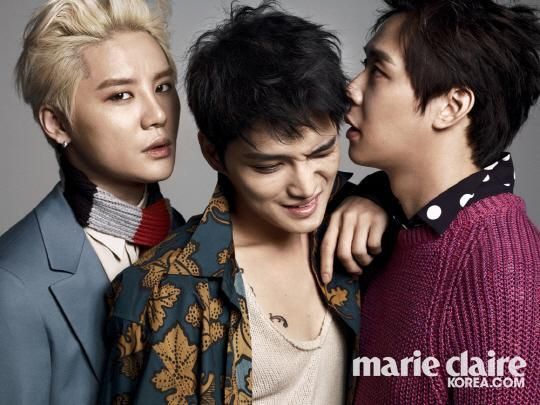 It's good that Triangle is almost done airing, despite getting a random two-episode extension, because the promotions are going to explode in a few days when JYJ releases its second full-length album Just Us. It's the group's second full-length album since The Beginning was released three years ago, and will likely be the last album released by JYJ for the next two years. After promoting the album and going on tour this fall, all three members of JYJ including Jaejoong, Yoochun, and Junsu will be enlisting for their mandatory military service. No word yet on which division(s) they are interested in joining or whether they will do the entertainment route or active duty. I keep my eye out for this group since they've been around forever and are quite talented, not to mention they successfully sued SM Entertainment and managed to have a career afterwards.
I confess to never listening to their new music but the last two years both Yoochun and Jaejoong have been hit-and-miss with their acting projects in ways that are memorable for me. Jaejoong is currently vastly improved in Triangle and really the Lee Bum Soo idol-whisperer magic has struck again. I actually like Jaejoong's male lead character the most in that boring drama and his performance is also the most interesting to watch. I'll consider his epic fail in Dr. Jin as a huge step back after a great first impression in Protect the Boss, and now he's stepped back forward again. I'm less partial to Yoochun as an actor though he's overall a much stronger actor than Jaejoong is, and probably ever will be. The problem I have with Yoochun is that he's just not charismatic to me, whereas Jaejoong for some reason totally makes me want to stare at him when he's onscreen. To ramp up the return of JYJ as a musical group, the handsome trio graces the cover and pages of the upcoming edition of Marie Claire Korea. They seriously look so fine together, love this pictorial!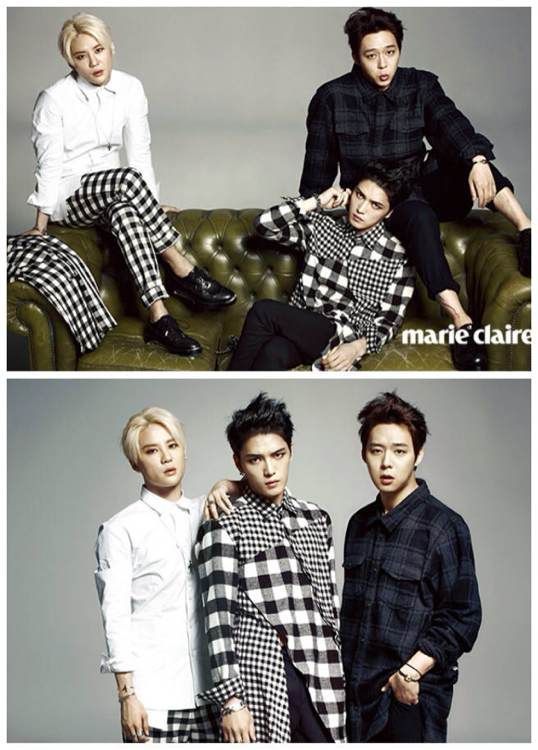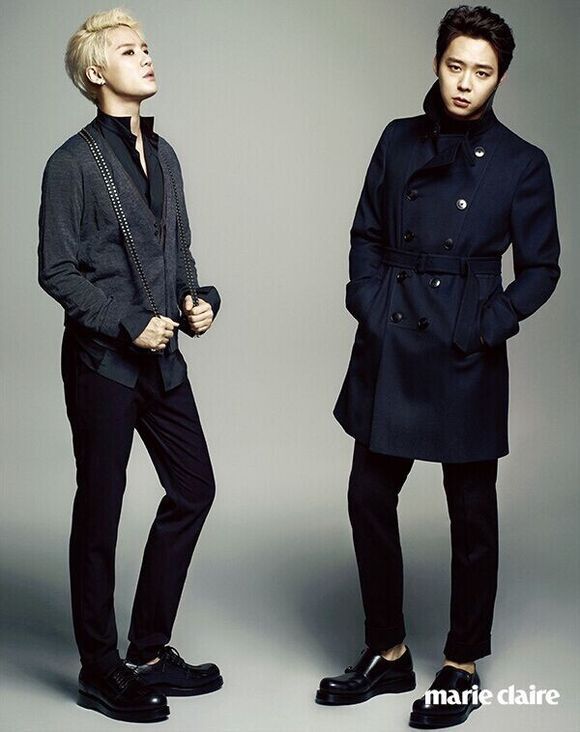 I enjoyed Yoochun the most in the wacky but endearing Rooftop Prince, but he needs to stay away from melos like Missing You. Yoochun will have a big screen blockbuster in the movie Sea Fog to promote as well before he enlists, but for now his last drama might end up being the disappointing Three Days. Junsu is currently playing Dracula on stage where he's most comfortable being able to sing and act.
This picture above is my favorite of the batch by far. So now that YunJae is but a pipe dream, is everyone shipping YooJae/JaeChun now LOL? XD