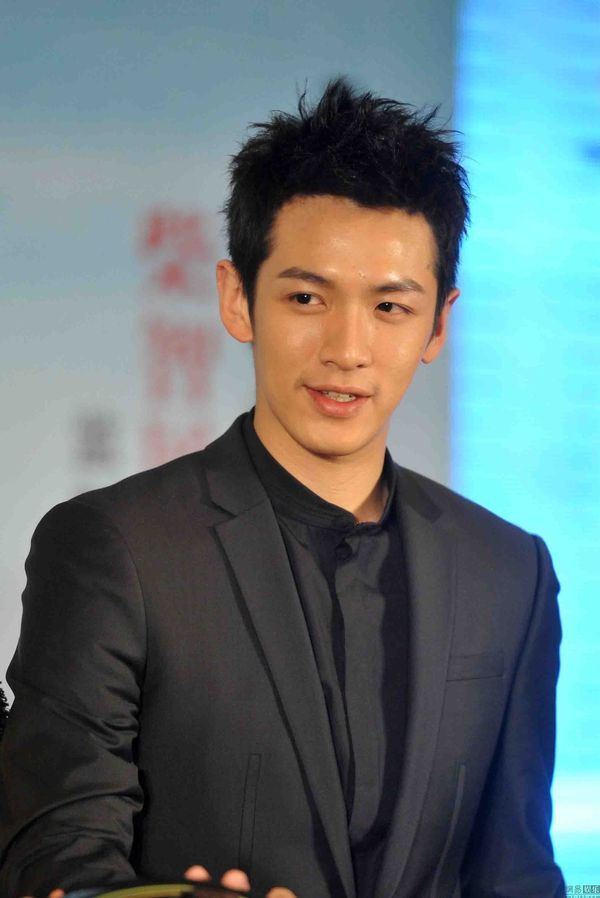 The biggest entertainment news this past weekend in the Chinese-speaking regions of Taiwan, China, and Hong Kong was the unconfirmed report that young A-list Taiwanese movie star Kai Ko (Ko Chen Dong 柯震東) had been arrested for drug use in Beijing. That was followed by even more unconfirmed reports that the sting also netted international blockbuster movie legend Jackie Chan's son Jaycee Chan (Fang Zhu Min 房祖名). The news broke open with a weibo post by a girl claiming that her cop daddy was interrogating Kai Ko all night at a Beijing police station after Kai was arrested for drug use. The weibo was taken down shortly thereafter but not before the media jumped on it. Kai's manager the famous agency director Angie Tsai was immediately asked if it was true and she promised to contact Kai and get back to the press, but then shortly thereafter told the media that she was unable to reach Kai herself. Yikes.
A weekend's worth of media speculation and Kai's friends and family growing increasingly worried about his MIA status finally got confirmation with the Monday morning statement release by the local Beijing police station that both Kai Ko and Jaycee Chan were arrested last Tuesday for marijuana use and/or possession and due to the strict drug laws in Mainland China they have been in administrative detention at the local jail since then and won't be released until next Tuesday. After the 14-day administrative jail time, both will then be charged after being released (Kai for drug use, Jaycee for use, possession, and intent to distribute) and be sentenced accordingly. Both the Taiwan and Hong Kong entertainment world is understandably freaking out about this and both Kai and Jacyee's dads have reportedly rushed to Beijing to deal with the fallout.
During the weekend of news frenzy, all of Kai's famous entertainment friends like his break out movie You Are the Apple of My Eye director Giddens and costar Michelle Chen both also revealed they desperately tried to reach Kai after the drug arrest rumors broke but their calls all went straight to voicemail. His ex-girlfriend the songstress Elva Hsiao was asked about Kai's drug arrest rumors and their break up a few months ago must've been bitter indeed because she coolly replied that she doesn't know because she hasn't been in touch with him for quite some time. Ouch. Kai also hadn't updated his facebook, weibo, or instagram in over a week which pretty much meant he was off-the-grid.
This drug scandal is going to be a major MAJOR blight on Kai's exploding movie star career. He got his first movie role in Gidden's phenomenally popular You Are the Apple of My Eye which also won Kai the Best New Actor award at that year's Golden Horse Awards. He also has a major role in all three movies in the popular Tiny Times trilogy. He's actually supposed to be ramping up promotions soon for his next movie about to be released which is also directed by Giddens and based on another of his novels. It's called A-choo (as in the sound one makes when sneezing) and is a superhero rom-com costarring Ariel Lin. The movie was scheduled to be released in two months on October 24th in China and Taiwan but who knows what will happen after this shocking scandal.
Kai's directorial mentor and good friend Giddens had vehemently supported Kai when the drug arrest rumors first started saying it was impossible. After confirming it was true, Giddens posted a supremely angry and disappointed post on his facebook:
I am very heartbroken. Until the very last moment I hoped that it wasn't what people thought. He couldn't be reached and reportedly there was no record he was detained by the Beijing detention center. Both left me anxious and very scared, very frightened. But there was also the hope because he couldn't be reached, hope that it was all just a misunderstanding. I prayed nonstop that it wasn't true. I would rather use my entire life not making another movie in exchange for him to be upstanding in behavior. I just learned after much communication that my hopes have been dashed. Other than disappointment comes shame and anger. Those who accompanied you in all the hard work, those who shed tears along with you, you couldn't have known about this. The hope that after you became famous you could be happy living as yourself. Yet you trampled on your good luck. Other than a fist to the face, I have nothing more to say to Kai Ko for the rest of this life. I'm sorry but I'm very very very heartbroken right now. I'm sorry.

我很傷心。一直到最後一刻我都希望事情不是大家想像。一直找不到人,找不到傳聞北京拘留所裡的官方拘捕資料,都讓我緊張又害怕,非常恐懼,卻又因為一直下落不明胡亂產生希望,覺得必有誤會,不斷祈禱千萬不要是真的,我願意拿我一生都不再拍電影來交換他的品性端正。剛剛多方打聽終於希望落空,除了失望,隨之而來的是羞愧與憤怒。旁邊陪伴你一起努力的人為你掉了多少眼淚,你不會知道。希望你成名後依然快樂做自己,你卻如此放縱糟蹋你的幸運。這輩子除了對著臉一拳,我沒有什麼話要跟柯震東說的了。對不起。我非常非常非常傷心。對不起。