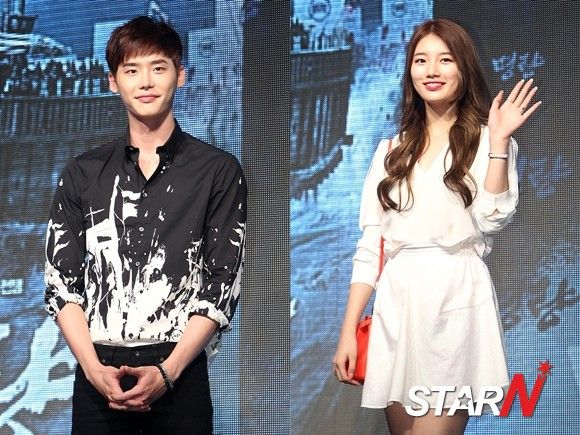 In a week of genuinely depressing news from K-ent it's actually a relief to have the tabloid Dispatch embroiled in yet another dating "scandal". I seriously go cray cray anytime I hear the word scandal associated with dating unless one or both parties are married already yet K-ent continues to insist dating gossip between two single hotblooded beautiful entertainers is scandal worthy. The K-boards lit up this morning when a site famous for breaking gossip news (usually correctly) posted that Dispatch was in possession of evidence that idol-actress Suzy from Miss A was dating actor Lee Jong Seok. The "come again?" look on my face when I read the original gossip post ought to have been memorialized if someone was training a camera on me. This isn't Suzy's first public dating rumor but as far as I know this would mark Lee Jong Seok's first public dating rumor, and he could do worse than being linked to popular Suzy.
Dispatch actually took the time out of its busy paparazzi schedule to issue a denial to the rumor, claiming that it wasn't true and today was a solemn day for the burial ceremony of the recently departed young idol EunB of the girl's group Ladies Code. I'm not sure what exactly Dispatch is claiming isn't true – that it doesn't have any evidence or that it was planning to release it today. I do think it would be in spectacularly bad taste to release today stalkerish photo evidence of Lee Jong Seok and Suzy out on some surreptitious date since all eyes in K-ent are on the sad goodbyes from fans and fellow entertainers as EunB is sent on the final journey to her resting place. So I guess…..kudos to Dispatch for having some journalistic standards? Or at least basic human decency. I actually think dating news between young unmarried stars should be received as happy news and not scandalous (and ought to brighten the mood), but since it is considered a scandal then I understand why Dispatch needs to quickly deny it's selling scandal at a somber time for the industry.
Suzy's first dating rumor was last year when she famously was outed by Dispatch as dating her Gu Family Book costar Sung Joon after the two were spotted cozy at dinner and later with their arms draped around each other outside the restaurant. The rumor was explained away as the two being just very good friends plus third wheel Lee Yoo Bi happened to be present at the same dinner so was used as a nice shield. I wouldn't mind either way if Suzy date(d) Sung Joon or is dating Lee Jong Seok now, though if both rumors have some validity then she definitely has a type. The tall lanky model flower boy.