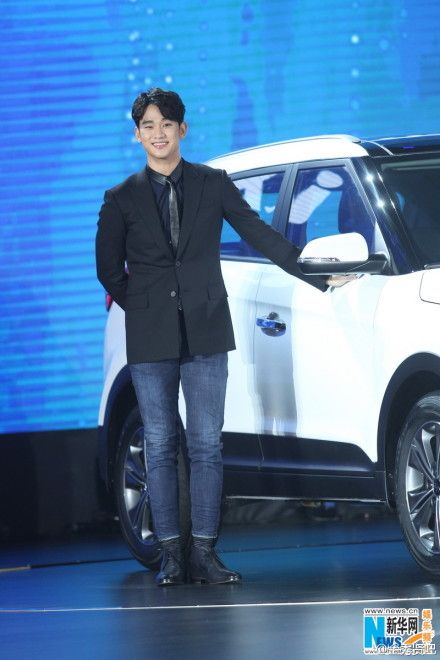 Kim Soo Hyun (along with Lee Min Ho) have been the two most prominent Korean entertainers dominating the C-language entertainment news publications for the better part of the year. It's not just having successful hit dramas like You From Another Star and Heirs, they've also exponentially grown their fanbase in the Chinese speaking countries so there is a voracious appetite for news about them. I used to keep all my news feeds separate – my K-news feeds gave me updates on K-stars, TW-news for the TW-stars, J-news for the Japanese entertainers, well you get my drift – but thanks to Kim Soo Hyun and Lee Min Ho my news intake on them have doubled in repetition thanks to their cross-border popularity. With that said, Chinese entertainment news (and C-fans) are pretty merciless even when it comes to popular stars and Kim Soo Hyun just got a taste of it this past week when he showed up at a Chinese car show looking visibly heftier. The reaction was instantaneous and overwhelming, and one thread of commentary was soooooo hilarious I just have to share it.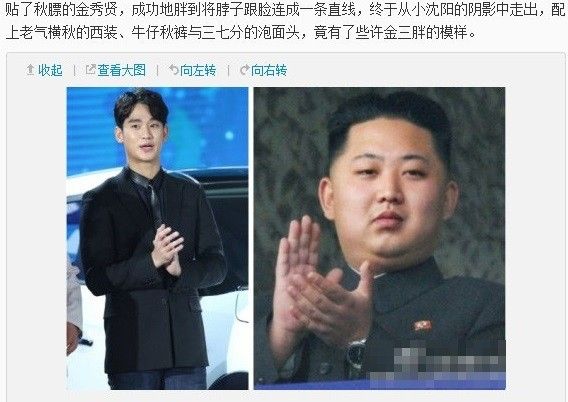 Fans started splicing chubbier Kim Soo Hyun's pictures next to missing North Korean leader Kim Jung Un and suggesting Kim Jung Un has been found. It's absurd of course but C-fans love to be tongue-in-cheek and with Kim Jung Un missing for weeks now it was a pretty cheeky timely joke. I did not splice the pictures of Kim Soo Hyun next to Kim Jung Un. These are courtesy of the C-media. And do, I don't think Kim Soo Hyun with a few added pounds even remotely looks like Kim Jung Un. No one really does. It's just a joke that arose because of his recent hairstyle, showing up rounder in the face and hips, and also wearing a fuddy duddy suit and jeans combo. There is also the Kim Soo Hyun connection with North Korea since he played a North Korean agent in Covertly, Grandly.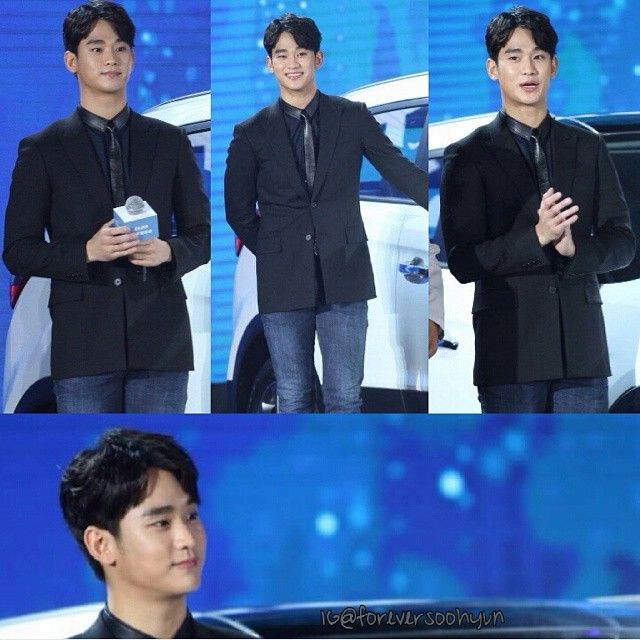 I actually don't mind Kim Soo Hyun gaining a few pounds, he actually looks happy and healthy and that's what matters. I do think media scrutiny on male stars is as intense as on the ladies, so even a guy who gains a few pounds is suddenly splashed all over the papers. It's unfortunate this even merits headline news territory but at least the commentary is equal gender at this point. There's also the Chinese saying The Big Tree Attracts the Wind (樹大招風) which means the larger the target the more it'll get rocked. Kim Soo Hyun is popular to an insane degree in China so obviously if he gets a zit the C-media and fans will notice, much less showing up looking like he had enjoyed full meals for the last week. Poor dude will probably go on a starvation diet when he signs on to a new CF or acting project and needs to slim down again. At least enjoy living the good life when he can, right?