MBC has been regularly the ratings loser in the Wed-Thurs prime time slot for quite some time now until the just finished My Spring Days led a very very weak competition line up. That's not an indication of quality since some of the dramas have been quite good actually. I'm really looking forward to the upcoming Mr. Back (Mr. Baek) for a dose of fun, and boy does the drama seem silly but in an endearing way. Shin Ha Kyun gets to play both the 80 year old and the 30 year old versions of himself in an reverse-aging romp that allows his character to fix some messes and do some things over again.
The choice of Jang Nara as the leading lady is probably a good one, she's absurdly baby-faced and has a knack for both physical comedy and emotional resonance with those Bambi eyes of her. Plus she's coming off the very buzzed about Korean Fated to Love You and what better than to strike while the iron is hot, sleep bedamned. I'm also intensely curious about Lee Joon based on the snippets of him in the previews, he's suddenly looking like a charismatic hottie to me and I wonder if I've just never seen it or he really did turn gorgeous with a suit and a nice haircut.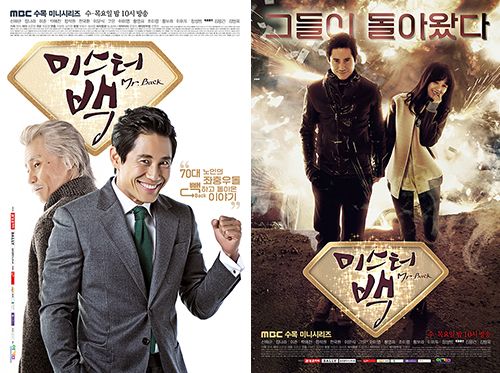 Aside from the three leads, the supporting cast consists of Park Ye Jin, Jung Seok Won, Lee Moon Sik, Jung Kuk Hwan, and Lee Mi Do. The four official posters are decent enough for me, the parody of the rich imposing family patriarch lording over his domain is nicely conceptualized and executed. I was saying earlier that I didn't particularly want a love line between the two leads since eventually Shin Ha Kyun's character is going back to his real old age, but seeing the poster with him holding Jang Nara's hand as they walk away from an apocalyptic scene totally makes me squee. Eeeps, now I'm so torn!