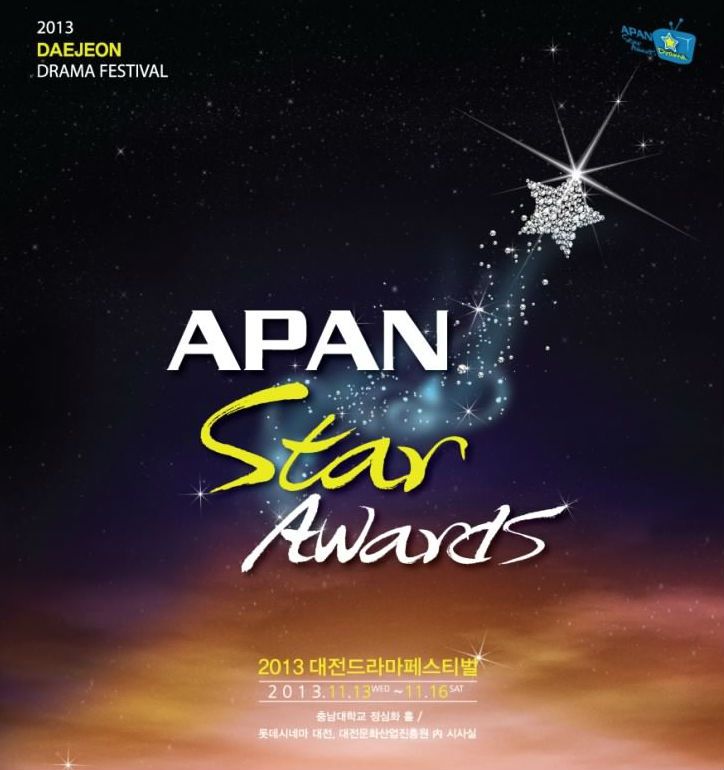 The nominees are out for the 2014 APAN Star Awards, yet another glittery awards ceremony and this one in particular is a recent new arrival on the awards scene in the last few years. It's connected to the Daejeon Drama Festival and is limited to dramas that ran from November 1st 2013 through September 31, 2014 on all three major networks along with cable channels. Basically all the dramas we've watched this year minus the ones that just started or have yet to air.
Last year's winner of the Daesang (Top Prize) at the APAN Star Awards was Song Hye Kyo for That Winter, the Wind Blows. This year any of the nominees for Top Excellent Actor or Actress have a shot at the Daesang. Scanning the names I'd put my money on it come down to Jeon Ji Hyun, Jo In Sung, or Ha Ji Won. I'm more excited for a Kim Soo Hyun–Lee Min Ho fanbase showdown or the mutually loathing fanbase of Kang Sora and Jin Se Yeon to duke it out since they are rivals nominated in the same acting category.
APAN Star Awards 2014 nominations:
Mini Drama
Top Excellent Actor:
Kim Soo Hyun (You From Another Star), Yoo Ah In (Secret Love Affair), Lee Min Ho (Heirs), Jang Hyuk (Fated to Love You), Jo In Sung (It's Okay, It's Love).
* This will go to Jo In Sung unless he wins the Daesang.
Top Excellent Actress:
Gong Hyo Jin (It's Okay, It's Love), Kim Hee Ae (Secret Love Affair), Song Yoon Ah (Mama), Jang Nara (Fated to Love You), Jeon Ji Hyun (You From Another Star)
* Jeon Ji Hyun wins unless she doesn't give a fuck and doesn't want the award, and then it'll go to Gong Hyo Jin.
Excellent Actor:
Kim Woo Bin (Heirs), Park Yoochun (Three Days), Park Hae Jin (You From Another Star), Jung Woo (Answer Me 1994), Ji Sung (Secret Love)
* Kim Woo Bin as the trendy pick but I think it's really between Park Hae Jin and Ji Sung.
Excellent Actress:
Kang Sora (Dr. Stranger), Go Ara (Answer Me 1997), Moon Jung Hee (Mama), Park Shin Hye (Heirs), Jin Se Yeon (Dr. Stranger)
* Jin Se Yeon wins! Ahahahaha, just kidding. Either Go Ara or Moon Jung Hee, but Kang Sora may be the dark horse especially with her current drama Misaeng so well-received.
Long Drama
Top Excellent Actor:
Yoo Dong Geun (What's with this Family), Lee Dong Wook (Hotel King), Lee Seo Jin (Wonderful Days), Jo Jae Hyun (Jeong Do Jeon), Joo Jin Mo (Empress Ki)
* Lee Seo Jin gets it.
Top Excellent Actress:
Kim Hee Sun (Wonderful Days), Lee Yuri (Jeong Do Jeon), Lee Ji Ah (Thrice Married Woman), Jang Seo Hee (Two Mothers), Ha Ji Won (Empress Ki)
* Ha Ji Won for sure unless she does what Jeon Ji Hyun might do which is not even care about winning (i.e. she's not interested in attending), then the award might go to Jang Seo Hee.
Excellent Actor:
Kim Sang Hyun (What's with this Family), Kim Ji Hoon (Come, Jang Bori!), Park Young Gu (Jeong Do Jeon), Ji Chang Wook (Empress Ki), Taecyeon (Wonderful Days)
* If all the Empress Ki cast passes including Ji Chang Wook, who ought to win, then it goes to Kim Ji Hoon.
Excellent Actress:
Kim Ok Bin (Yoona's Street), Kim Ji Yeong, Kim Hyun Joo (What's with this Family), Seo Hyun Jin (King's Daughter Soo Baek Hyang), Oh Yeon Seo (Come, Jang Bori!)
* Lock pick says Kim Hyun Joo by a mile, but Oh Yeon Seo could be riding momentum, and the long shot is Kim Ok Bin.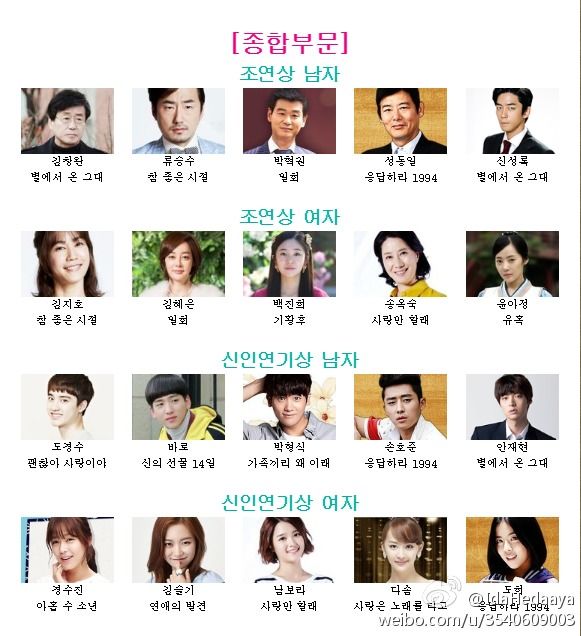 Best Supporting Role (Male):
Kim Jang Won, Ryu Seung Soo, Park Hyuk Kwon, Song Dong Il, Shin Sung Rok
* Any guy winning would make me happy. My gut tells me Shin Sung Rok gets it because he's so resurgent these days.
Best Supporting Role (Female):
Kim Ji Ho, Kim Hye Eun, Baek Jin Hee, Song Ok Suk, Yoon Ah Jong
* Totally Baek Jin Hee's award to lose.
Best New Actor
Do Kyung Soo (D.O.), Baro, Park Hyung Sik, Son Ho Joon, Ahn Jae Hyun
* Give it to D.O.! But it might be too fast for him so I think it'll be Park Hyung Sik.
Best New Actress
Gyung So Jin, Kim Seul Gi, Nam Bora, Dasom, Dohee
* I'd pick Kim Seul Gi but I think the voters love cute Nam Bora.
_____________________________________
This is one awards show where the winner is told beforehand so only the winners show up at the ceremony so in essence its more like a network year end award ceremony doubling as an employee thank you banquet. That does make me wonder why it even announces a "nominee" list three weeks ahead of the ceremony which will be held at the end of November. With that said, it's fun to start checking out how this year's dramas are getting viewed by awards bodies, and as always don't take it too seriously as if these choices are really about actual performance quality.
Some notable snubs include – the whole cast of Joseon Gunman but then again Lee Jun Ki won Top Excellent Actor last year here for Two Weeks so likely just spreading the wealth, God's Gift: 14 Days and especially Jo Seung Woo(!!!) but the drama was a mess and Lee Bo Young won Top Excellent Actress for I Hear Your Voice last year here, the entire cast of Triangle getting no love, Miss Korea a total non-entity as sadly as it was overlooked in ratings as well, and the big shocker is no Kim Myung Min anywhere for A New Leaf when he's usually an awards staple.
I'm sure folks who watched and loved One Warm Word will wonder why the cast was not recognized, while folks who watched and hated Temptation will appreciate that drama getting no love here. It's bizarre that if Dr. Stranger got any acting noms it would be Kang Sora-Jin Se Yeon rather than Lee Jong Seok since he carried that show, but then Lee Jong Seok won Excellent Actor here last year. See, nominations are always more than meets the eye. All in all this particular nomination list doesn't give me too much indigestion.