Lady justice has spoken, or perhaps she's long dead and buried, as the Lee Byung Hun getting blackmailed trial comes to an end today in a South Korean courtroom as the two blackmailing ladies got handed down their sentences. Model Lee Ji Yeon got slapped with a year and two months in the slammer while her accomplice/co-defendant Dahee of GLAM got a slighter shorter sentence of one year in jail. The court sentenced the two ladies after they admitted to blackmailing Lee Byung Hun by threatening to released a tawdry conversation they recorded and then asked the court for leniency.
The defendants raised mitigating circumstances claiming the blackmail was in retaliation for Lee Byung Hun's making a play for Lee Ji Yeon and then dumping her. The court didn't buy that explanation since there was no evidence that Lee Byung Hun had an affair with Lee Ji Yeon so the blackmail was chalked up to pure financial gain. It's unclear if the sentences will include time served as the two have been in custody since their August arrest last year. With the twin dangers to society safely behind bars, Lee Byung Hun can rest assured that all he'll have to deal with is public scorn and shame as Dispatch recently released the purported contents of some of his text messages with Lee Ji Yeon.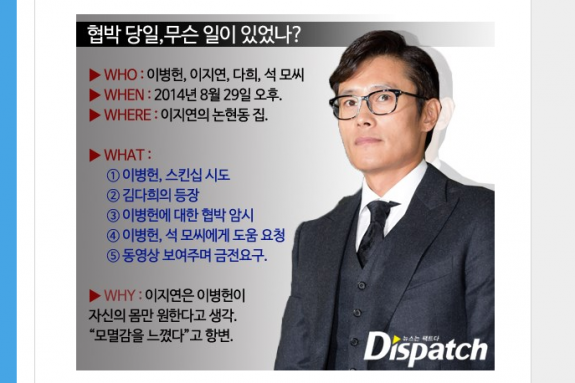 LBH: What's for dinner?
LJY: What do you like?
LBH: You.
LBH: Is it going to be romantic tomorrow?
LJY: Perhaps.
LJY: Are you still filming???
LBH: Why not?
LBH: It must be nice to be able to choose.
LBH: We're seeing each other tomorrow, right?
LBH: Will it be romantic?
LJY: We'll see how you do.
LBH: I'll be good.
LJY: This is a brain map.
LBH: There's tomorrow, you, romantic, and success in my head.
LJY: What do you mean by success?
LBH: It means whether or not I'll succeed in romance
LJY: Did you know it's my birthday this week?
LBH: Then we'll celebrate tomorrow together.
LBH: I hope you'll keep this secret.
LJY: Don't worry.
LBH: I'm really looking forward to this.
LBH: When can I see you tomorrow?
LJY: My mom's coming.
LBH: Is your friend there today?
LJY: Yes.
LBH: When are you free today and tomorrow?
LJY: I have to go to cram school today.
LBH: When will your friend not be there?
LBH: I stepped out of line today. I'm sorry…
LBH: I think we should stop seeing each other. We'll only hurt each other.
LJY: You're cutting off contact just like this, huh?
Y'all can comment/vent/rage to your heart's content over two female blackmailers getting jail time while male domestic abusers/hit-and-run perps/drug users/[name your crime] have been comparatively getting off with a slap on the wrist in South Korea. Justice in South Korea tastes just a drink made with the tears of gender and power inequality. Don't get me wrong, blackmail is clearly wrong and against the law, I'm just sighing over the sad reality that being a sleazy douchebag is merely wrong but not against the law. In this particular case, for those wondering why nothing happened to Lee Byung Hun, if the worst thing he did is cheat on his wife, adultery is a civil offense that only the spouse can bring charges against and it certainly does not appear that Mrs. Lee Byung Hun is doing that anytime soon (if ever).