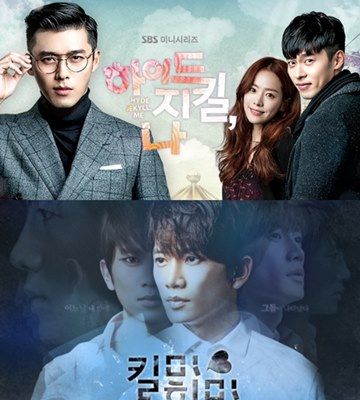 Highly anticipated (by me at least) Hyde, Jekyll, Me arrives today and finally ends my worry about similar themes and crowded competition and whatnot. I'm not going to look gift horses in the mouth so there won't be any complaints from me about one too many Wed-Thurs K-dramas to follow. I love both Hyde, Jekyll, Me and Kill Me Heal Me and having both male leads suffering from dissociative identity disorder doesn't feel redundant since the two dramas are night and day in stylistic execution and approach. The ratings shake out is the point of this post and I'll leave the substantive drama discussions for recap time.
Kill Me Heal Me is already a solid offering, rising steadily in each of the two weeks on air and garnering decent feedback made all the more reassuring since it looked like such a hot mess. The ratings is flip-flopped with KMHM for the premiere episode of HJM, starting off basically neck-in-neck at this point. Today's episode garnered in AGB nationwide 9.5% for KMHM and 8.6% for HJM, with The King's Face pulling up the rear at 8.2%. The rankings switched for TnMS and HJM led with nationwide 10.2% and KMHM with 8.6%. The bigger surprise was TKF getting a bigger ratings bump than KMHM with the departure of Pinocchio but it won't help as much since that drama is almost over.
I totally still miss Pinocchio but that drama had such a satisfying ending it's not hard to move on without the feeling of something left hanging that mars so many K-dramas wrap ups. With that said, it does help that both KMHM and HJM are fascinating to watch and deliver different morsels of satisfaction. I don't see the need to pit the two against each other since as an international viewer I don't control the remote to make a pick. I can happily watch both and recommend the bounty to anyone looking for potential crack dramas. I think both have a good chance of getting there for me.